As a college student at Tulane University in New Orleans, I was indoctrinated into the culture of the Cajun seafood boil. The boil is part of Louisiana's culture and community, from church and family gatherings to college fraternity parties.
Sitting or standing elbow-to-elbow with fellow feasters, peeling away shells and sucking out the sweet meat inside, with hot juices dripping down your chin and through your fingers—the experience is pure decadence. The heat from the spicy boil hits the back of your throat, and you reach for an icy beer or local Barq's root beer to cool things down.
Backyard seafood boils are a popular social tradition among southern coastal communities in the United States—though fans all across the country are bringing the custom inland for casual summer entertaining. 
These feasts vary depending on the location and what's in season but usually involve making large, simmering pots of shrimp, crab, or crawfish mixed with sliced cobs of corn, new potatoes, and andouille sausage, all slow-cooked in a spicy broth known as "the boil."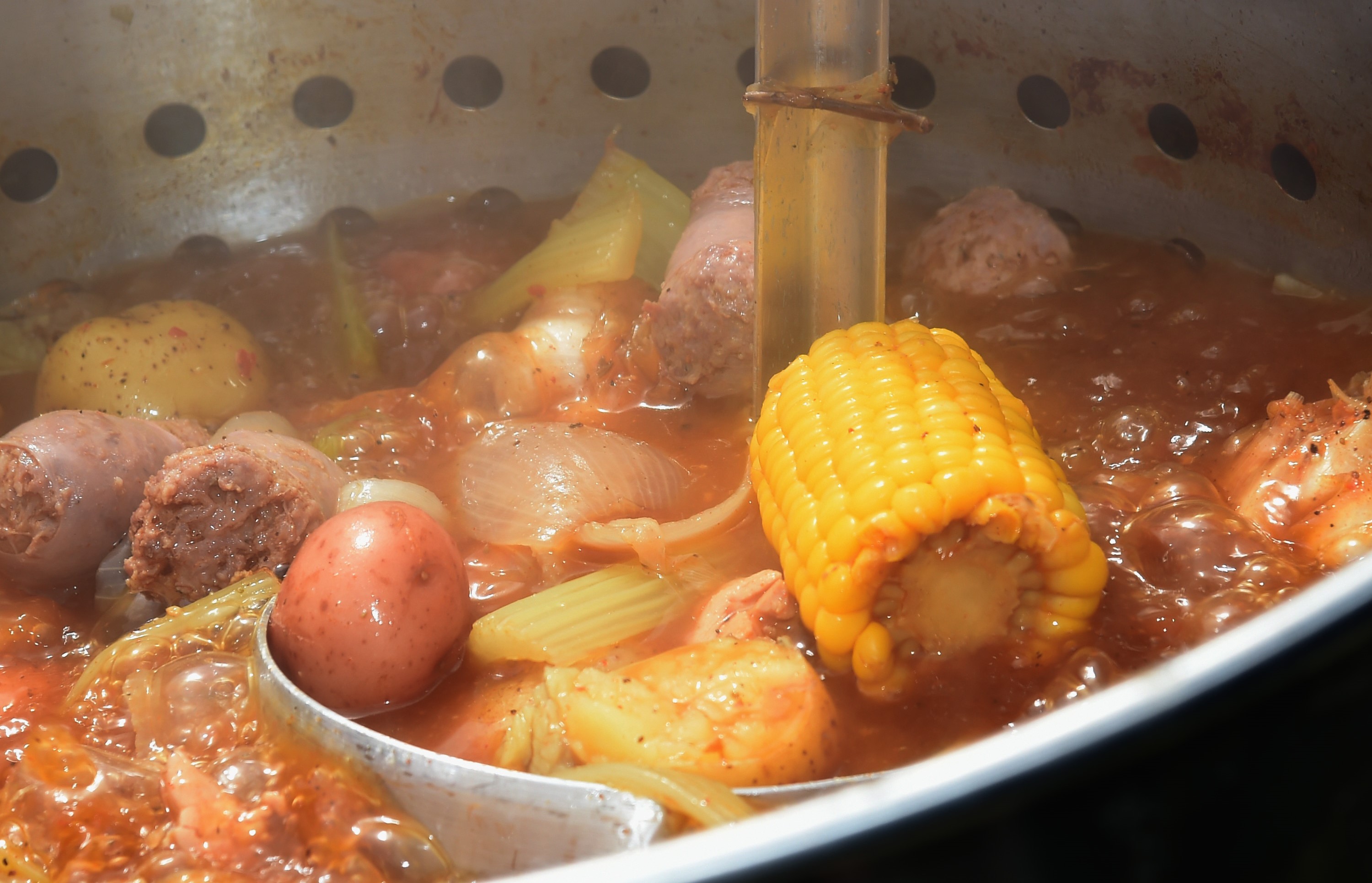 In Louisiana, cooks reach for favorite store-bought seasoning mixes such as Zatarain's, Slap Ya Mama, or Rex—or make their own boil. Further up the east coast, locals reach for Old Bay. Onions, celery, garlic cloves, bell peppers, and lemon and orange slices may be added as flavor enhancements.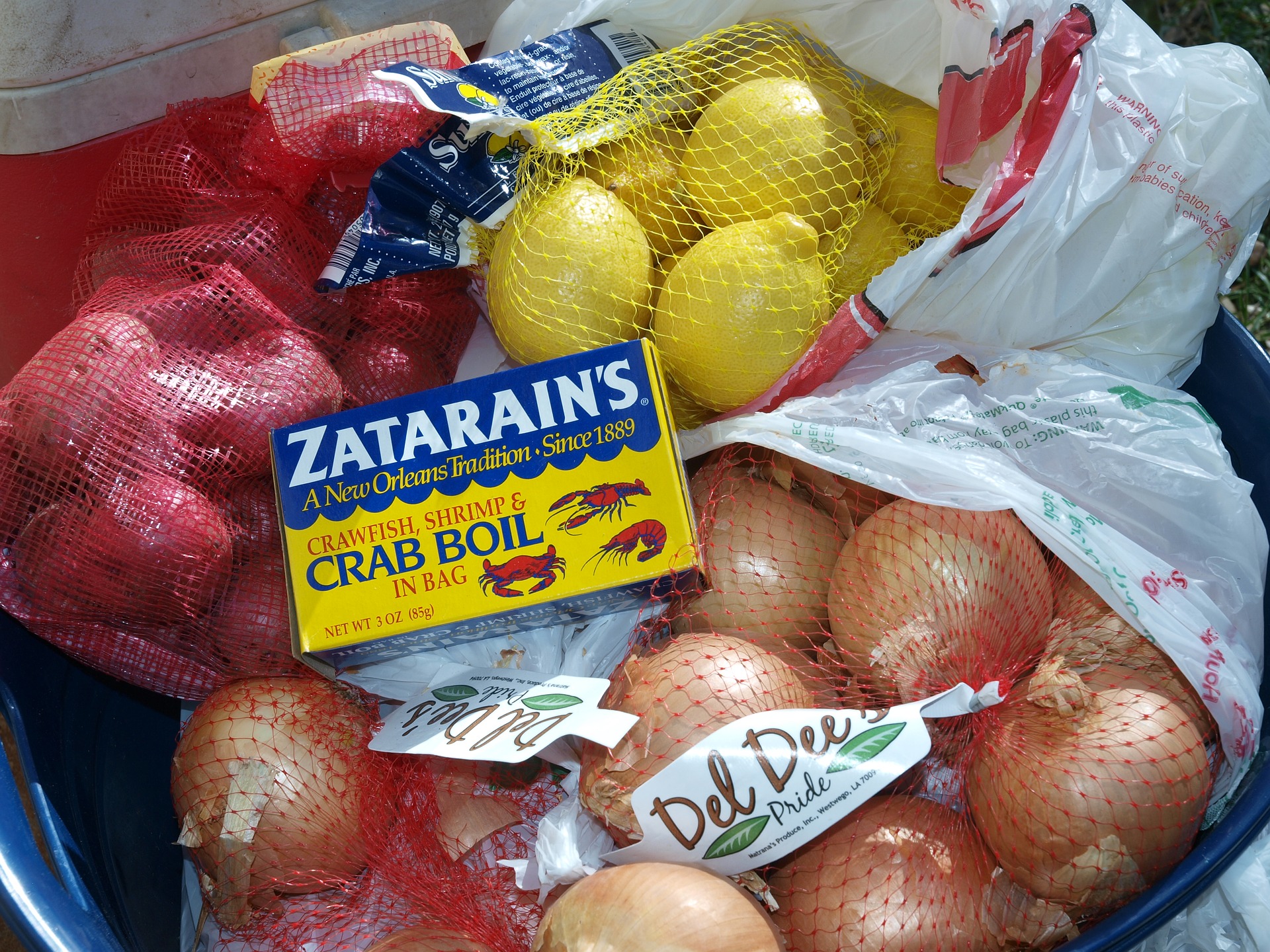 The cooked ingredients are usually strewn over a large table covered with butcher paper or newspaper, with bowls to toss the shells. Other than mallets to crack the crab shells, this a feast to enjoy with your hands, followed by licking your fingers clean.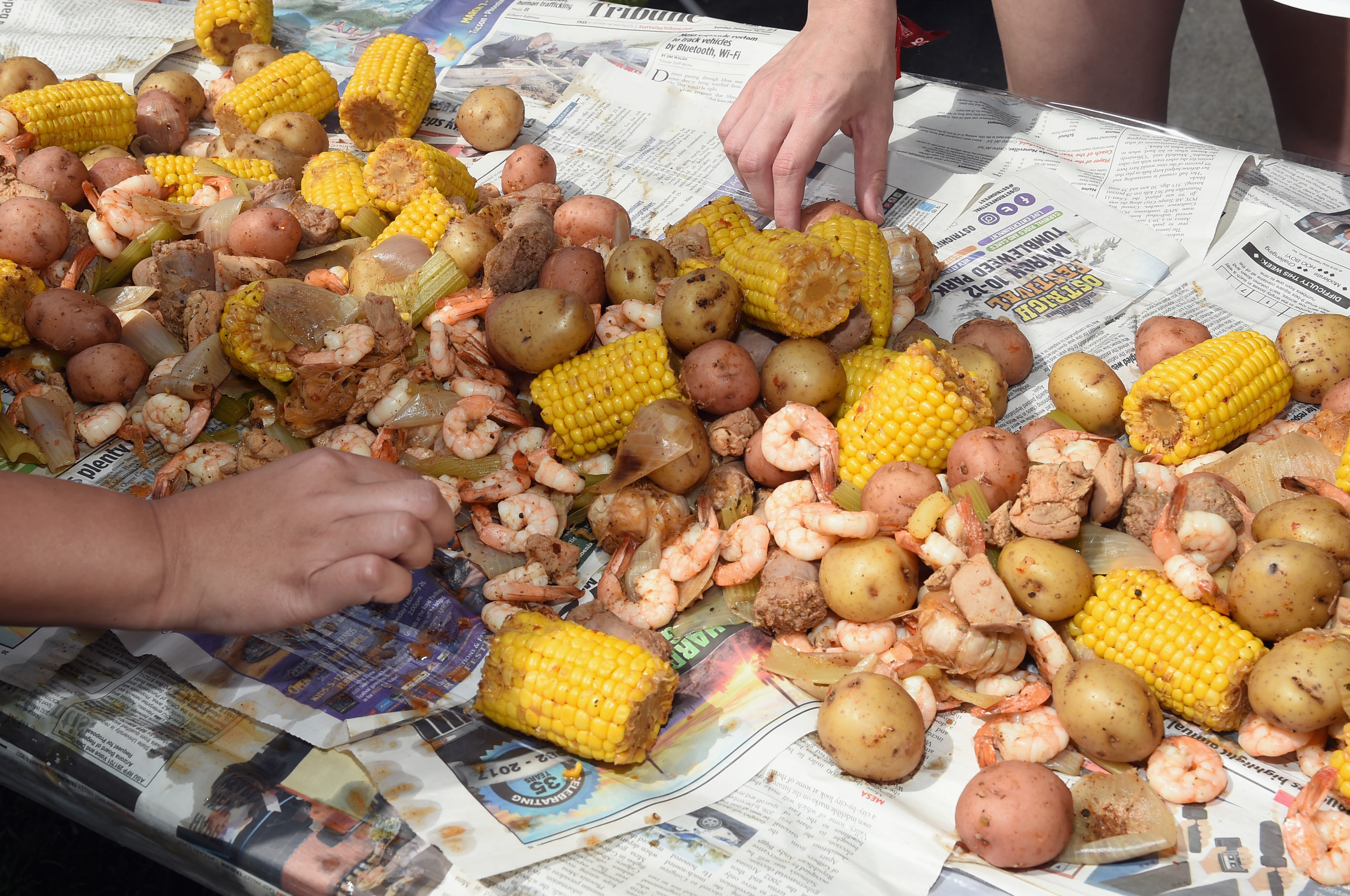 Cold beer is the beverage of choice, or for the wine drinker, perhaps some Riesling or crisp rosé.  
Acadians Stir the Pot 
The tradition of the Cajun seafood boil has roots with the Acadians, French settlers who emigrated to Canada's Maritime provinces in the early 1600s. Living off the land and sea was their way of life, and that included making hearty one-pot meals with local lobsters, clams, salmon, cod, and other North Atlantic fish.
In 1755, the Acadians were deported from Canada after refusing to pledge allegiance to the British Crown. Many relocated to Louisiana, which had French roots, and settled along the bayous of the Mississippi River. 
Their foodways adapted to what they had on hand. Lobster and cod were replaced by crawfish from the river and shrimp and other fish from the Gulf of Mexico. Rice became a staple, as did spices introduced from Spain, Africa, and the Caribbean, such as black pepper, cayenne, and coriander. 
The intense heat in the South required food to be cooked quickly and safely, and a large boil proved an easy way to feed a big family or church cookout.
Up the Eastern Seaboard 
A similar feast, the Low-Country boil, takes place in South Carolina. Another name for this repast is Frogmore stew, which despite its name, neither is a stew nor contains frogs. (Frogmore is a hamlet on St. Helena Island, off the South Carolina coast.) It is also called Beaufort stew, named for the scenic town where the dish most likely originated. 
An account by late Beaufort historian Gerhard Spieler credits Richard Gay, founder of Gay Seafood Co., for creating the dish one weekend to feed his fellow guardsmen in the National Guard. Adding potatoes, sausage, and corn cob slices to the shrimp expanded the meal to feed the large group. 
As with the Cajun seafood boil in Louisiana, every coastal community in South Carolina has its own special version of Frogmore stew. The ingredients are usually local shrimp, sliced new potatoes, corn, and sausages, cooked in a spicy seafood boil, usually made with Old Bay Seasoning.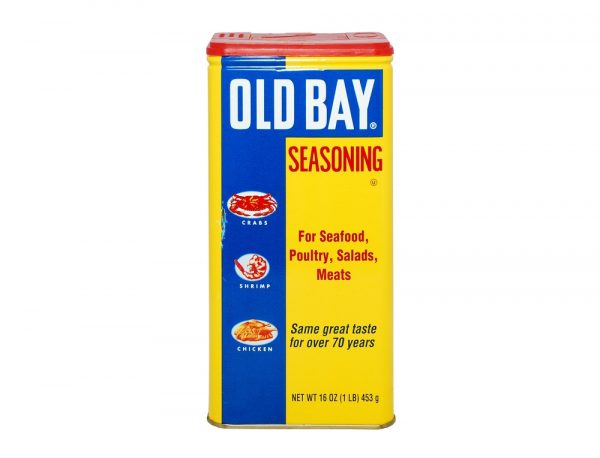 Further up the coast in Maryland, the preparation is referred to as a "crab feast," as opposed to a boil. The main star is the Chesapeake blue crab, always cooked with the state's native Old Bay Seasoning. Shells are carefully cracked open with wooden mallets. 
A Baltimore friend told me that her annual family crab feast happens rain or shine, and locals never wear bibs. Getting messy is part of the experience.
As the Heat Rises, Inhibitions Melt 
What I love about seafood boils is that they seem to make people lose their inhibition. Maybe it's the intense spiciness of the food that warms you up to chatting with people and swaying to the ever-present music that accompanies a boil; or perhaps it's the childish pleasure of getting messy eating with your hands.
Either way, seafood boils bring out the community spirit.
One May, during the annual JazzFest in New Orleans, my husband and I walked down the street in a neighborhood where a small crawfish boil was happening. Folks stood gathered around a table set up on the sidewalk, covered with fiery red crawfish and stubs of corn and potatoes. They waved us over to join them—total strangers!
We bellied up to the table and joined the rhythm of peeling and sucking on the crawfish tails, listening to the jazz music playing in the background. Other passersby stopped over to join us as we ate. A few pleasantries were exchanged, we ate our fill, and we moved on.
Boils also create a social interlude, encouraging people to open up and swap stories.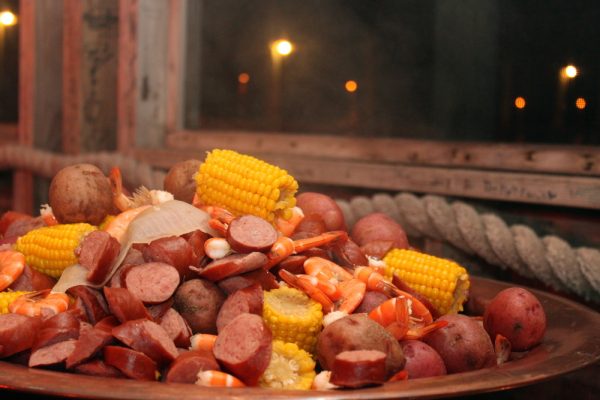 At a recent seafood boil I hosted for friends, we shared family food memories, discussing topics from how to make a southern squash pudding to how Baltimore crab feasts differ from Cajun seafood boils.
The discussion was lively, and the meal was rhythmic: peel, eat, take a sip to cool down, reach for more. In the end, dirty newspapers and paper napkins were gathered and tossed. We concluded our fiery feast with slices of chilled watermelon.
How to Make Your Own Seafood Boil
I turned to New Orleans chef Frank Brigtsen for some pointers. Brigtsen is a native Louisianan, recognized for his traditional Cajun cooking at his namesake, family-run Brigtsen's Restaurant in New Orleans.
"The backyard seafood boil is one of Louisiana's most unique and well-loved culinary and social traditions," Brigtsen said. "Like much of Louisiana's cooking, the recipe for a seafood boil varies from area to area, parish to parish. In Cajun Country, crawfish are often seasoned with lots of cayenne and not much else. In New Orleans, you're likely to find more complex seasonings."
"All the cooking is done on high-powered propane burners with 20- to 40-gallon pots. The key to properly seasoned seafood is the soak time, which may range from 15 minutes for shrimp, to 30 minutes for crawfish, to an hour for crabs. As everyone gathers around the picnic table, which is often covered in newspaper, so begins the clock-watching for the longest 30 minutes in the world!"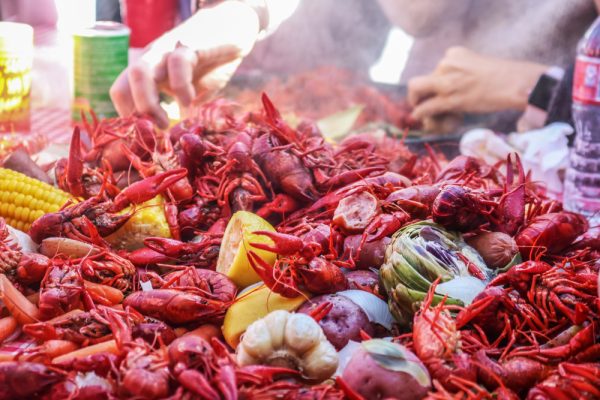 For home cooks, chef Brigtsen shared this recipe for a simple Cajun shrimp boil cooked over a stove. Accompaniments include boiled new potatoes and nubs of corn on the cob. The shrimp are usually served unpeeled, but some cooks prefer peeling before serving.
Simple Cajun Shrimp Boil
Serves 6 to 8
1 gallon cold water

1 cup Rex brand unsalted crab boil powder, or homemade shrimp boil seasoning (recipe follows)

3/4 cup salt

1/2 teaspoon ground cayenne pepper

4 lemons, halved and squeezed (save juice for another use)

1 orange, halved and squeezed (save juice for another use)

2 jumbo yellow onions, peeled and quartered

6 ribs of celery, coarsely chopped

2 heads garlic, halved crosswise

3–4 pounds new potatoes or small red potatoes

4 ears of corn, cut into halves or thirds

5 pounds fresh jumbo head-on Gulf shrimp (10/15 count per pound)
In a large pot, add water, boil seasoning, salt, cayenne, lemons, orange, onions, celery, and garlic. Bring to a boil. 
Add whole potatoes to pot, cover, and boil for 30 minutes.
Add corn to pot, cover, and boil for 5 more minutes.
Add shrimp, cover, and boil for 5 more minutes. Do not overcook!
Remove cooked ingredients from boil. 
Serve mixture on a large platter or wide bowl, or on butcher block paper on a picnic table.  
Note: You can also cook the shrimp first, for 5 minutes, then remove and set aside while cooking the potatoes and corn. This allows the flavor of the shrimp to infuse into the boil.
Homemade Shrimp Boil Seasoning
Brigtsen uses Rex crab boil, which he said has the "basic matrix of seafood boil seasonings: bay leaf, mustard seeds, coriander seeds, thyme, dill, cayenne, and a touch of fenugreek." You can also make your own seasoning with this recipe:
4 teaspoons whole coriander seeds

4 teaspoons whole mustard seeds

1/2 teaspoon dill

1/4 teaspoon whole-leaf dried thyme

1/4 teaspoon crushed red pepper flakes
Recipes courtesy of Frank Brigtsen, Brigtsen's Restaurant
Melanie Young writes about food, wine, travel, and health. She co-hosts with husband David Ransom the national radio show, The Connected Table LIVE, featuring engaging conversations with thought leaders in food, wine, and hospitality around the world. Follow on Twitter @connectedtable