FLORENCE, Italy—If your idea of silverware is mere platters and other flatware such as forks, knives, and spoons, you are in for a treat: Argentiere Pagliai's collection showcases the pure artistry of a traditional silversmith.
Since 1947, Argentiere Pagliai has made high-end precious metal pieces inspired by the traditional arts of painting, sculpture, and architecture. The company continues to create with incredible passion and to uphold the silversmith tradition that is endangered across Europe. Those who specialize in silver restoration, in particular, are only a handful.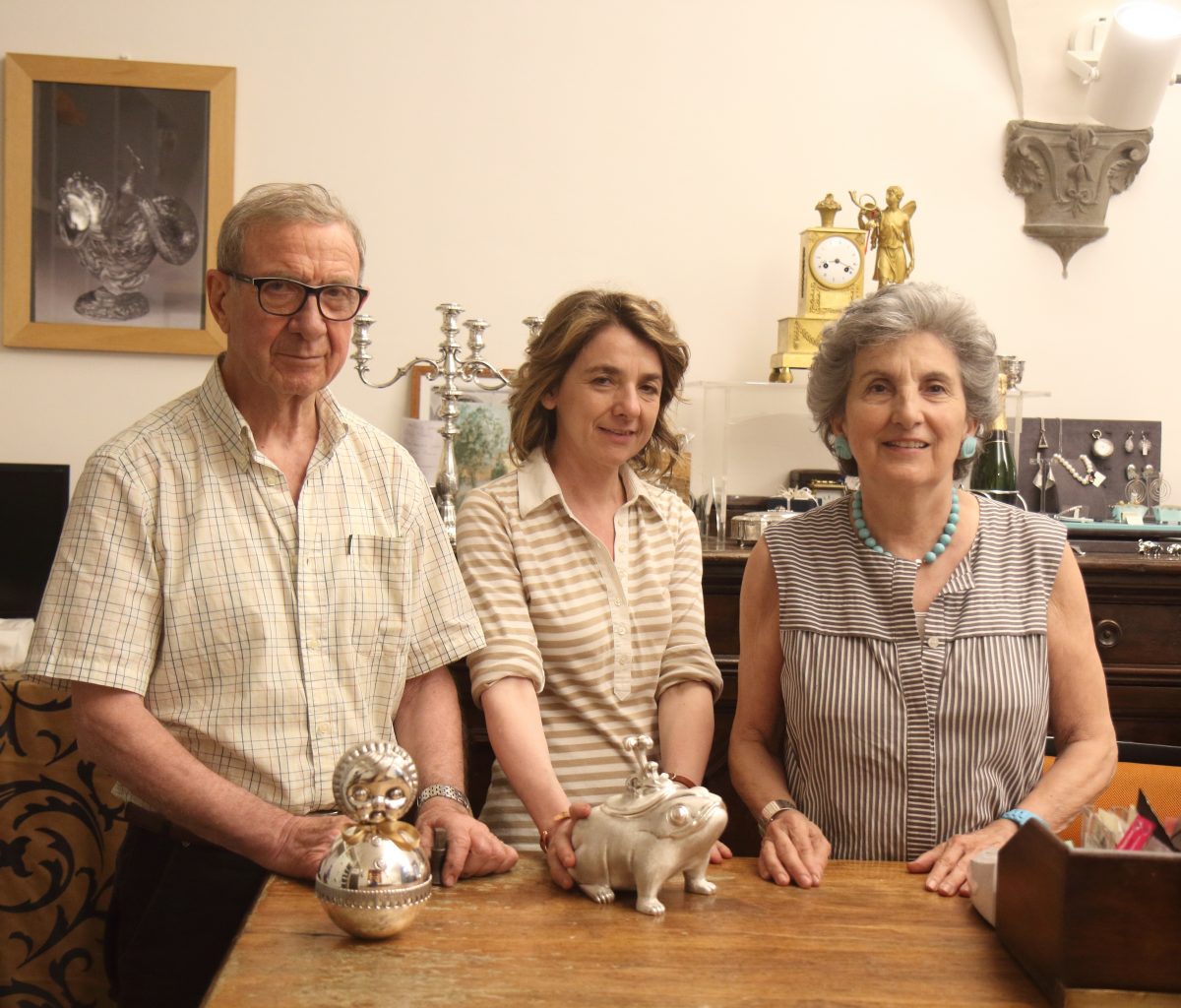 For the current owner, Paolo Pagliai, his passion for silver began when he was just 15, as he watched his father, Orlando, making silver pieces. Now, Pagliai, along with his wife Raffaella and daughter Stefani, upholds his father's trade as a silversmith and continues the world-renowned family business of Argentiere Pagliai in Florence.
Inside Argentiere Pagliai
As I enter, I am warmly greeted by Raffaella and Stefani. The showroom we stand in is certainly sumptuous, yet we could almost be sitting around the kitchen table, as customers come and go with the familiar air of family members. As Raffaella busies herself with carefully packing a customer's order, Stefani and longtime assistant Silvia Staderini tell me more about Argentiere Pagliai.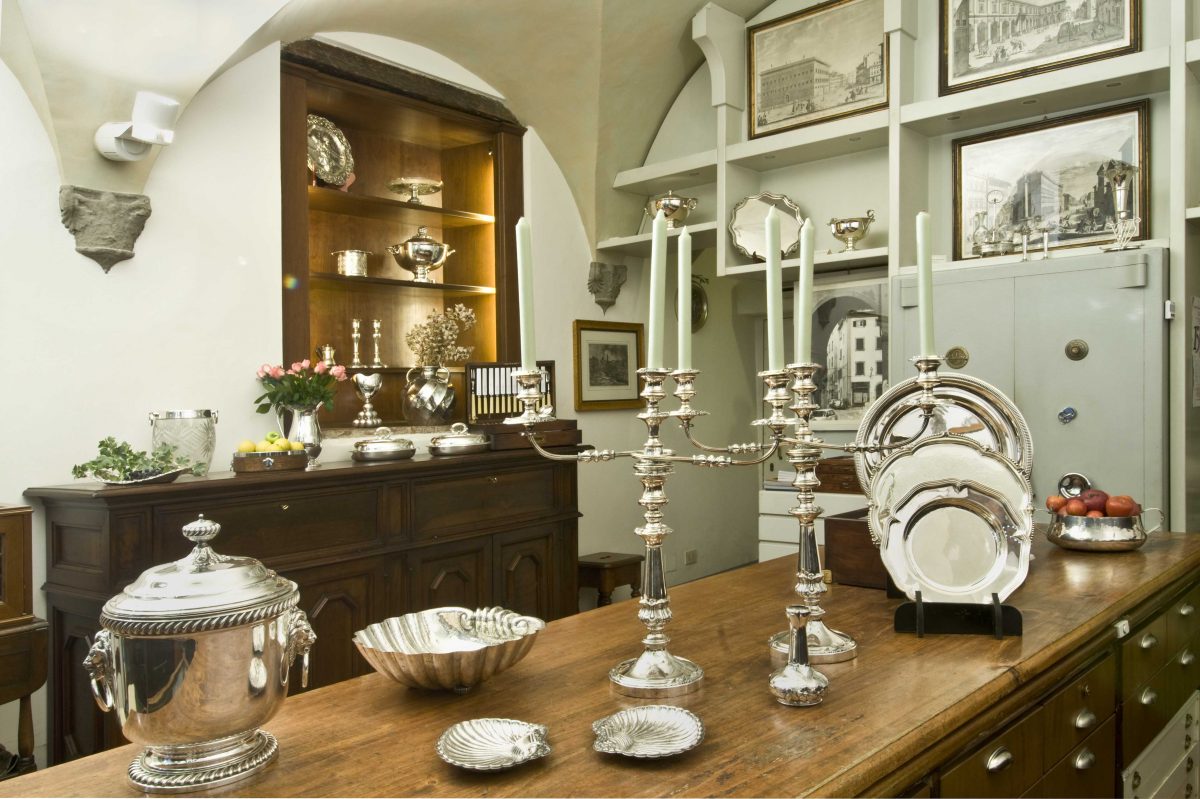 The showroom cupboards are an archive full of historic pieces. For every order placed, a duplicate is made in case of any imperfections, so the shop has a copy of each item made. Our conversation is interrupted only when Stefani, or sometimes Silvia, dashes off to grab a sample to show me. Each piece is carefully kept wrapped in tissue to preserve the silver.
Inspired by the Past
I am shown an album of historic works and also some physical samples, most of which are inspired by, or replicated from, the great designs of the Renaissance and Neoclassical periods.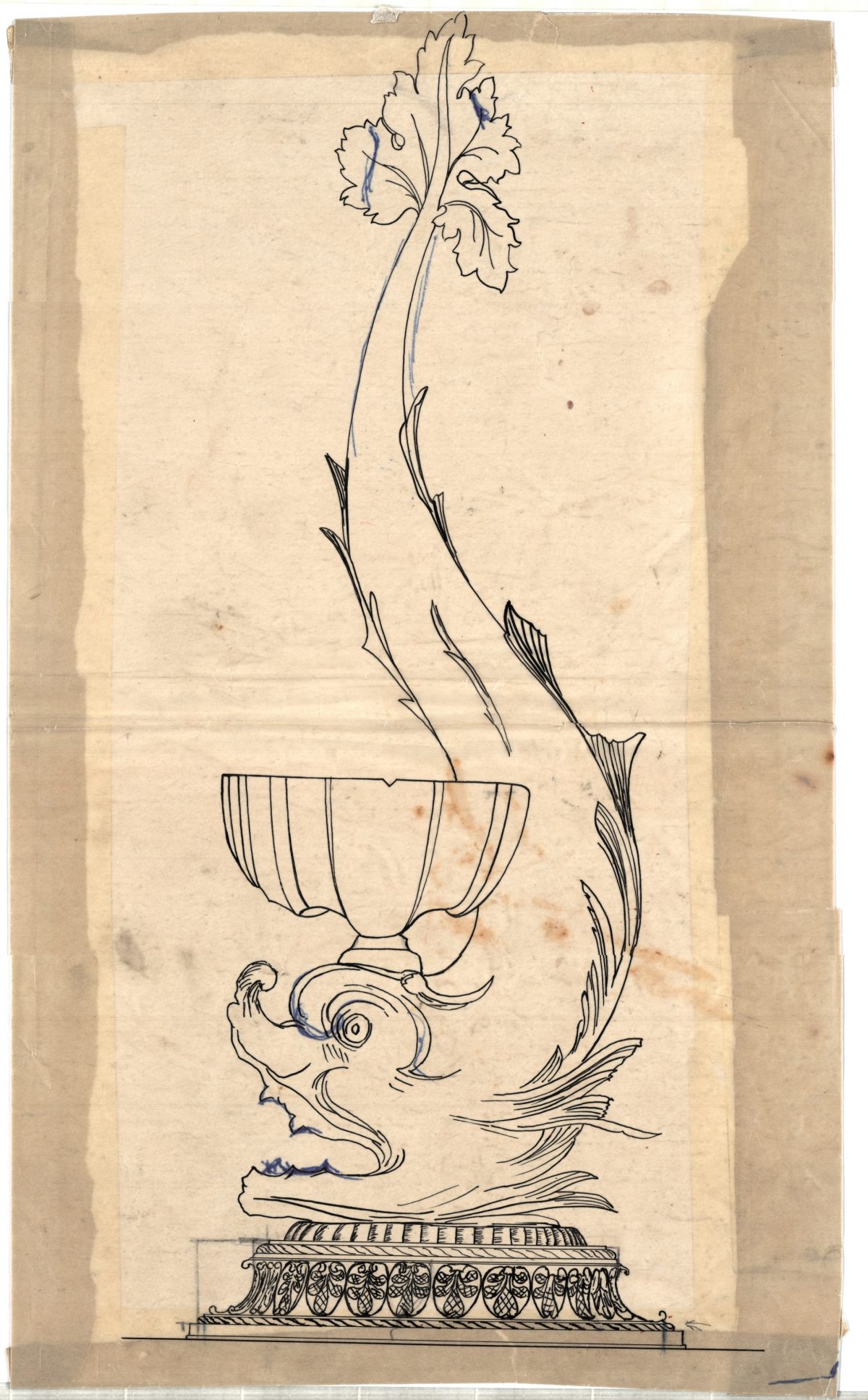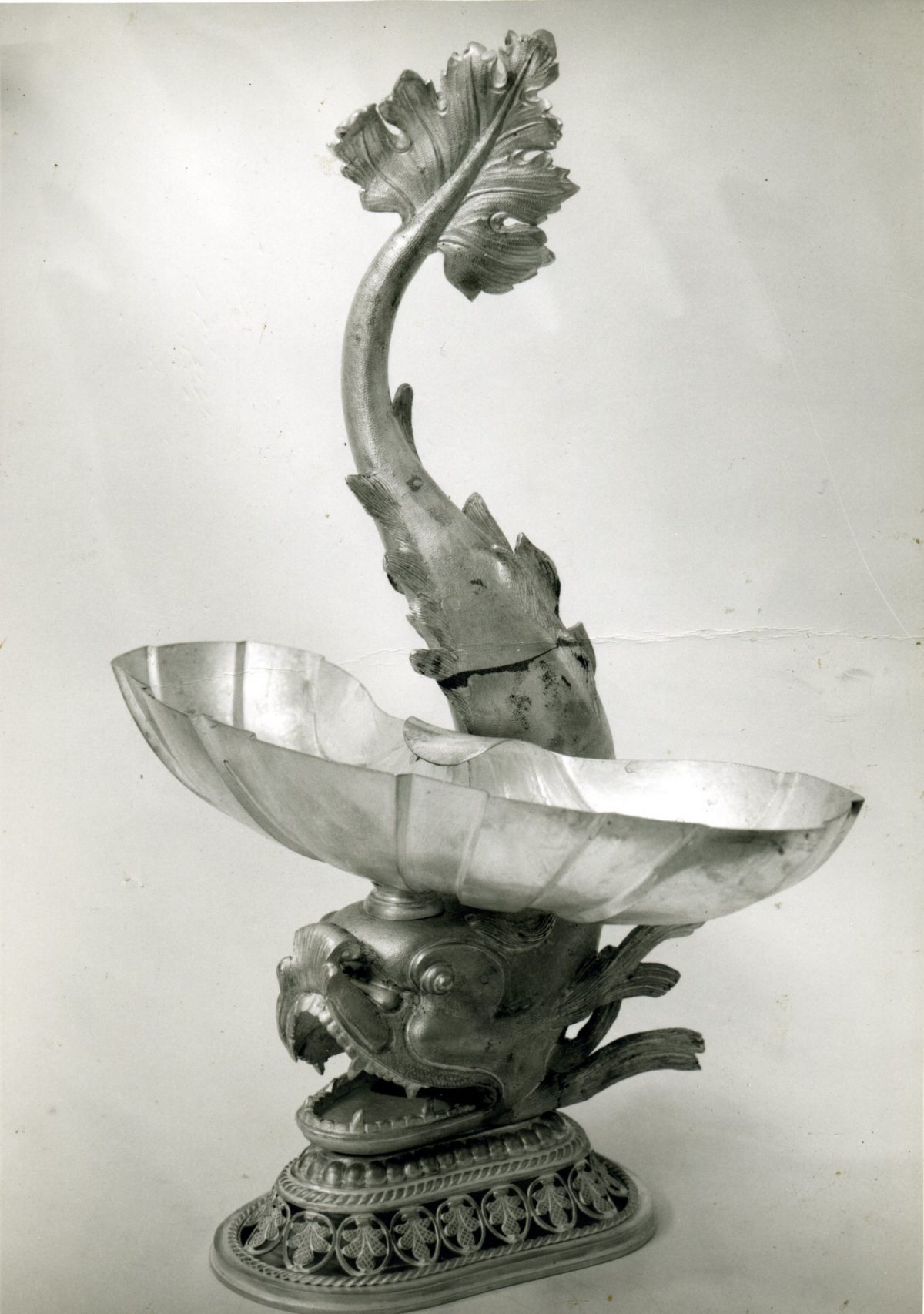 There's the classical dolphin that Orlando made, which was inspired by a rock crystal dolphin in the Silver Museum at the Pitti Palace in Florence. In the original, the dolphin holds a shell in the natural curve of its body. In Orlando's version, the whole piece is made of four parts in sterling silver and sits on an ornate pedestal with sculpted palmettes. The tail seems to steady the creation, which almost looks like it could topple—a tension difficult to capture in three dimensions without extra structural support.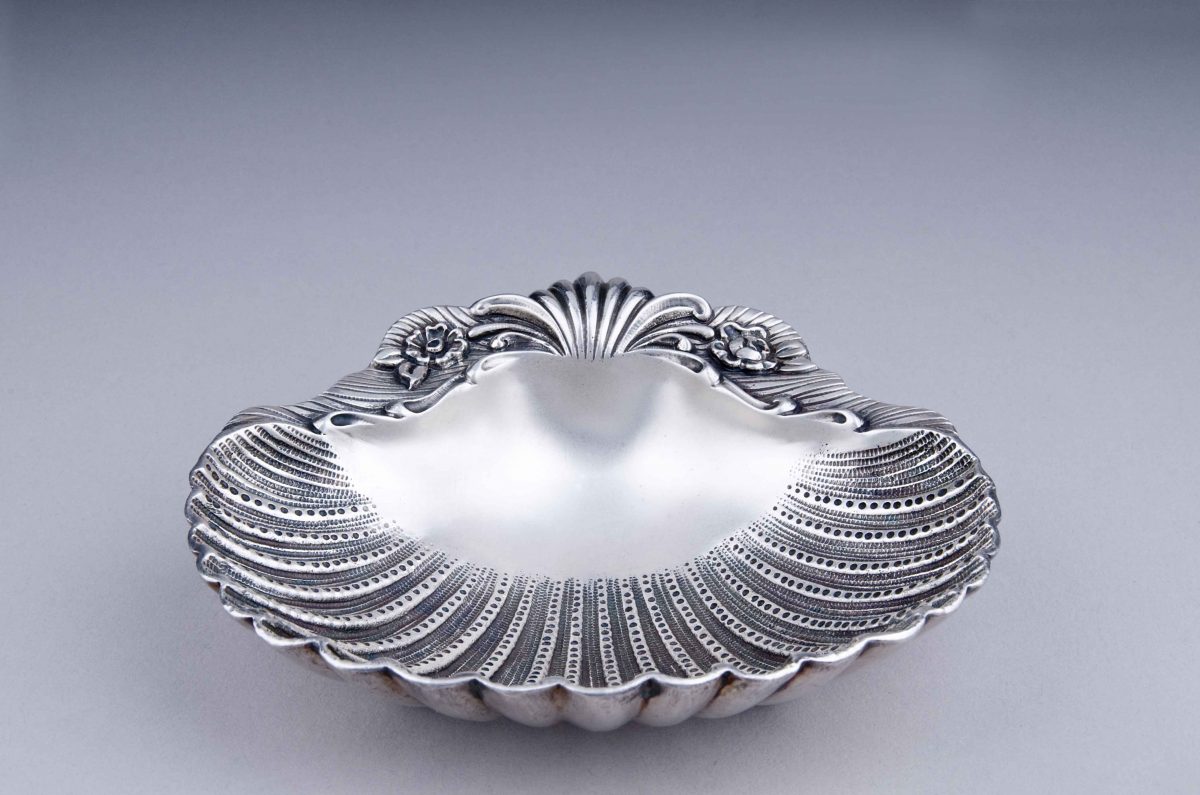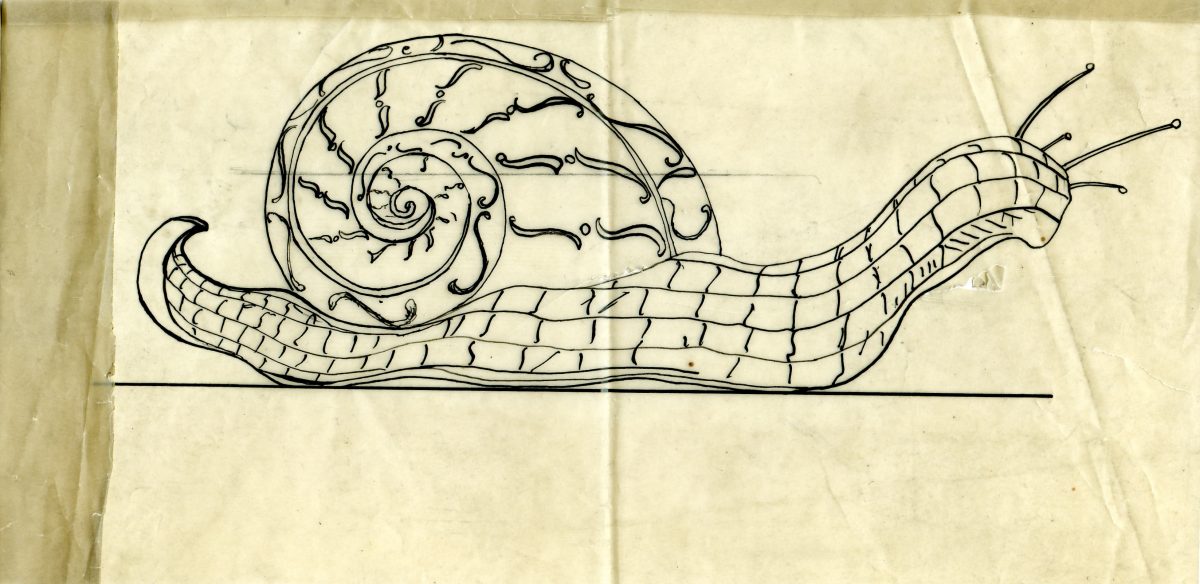 Then, there are the Tiffany & Co. pieces that Orlando designed in the 1960s. Animals feature strongly here, such as for the decorative box shaped as a classical snail. One box is replicated from a Chinese Ming Dynasty toad. Paolo made the decision to stop the collaboration with Tiffany & Co. in 1970 in order to concentrate on Argentiere Pagliai. Now, Argentiere Pagliai makes their Tiffany & Co. designs on special request.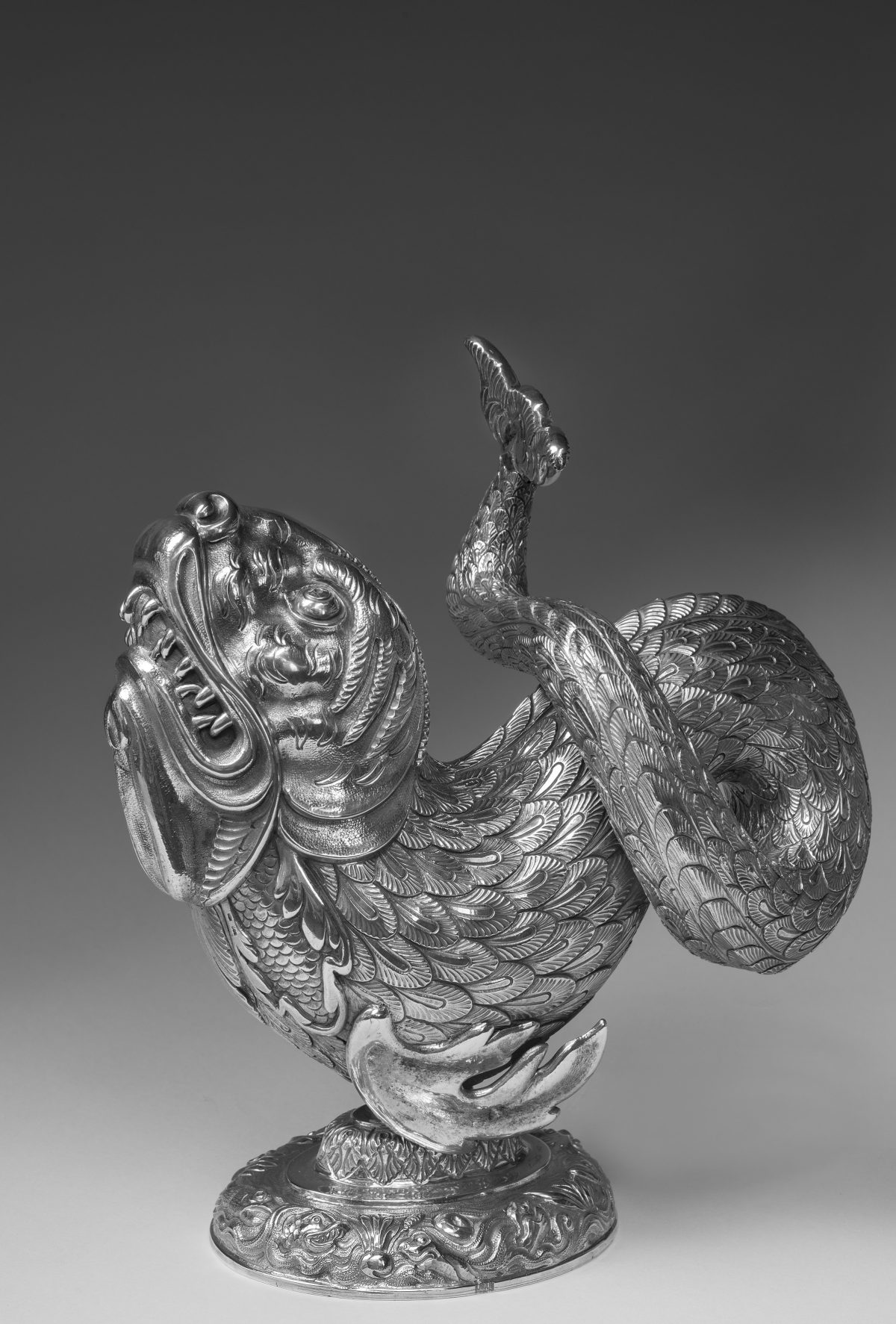 There is the fantastical dolphin that Paolo translated into silver from a 17th-century German design found in the Silver Museum at the Pitti Palace in Florence. The curvature of the body gives the piece a dynamic edge; the movement of the creature can be felt in the round as the tail turns and its head seems to proudly emerge. The detail is amazing; each scale is meticulously chiseled and each tooth is finely defined.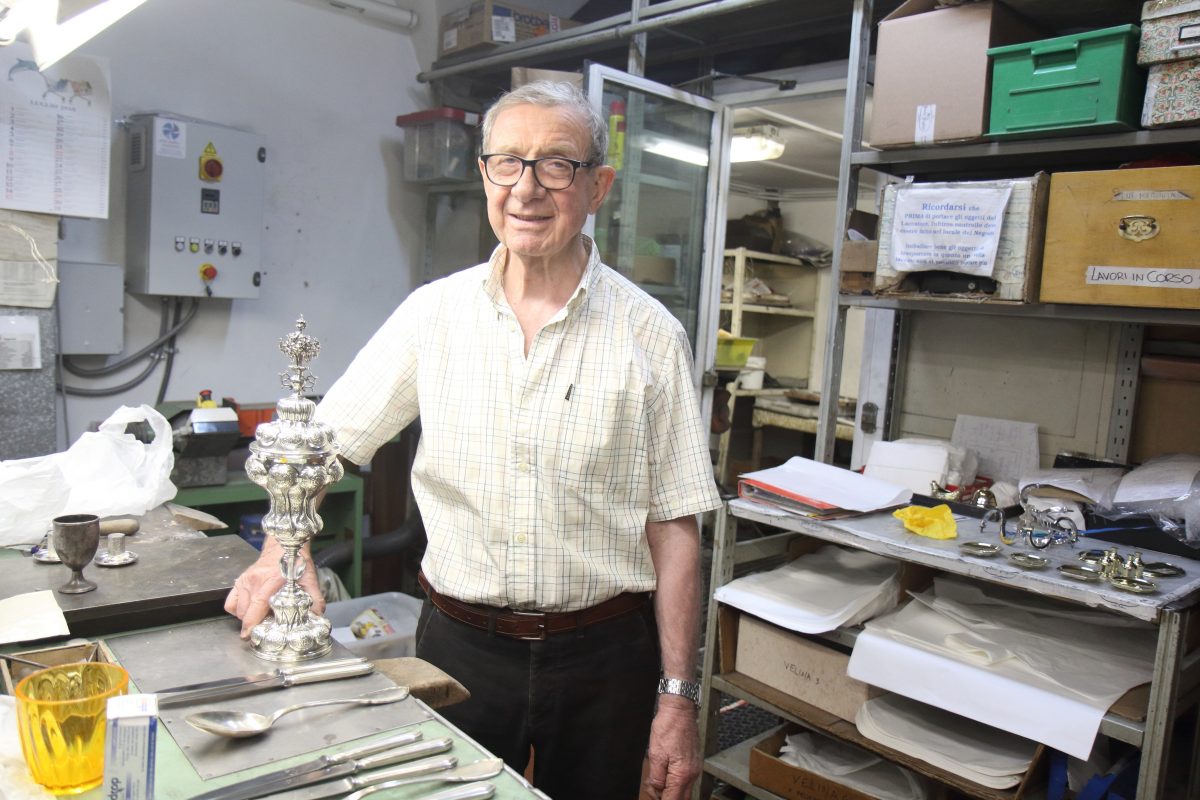 Paolo's favorite piece is his reproduction of a 16th-century German goblet, a museum piece he copied as part of an exam. The original is in a museum in Nuremberg. The piece took many months to make, with the most challenging part being to cut the rock crystal into tiny pieces.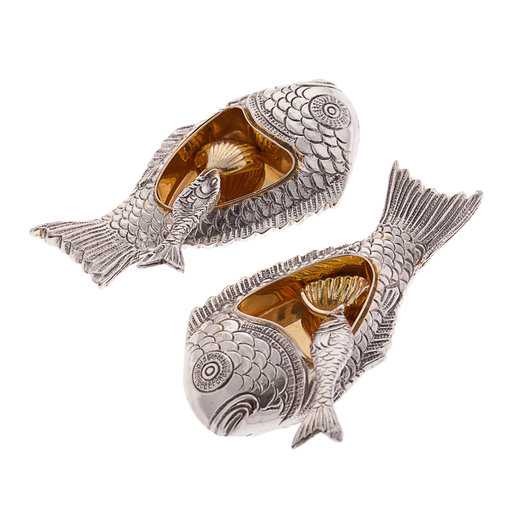 One of the Tiffany salt and pepper sets is Stefani's favorite piece. I can see why: These small pieces each fit in the palm of my hand and are designed to look like fish. Each has a teeny spoon that looks like a shell. The spoons themselves are plated in gold, as are the insides of the fish, presumably so the salt doesn't tarnish the sterling silver.
There's a rather cleverly designed sterling silver cup that incorporates a wolf on the base. It was made for a Russian hunter to celebrate his kill. The wolf is upright when the cup is not in use, and upside down when used. Orlando himself was a keen hunter and was often invited to shoot on the land of his wealthy clients as reimbursement for work.
When I ask Silvia who buys Argentiere Pagliai pieces, she simply says foreigners. The most popular ready-made purchases are cups, normally to commemorate an important event, personal or otherwise.
Creative Commissions
As I look around the showroom, the silverware on display is so diverse. It seems that anything can be made from silver in this workshop. The only limit is the imagination.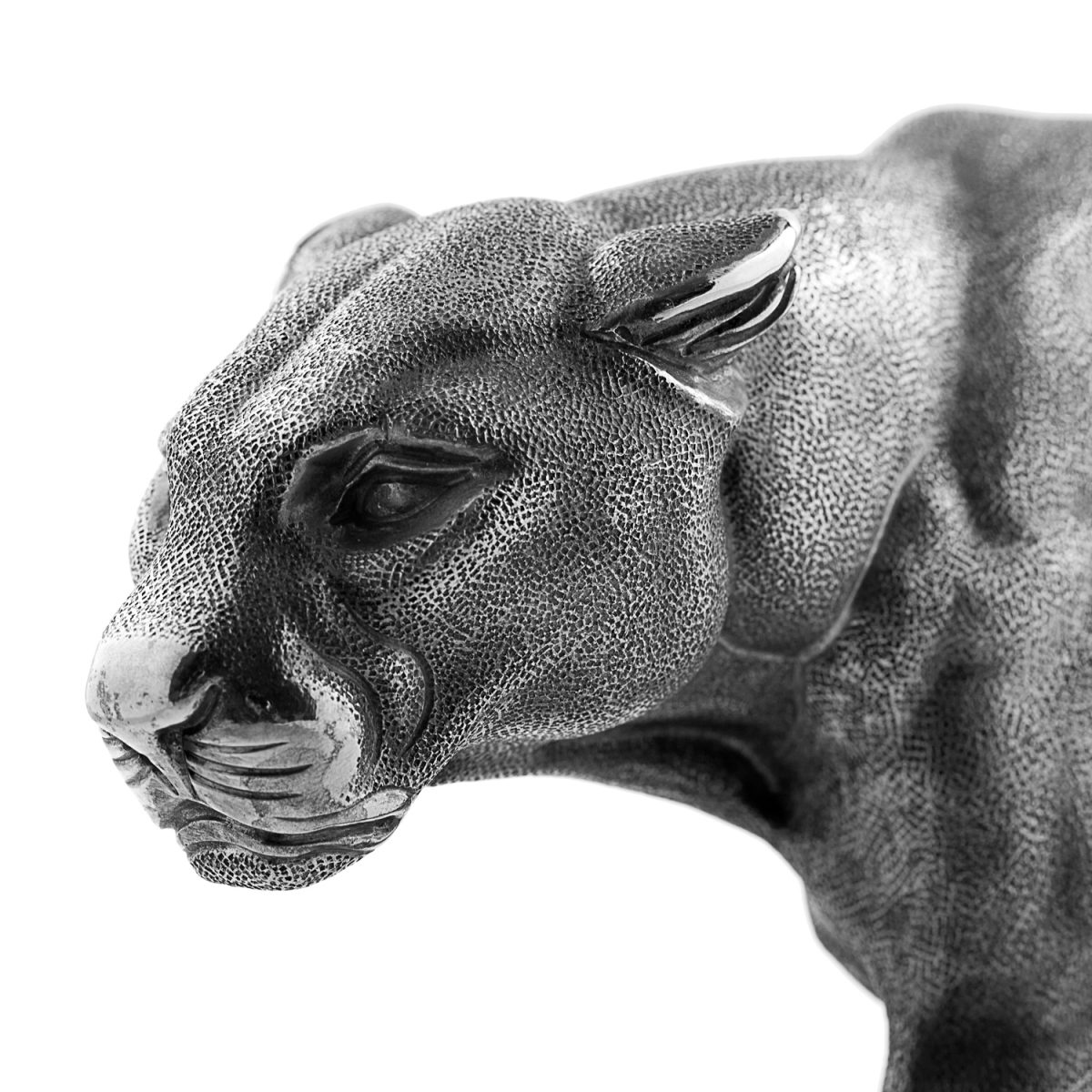 A sterling silver panther can be seen on a sideboard. The piece was a commission made as a tabletop centerpiece. This animal is not to be admired from afar, for the beauty of this beast is close-up—when you realize that the soft-fur effect on the hard silver is made by tiny chisel marks, which must have been carried out with painstaking patience.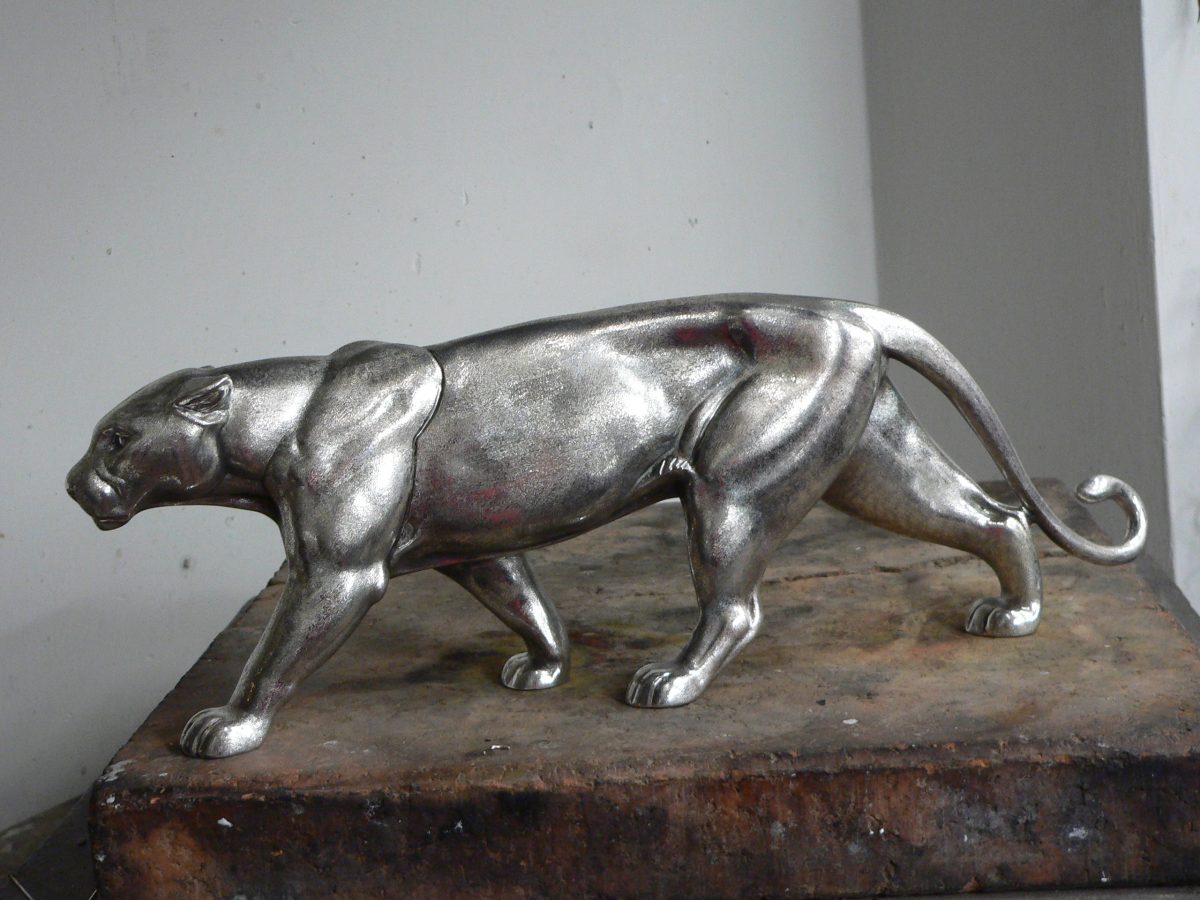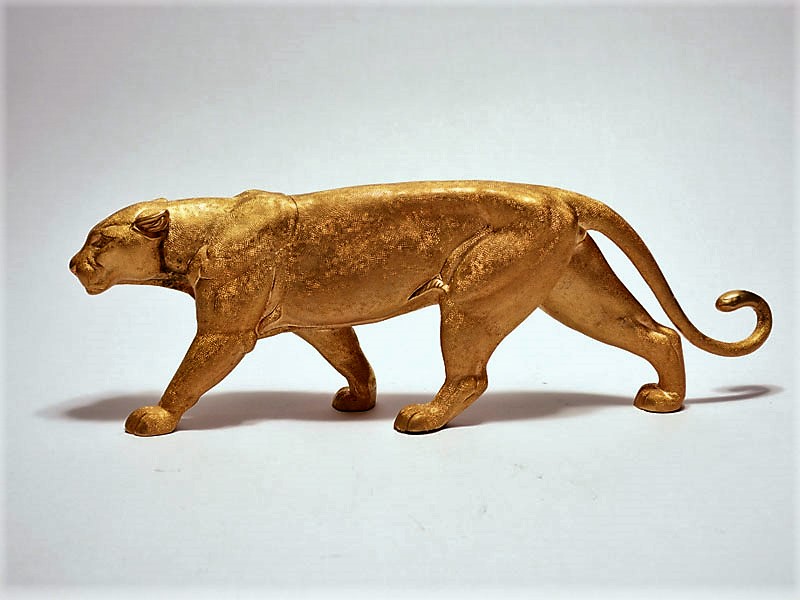 Even New York's Chrysler Building has been commissioned and reconstructed. It took 600 hours to make the 32 11/16 inches tall, solid sterling silver skyscraper, complete with all the architectural elements such as the gargoyles, windows, and of course that famous spire.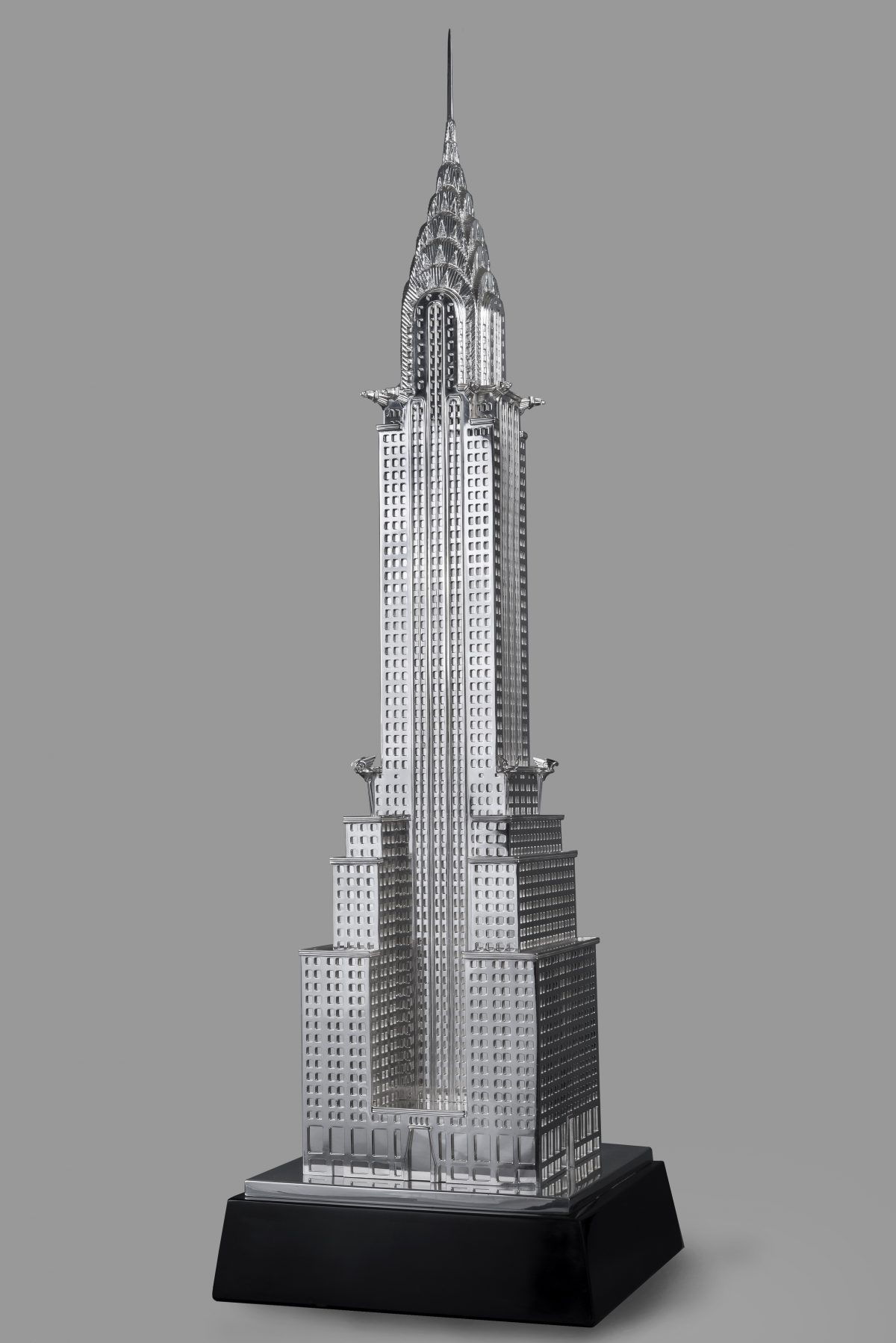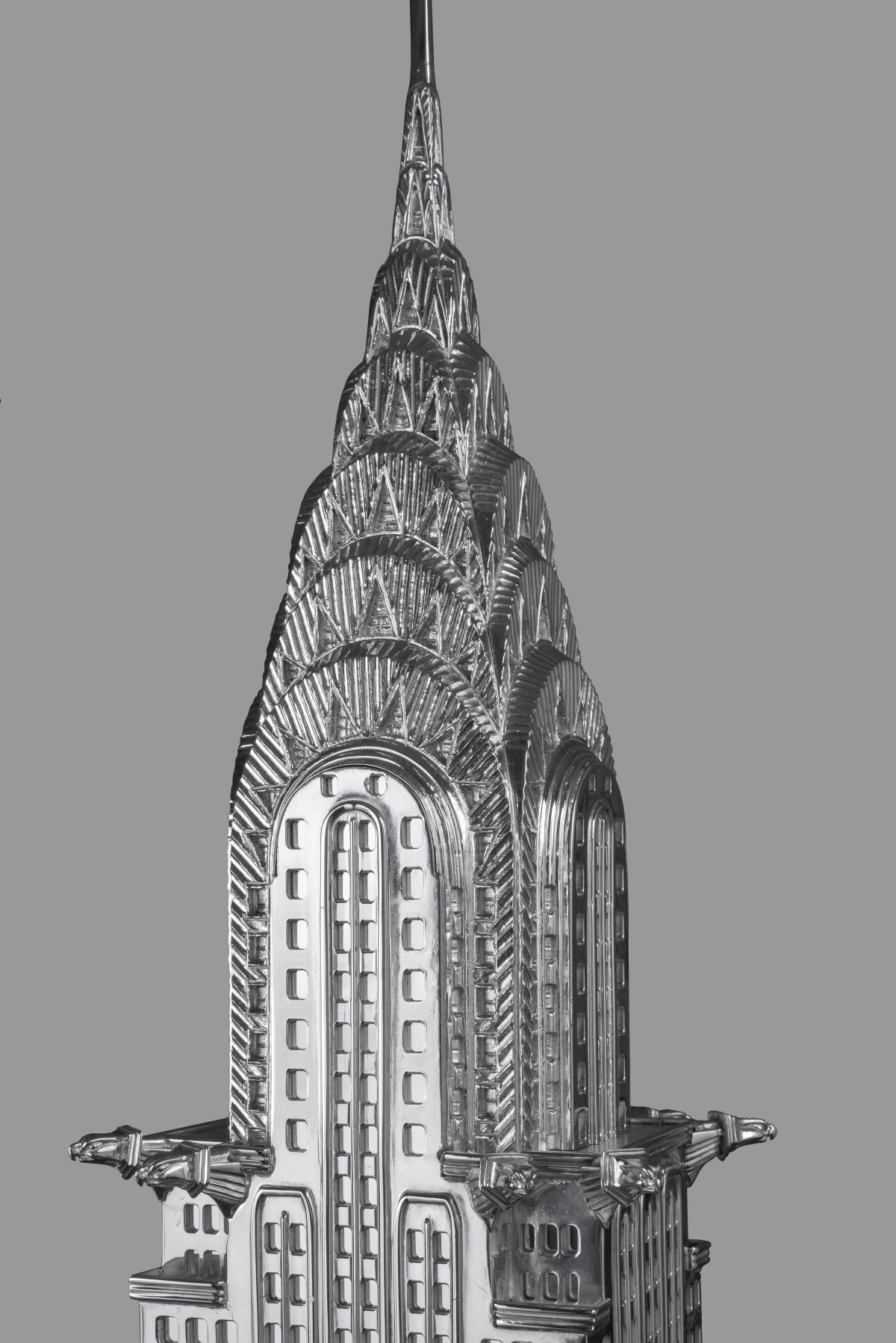 And, a grandmother from a prominent Florentine family commissioned Pagliai to make 26 sterling silver Misirizzi dolls, a traditional Italian celluloid doll from the 1960s. She gifted these to her grandchildren and had this reminder engraved on them:
"Ritornate in asse e proseguite dritti sulla strada dei principi e della rettitudine indicativi"
which means:
"Come back to the path led by principles and righteousness and walk straight on."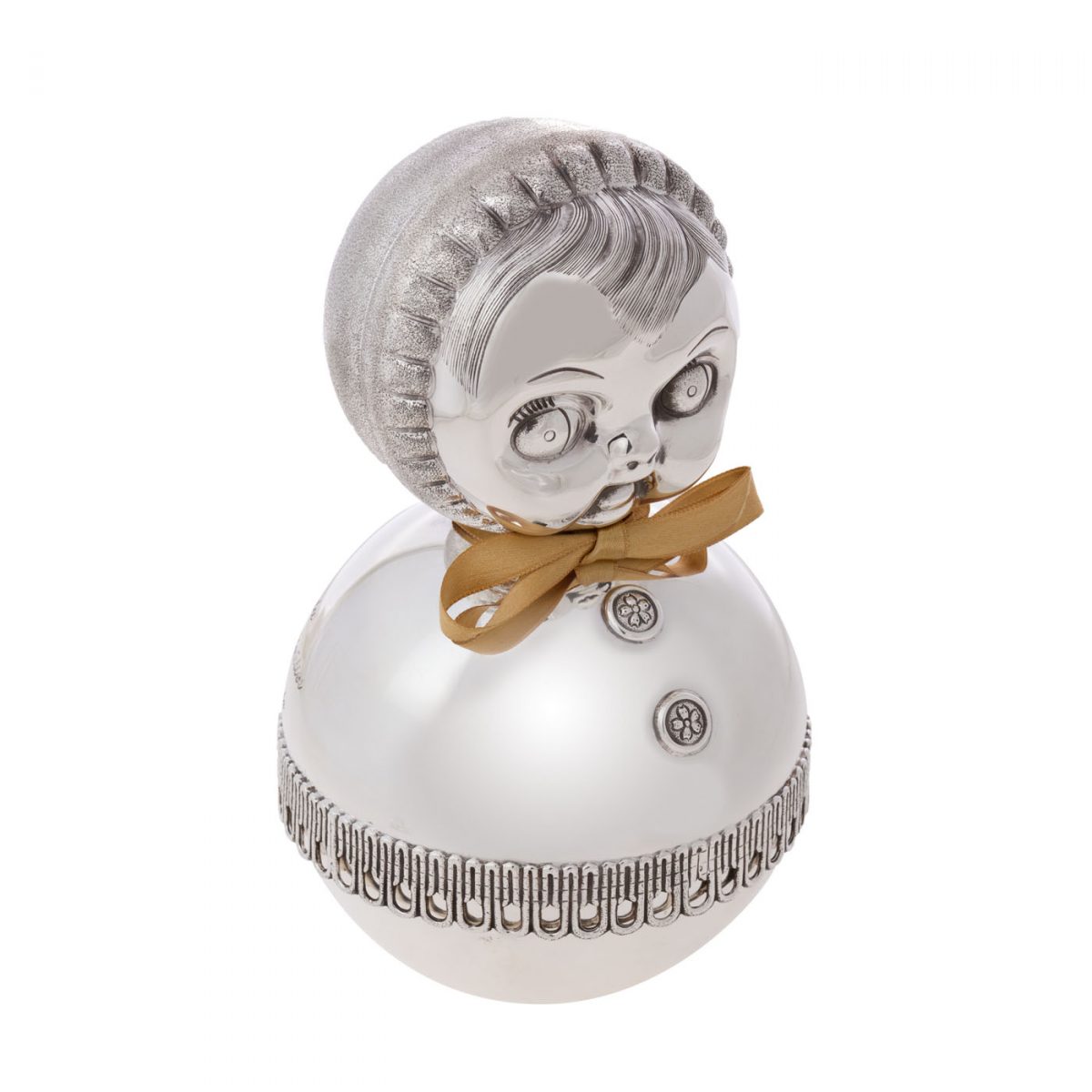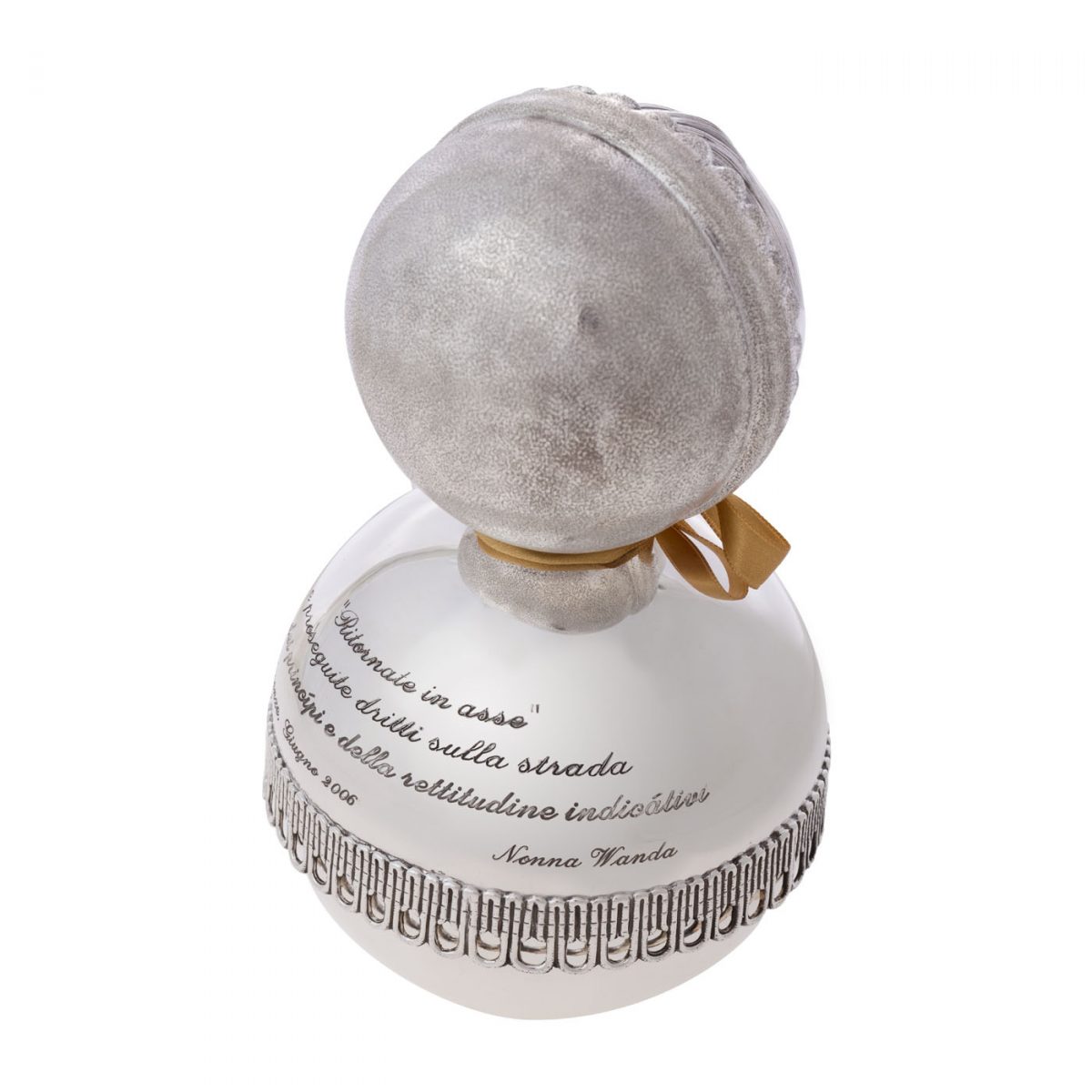 Silvia is quick to point out the difference between a machine-engraved object and a hand-engraved object. For hand engraving, the pressure is more precise and refined. No machine can replicate that. Here, everything is handmade—even the engraving.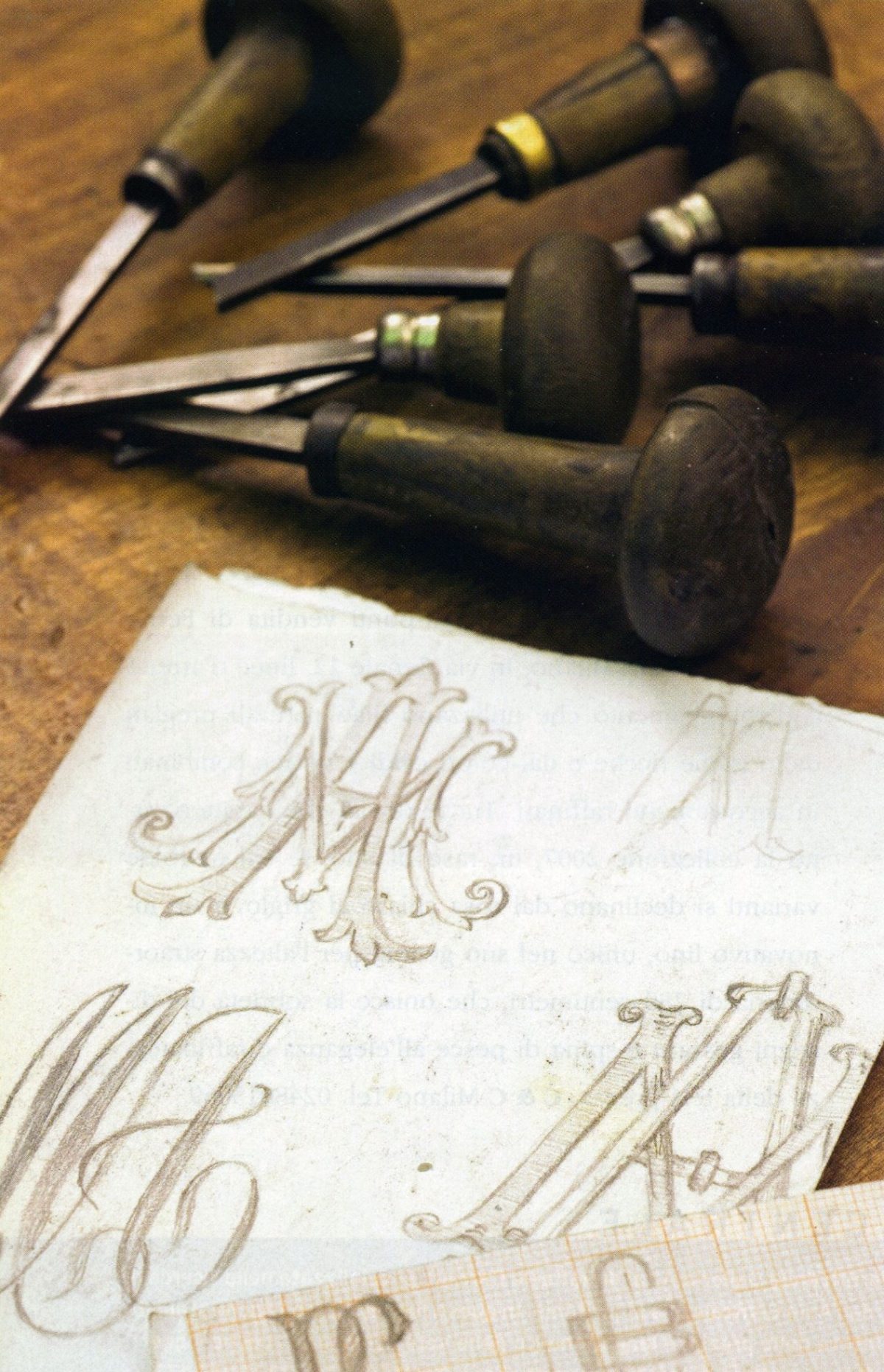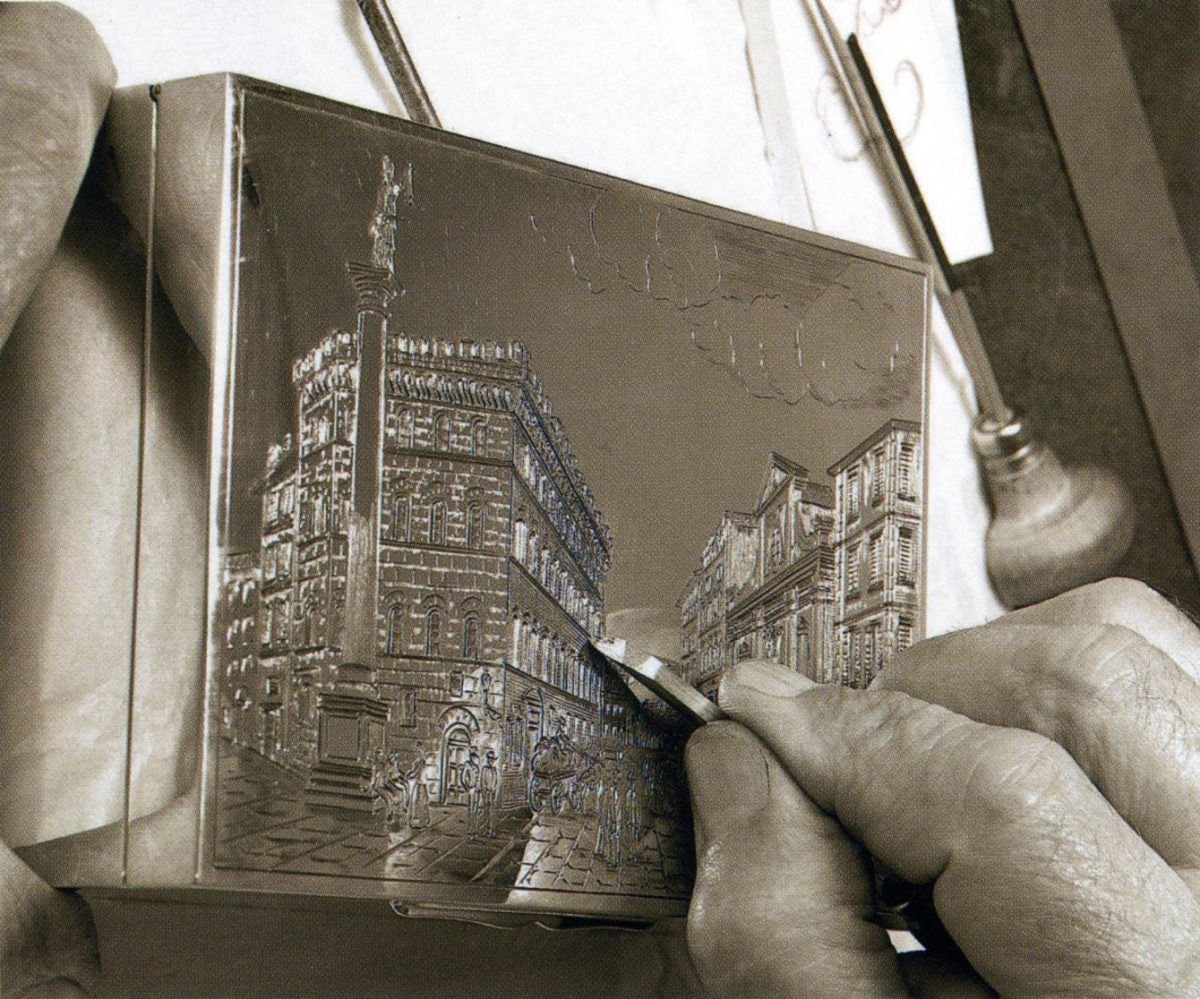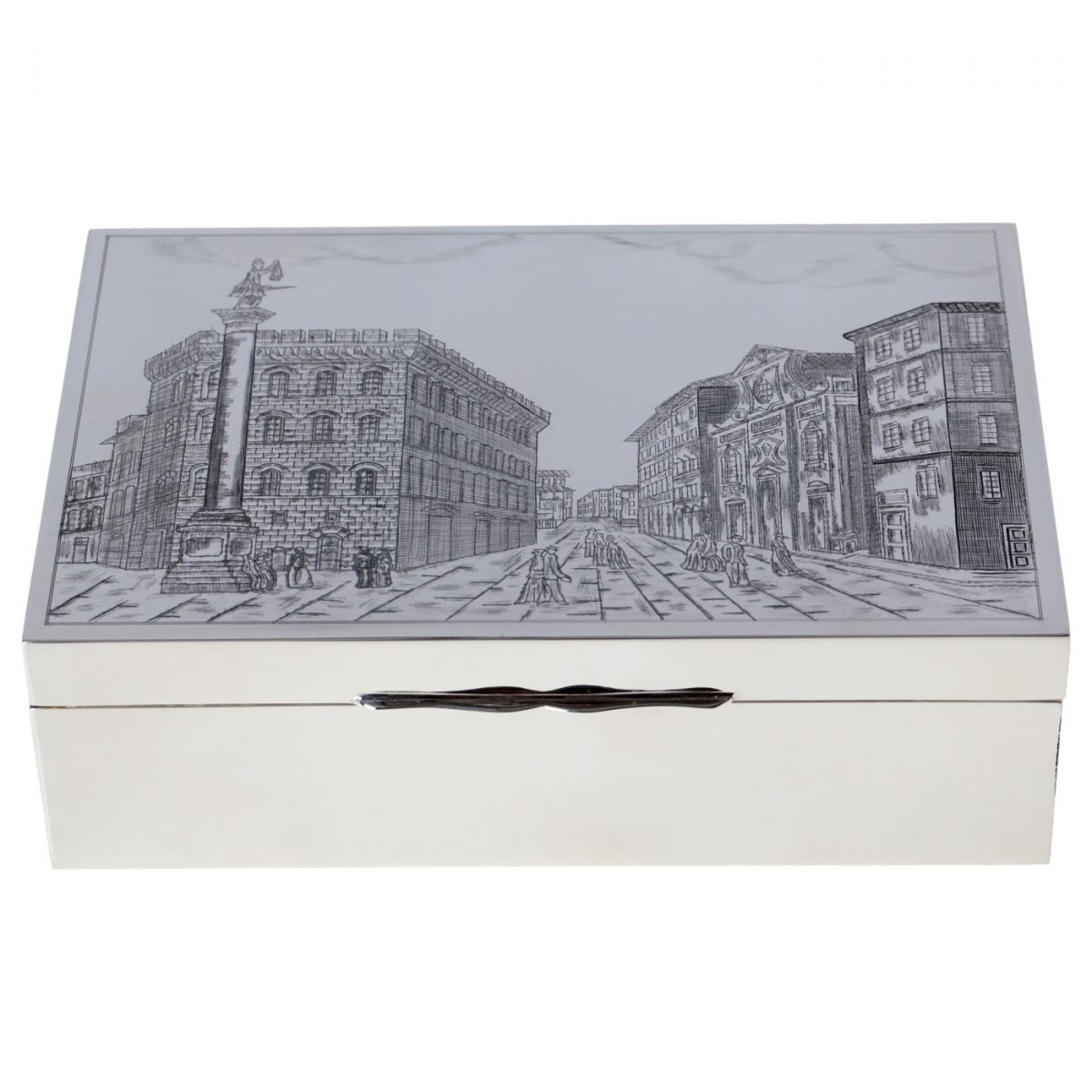 The Workshop
Silvia then takes me behind the scenes to the back of the building, where master silversmith Pagliai is immersed in his work. The air is filled with a different energy: a quiet, almost meditative atmosphere that fine craftsmanship demands.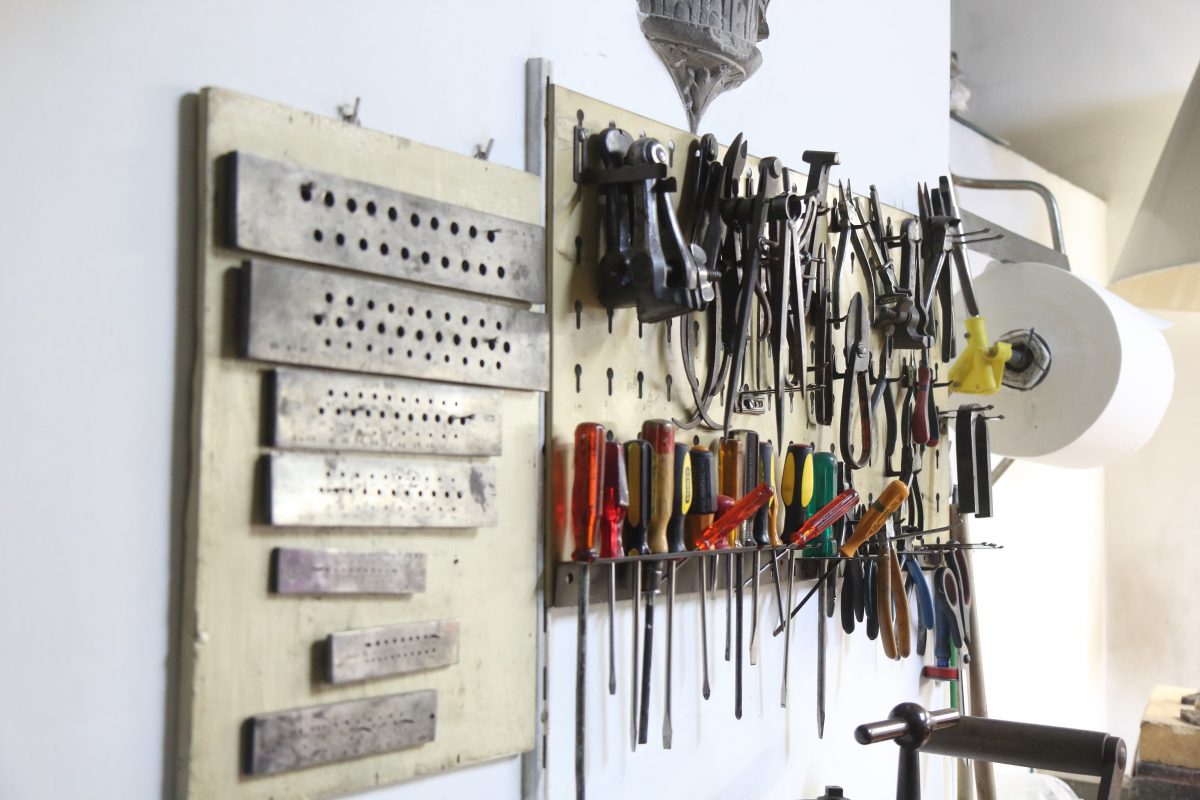 Hand tools hang at the workshop's entrance, and precious metal objects are scattered across work surfaces in various stages of being made or restored. Up on shelves, there are antique objects d'art such as a baby-pink-and-gold classical-style clock, waiting in line to be restored, and a large chandelier lies on its side, looking a little sad with its still beautiful yet tarnished delicate silver leaves.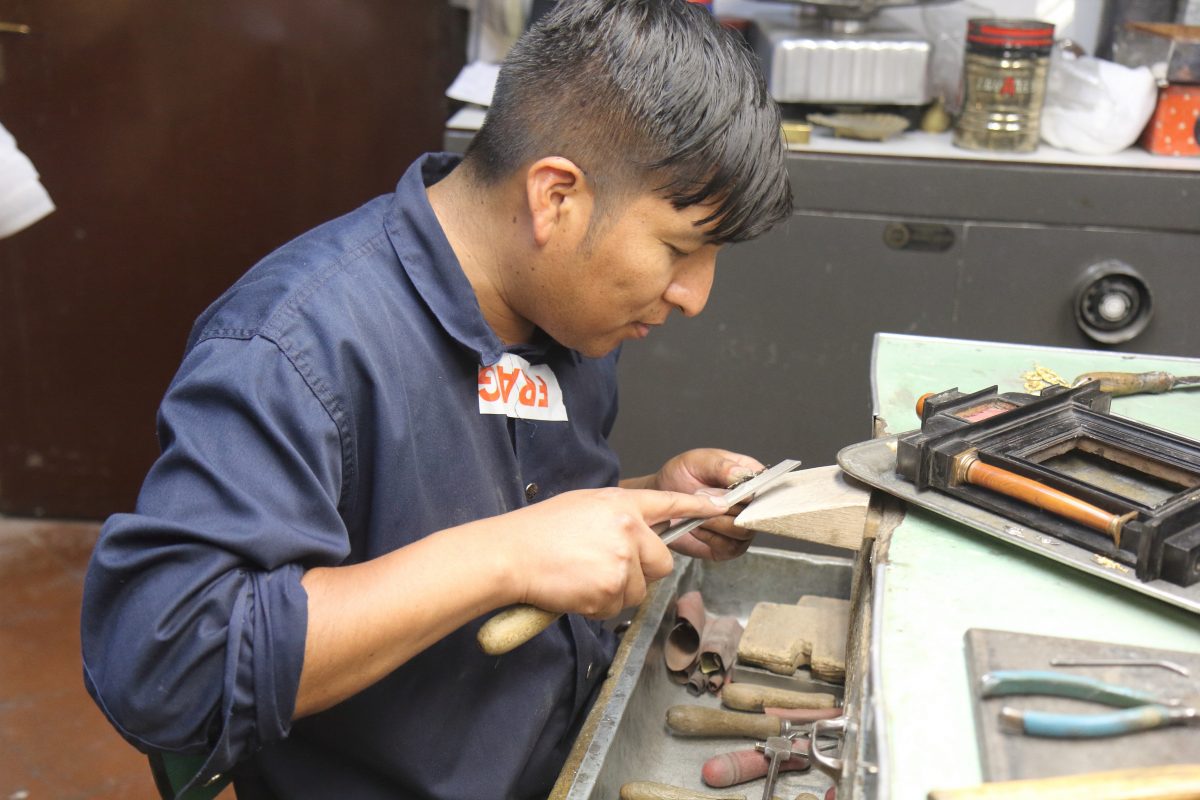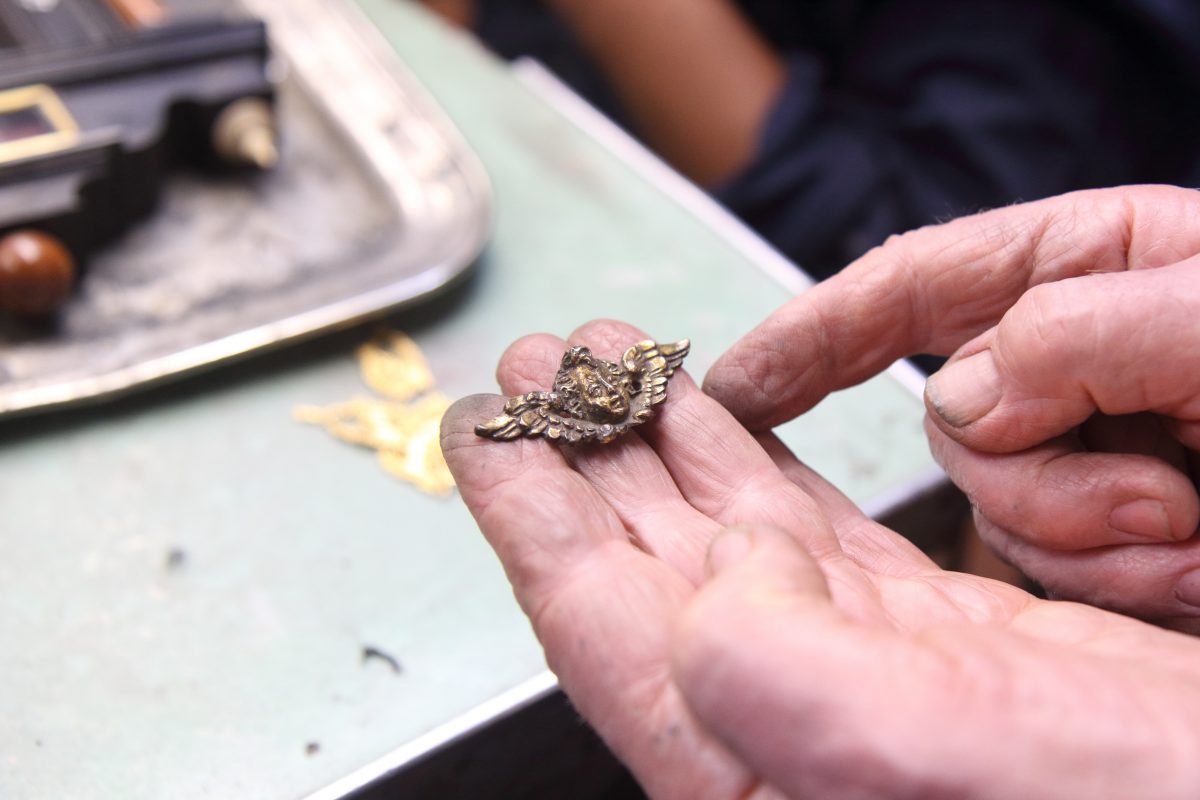 Pagliai happily tells me that he and his assistant are preparing an 18th-century picture frame from a church that needs to be restored. He holds a tiny brass head in his hand that needs to be cleaned. He then moves on to show me a silver candlestick hallmarked 1872 that an elderly Russian customer bought in. The Russian Orthodox candlestick needs his expert attention to be taken back to its former glory.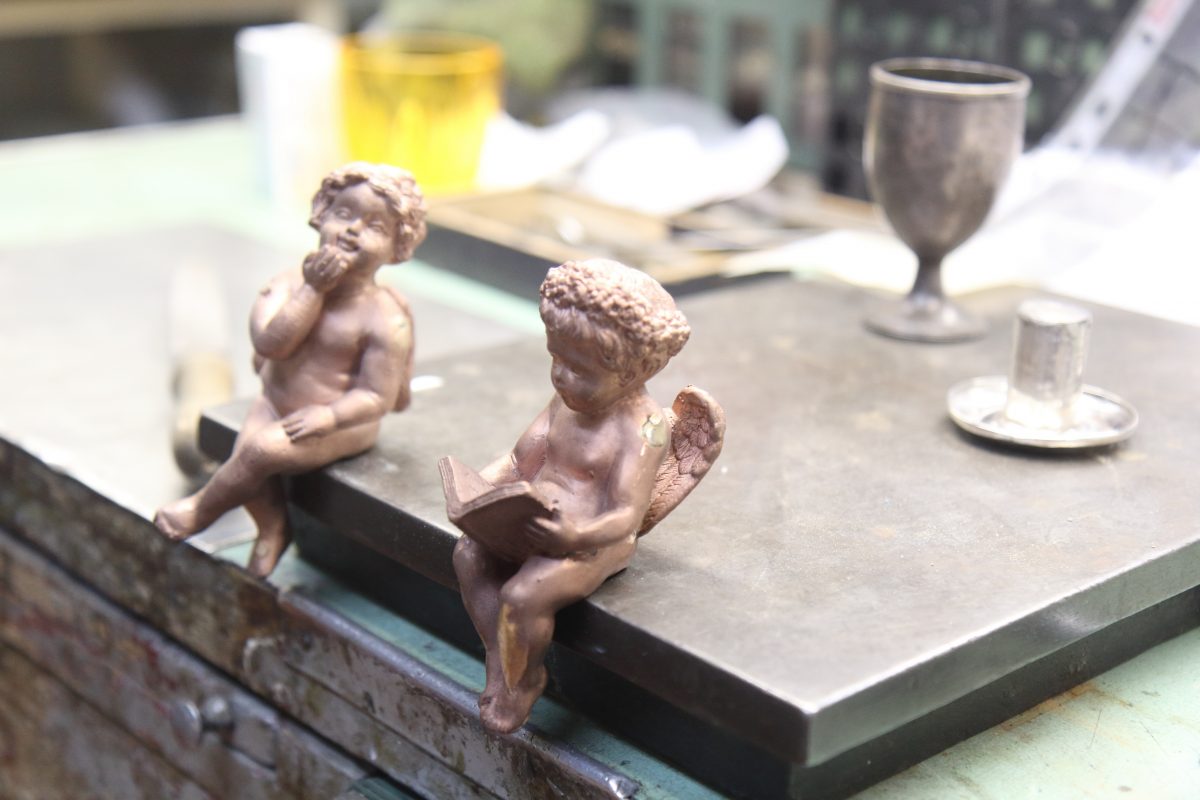 Pagliai clearly enjoys his work. When I ask if I can photograph him at work, he pulls out two bronze cherubs and places them playfully on the workbench, as if they are in conversation. The forms have been made by pouring molten metal into a wax mold, and once the silver is set, the wax is melted and drained away. This is one part of the traditional and aptly named lost-wax process that Pagliai uses to make his precious creations.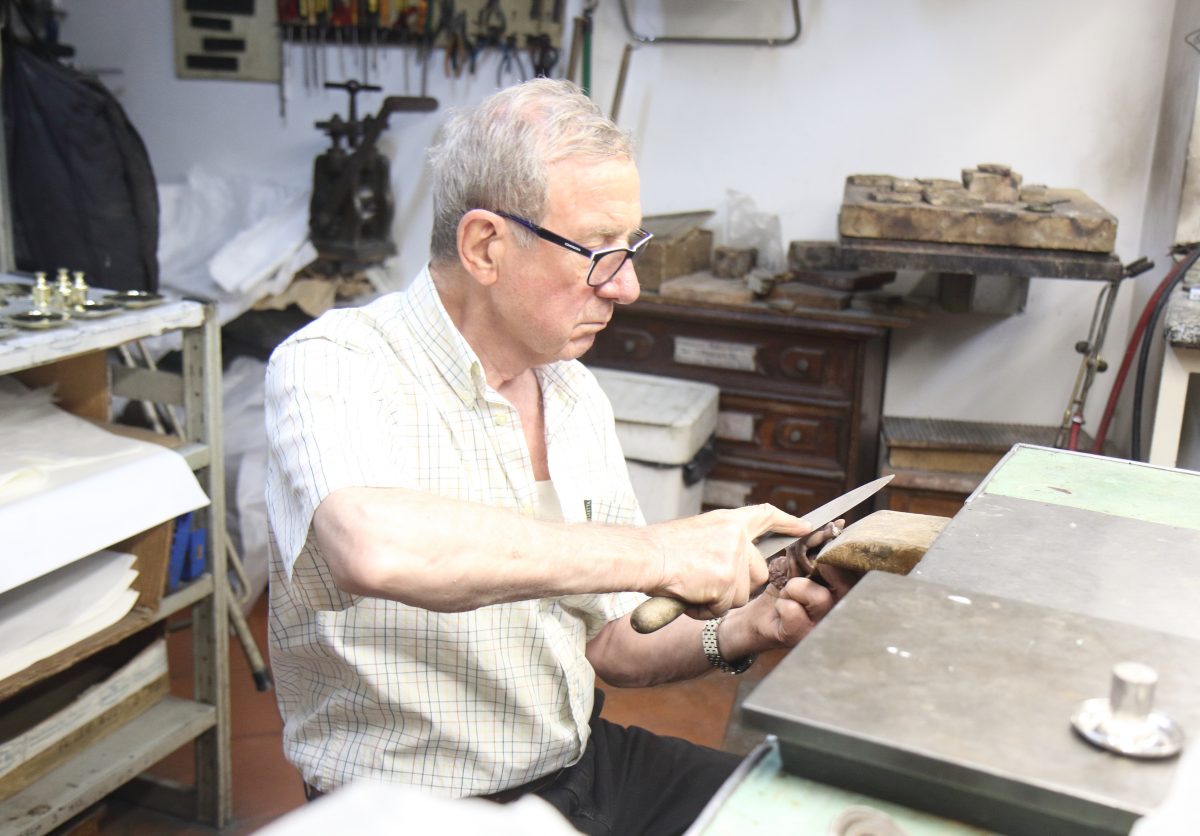 At this stage, the forms are imperfect and need to be refined by filing, which Pagliai sits down to demonstrate. Then, the finishing touches are made by hand chiseling and polishing. These refinements can take months, depending on the design requirements.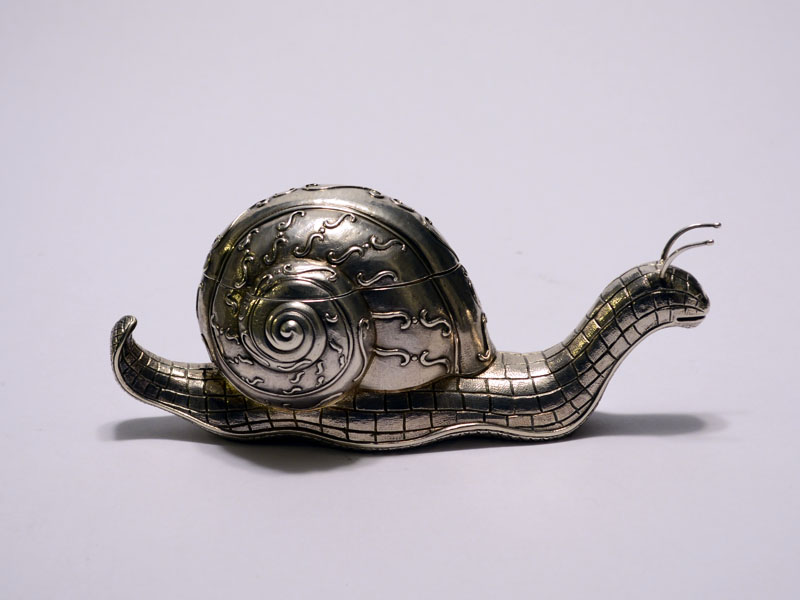 For example, the Tiffany animals take three months to make: A U.S. order placed in July 2017 was delivered in December that year. The most technically challenging aspect of making the decorative boxes is ensuring that the lids fit perfectly, says Stefani.
To uphold the silversmith tradition is an important role, Pagliai says, because silversmiths are disappearing across Europe, largely because the work is manual and not by machine.
Pagliai believes that it's very, very important to continue this traditional work with his family. The key for silversmiths to survive is to work through collaborations with tourist shops and specialist schools such as the Sacred Art School–Florence, where students can learn restoration and graduates can apprentice at workshops like Argentiere Pagliai.
What remains to be seen is whether the passion of the few remaining silversmiths like Argentiere Pagliai can save the tradition.
To discover more about Argentiere Pagliai, visit ArgentierePagliai.it
Ms. S. Staderini acted as translator from Italian to English.