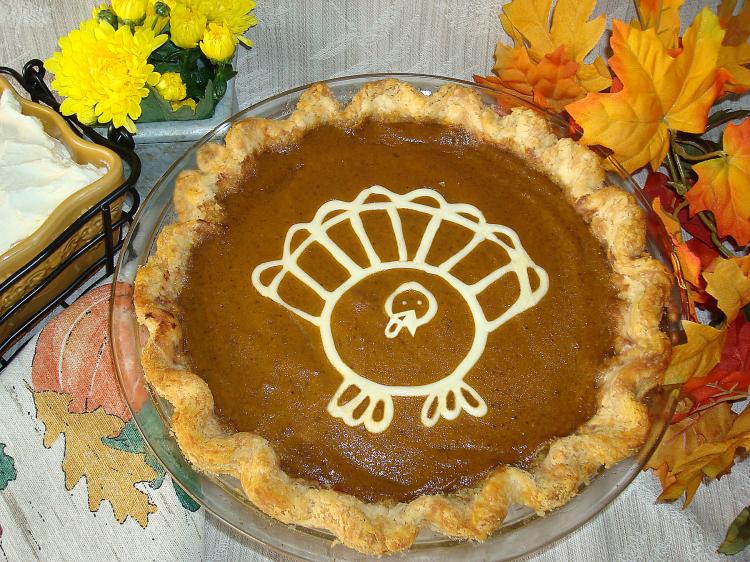 After a big turkey dinner there is always room for pumpkin pie. Thanksgiving dinner just wouldn't be the same without it. Add some character by drawing a turkey design on top with sour cream and milk before baking. It is simple to draw as it consists mostly of circles and a few straight lines.
Choose a favourite pastry recipe and prepare the pastry a day or two ahead of time, then keep it refrigerated until needed.
Servings: 6 to 8
Pie ingredients:
1 can (398 ml (14 oz)) cooked pumpkin purée
175 ml (3/4 cup) packed dark brown sugar
5 ml (1 tsp) ground cinnamon
3 ml (3/4 tsp) ground ginger
1 ml (1/4 tsp) ground cloves
2 ml (1/2 tsp) ground nutmeg
2 ml (1/2 tsp) salt
2 eggs, lightly beaten
125 ml (1/2 cup) light cream
175 ml (3/4 cup) 2% milk, scalded
Directions:
Line a 23-cm (9-inch) pie pan with pastry. Flute edges and chill crust for at least 20 minutes before baking. Line the pastry shell with foil, fill with dried beans, and blind bake at 200 C (400 F) on the bottom rack of the oven for 10 minutes. Remove foil and beans and bake for another 10 minutes.
Mix pumpkin purée, brown sugar, spices, and salt together. Add lightly beaten eggs and mix together until well blended. Add cream and mix well. Stir in scalded milk just until blended. Pour pumpkin mixture into the partially baked pie shell.
Turkey design recipe:
30-40 ml (2 1/2 tbsp) sour cream
7 ml (1 1/2 tsp) milk
Directions:
Mix sour cream with milk until smooth making sure there are no lumps. Pour mixture into the corner of a small Ziploc bag. Cut off the corner of the Ziploc bag to make a very small opening and draw your turkey design on top of the pie as follows:
Make a medium circle towards the bottom of the pie. Draw another smaller circle inside for the head. Make an arch above the medium circle, connect lines to the medium circle to make feathers, and add a scallop to the top edge of the arch. Add eyes, beak, snood, and feet. Smooth out any uneven edges with a toothpick.
Preheat oven to 180 C (350 F) and bake for 45 minutes to 1 hour until filling is set. Cool and serve with maple whipped cream.
Maple Whipped Cream Recipe:
500 ml (2 cups) whipping cream
15–30 ml (1–2 tbsp) pure maple syrup
Mix all ingredients together in electric mixer on high speed until firm enough to hold peaks.