HOUSTON—I admit I love Texas!
Arguably one of the best times to visit is in the spring, when the weather is mild, the sky seems endless, and the wildflowers are in full bloom. Byways are awash in color, lined with giant red Indian paintbrushes, bluebonnets, and pink buttercups.
But the individual communities are the real treasures here. I recently visited Houston, College Station, and San Antonio, and each has its own unique personality and vibe, all wrapped up with a pretty bow of Texas hospitality.
Houston, for example, is an eclectic blend of outdoor activities, taste-tempting cuisine, with a dash of quirkiness. Sports lovers will love College Station and Aggies football at Texas A&M University. For the history buff, San Antonio offers some of the best-preserved landmarks found anywhere in the U.S.
A road trip is the most convenient way to discover these three cities, as you won't want to miss any of the major highlights and little nuances along the way.
Far from roughing it, I stayed at properties operated by Valencia Hotel Group, which is known for its distinctive designs, prime locations, and excellent service. I was definitely pampered during my stays.
Houston
My first stop was Houston, the largest city in Texas. With more than 2 million residents, Houstonians love their city, which I found to be an eclectic blend of outdoor activities, taste-tempting cuisine, and a dash of quirkiness.
Like many communities, Houston has a bicycle sharing program, with more than 80 stations. I took a lovely ride through Buffalo Bayou Park, a beautiful green space that features art installations, city skylines, and the emotionally moving Houston Police Officers' Memorial.
During my visit, I saw some activity on an adjacent city street, and it turns out my timing was just right to catch the annual Art Car Parade. This event features hundreds of the craziest, artistically designed cars you can imagine queuing up along the parade route. Cars were covered with everything from beer cans to jewelry to marshmallow Peeps. They even had one festooned with singing fish and lobsters!
The food scene is as simple or sophisticated as your palate will allow. Here is a brief rundown of some of the best that I found. One of about eight food halls, the newly opened Dish Society at Finn Hall offers farm-to-table, locally sourced meals. Don't miss their brisket and cheese grits. Red rice and beans is what brings in the locals to Treebeards in Historic Market Square. Chef Kiran Verma opened Kiran's to rave reviews, and her tandoori rack of lamb is not to be missed. Even though I am just scratching the surface, I have to mention the addicting meatballs marinara at Jonathan's the Rub by Brooklyn transplant Jonathan Levine.

Perhaps the biggest revelation to me is what I would call secret Houston. About 20 feet below the street is a six-mile underground tunnel system connecting 95 city blocks. It is convenient in hot weather, when workers downtown need to get from one building to another. Here, you will find retail shops, restaurants, and theaters, in a hidden world all its own. Who knew? 
College Station
Driving from Houston to College Station takes about an hour and a half, with some pretty Texas wildflowers along the route. 
When I arrived, I checked into The George, another Valencia property, which boasts a stunning art installation showcasing a gigantic Texas flag. As I looked closer, I could see that the flag was actually created from books—10,000 of them, patterned after the barns you might find in the Brazos region of the state.
I quickly discovered that many locals here live or die on one word—football. This is home to Texas A&M, and the Aggies are the team that engenders much of the hometown spirit. Kyle Field was renovated in 2014 and 2015, and thousands pack the 102,000-capacity stadium on game day to enjoy barbecue and a cold beverage while cheering on their beloved Aggies.
Home of the 12th Man is one of the college's most inspiring stories. It all started in 1922 when the Aggies were being seriously trounced by the Centre College Praying Colonels in Dallas. The Aggies were losing men to injuries faster than they could replace them. At one point, the coach remembered another player named E. King Gill who was in the press box helping identify players. After being waved down and suiting up, Gill stood on the sidelines for the remainder of the game, the last player left should he be needed. Almost miraculously, the Aggies pulled off a stunning upset, winning 22–14. In honor of the 12th man, the whole student body now stands for the entire game.


I didn't have to go far to find some refreshments at the hotel's 1791 Whiskey Bar, where you can relax with a libation before dinner (whiskey sours are the specialty). Also located at The George, Poppy uses the freshest local ingredients to create flavorful meals and appetizers like their burnt brie, made with berry compote, candied walnuts, and fresh honeycomb.
As we drove to San Antonio, three hours away, I would be remiss if I didn't mention another Texas phenomenon known as Buc-ee's. These roadside mega-convenience marts boast the cleanest restrooms, multiple gas pumps, and an entire wall of beef jerky. I was told that I had to get my photo standing next to their beaver sculpture. "Why?" I asked. "It's a Texas thing," I was told.
San Antonio
My respite for the night was at the Hotel Valencia River Walk, which is centrally located in downtown San Antonio, close to the area's main attractions.

The River Walk entrance is right across the street and down a level. Since this was my first visit, I hopped on one of their narrated river barges for an interesting 35-minute tour. The development now has miles of interconnected walkways along the San Antonio River and includes hotels, restaurants, parks, and bars, as well as some historic missions.
After walking just a few blocks from my hotel, I felt a lump in my throat as I came upon what most Texans would consider to be the heart of Texas, The Alamo. Originally an early mission known as The Alamo Mission in San Antonio, it was the site of a heroic battle in 1836. I remembered and honored the bravery of 200 Texans who defended the site to the last man against the superior force of the Mexican Army. Among those who died were Col. William B. Travis, James Bowie, and Davy Crockett.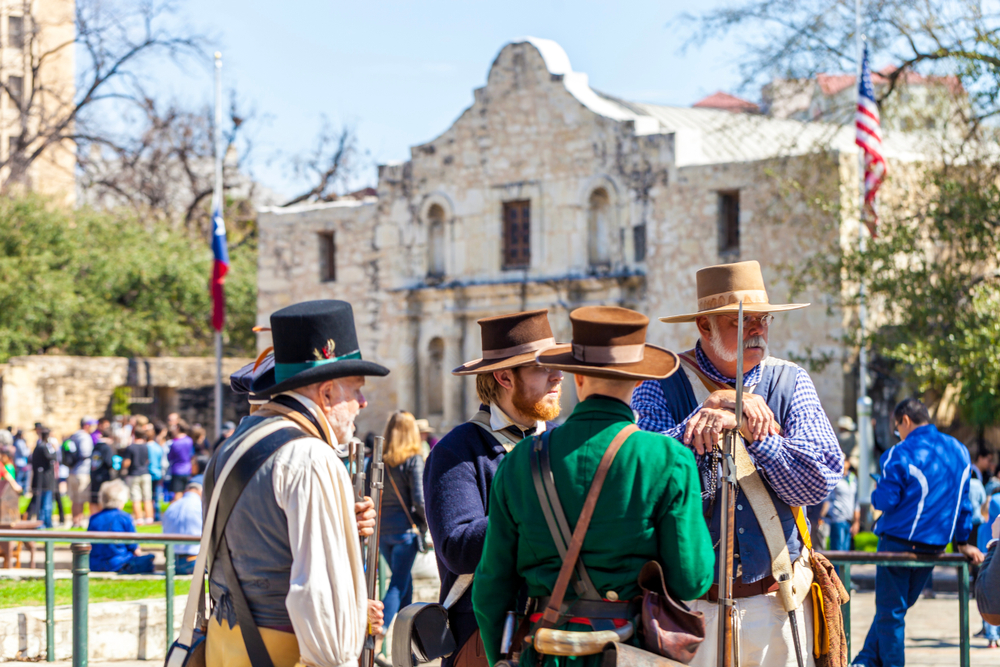 Downtown San Antonio is very pedestrian-friendly. There are retail shops, saloons, museums, and theaters all within close proximity. Of course, all this walking gave me quite the appetite and with thousands of dining options from which to choose, I will mention just a couple.
Boudro's Texas Bistro on the River Walk was a great spot to watch all the action on the River Walk and have great guacamole prepared tableside. Back at The Valencia, Dorrego's is the only Argentine-inspired restaurant in San Antonio, and their talented chef prepares excellent steaks served with his signature sauces.
One thing I noticed is how friendly and helpful the locals were. Many called me "sir" and welcomed me as if I were a trusted neighbor. Debbie Bell, a visitor from Austin, told me why she likes coming to San Antonio: "I love the people, the culture, and the food." I thought that pretty well described my experience in all three cities. Whether you visit in the spring or any other time of the year, Texas offers a charm that only the Lone Star State can provide.
Where to Stay
Houston
Hotel Alessandra
Rated among the best in the city by U.S. News and World Report, Valencia Hotel Group's Hotel Alessandra is situated near Discovery Green, a 12-acre park, and is also close to sporting venues, museums, and downtown attractions.
Sophisticated, elegant, and minimalist in design, this property offers luxury and outstanding service. Each guest room has premium bedding and linens, rainfall showerheads, and freestanding bathtubs.

College Station
The George
The George in Century Square has an inviting plaza and green space. The downstairs is inspired by the many Georges in history, such as George Washington and George Pullman.
The upstairs is patterned after railway stations of Texas. The rooms have custom furniture, comfy beds and linens, and various works of art.
San Antonio
Hotel Valencia Riverwalk
After undergoing a complete renovation, the hotel's new design incorporates Spanish colonial and modern Mediterranean architecture by designer Lauren Rottet. Guest rooms reflect a rustic vibe and have all the modern amenities and Valencia's signature beds.

Photojournalist Ron Stern, aka "The Global Gumshoe," has covered travel for over 18 years. He is a frequent public speaker and teacher on the subject of travel.
He was a guest of Valencia Hotel Group.