Did you know you might be an intellectually gifted person and not even know it? Yes, it's true!
Your brain is an extremely sophisticated computer that has many incredible functions that you may not be aware of; here are some word puzzles that reveal how gifted you might be!
You may notice that while some of the words (shown in the puzzle below) do make sense, others appear to be nonsensical gibberish. But take a second look, and you may realize there is actually a secret message to decode.
Test your cranial super computer: Take a look at the illustration below and see if you can uncover the secret message. What does it say?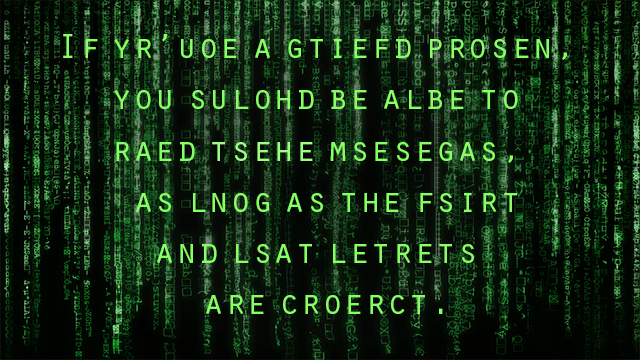 Don't scroll down below right away! Take a moment to solve it for yourself; and when you think you have it worked out, or if you're totally stumped, scroll down to see the solution.

The decoded message reads:

Did you decode the hidden message? If so, it tells you how much active gray matter you have upstairs!
The truth is that your brain is always doing a lot of computing and calculating every day, automatically, without you even thinking about it! It's able to make calculations and fill in the gaps on its own without needing any active consciousness—as long as there is enough sensory input to go by.
If you weren't able to solve the puzzle, it's no big deal. Sometimes you just have to relax your mind and allow your subconscious brain to do the work. Care to take another crack at it with a bonus puzzle?
Take a look at the illustration below and see if you can solve it: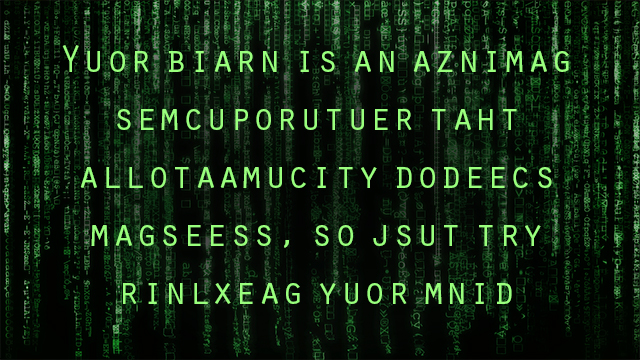 When you think you have decoded the message, scroll down to see the solution.

The decoded message reads:

Were you able to solve this bonus puzzle? As you may have figured out already, the first and last letters of each word are correct; it's the letters in the interior that are jumbled. Yet, those correct first and last letters are all that your brain needs to clue in; and your supercomputing neurons are able to quickly extrapolate the word and fill in the blanks.
Without our helpful subconscious assistant working overtime in our craniums, it would make daily tasks much more difficult and divert our main focus away from tasks at hand.
There's really nothing to worry about if you weren't able to solve the puzzles; you have the gift just like everyone else, to some extent (unless you're someone who's suffering from a disorder, but that's not your fault!).
If you couldn't read it, perhaps you're a bit too tense mentally. In taht csae, you hvae our piisomsern to leoson up, raelx yuor mendsit, and uasenlh yuor birn'as flul piteanol!
We would love to hear your stories! You can share them with us at emg.inspired@epochtimes.nyc