After storms unleashed a cluster of tornadoes that swept across western Kentucky late Friday, Dec. 10, leaving a trail of devastation in their wake, Mayfield, a town of around 10,000, was one of the worst hit areas.
But while the unimaginable damage has left many parts of the town unrecognizable, the community is still coming together.
Local residents—and even some from out of town—are providing much needed nourishment to those impacted by the disaster.
With his smoker hitched to his truck, Tennessean Jimmy Finch made the hour-and-45-minute drive from Clarksville to offer relief the best way he knows how.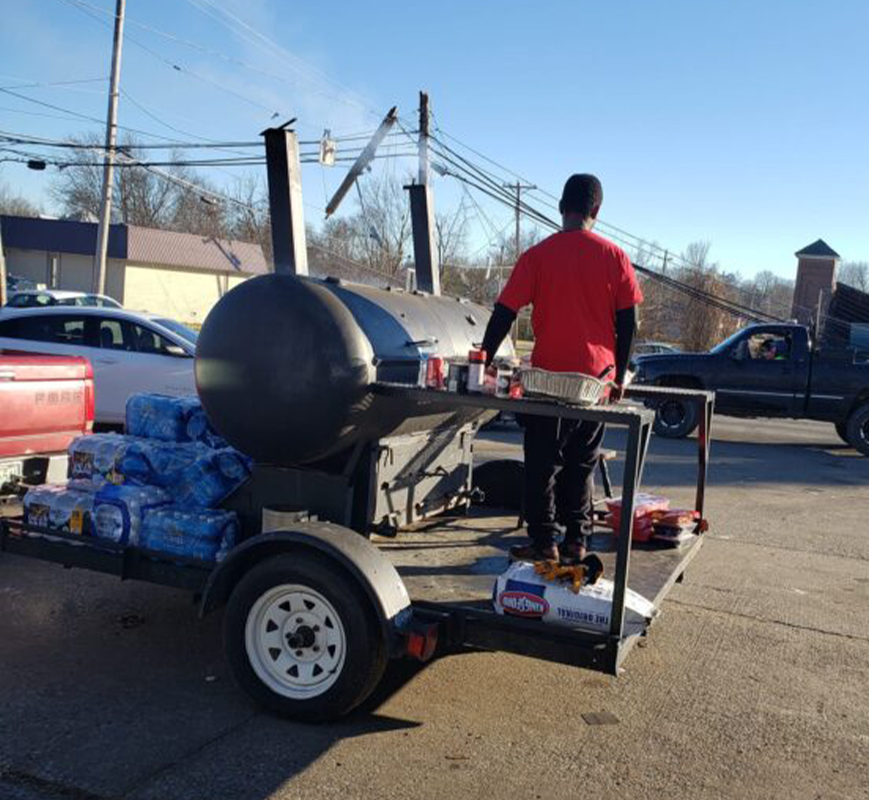 He has been grilling up hot dogs, chicken, and burgers for hundreds of residents in their hour of need.
"I just came down here trying to feed the people," Finch told local WLWT. "Everybody's talking about they're sending up prayers and, you know, their well wishes and everything. You know, folks can't eat no prayer. You gotta put something in their stomach, give them something to hold on to."
His much-needed meals are offered for free, though donations will go toward purchasing more food to keep the effort going.
Meanwhile, Mayfield native Rhonda Moss-Leavell, whose family owns a local food truck, partnered up with Finch to provide help amidst the disaster. She said it was remarkable how her food truck somehow had been spared by the storm.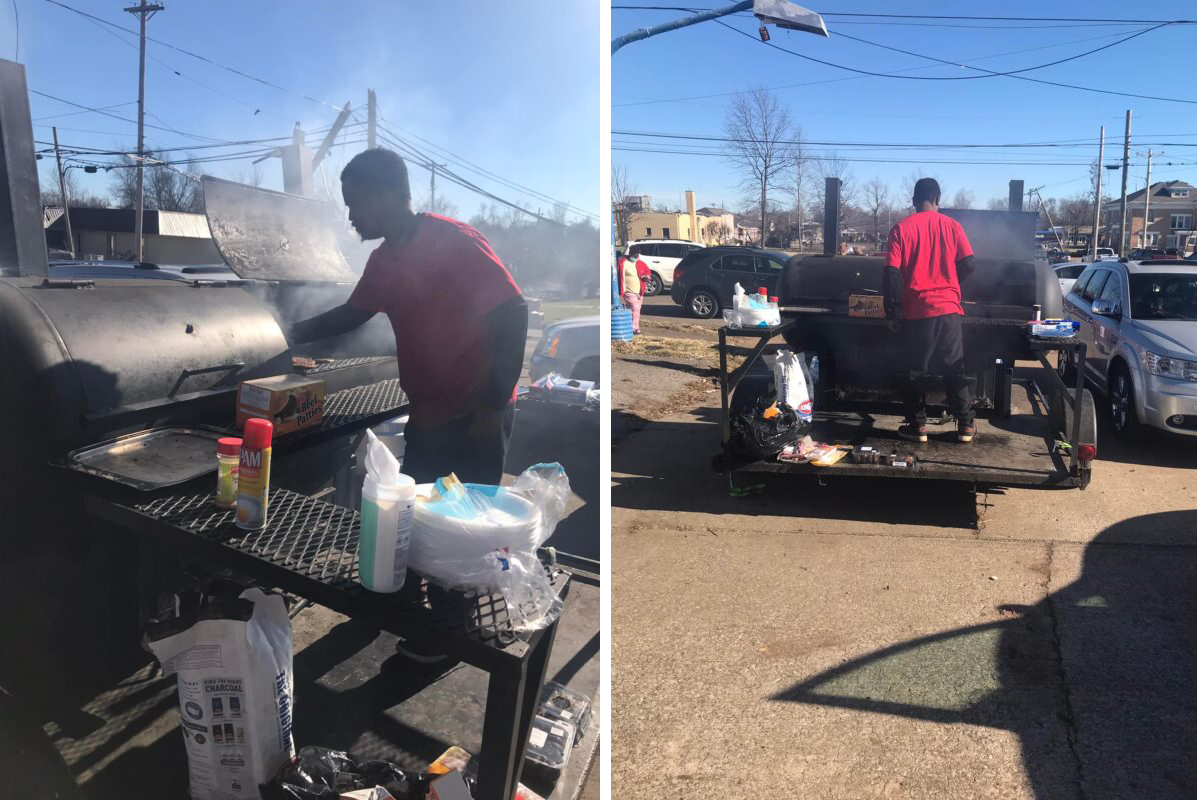 "Everything around them got hit, but the food truck is still standing," Moss-Leavell told the news outlet. "God had a purpose for this food truck. And we're using it as you see today."
Owner of the food truck Anthony LaMar Mors-El offered hope on social media by posting the relief effort on Facebook, captioning:
"Today we were able to feed hundreds of people!! We will be serving breakfast in the morning. Thankful to all the people that's helping out. We have free food and drinks for anyone that's hungry. Come see us tomorrow Upper Level Food Truck and Treats."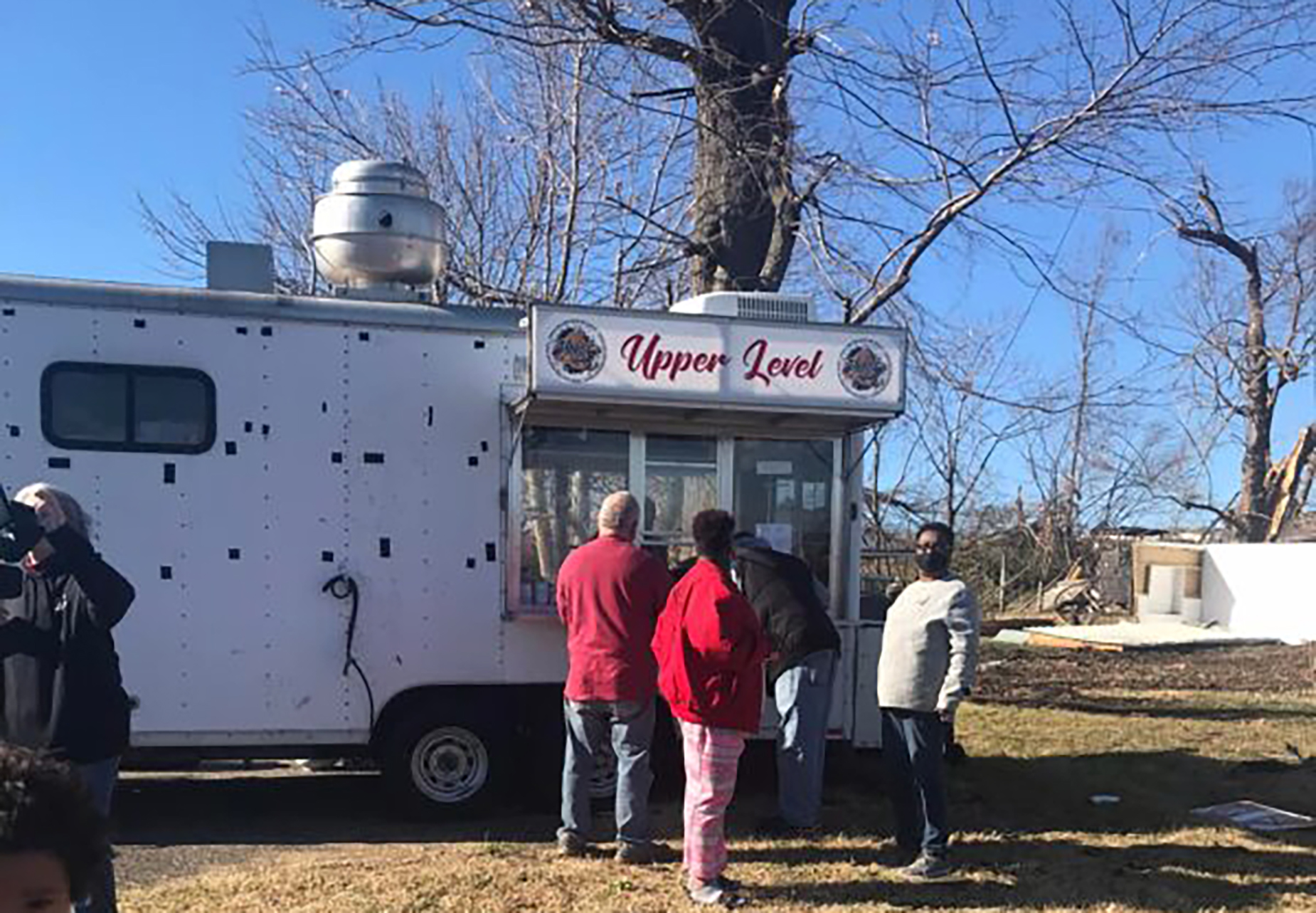 Facing a long road of cleanup ahead, the scene is surreal and hard for Moss-Leavell to process.
"They said life was going to change. And they didn't lie," she told the station. "All I could feel was my family. All I could think, I can't help them. I couldn't help them. All I could do was pray."
Fortunately, those family members made it out safe and on Sunday were giving back by helping clean up and providing free meals on a cold December day.
Kentucky governor Andy Beshear said that 70 people could have died from the tornadoes in the state alone, and called the disaster "one of the toughest nights in Kentucky history."
Share your stories with us at emg.inspired@epochtimes.com, and continue to get your daily dose of inspiration by signing up for the Epoch Inspired newsletter at TheEpochTimes.com/newsletter