Take Part in Culinary History at Mad. Sq. Eats
September 26, 2013 1:03 pm Last Updated: September 26, 2013 10:42 pm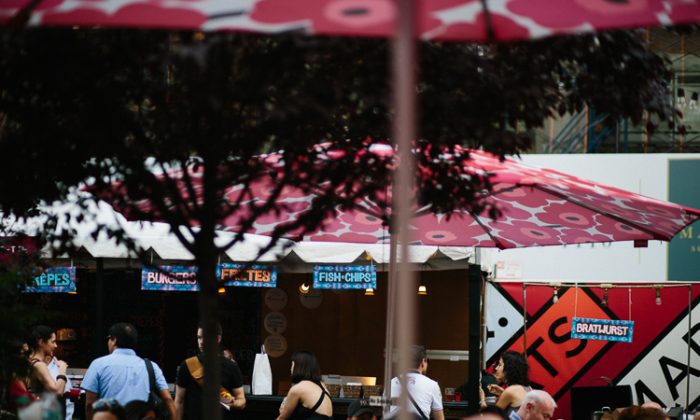 NEW YORK—It's every foodie's dream: to meet lauded chefs, try one of their experimenting dishes and have your opinion influence their menu. You can do exactly that at Mad. Sq. Eats. 
Mad Sq Eats is returning to Worth Square from Sept. 27 to Oct. 25. It's more than booths at a food market. One can interact with chefs from well-known restaurants who are looking for feedback as they experiment with new flavors. 
The maple brown sugar Sriracha sauce from Mayhem & Stout's restaurant menu was born out of the feedback the chef received during Mad. Sq. Eats. 
Mad. Sq. Eats also serves as a starting point for new restaurants such as Seoul Lee Korean Barbecue, which is currently not open anywhere else.
Foodies have access to a nice blend of old favorites and experimental new dishes. One of the most popular returnees to Mad. Sq. Eats is Roberta's, a pizzeria from Bushwick.
Newcomers this fall include Doughnuttery (its apple cider is recommended for comfort food during cold weather); Delaney Barbecue; TacoTown; and Flatiron's Mediterranean restaurant SD26.
"I love going there thinking you want a taco and then finding out that what you really want are Korean chicken wings," said Rachel Van Dolsen, marketing director at Urban Space. "There's something new everyday—I never get bored."
Madison Square Park is partnering with Urban Space to create the event.
Mad. Sq. Eats features 27 unique vendors in Worth Square, located in the shadow of the Flatiron Building and adjacent to Madison Square Park.
Notable items on the menu include: artisanal cured meats, local cheese plates, pizza made to order in a woodburning oven, mulled apple cider, authentic Maine-style lobster rolls, agave margaritas, miniature peanut butter doughnuts, local craft beer, porchetta sandwiches, and hot dogs with kimchi and seaweed flakes. 
"Mad Sq Eats is really about capturing the personalities and stories of the local vendors," Dolsen said. "They come with new dishes every year." 
Mad. Sq. Eats
Worth Square
urbanspacenyc.com/mad-sq-eats 
Hours
Daily 11 a.m.-9 p.m.
From Sept. 27 to Oct. 25.