Dreaming of a white Christmas? Staying home and wishing for snowfall isn't the only way to get one. This year, opt for an adventure the whole family will enjoy: a train trek along some of the world's most scenic wintertime routes. Whether you want to meet Santa Claus at his North Pole digs, feel like you're living in a snow globe, go Christmas market-hopping, or all of the above, these train routes will deliver the sort of snowflake-sprinkled memories you'll treasure forever.
A Truly Epic Winter Adventure on the Alaska Railroad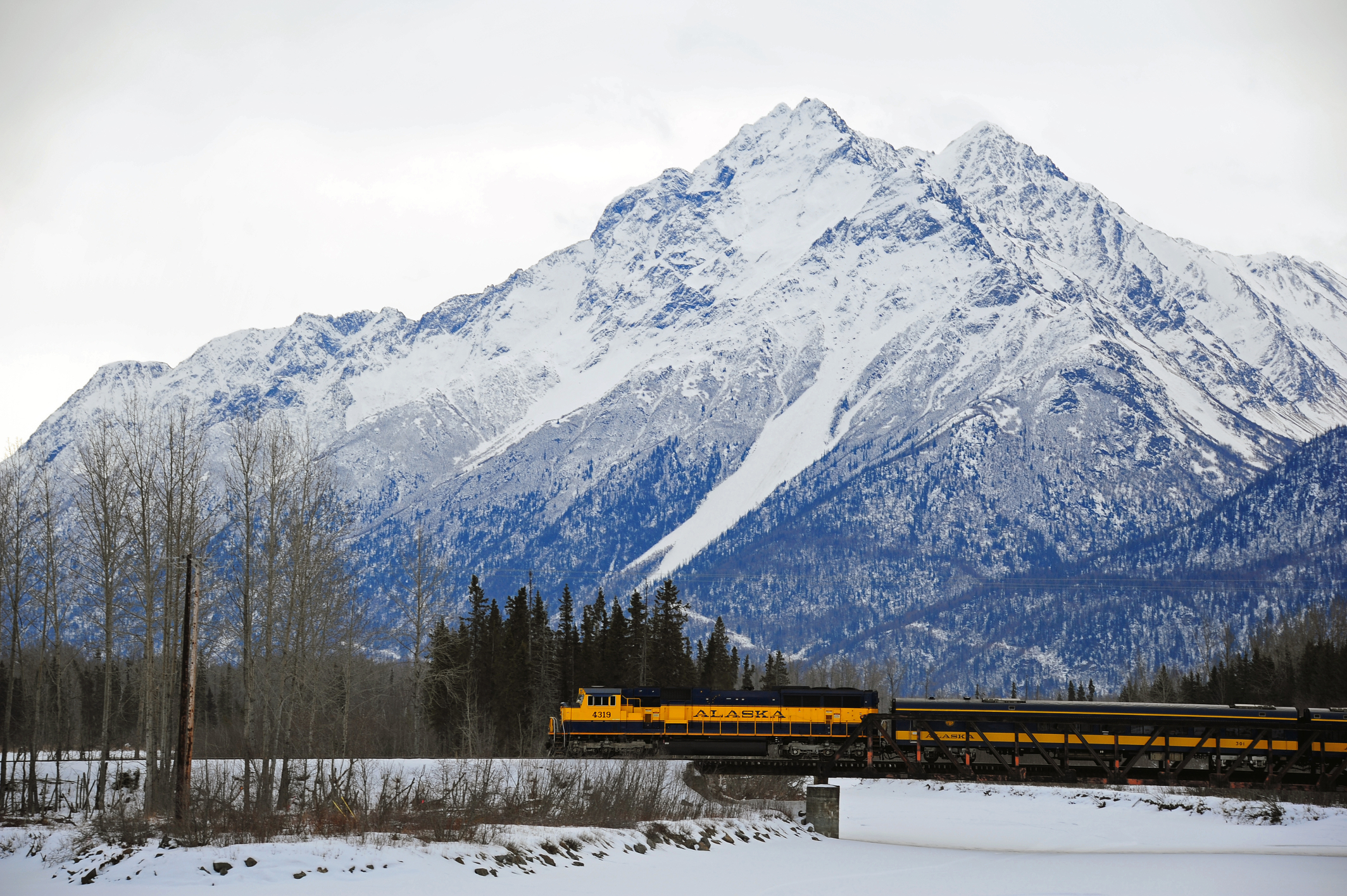 Alaska in the winter isn't for the faint of heart—tourist season ends in September and the only brave souls left through the severity of Alaska's winters are those who have a sense of adventure in their blood. But come equipped with snow gear and a love of the cold, and The Last Frontier will reward you with truly epic winter scenes—think heaps of snow and ample darkness for viewing the Northern Lights.
True, there's no riding in the lavish Princess Cruises train cars during this time of year—the company recently celebrated 50 years of presence in Alaska and has both the cruising and on-land portions down pat—but the Alaska Railroad itself operates year-round and even offers winter packages ranging from quick one-night excursions to a six-day trip to the remote wilderness above the Arctic Circle.
Conduct Your Own All-American Adventure on Amtrak's Routes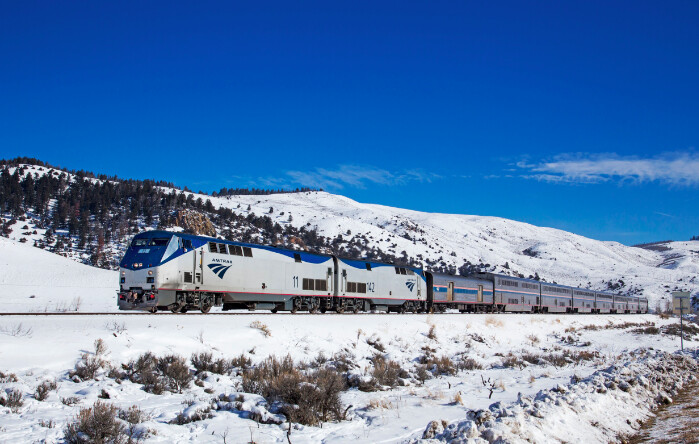 Amtrak's routes, which criss-cross the country provide ample options for a magical winter getaway. For example, the California Zephyr, which runs daily between Chicago and San Francisco, is said to be one of the most beautiful train trips in all of North America—it hits bucket-list stops like the Rockies, the Sierra Nevadas, and Lake Tahoe—and going during the winter provides a unique perspective on some of our nation's most beautiful natural wonders.
As they cross the Continental Divide, passengers are treated to breathtaking views of Rocky Mountain National Park, the Colorado River, and Glenwood Canyon; even when it's snowing, you can sit in the special observation car for optimal views.
Alternatively, those looking to traverse the best of the Northeast can take The Adirondack from New York City through the beautiful Hudson Valley wine region in upstate New York all the way to Canada, ending in Montreal. The Empire Service, which has multiple daily departures, is another popular option; it connects New York City and Niagara Falls, traveling north and then west across the entire state of New York and passing through the bucolic Finger Lakes region and Hudson River Valley.
The Vermonter is another solid choice; the route begins in Washington, D.C., and runs through New York City and Philadelphia all the way up to St. Albans, Vermont, with stops in Maryland, Connecticut, Massachusetts, and New Hampshire along the way. The Vermonter is especially well suited to those looking to take a ski trip without having to lug their gear onto flights (expensive!) or attempt to drive through snowy terrain—Amtrak permits passengers to bring skis, snowboards, boots, and more for free.
Another Amtrak adventure is found aboard the Empire Builder, which traverses the American West—including Montana's Big Sky country—along major portions of the Lewis and Clark National Historic Trail between Chicago and the Pacific Northwest, terminating in Seattle. The route also hits hotspots like Portland, Vancouver, Fargo, and Milwaukee. The Empire Builder is a popular summertime trip, but opt to go in the winter and you'll appreciate Glacier National Park's 7,000-year-old glaciers outside your window all the more.
European Grandeur and Christmastime Delights With a Eurail Pass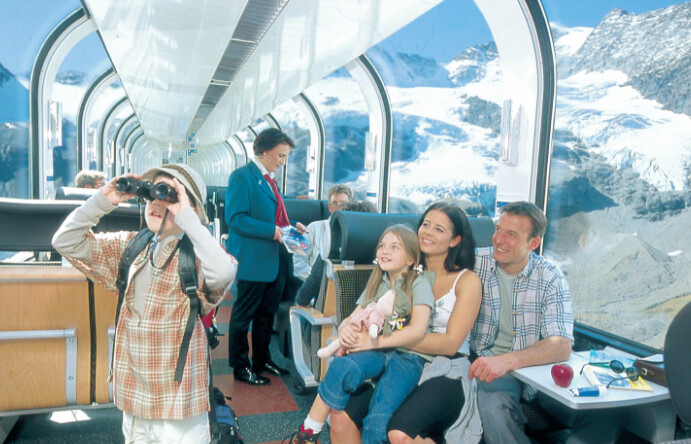 Looking for the ultimate holiday train trip to Europe? The Santa Claus Express will delight kids and adults alike with a route similar to the one taken by the jolly man himself. Board the double-decker overnight train in Helsinki and you'll wake up above the Arctic Circle in Finland's snowy Lapland; before traveling on to the train's final destination, Kemijärvi, you'll stop in Rovaniemi, the official home of Santa Claus and his personal post office.
At Santa Claus Village, visitors can chat with Santa about whether they've been naughty or nice, make Christmas-list requests, and spy a forest of Christmas trees as well as the native reindeer population. A double sleeper car with a private bathroom costs just 45 euros (around $50) per person. Combine it with Eurail's Scandinavia Pass to make your own adventure across not just Finland but Denmark, Sweden, and Norway, where the Flåm Railway is a sought-after winter route.
Chocoholics and cheese lovers, there's no better time to sample Switzerland's delicacies than around the holidays. For a train trip that adds sensory pleasures to the visual delights (mountains, valleys, and vineyards, oh my!), take the Chocolate Train on the Golden Pass Railway from Montreux to Broc-Chocolat—you'll be treated to stops at a cheese factory in the village of Gruyère and on to Broc to see how chocolate is made. Eurail passes are valid on the entire Chocolate Train route, but reservations are required; a first-class ticket costs CHF 59, roughly $60 USD. 
Want more European wintertime delights? Use a Eurail pass to go Christmas market-hopping across the continent and indulge in mulled wine, gingerbread, and other cozy treats under the fairy lights; head to Austria for stunning winter scenery and festively festooned towns or to Germany for some of the most elaborate Christmas markets in existence, spread across the country's many quaint towns and villages. Traditional German Christmas markets in Cologne, located beneath the UNESCO World Heritage Cologne Cathedral, and in Munich, with the Gothic town hall of Marienplatz serving as backdrop, are longtime favorites and easily accessible via rail.
Kick Back and Let Vacations By Rail Do the Planning
Choose from the wide range of rail-based trips around the world available from Vacations By Rail and you can book and be done—one task off the never-ending list. Their Banff & Jasper Winter Magic tour, filled with national parks and adventures in nature, treats travelers to some of the best scenes of Canada by rail. The tour starts in Calgary then heads out to Banff, where you can take a guided walking tour along the catwalk walkways and crevices of Johnston Canyon to see ice falls and abundant natural wildlife. In Jasper, you'll enjoy educational tours on the drive through the Athabasca Valley—keep an eye out for elk, deer, sheep, goats, coyotes, wolves, and moose.
The First Class Glacier Express at Christmas, on the other hand, snakes through some of Europe's most charming cities: You'll depart London's St. Pancras International on the Eurostar and arrive to Strasbourg, France, where you'll board a mountain railroad narrow-gauge train to Zermatt and take in the Matterhorn before the main event: traveling first class on the iconic Glacier Express. Spending Christmas in Lucerne, you'll be treated to a grand five-course meal in true Swiss high style, complete with caroling. The nine-day trip concludes with another rail highlight: taking the narrow-gauge Bernina Express from Chur to Poschiavo and the Italian town of Tirano, serving up some of the most picturesque scenery in the world on the journey.
Skye Sherman is a freelance travel writer based in West Palm Beach, Fla. She covers news, transit, and international destinations for a variety of outlets.