Swiss Timing: Fresh, Healthy, Fast at Marché Restaurant
Brookfield Place rösti ready for potato season
September 3, 2013 1:37 pm Last Updated: September 3, 2013 1:37 pm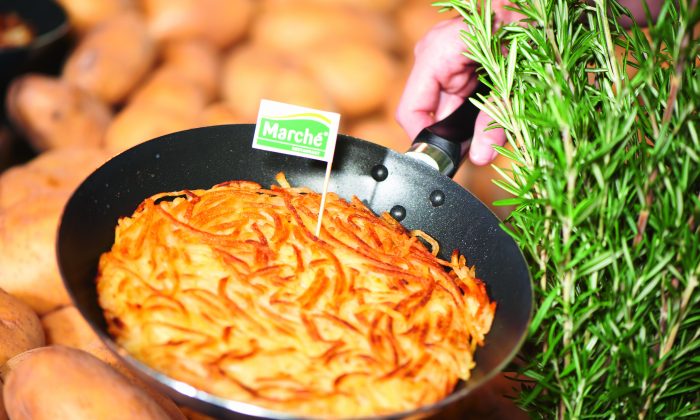 Special Feature—If you're looking for a Swiss watch you can probably find one at the mall, but if you'd like a Swiss meal, there's really only one place in Toronto to get a proper one. 
Marché Restaurant at Brookfield Place on the corner of Bay and King is operated by Mövenpick, Switzerland's popular hotelier and restaurant chain.
The idea behind Marché is to offer uncompromisingly fresh food, all made to order in front of your eyes. Everything, including breads, cakes, and pasta are made on site daily. 
Set up like a market, you visit a "station" where you have your dish custom-made while you watch. Everything is fresh and delicious, and there is a mind-boggling selection. 
Celebrating its 30th anniversary, Marché's "Fresh-Healthy-Fast" concept has spread around the world. Though most of their locations are European, the two largest are in Singapore and Toronto. 
Babette Baars, general manager of Marché Canada, keeps a close eye on the numbers. Singapore beat out Toronto for a minute, but then she "added a few chairs" and we were back at the top. 
Though Switzerland is a mere 41,285 square kilometres, the Swiss have three language groups: French, Swiss-German, and a little Italian. All three cultures have their place at the table at Marché. And there are Canadian touches, notably Canadian breakfast and Asian food (which these days is quintessentially Torontonian).
If you like French food, you can visit the crêpe station. These large but paper-thin pancakes can be stuffed or topped with anything. Sweet crêpes are served with fruit and whipped cream. Savoury crêpes are stuffed with meat, cheese, and cooked vegetables. 
The Italian station features excellent pizza, lasagna, and pasta made fresh daily.
Naturally there is Swiss-German food. Rösti, considered by many to be Switzerland's national dish, was traditionally a simple farmer's breakfast. A trip to Marché is not complete without rösti. 
Because rösti is made of little more than grated potato that is pan-fried until delightfully crisp, the quality of the potato is of utmost importance. Guess what! The best time to eat rösti is right now!
"If you try it in August, then you will have a much stronger taste from the potato," says Baars. Fresh potatoes stick together better when cooking, giving your order of rösti the optimum texture. 
Though traditionally served plain, modernity has allowed toppings of eggs and spinach, mushroom gravy, or smoked salmon (our recommendation). Mövenpick founder Ueli Prager was the first to actively market smoked salmon to the Swiss public, introducing it packaged under the Mövenpick brand, so it seems a fitting choice.
The fresh seafood station is also fantastic. I had bouillabaisse, a provincial French seafood stew, for the first time at Marché. I'm from a coastal fishing town, so I'm very picky about seafood. It was simply spectacular. 
It's not all "old-world" charm. There's plenty that's modern, from salad stations and a juice bar to an Asian station offering Vietnamese soup, udon noodles, and dim sum dishes prepared fresh and in-house. This is Toronto after all. We can't do without our pho.
Whenever I go, I try but always fail to avoid the dessert station. At Marché, from German Black Forest cake, to Austrian strudel, to Italian tiramisu, you can be sure every calorie will be worth it! 
There's a reason why the desserts and breads are so good. Kitchen manager Jutta Weik has worked at Marché restaurants in Germany, Norway, and Switzerland for 30 years. She is celebrating her 30th year with Marché, and her third year at Marché in Brookfield Place.
When you bite into a slice of bread or chew on a bit of roast beef and wonder why it's so good, you have Weik to thank.