Sunken Spanish Treasure Found Off Florida Keys Enlivens Auction
February 2, 2013 3:50 am Last Updated: October 1, 2015 11:15 am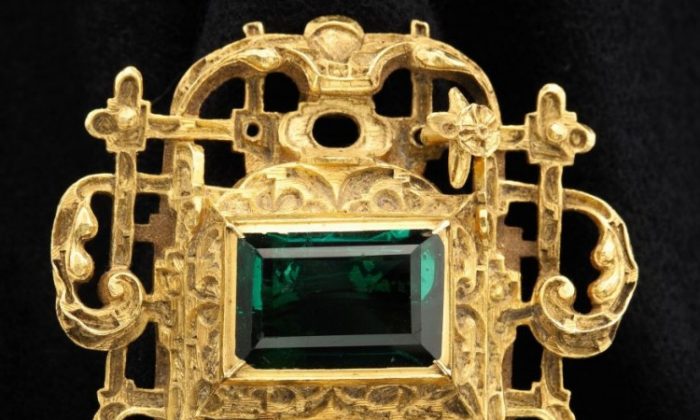 NEW YORK—Two Spanish ships, loaded with the belongings of nobility returning to Spain with the armada in 1622 never made it past the Florida Keys. It is believed that at least one of the ships was sunk by a storm.
Fast forward nearly 400 years. The sunken ship was found by a team of divers hunting for shipwrecks. Only in their dreams could they imagine what they found inside the ship when they swam upon the hull.
A Colombian emerald set in gold, dating back to the Renaissance period, was recovered from the shipwrecked Spanish galleon, Nuestra Señora de Atocha. It will be among the fascinating, history-rich offerings at Sotheby's sale of Masterworks on Friday Feb. 1 in New York during Old Masters Week. The treasure is estimated to sell for between $150,000 and $250,000.
Description of History from Sotheby's
The ship Atocha was commissioned by the Casa de Contractación, a Spanish government agency which attempted to regulate Spanish exploration and colonization efforts, and was named for Our Lady of Atocha, whose shrine in Madrid was regularly visited by Spanish kings.
The ship was constructed in Cuba and, after ill-fated attempts to depart the shipyard due to needed repairs, she finally crossed the Atlantic and arrived in Spain late in 1620.
Next, in Cartagena, Colombia and Portobelo, Panama, the galleon was loaded with the belongings of the noble families and other passengers making the return journey to Spain with the armada.
The fleet set sail for Spain with goods and passengers on September 4, 1622 in the midst of hurricane season. Both the Atocha and the Santa Margarita only sailed as far as the Florida Keys before they hit a squall and sank along the reefs.
In the 1960s Mel Fisher, a diver with an interest in salvaging shipwrecks, began exploring the waters off Florida's coast searching for Spanish ships lost in the area. In 1985, his team uncovered the main hull of the Atocha and its hidden treasure, including silver and gold objects, bullion, scientific instruments, and hundreds of rough cut emeralds and gem-set gold jewelry.
Of the items recovered from the shipwrecked galleon, this stunning jewel is one of the most important. The size and quality of the stone combined with the masterful goldsmith's work are evidence that this jewel was made for a person of noble standing in Spanish society.
The exhibition will be on view beginning Jan. 25. at Sotheby's New York showrooms.
The Epoch Times publishes in 35 countries and in 21 languages. Subscribe to our e-newsletter.