Most people need at least two suits to cover interviews, weddings, semi-formal events, parties, and funerals. Office workers may need at least double that number, to put into rotation. Budget plays a large factor, of course, but the reality is that for some professions and workplaces, a suit is the expected uniform.
Because an ill-fitting suit sends the wrong message, it's worth it to survive on ramen noodles for a while in order to get a really nice, well-fitting suit.
There are three main categories of suits: bespoke, made-to-measure, and tailored, aka ready-to-wear. The term "custom" comes up often, which can be confusing. All bespoke suits are custom, but not all custom suits are bespoke.
With a bespoke suit, a pattern is created according to your exact measurements. You select the fabric and the style, and go over specific details desired, such as the lining to be used, custom embroidery, lapel style, functional buttons on the sleeve, and much more.
In a made-to-measure suit, your measurements are taken by a tailor to be used in the creation of the suit; some pre-existing patterns may also be used.
Ready-to-wear suits are bought "off the rack" and then tailored to fit.
Commissioning a bespoke suit is a pricey proposition, but it is 100 percent made to fit you, taking as much as 50 hours to create. In comparison, a good-quality off-the-rack suit can be purchased for $400 to $600 and may require $150 or so of tailoring to fine-tune the fit. Made-to-measure suits are created from block patterns based on average sizes. The fabric and style options allow for customization over the off-the-rack options, with costs typically starting at about $600, subject to fabrics and style. The cost of a bespoke suit hand-made from premium materials using a pattern created exclusively for your body will typically start at about $2,000 and go straight up.
It's easy to understand why no one enjoys wearing a suit that doesn't fit quite right. Tugging at the sleeves, a crotch that's a bit too tight, fabric that doesn't lay right, or any other fit issues can make wearing some suits uncomfortable. It might have seemed to fit OK off the rack and after tailoring, but if your body is a bit shorter or wider than the norm, there's only so much a tailor can accomplish. You'd wear it because you have to, but not for a second longer than absolutely necessary.
On the other hand, imagine sliding into a suit that exactly matches your body, draping perfectly, fitting like a glove because it takes every inch and contour of your build into account. Now, imagine it being crafted from the finest materials in precisely the color and style desired. You'd never want to take it off. Because they are handcrafted for precise, no-stress-points fit, using top-notch fabrics and assembly methods, a bespoke suit can also last for decades when properly cared for.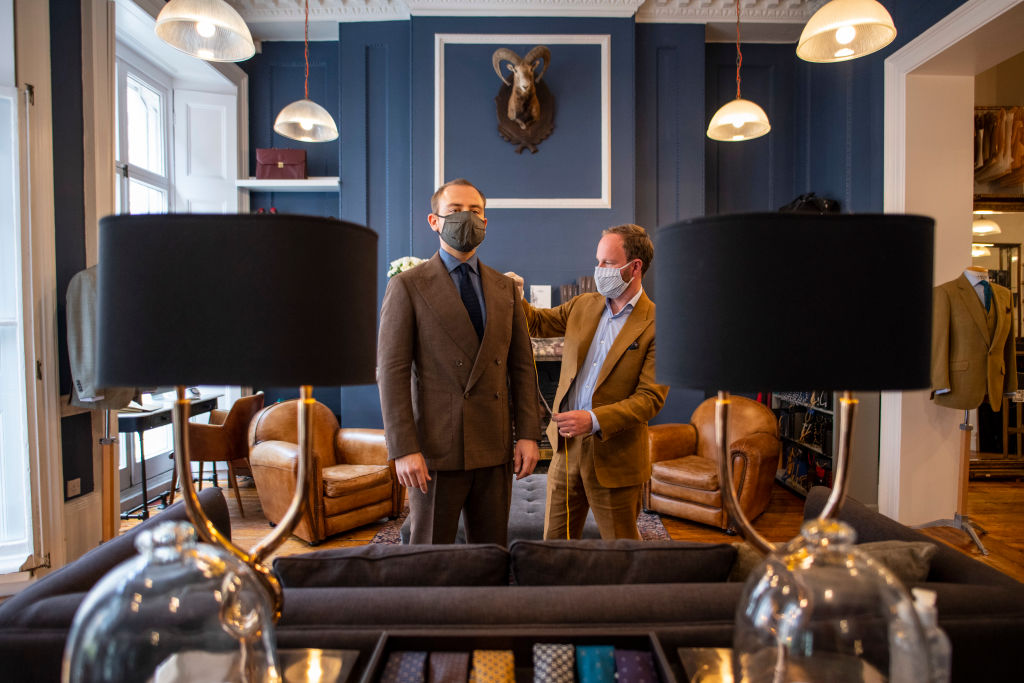 When do you need it? A bespoke suit can take weeks to create, so if you have an urgent need for a suit, this isn't the route to go.
Can it be altered? All things being equal, yes, a bespoke suit can be altered. Your height and shoulder size are not likely going to change over the years, but the waistline can be another story. A skilled tailor can fairly easily let the seat out a few inches in response to more pasta than gym time, but if you go from a size 34 waist to a size 42 waist, while another panel could theoretically be installed, it probably wouldn't look right.
To obtain a bespoke suit, Option A is to go to London's Saville Row, home of the original bespoke suit makers, but there are other alternatives. Traveling tailors, often based in Hong Kong, visit cities across the United States to take your measurements and then send your suit for final fitting. Most major cities are also home to bespoke tailors. Regardless of which route you follow, the path has four steps.
Step one is to book an appointment for the initial consultation. Explain what you want so they can advise if it's possible. It is beyond critical that the client and the tailor have a relationship based on mutual respect and trust.
Step two is to describe to the tailor what you want; they may offer suggestions but in the end, your decision is final. This is when you pick fabrics, colors, lining, buttons, and the many other aspects that will make this a one-off suit.
In step three, measurements are taken to create a pattern for the suit and take into account posture issues. As your mom would say, "Stop wiggling and stand up straight!"
Step four is devoted to the final fitting, during which any adjustments can be made. Then, the suit is ready to be worn.
Once you've experienced the style and perfect fit of a bespoke suit, you're ready to explore bespoke shoes, shirts, and ties.