"Can we use our iPads?" inquired a squeaky voice from the backseat. It was my 9-year old daughter.
Though my eyes were on the road driving north from our home in Connecticut to the mountains of Vermont, I could sense the question caught the attention of my 7-year old son. He awaited the answer with intense interest. Our copper-colored labradoodle puppy sat wedged between the two kids in the back seat of our undersized SUV, oblivious to the tension.
My wife began negotiating, conscious of the need for diplomacy. If she went with a hard "no," the vibe of the family road trip would be soured. If she said, "Have as much as you'd like," we risked the kids transforming into screen-addicted zombies.
Navigating these landmines of modern parenting is challenging but necessary. While we'll eventually oblige their desire to visit a mega-theme park, this time we steered north to experience the winter season in Vermont's Mad River Valley at Sugarbush Resort in Vermont.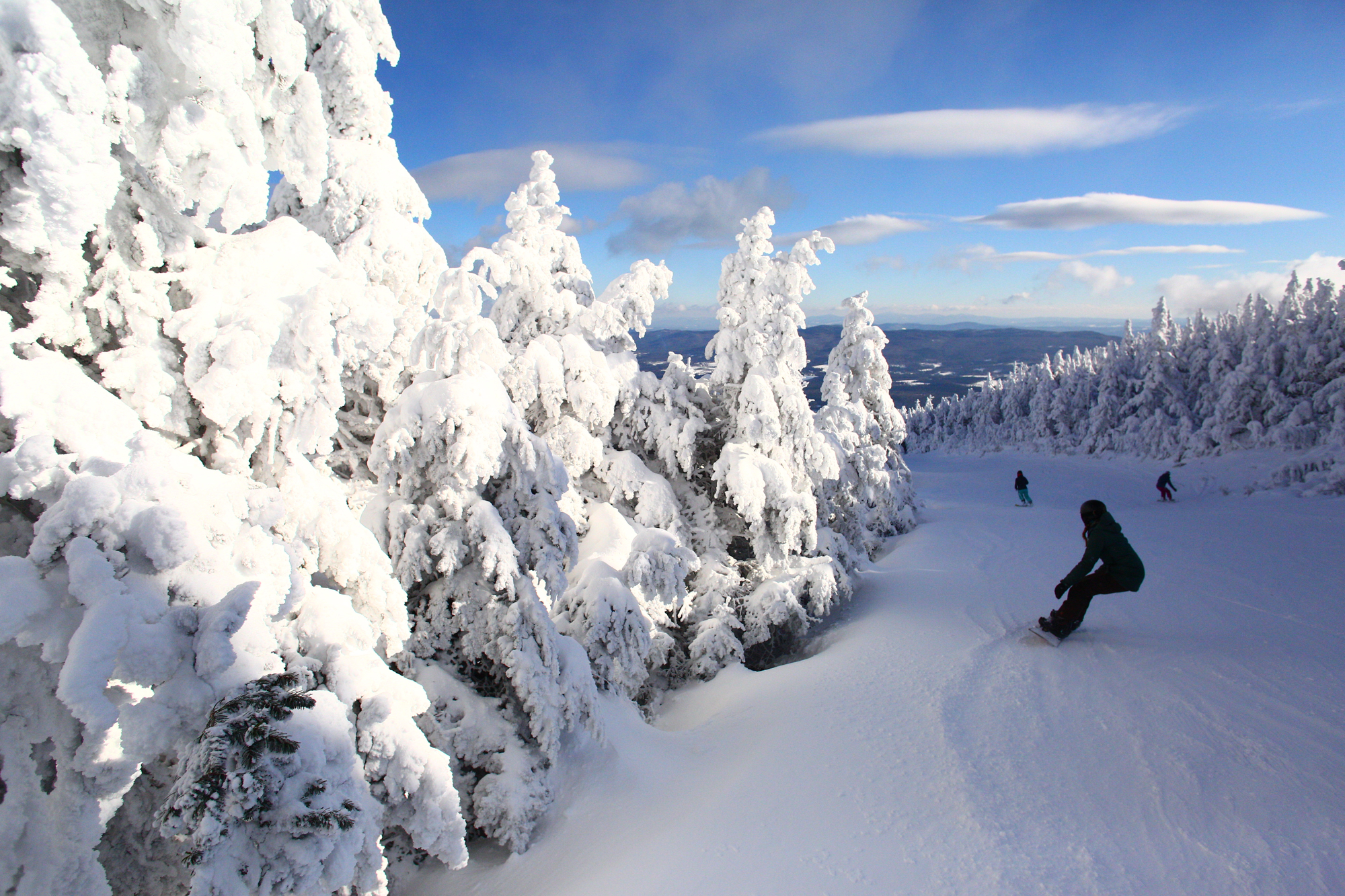 Among skiing circles, Sugarbush is known for some of the East's most challenging terrain, with many Sugarbush locals representing that it produces better skiers than the higher altitude resorts of the Western U.S., due to its tight tree skiing and more variable conditions. Indeed, with 2,600 feet vertical, 111 trails, and 581 skiable acres, it is quite comparable in scope.
However, beyond the expert terrain is a reputation for being a great family resort with excellent service and value.
Ski School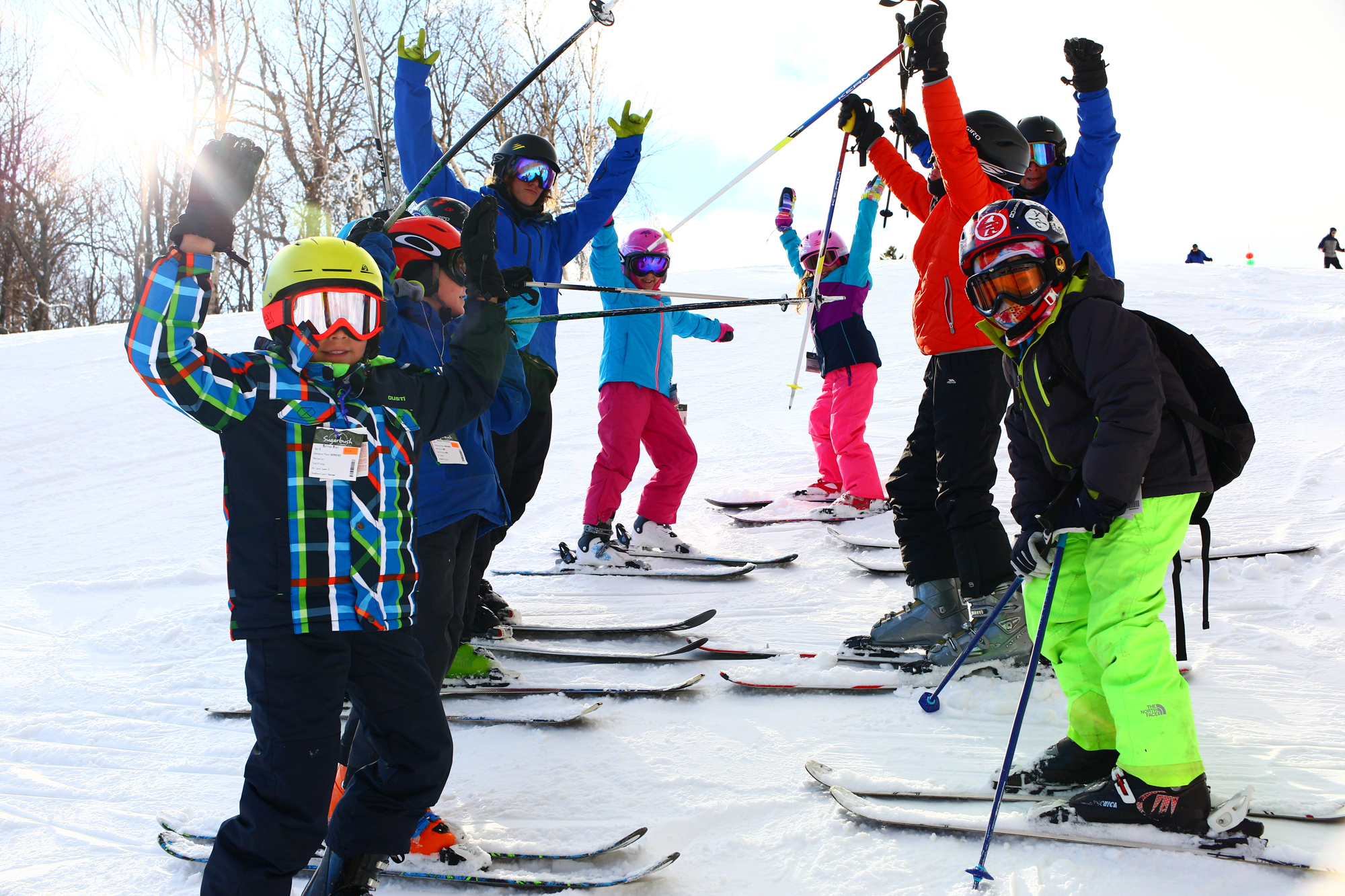 One of the saving graces of the vacation was the drop-off ski school experience. The home base is aptly named the School House. Its exterior resembles a classic old Vermont school, but the interior is completely new and purpose-built for hosting kids of all ages. There the attentive and warm staff whisk your kids away and entertain them for a full 6 hours from 9 a.m. to 3 p.m. This welcome reprieve allowed me to explore the mountain and gave my wife time to exercise, enjoy the hot tub, and relax. 
On my first day I was nervous that the kids would be cold, tired, hungry, scared, or have an equipment failure. However, my cell phone never rang, so I forced my mind at ease. As one would expect, the kids loved the experience and asked if they could do it again. They were fed lunch and given plenty of snacks and hot chocolate breaks. 
The groups were led by one veteran instructor, and one college-aged assistant. The kids loved their instructors, having gravitated to the younger of the two, and also made friends with the kids in the group. Most importantly, they mastered the fundamentals of riding the chair lift, controlling their speed, stopping, and improved in their understanding of spacing techniques while sharing the hill with other riders.
Mountain Culture
While talking with employees, locals, and regular visitors at the resort, I began to sense a consistency of values. Certainly there's the love of skiing and the mountains, but it seemed to go deeper. There appeared to be shared reverence and sense of ownership for the resort's community, education, sustainability, family, hospitality, and wellness. The resort's motto is "Be Better Here."
Just last year Sugarbush turned 60, and its leadership celebrated the resort's storied past, and those many individuals who have contributed to the culture. I had the opportunity to gain a first-hand understanding of that culture on my final day from two of its most prominent ambassadors, owner-turned president Win(throp) Smith and extreme-skiing film star and beloved Sugarbush chief recreation officer John Egan.
Winning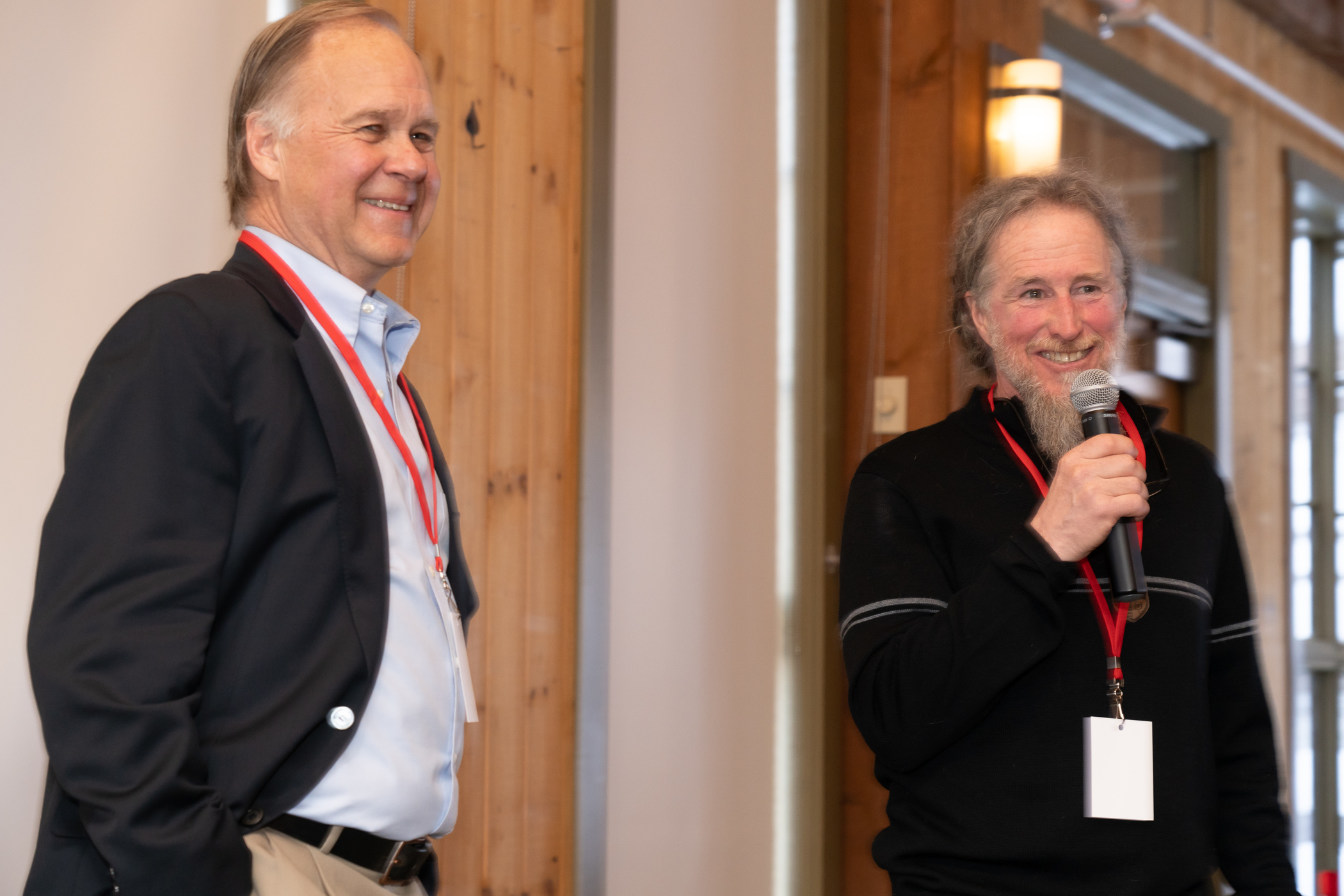 I met Win for "early ups," a privilege offered to unit-owners of the Claybrook Hotel. This allows you to start your day 30-minutes before the resort's official opening on weekends. Since there was new snow overnight, Win and I skipped breakfast in favor of fresh tracks at 7:30 a.m.
Win—as his name suggests—has led a life many would envy. After a successful career in finance (his father was a founding partner of storied firm Merrill Lynch), he led an investment group to acquire Sugarbush from the American Skiing Company in 2001.
Adversity would hit immediately, as his best friend and co-investor Joe Riemer would die shortly thereafter of pancreatic cancer. With no prior experience in ski resort management, Win spearheaded a revitalization of the resort, which was facing financial challenges. He invested in overhauling the base of the mountain, celebrating the opening of Lincoln Peak Village in 2005. 
The style of Lincoln Peak runs counter to the modern faux villages of many other refurbished resorts. Win and his design team chose classic Vermont styles that pay homage to the barns, schoolhouses, and traditional architecture that can be seen throughout the Green Mountain State. This presence of mind and respect for the community and its past can be felt in all aspects of the resort. It's a care that is genuine and modeled for all the staff and visitors to experience. Such values have led to many initiatives, such as the creation of one of the country's leading adaptive ski programs for disabled athletes.
And at 71, Win still rips down the mountain. I struggled to keep pace as he took me down powder-filled steep cruisers before anyone else was on the mountain! Between runs on the chairlift, we discussed his love of the resort (the only one he said he would have bought), his fellow staff, the community, and skiing. 
As we chatted, a snowboarder took a particularly hard fall, and Win broke mid-sentence with genuine concern, as if the rider was his own grandchild. He then gave a sigh of relief when he saw the rider get up and shake himself off.
Joining an Ikon
As both the resort's benevolent leader and a shrewd businessman, Win recently led the resort through an acquisition by Denver-based Alterra Mountain Company. Vermonters are highly suspicious of non-local corporate overlords. However, Win invited the staff, community, and journalists to town-hall sessions and patiently answered questions and explained his rationale. 
In order to keep pace with the capital demands of running a major ski resort, yet to future-proof Sugarbush's storied identity and values, Win worked with Alterra Mountain Company to have Sugarbush acquired. Alterra owns 15 resorts and its management model leverages corporate-wide operational efficiencies, while maintaining the local staff, brand, and character.
In addition to the influx of capital for continued sustainable development such as improved snow-making capacity, the acquisition also allows Sugarbush customers to gain greater flexibility with the Ikon pass, which grants access to the other resorts in the Alterra family, such as Stratton in Vermont, Winter Park, and Steamboat in Colorado, Squaw Valley and Mammoth in California, Deer Valley in Utah, and even a heli ski operation in Banff, Canada.    
Feel the Turn With Skiing's Obi-Wan Kenobi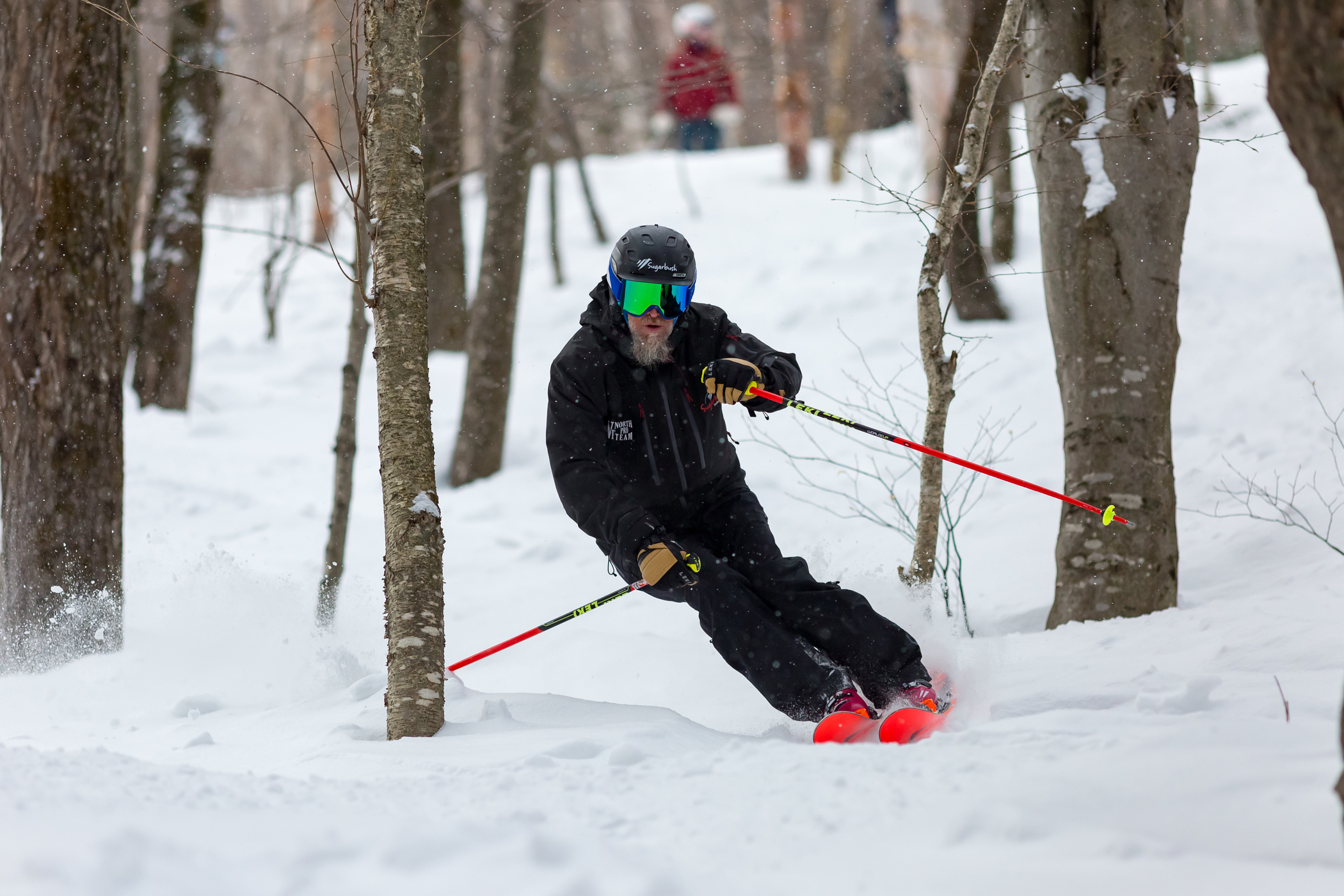 After four "First Ups" with Win, he handed me off to legendary ski film star John Egan. Despite the Boston accent, John reminded me of the Obi-Wan Kenobi of skiing, sporting a long salt and pepper beard and a pervading sense of calm. He is fun, witty, thought-provoking, and one feels safe while exploring Sugarbush's many acres of back-country with him.
John arrived at Sugarbush in the 1980s from Boston along with his younger brother Dan. After several years of ski-bumming, his athletic yet fluid style won the eye of legendary ski filmmaker Warren Miller when he was filming at Sugarbush. John and Dan would go on to appear in many of Miller's films both at Sugarbush and around the world. 
This unique combination of John's skill and access (often via helicopter) to any mountain in the world, would push the boundaries of the sport with other pioneers of the extreme skiing movement, such as Scott Schmidt and Glen Plake. Frequently the Egan brothers were asked to ski in perfect harmony, crossing each other's tracks. Despite skiing all over the world, John credits his abilities to skiing Sugarbush's tight trees and craggy cliffs and still chooses to make Sugarbush his home.
John patiently guided me all over the mountain. We'd be skiing on a trail, and he would suddenly tuck into the woods beckoning me to follow where there appeared to be no trail at all. The trees would be tight and sketchy. John would slow down and teach me different techniques for checking my speed in the tight trees. Then all of a sudden, the trees would open up revealing a boot-deep powder clearing—one of John's many secret stashes on the mountain. In fact, there's a section on the trail map aptly named Egan's Woods, which are situated directly next to Stein's Woods, for legendary Sugarbush instructor and former Olympian Stein Eriksen.
John also teaches skiing differently than others—relating how to achieve fluidity and control as if revealing a math formula that you too can master. Gravity pulls you downhill, and your turns and edging provide the counterbalance. With each engagement you move energy to and fro in a fluid dance—balancing respect for nature and gravity with one's own ability of expression. 
When teaching children, he refers to the skis as the coolest sneakers you'll ever own and encourages kids to borrow their athletic stance from other sports to help them break through their fear and understand how to balance. 
John told me that he was himself influenced by Sugarbush teacher and author Denise McCluggage, who authored the 1978 sports psychology book The Centered Skier. Influenced by her own studies of Buddhism and experience as a race car driver, McCluggage explores the mind-body connection related to sports psychology.
Following John's ski film starring days, his unique guiding style has led him to take guests to the edges of the earth to ski. He had just returned from guiding in Japan and was in Antarctica just before that. He shared stories of trekking through historical caves that Christians used to hide from the Huns in Turkey, and skiing on volcanoes in Russia's Siberia. He offers a constant stream of delightfully surprising perspectives, such as how lava makes great skiing chutes, when they fill in with snow!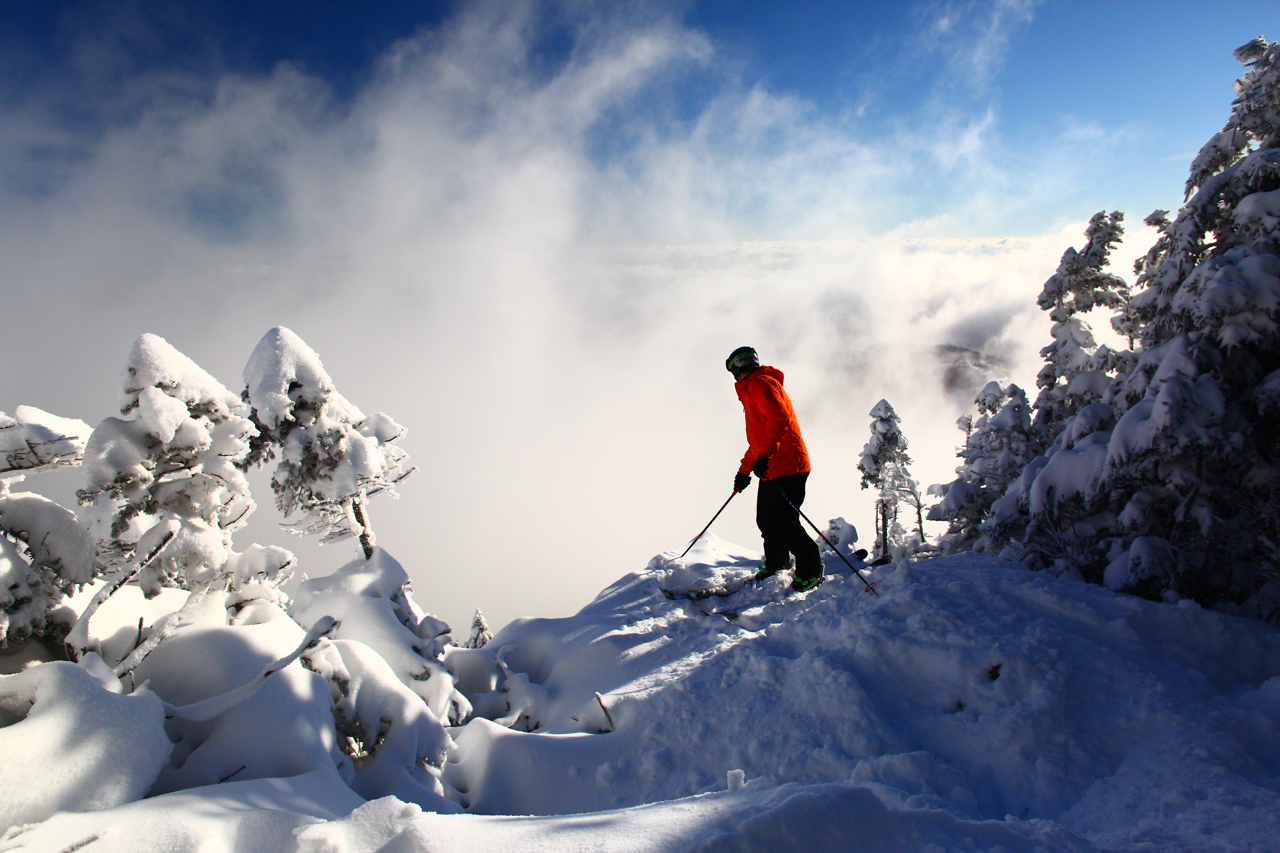 When I forced him into giving an answer to the question of "besides Sugarbush, what is your favorite place to ski?" After pushing him for an answer, he offered "Probably Greenland – its as steep as Alaska with three times the vertical."
When we unloaded off the top of the Heaven's Gate lift, John said hello to a group of local teens who were skiing the expert terrain with their coaches. He stopped to greet them and said "This is Cary. He's writing a story about Sugarbush. What do you want him to know that makes Sugarbush special"?
A hush fell over the group of about 10 teenage boys for a split second, and then one shouted enthusiastically, "The people!" They all seemed to nod affirmatively, and John turned to me and concluded "Well, there you go!" with a big smile and proud yet unsurprised smirk, as if to say "We teach 'em young!"
Every time we entered a lift line or gathering area, people recognized John from his signature beard, and were excited to share a moment with him to say they watched his movies, or how they appreciated his involvement at the resort, or how they wanted to take a lesson with him. John gives back to the community via his Feel the Turn philanthropic foundation, where he raises money for Crohns and Colitis Foundation, High Fives Foundation, and Youth Enrichment Services. 
One guy approached and said John made a good salad. Huh? I asked John what that was all about, and he explained that the night before, Win, himself, and the rest of the management team hosted a huge employee banquet, and he was on salad duty. "They don't trust me with anything else," he joked.
On another run I noticed that John wedged his mobile phone into the earpiece of his ski helmet as we went down the trail. It was perfectly natural for him to ski and carry on a conversation! As we boarded the lift together, he excitedly told me that his son called him.  
His son had recently taken a job creating social media content from various ski resorts traveling around in an RV with three other friends. Earlier John had pointed to a cliff and told me with pride that his son did a back flip off it. Now on the chair lift, he continued to ask his son questions in a gentle and kind way, coordinated their next family reunion, and signed off with an "I love you." 
For about three hours John gave me pointers, answered my questions, and inadvertently coached me on life. 
We then parted ways and I went to pick up my kids from their day of ski school and John went to set up a leadership workshop that he was hosting. He teaches leadership principles to management teams around the concepts of abundance (vs. scarcity). I left feeling a joyous exhaustion, with my legs feeling depleted, and my mind inspired. 
Claybrook Hotel
While Sugarbush and the nearby village of Warren, Vermont, boast many quaint inns and on-mountain condos, we opted for ultimate convenience and comfort with a stay at Claybrook Hotel, situated directly at the base of the mountain.
Upon arrival, we had been promptly greeted by a valet who unpacked the overstuffed car. He efficiently separated and loaded our ski gear onto one cart, and the remainder of our belongings onto another.
The ski boots went to a heated room with a dedicated attendant. There you can strap on your boots on comfortable benches and couches and enjoy coffee or hot chocolate. At the end of the day, he trades your shoes for your ski boots and offers cookies. 
The skis and poles have their own special house adjacent to the ski lifts with their own attendant. The attendant stores your skis for the evening, and will even tune them overnight.
While the sprawling Claybrook exterior architecture is reminiscent of a classic Vermont red barn, the lobby's interior, hallways, and rooms are a tasteful and contemporary set of stone and wood motifs, illuminated by the glow of fireplaces throughout. Our room was bigger than a New York City apartment, with two bedrooms, two bathrooms, a jetted tub, three TVs, a full contemporary kitchen, a dining room table, a living room with a cozy set of couches, fireplace, and a balcony. 
Despite being managed with the attentive care of a luxury hotel, each unit has an individual owner. However, unlike an Airbnb, there were no traces of occupying someone else's living space. The décor was understated and mountain-smart, without any personal family photos or quirky design choices.
The Food Scene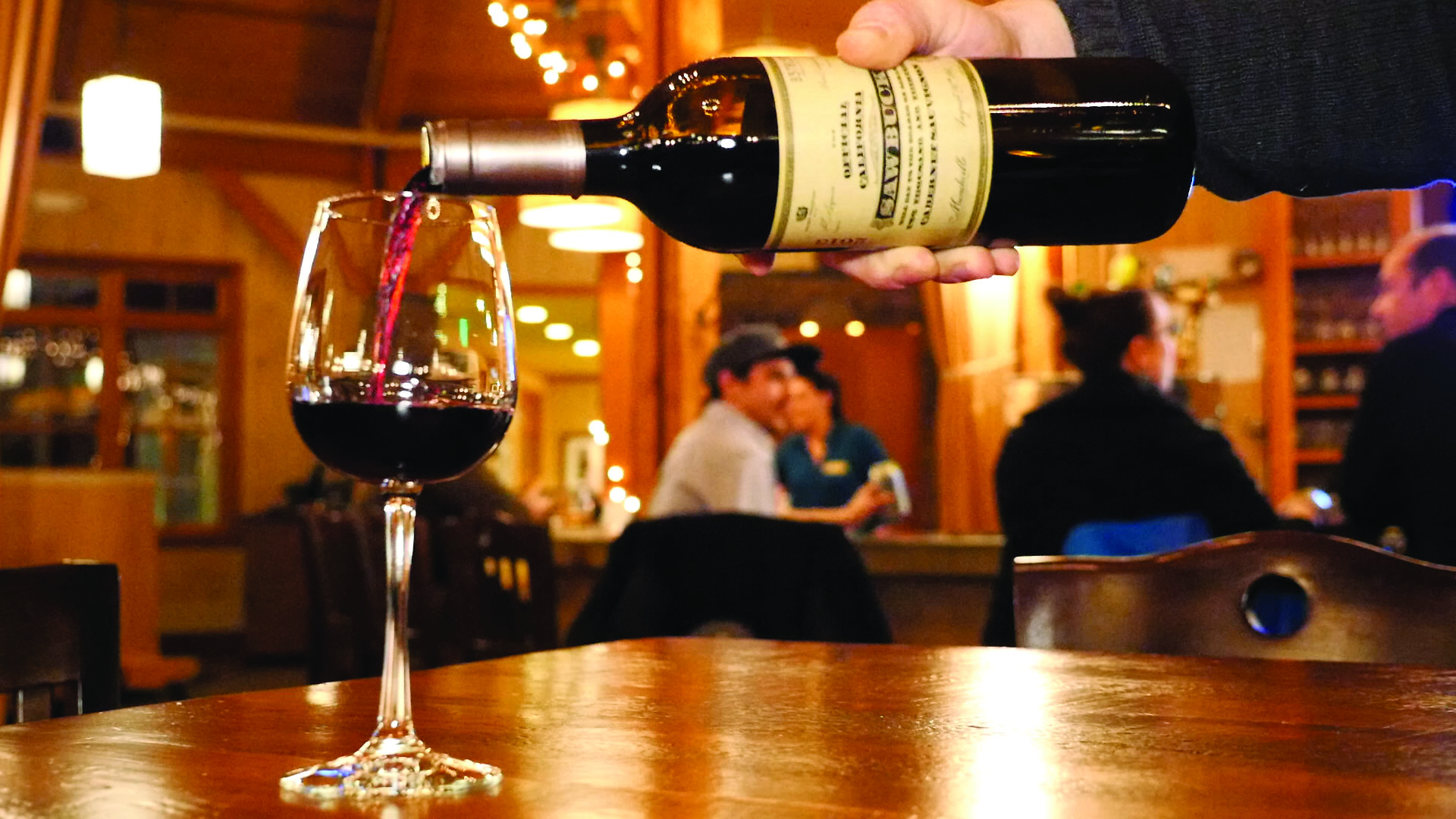 Steps from our room on the same floor was the hotel's restaurant, Rumbles, which serves three meals a day, and also hosted a vibrant après bar scene on Saturday night with a lively band playing classic rock and folk tunes. 
We had many meals at Rumbles—takeout on our first night, daily breakfast, and a decadent dinner.
Rumbles is affectionately named for Sugarbush's owner's late Bernese Mountain Dog, who was himself named after one of the mountain's most challenging ski runs. At the restaurant's entrance is a huge framed photo of the dog, along with a tastefully silly collage of photographs of Sugarbush staff members' dogs. 
 The restaurant is a sprawling wooden circular space with gigantic vaulted ceilings and enormous windows, which flood the space with natural light and 360-degree views of the mountain and surrounding forests. In the evening, the warm lighting brings out the wooden hues revealing a cozy mountain chalet vibe.
Breakfast was a buffet of hot and cold selections and a dedicated omelet station. Chef Randy prepared a daily special egg dish, such as a Mediterranean shakshuka or French omelets. Maple yogurt was also a daily standard, inspired by the local syrup that flows from the ubiquitous trees for which the resort is named. 
Directly outside of Rumbles is a quaint base village with a Waffle Shop, a little shack where a barista makes custom coffees, an outdoor pizza oven and bar adjacent to wood-burning fire pits, and a collection of buildings housing the equipment centers, ticket sales, and ski school. Slightly up the hill is the storied Wünderbar in all its retro ski lodge glory. 
Other on-resort restaurants include an authentic Thai restaurant and Chez Henri, a classic French Bistro in operation since 1964, just six years after the resort opened in 1958.
A short car ride down the road we had a fun dinner at the Mad River Barn, which serves a family-friendly après bar scene where kids and their parents play parlor games like air hockey and listen to upbeat music. In fact, many of the taverns near Sugarbush had multi-generational bar scenes where the kids could have as much fun as the adults with games and music.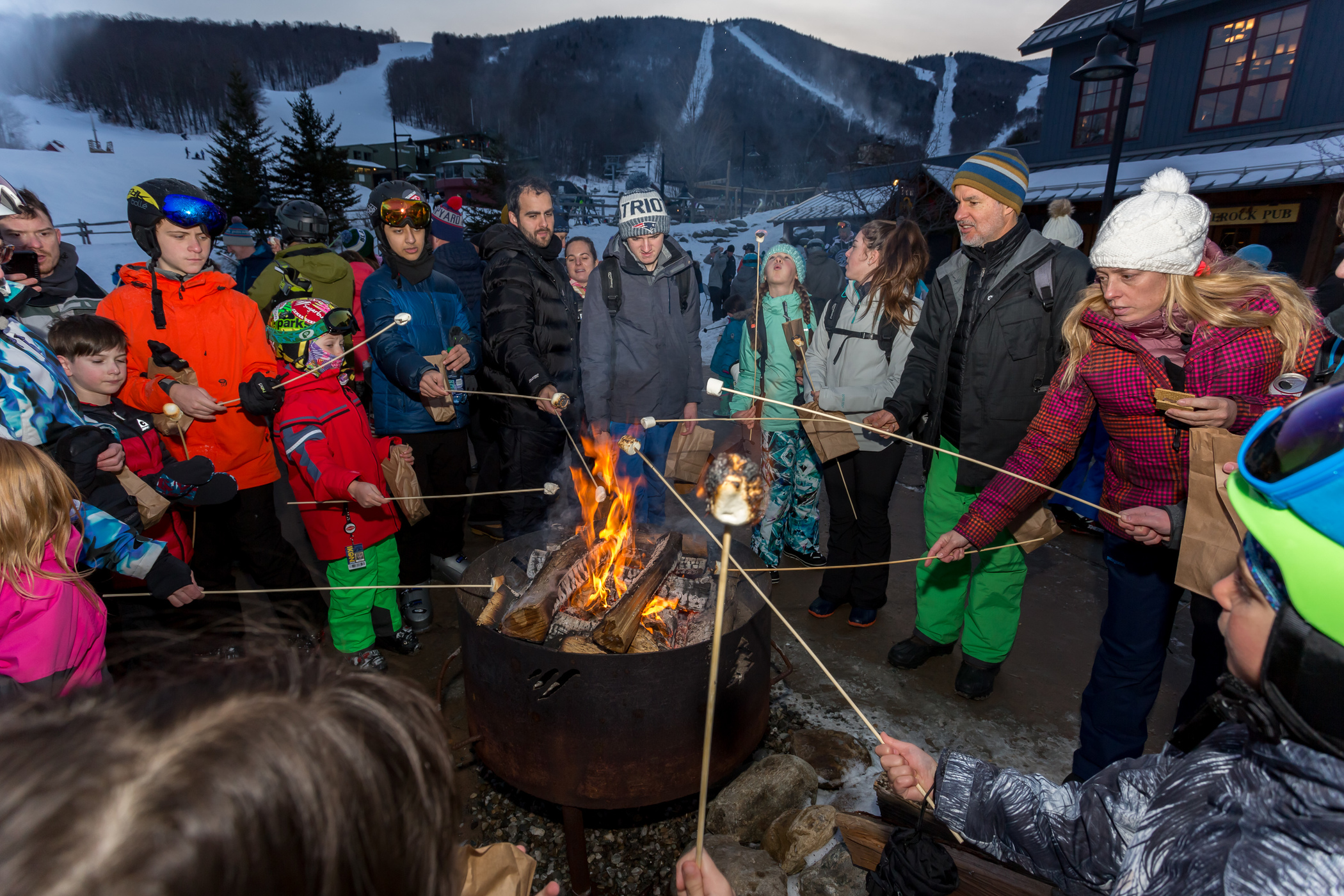 We also found ourselves stopping multiple times at the Paradise Provisions convenience store on the resort's access road for snacks and treats. Local micro-brewed beer is all the rage in Vermont, and Paradise has a huge selection of bottles and cans. They also offer draught cold-brew coffee out of a kegerator and have lots of yummy baked goods. Just a little further into the town in a building built in 1839 is the Warren Store, which received recognition as the best general store in Vermont. 
While there are so many noteworthy places in the surrounding area to take in a meal and warm service, one beer lover's destination is the newly erected Lawson's Finest Liquids Brewery and Taproom in Waitsfield. In addition to award-winning handcrafted brews is a family-friendly gathering space complete with Adirondack chairs and a quaint arcade with classics such as Ms. Pacman and Donkey Kong, which are offered free of charge.
Heading Home
On her last run, my daughter unfortunately took a hard fall and bumped her head. As she was sulking in the lobby, who should walk up but John Egan. He talked to her patiently and joked that she got to use her helmet, and that's why we wear helmets when we ski. After a few moments of John's playful and concentrated engagement, she had cheered up—with me breathing a sigh of relief that it had ended well.
"Be Better Here." After only a three-day getaway, the resort's slogan felt more like a simple truth than an aspirational tagline. Our family was better for having unplugged and spent a weekend together in the restorative maple forests with the community of Sugarbush.
This author was a guest of Sugarbush Resort and Alterra Mountain Company.