There is a place on our list where we often go to when feeling depressed, tired of busy city life and/or bored with daily routine. This place makes us feel alive.
My place is Yangshuo river located nearby Guilin and it is located in China's most picturesque region – Guangxi Province. It's my little fairytale place and hidden gem where I can just relax on the boat, where I can mediate, be on my won, think of life and clear my mind.
Although Guilin is one of the most famous travel destinations in this part of China, it is not overcrowded with tourists like Beijing or Shanghai. It's actually one of the most peaceful places in the Land of Dragons.
There is nothing better than taking a boat and going for a nice ride across the river admiring the beautiful floating mountains and bird flying high.
Yangshuo river is undoubtedly one of China's greatest areas of natural beauty with stunning karst mountain peaks along the banks of the Li River – the views are just magnificent.
Yangshuo River, makes it the most desirable place to visit (right after the Great Wall of China in Beijing) by foreign travelers. It surprises its visitors with stunning scenery of mountains, caves, lakes and river as well as rice terraces.
There is a very popular Chinese saying "Guilin's mountain and water scenery is the best under heaven" and this is so true!
Copyright © 2014 by eTramping.com. This article was written by Agness Walewinder and originally published at eTramping.com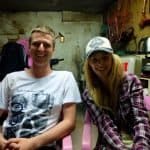 Meet eTramping crew – Agness and Cez – best friends and travel companions from Poland. These two are sharing their budget travel tips on how to
travel the world with $25 in your pocket. Since 2011, they have been travelling the world while teaching English in different Asian countries such as China, Thailand or Cambodia. They are both photography passionate obsessed with Chinese cuisine and culture.

Views expressed in this article are the opinions of the author and do not necessarily reflect the views of The Epoch Times.