Anthropologists and linguists argue about whether people sang before they spoke, or spoke before they sang. We will probably never know, nor do we need to. We are certain, however, that the alliance between words and music, and its profound effect on the human heart, is proven every day in countless homes, schools, churches, and concert halls.
Singing isn't just an ornament of a refined civilization. It isn't tinsel on the Christmas tree, but an element of the tree itself. Martin Luther said that he wouldn't hire a schoolmaster who couldn't sing. Classes in his school began with a song, not to entertain the children, but to unify them in communal celebration of humankind's highest ideals.
Goethe believed that singing was the first stage of education: "The simplest pleasure, as well as the simplest teaching is made alive and imprinted on us through song; even what we communicate about faith and moral belief is expressed through song," as stated in Thomas Mann's essay "Tolstoy and Goethe."
Today our young sing very little. They tap a screen and have others sing to them. They are passive and solitary. Our present society, with its so-called communication technology, is in fact a society blighted by the technology of isolation.
Children live in an artificial screen world. They talk to people in a different location on "FaceTime," or watch something on a video screen, oblivious to the moon that might be rising over the trees above them, or the people they pass on the street. They listen to recorded music and don't know how to make music themselves. They have at their fingertips the arrogant commercial music of ugliness, violence, and sexual indulgence.
'A Good and Kind Feeling'
What a wonderful thing it is, therefore, that in 1996 Diane Simons and her colleague, the late Jane Hardester, decided to create the South Bay Children's Choir so that children could do what is most necessary for them to do: join with their peers, dedicate themselves to a strict discipline, and create something beautiful.
The choristers are given a world-class musical education, promoting the highest standard of excellence. The quality of sound they produce, their intonation, blend, and phrasing, are every bit as fine as the celebrated Vienna Boys' Choir or the King's College Choir.
The performance below of Brahms's "Die Meere" (The Sea) is as exquisite and pristine, as heartfelt and profound, as any performance by any ensemble in the world: "All winds are asleep upon the mirror of the waters; cool shadows of the evening shelter the weary …"
Based at El Camino College, the choir is composed of children from various communities in the Los Angeles area and has become one of the premier vocal ensembles on the West Coast. It has performed at the Los Angeles Music Center and New York's Carnegie Hall, and appeared at equally prestigious venues in Europe at major choral festivals. It also enriches its own community by visiting retirement homes and participating in fundraising events for religious and arts groups.
Through this musical experience, children come to see and celebrate what is traditionally called "the pure, the bright, the beautiful."  This brings to mind the last pages of "The Brothers Karamazov," when Alyosha speaks to the schoolboys: "Even if we are occupied with important things, if we attain to honor or meet with great misfortune—still let us remember how good it was once here, when we were all together, united by a good and kind feeling."
In her directorship of the South Bay Choir and her many years as a choral director in schools, Diane Simons has united countless young souls in "a good and kind feeling," giving them something they will never forget, a view of higher things, a moral compass. Great music doesn't fade. It plants itself in the mind, it takes root.
Simons, who retired at the end of 2020, has spent her life developing her gifts, studying voice, attending concerts, visiting museums, reading, and asking for help from experts in related fields. She had her battles to fight—raising funds was difficult, dealing with the red tape of school and government policies even more so.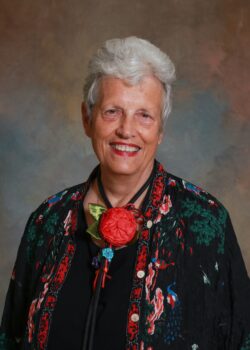 There are also personal issues to be considered. She overcame cancer, she lost loved ones, but nothing affected her quiet and persistent work of more than six decades, the kind of work that holds societies together.
"He who sows with many a tear, shall reap with many a song," writes the American poet George Burgess. The songs Diane Simons brought into the hearts of so many young—and the many who are no longer young—will have their harvest as well.
Raymond Beegle has performed as a collaborative pianist in the major concert halls of the United States, Europe, and South America; has written for The Opera Quarterly, Classical Voice, Fanfare Magazine, Classic Record Collector (UK), and the New York Observer. Beegle has served on the faculty of The State University of New York–Stony Brook, The Music Academy of the West, and The American Institute of Musical Studies in Graz, Austria. He has taught in the chamber music division of The Manhattan School of Music for the past 28 years.