This steak fajita recipe uses bottled Italian salad dressing as part of the steak marinade. For a healthy choice, pick a dressing with a short and simple ingredient list including canola or olive oil.
Tasty Tips
Before cooking, cut the steak with the grain into several portions to make the long piece more manageable on the grill or in a skillet. Once cooked, be sure to slice it across the grain for maximum tenderness.
Hanger steak, flat-iron, and flank steak can all be used as substitutes for skirt steak in most recipes.
New Mexico chiles (aka Anaheim chiles) are 7 to 10 inches long, ripen from green to red, and are mildly spicy. Poblano peppers are dark green in color and about 6 inches long, and can be fiery or relatively mild: There's no way to tell until you taste them. The two can be used interchangeably.
Serve these steak fajitas with fresh pico de gallo, guacamole, and cold beer.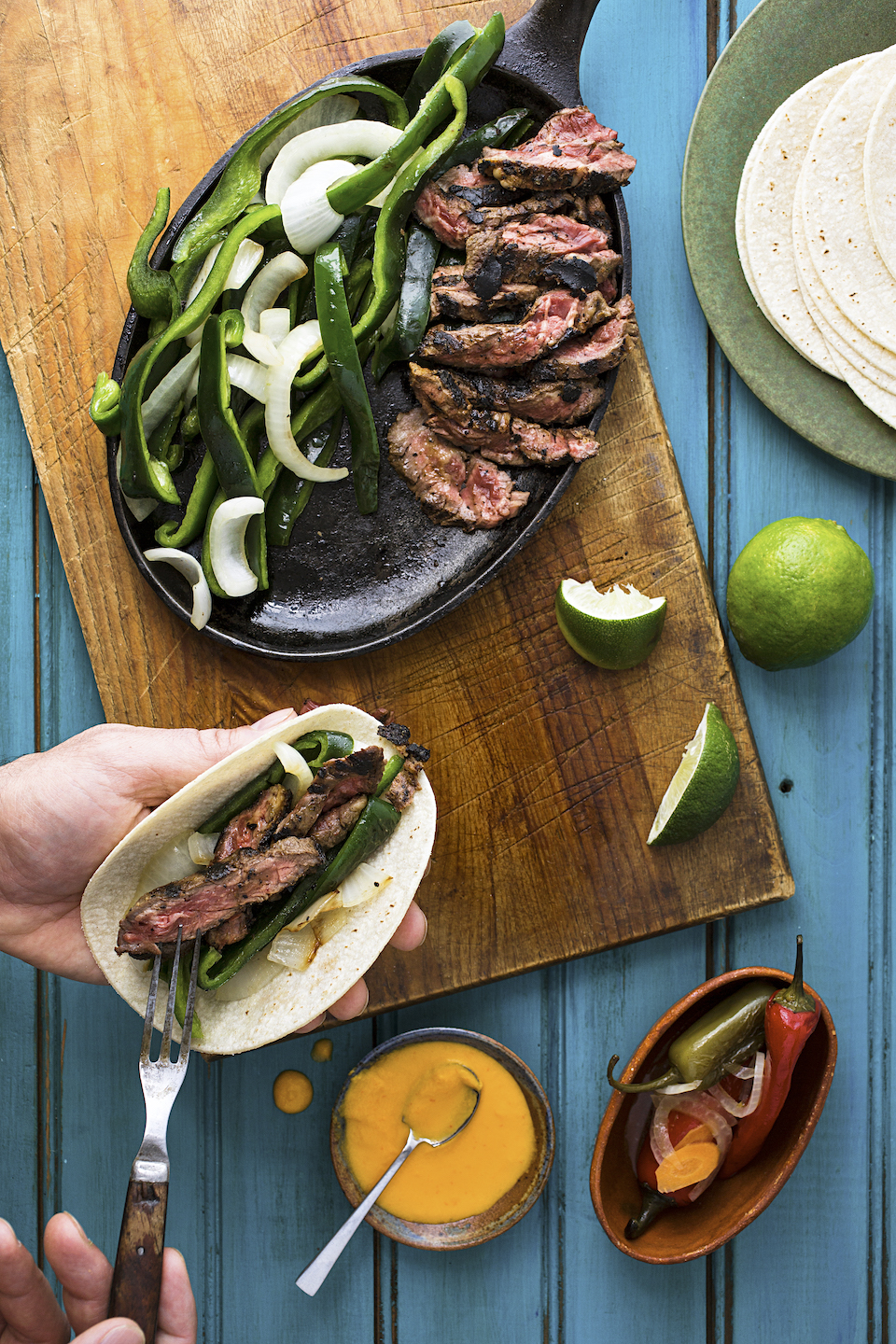 South Texas Steak Fajitas
Active Time: 40 minutes
Total Time: 40 minutes, plus 8 to 24 hours marinating time
Serves 4
For the Steak and Marinade
3 fresh jalapeño peppers, stems, and seeds removed
1 small onion, quartered
1/4 cup fresh cilantro
3/4 cup beer, pale ale, or lager
1/2 cup Italian salad dressing
1/3 cup lime juice
1 tablespoon Worcestershire sauce
1 1/2 teaspoons garlic powder
1 teaspoon salt
1/2 teaspoon ground cumin
1 bay leaf
1 pound skirt steak
For the Vegetables
1 tablespoon canola oil
3 New Mexican green chiles or poblano peppers, seeded and cut into 1/2-inch strips
1 medium onion, halved and cut into 1/2-inch-wide strips
1/8 teaspoon salt
8 6-inch flour tortillas, heated
To Marinate the Steak
Place jalapeños, quartered onion, and cilantro in a blender or food processor and blend until finely chopped. Add beer, salad dressing, lime juice, Worcestershire sauce, garlic powder, salt, and cumin and puree until smooth. Stir in bay leaf.
Place steak in a gallon-size sealable plastic bag and pour the marinade over it. Close and refrigerate, turning occasionally, for at least 8 hours and up to 24 hours.
To Grill the Steak
Preheat grill to medium-high.
Remove the steak from the marinade and place it on the grill. (Discard marinade.) Grill 3 to 4 minutes per side for medium. Remove the steak to a clean cutting board and let rest for 5 minutes.
To Prepare the Vegetables
Heat oil in a large skillet over high heat until shimmering. Add chiles and onion strips, sprinkle with salt, and cook, stirring, until blackened in spots and just softened, 4 to 6 minutes.
To Serve
Holding your knife at a 45-degree angle to the steak, very thinly slice across the grain—this helps keep the fajita tender. Serve the steak and vegetables on a platter with the tortillas so everyone can make their own fajitas.
Recipe nutrition per serving: 467 Calories, Total Fat: 20 g, Saturated Fat: 5 g, Cholesterol: 74 mg, Carbohydrates: 40 g, Fiber: 3 g, Total Sugars: 6 g, Added Sugars: 0 g, Protein: 30 g, Sodium: 792 mg, Potassium: 753 mg, Folate: 127 mcg, Calcium: 106 mg. Carbohydrate servings: 2 1/2.
EatingWell is a magazine and website devoted to healthy eating as a way of life. Online at EatingWell.com. Copyright 2021 Eating Well, Inc. Distributed by Tribune Content Agency, LLC.