Spirit of Hoi An Found in San Jose
September 28, 2013 1:04 pm Last Updated: September 27, 2013 3:05 pm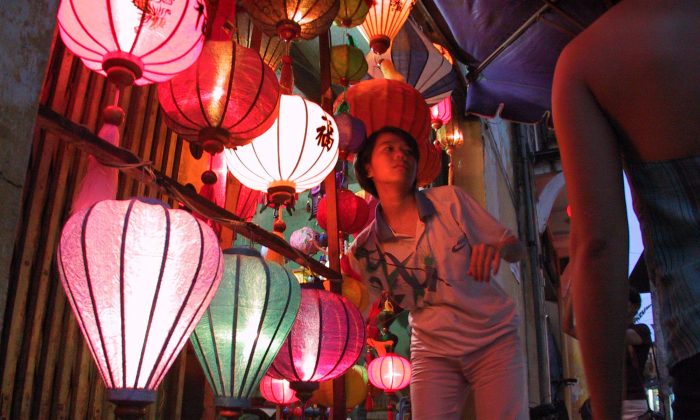 Calif—For those of us who have been to central Vietnam, visiting Hoi An Bistro brings a sense of nostalgia. For Lyn Nguyen, owner of Hoi An Bistro, it's the embodiment of her childhood memories of Hoi An, Vietnam, where she played at the beach and liked to cook for family and friends.
Old town Hoi An is an exceptional preservation of different cultures, fused over time into an international commercial hub. This unique heritage site offers a rare glimpse of exotic and indigenous influences through Vietnam's history.
The architecture of this historic trading town, which is built almost entirely of wood, combines traditional Vietnamese designs and those from other countries. The Japanese and Chinese who settled there for trading activities constructed centers and houses consistent with their own unique cultures.
A fine, wooden pagoda-like bridge, expressive of Japanese design, serves as a memento of the 17th century.
The existence of a once-strong Chinese presence is evidenced by Chinese shops with their elaborately carved wooden façades and low, tile-roofed houses lining the narrow streets.
Sitting in Hoi An Bistro for lunch, I noticed a miniature Japanese bridge colorfully decorated with lanterns, a partial structure of a tiled rooftop near the cashier, and wall-sized paintings depicting everyday life in Hoi An. I got the unique sense of actually sitting outside in Hoi An's open market.
Traditional cooking, lifestyle, and customs have been well-preserved in old town Hoi An, including many festivals. As one way of maintaining the unique character of their town, Hoi An residents continue the practice of lining the streets with colored lanterns once a month, in a holiday known as the Lantern Festival. On the 14th day of each lunar month, old town Hoi An closes its streets to motorized vehicles, and television sets, radios, and street lights are all turned off. Decorated lanterns made in various shapes, sizes, and materials are hung out on every street, house, and corner.
At sunset, radiant hues blanket the sky. The streets of old town Hoi An bask in the glow of the colorful lanterns come alive. The lantern-lit town is at its most romantic in the quiet stillness of the night; there's a sense of fairy tale magic in the air.
Hoi An Cuisine
Unique to the central region of Vietnam are specific cuisines like banh beo, Quang noodles, and cau lau.
Banh Beo
Banh beo is a tapas-like dish that is one of the favorite traditional foods in central Vietnam. Banh beo is made of a mixture of rice flour and water. The mixture is poured into small clay bowls and then steamed. When well-done, the banh beo comes out porcelain white and dips in the middle so that toppings can be placed. Toppings vary, but banh beo is typically stuffed with minced dried shrimp. The dipping sauce is made by mixing fish sauce, sugar, garlic, chili, and fresh small shrimp. Banh beo delivers a harmonious blend of sweet and buttery flavors.
Quang Noodles (Mì Quang)
Quang noodles, or mì Quang, originates from Quang Nam province in central Vietnam. This country dish is very popular in Hoi An and the surrounding region. The noodles are made with rice flour, normally white, but Quang noodles take on a yellow color from the use of turmeric. The yellow plays in perfect harmony with the color of the shrimp. Other ingredients include vegetables and pork, all served in a small amount of savory broth, meant to wet the noodles just enough. This broth is rich, slightly sweet, and a tiny bit spicy. Although very little is used, it brings all the flavors of this dish together. Mì Quang is also served with toasted Vietnamese sesame rice crackers, fried shallots, and various herbs and mints on top.
Cao Lau
Cao lau (pronounced gaow laow) is by far the most distinguished traditional food in Hoi An, and it's rumored that it gets its uniqueness from water drawn from an ancient well outside of town. It's believed that this well water mixed with lye gives cao lau noodles their soft-yet-firm, chewy-yet-smooth texture, which sets them apart from other Vietnamese pastas, such as pho. If true, this reason alone would make it almost impossible to genuinely replicate the dish outside of this historic town. Complementing the noodles are thin slices of soy sauce-simmered, slightly caramelized pork, which enriches the broth. The dish includes garnishes such as basil, cilantro, and mint, plus crispy, fresh lettuce and deep-fried crispy croutons. All this is served on a bed of bean sprouts and drizzled with just enough rich meat broth.
One of the things Lyn Nguyen prides her restaurant on is the time and care that goes into making her dishes, including deeply flavored broths that are simmered for hours with beef bones. Lyn explains that it is essential to put in the time that goes into the broth, which gives the dishes their soulful flavor and brings the spirit of Hoi An to her restaurant.