Sotto 13 Brings Italian Tapas to West Village
September 24, 2013 1:03 pm Last Updated: September 23, 2013 11:22 am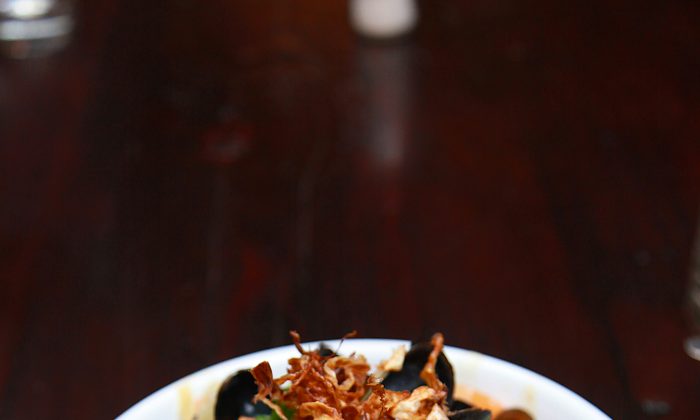 NEW YORK—The Turks call it mezze, the Spanish tapas, the French amuse-bouche and the Venetians call it cicchetti. Sotto 13 calls it Italian tapas with choices of small-sized pizza for sharing. 
Sotto, located in the West Village, offers a dining experience of Italian-styled tapas with fabulous original cocktails. The setting is rustic, warm, and cozy. One can enjoy a meal in the bar area, warmly lit by candles, or in the dining area that can also be used for private parties and informal business functions. 
The menu comprises many dishes, usually small, for all to share, or for the individual to make his or her own selection of small dishes as a meal. This is becoming a popular dining experience in New York City. It is a nice way way to get together with friends and family and socialize over small bites. 
I grew up in the Mediterranean and being at Sotto 13 was a déjà vu experience of my childhood. I remember how our neighbors, friends, and family members would show up at our house without notice and how, miraculously my mother would conjure an endless eclectic variety of scrumptious dishes. This was just what I experienced at Sotto 13, but unfortunately the packed house and blasting music prevented me from having a civilized conversation without having to scream over the music.
The menu is playful and permissive with many other pleasing dishes to savor while the prices are reasonable with a happy and friendly staff. The bar has a great selection of refreshing cocktails—like the watermelon margarita or the spicy cucumber.
Some of the Sotto 13 favorites were impressive. For example, the Chickpea Fries ($6) with made with chickpea flour and dusted with polenta—they were light and fluffy with a crispy crunch accompanied with a sun-dried tomato pesto sauce that was very pleasing. 
The Garlic Rock Shrimp ($10) with rosemary-thyme infused olive oil was just perfect. The shrimp was perfectly cooked with the intoxicating aroma of fried garlic and herbs. I was on the verge of ordering another when we were served with a wonderful surprise of Little Neck Clams with spicy sauce served with an off the menu item—a nice and elegant bundle of very fine strings of zucchini my friends liked very much. 
I was looking forward to the Wood Oven Roasted Cauliflower that I can never have enough of and the Wild Mushroom Pizza ($15) with three types of cheeses—ricotta, mascarpone, and bel paese—topped with truffle oil. It was sensational, and no sooner had we finished it, we ordered another one. It was a superb blend of ingredients and flavors of the goodness of the earth while the Bufala Pizza ($15) was not too shabby.
I will go again for just the mushroom pizza, which I can still taste. The wide selection of pizzas also includes the Salami, the Brussels Sprout, and the Polpette. 
The Penne Rigate al Forno ($15) grows on you. The pasta was cooked al-dente and I thought the sauce was too light until I had few more bites and it improved. 
Another off the menu dish was very hearty with bold flavors—the Risotto with Radicchio, Fennel Sausage, and Barolo wine reduction. Say Barolo wine and I am in. The dish gives a sense of comfort and warmth which would be great to have on a cold day. 
I will definitely go back if the volume of the music is dimmed.
Sotto 13 
140 W. 13th St., (between 6th and 7th avenues)
212-647-1001
www.sotto13.com
Hours
Monday–Thursday: 12 p.m.–11 p.m.
Friday: 12 p.m.–12 a.m.
Saturday: 11 a.m.–12 a.m.
Sunday: 11 a.m.–10 p.m.