Based on a Victorien Sardou play, a vehicle for international star Sarah Bernhardt, Giacomo Puccini's "Tosca" is a melodrama of romantic obsession, political intrigue, and religious themes.
George Bernard Shaw called the opera a "shabby little shocker." (Sometimes the quote is credited to critic Joseph Kerman, but there is no question that Shaw dismissed it in similar terms.) Nevertheless, it is one of the composer's most popular and highly praised operas and perhaps his most tightly constructed work. There are no lulls.
For years, the Met used the popular production designed by Franco Zeffirelli. In 2009, this was replaced by Luc Bondy's edgier version, which was booed at its premiere (a rare event). Last season, the Met replaced it with a more traditional and far superior production by Sir David McVicar. The scenery (by John Macfarlane, who also designed the costumes) is praiseworthy, especially the church in Act 1.
Now, director David McVicar's production is back with Sondra Radvanovsky as Floria Tosca, Joseph Calleja as Mario Cavaradossi, and Zeljko Lucic as Baron Scarpia, with Carlo Rizzi conducting.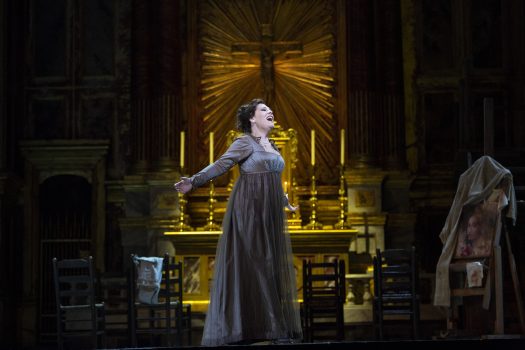 The Plot
In Rome during 1800, after the Republic has been overthrown, revolutionary Cesare Angelotti has escaped from prison and is hiding in the Church of Sant'Andrea della Valle. His friend Mario Cavaradossi is painting a fresco of Mary Magdalene, coincidentally inspired by Angelotti's sister, who came to the church to pray.
Angelotti hides when Floria Tosca appears. She is a famous opera singer and Cavaradossi's lover. Spotting the blue-eyed blond woman in the portrait and thinking that it depicts Cavaradossi's latest love interest, Tosca flies into a jealous rage. The painter calms her fears and she leaves, followed by Cavaradossi taking Angelotti off to hide at the artist's villa.
The evil police chief Baron Scarpia, in pursuit of Angelotti, turns up at the church with his henchmen. They find a fan left by Angelotti's sister, and Scarpia recognizes her in the portrait. Tosca returns, and Scarpia uses the fan to induce her jealousy toward Cavaradossi. After she departs, as the members of the church are singing liturgical music, Scarpia declares his lust for Tosca and his plan to kill her lover.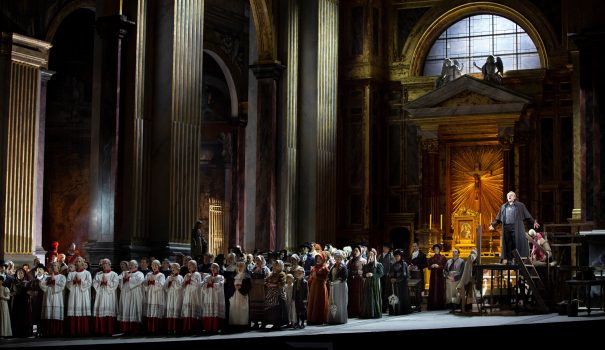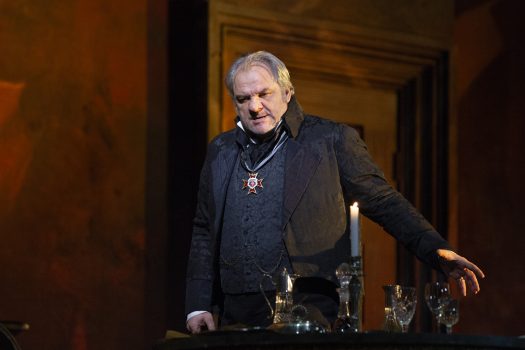 Act 2 takes place in the police chief's quarters at the Palazzo Farnese. The authorities have captured Cavaradossi and brought him before Scarpia. When Tosca arrives, her lover pleads with her not to reveal anything to the police. But when she hears her lover being tortured in the next room, the diva breaks down and reveals Angelotti's hiding place. Cavaradossi is furious with her, but when he learns of a victory by the revolutionary forces, he belts out a cry of victory, leading to the villain sentencing him to death.
Scarpia offers to spare the painter's life if Tosca will give herself to him. Finally, she agrees and he gives a cryptic message to his henchman. He is supposedly communicating that the execution should be faked but in fact is telling him the opposite. After he hands Tosca a passage of safe conduct so she and Cavaradossi can leave the country, she fatally stabs Scarpia. On the way out of the room, she leaves a crucifix on top of his body.
The last act begins on the top of the Castel Sant'Angelo, where Cavaradossi awaits his execution. Tosca appears and assures him that the shooting will be a sham and that he must fall to the ground when the rifles are fired. After the soldiers discharge their weapons and leave, Tosca discovers that Scarpia had tricked her and the execution was real. By then, Scarpia's body has been discovered and, as the soldiers are about to arrest Tosca, she leaps to her death.
The Performance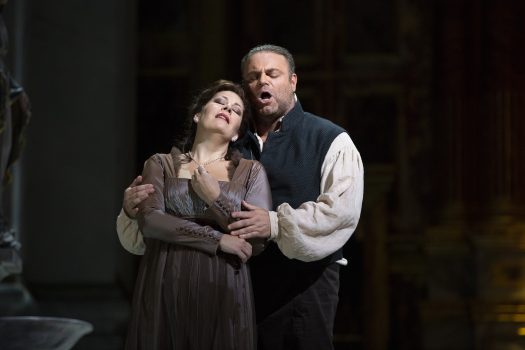 Radvanovsky is known not only for her singing but also for her acting, and she certainly gets an emotional workout here. In the first act, she is romantic and then flies into a jealous rage and slips back again to a coquette.
In Act 2, Tosca suffers from the torture of Cavaradossi by Scarpia's men and earlier from the Baron's cruel choice to give in to him or forfeit her lover's life. She brought the house down with her rendition of "Vissi d'arte," in which she sings of how she lived for art and love and, despite her devotion to her religion, God had treated her unfairly. (Her last words in the aria resemble the beginning of Psalm 22 (KJV) "My God, my God, why hast thou forsaken me?")
Calleja does not act on Radvanovsky's level, but what glorious singing! He has one of the world's most beautiful tenor voices and he uses it with taste. While visually his acting is minimal, he packs emotion into the vocals. The audience erupted in applause for the two famous tenor arias: "Recondita armonia" in Act 1 and "E lucevan le stelle" in Act 3.
As he demonstrated recently in Puccini's "La Fanciulla del West," baritone Lucic as Scarpia is an expert at portraying snarling villains. His "Te Deum" scene in the church was powerful, and he was particularly insidious as he verbally tormented Tosca in the second act.
The Met orchestra and chorus under the expert conducting of Carlo Rizzi were superb.
"Tosca" runs through Nov. 17 with Radvanovsky and Calleja, but with Claudio Sgura performing the role of Scarpia.
From March 18 to April 6, 2019, "Tosca" will return with Jennifer Rowley as Tosca and Wolfgang Koch as Scarpia. Calleja is scheduled to play Cavaradossi at all the performances.
Radvanovsky will be back at the Met in January in the title role of Verdi's "Aida."
'Tosca'
Metropolitan Opera
30 Lincoln Center Plaza
New York
Tickets: 212-362-6000, MetOpera.org
Running Time: 2 hours 53 minutes
Closes: Nov. 17
Barry Bassis has been a music, theater, and travel writer for over a decade for various publications.