NEW YORK—"Opera singers over the years are becoming better actors, because we can no longer hide away from [being seen on] DVDs, having things on YouTube, having things filmed. We can't escape that; our world is now dedicated to this digital media," American soprano Nadine Sierra said. "Because of that, people want to see more; they don't just want to hear it. It goes over the line of singing and being heard, to being watched and understood."
Sierra, 28, is one of many young sopranos performing at the Metropolitan Opera who have been starring in shows internationally in the past few years, and even among these, she has had standout moments.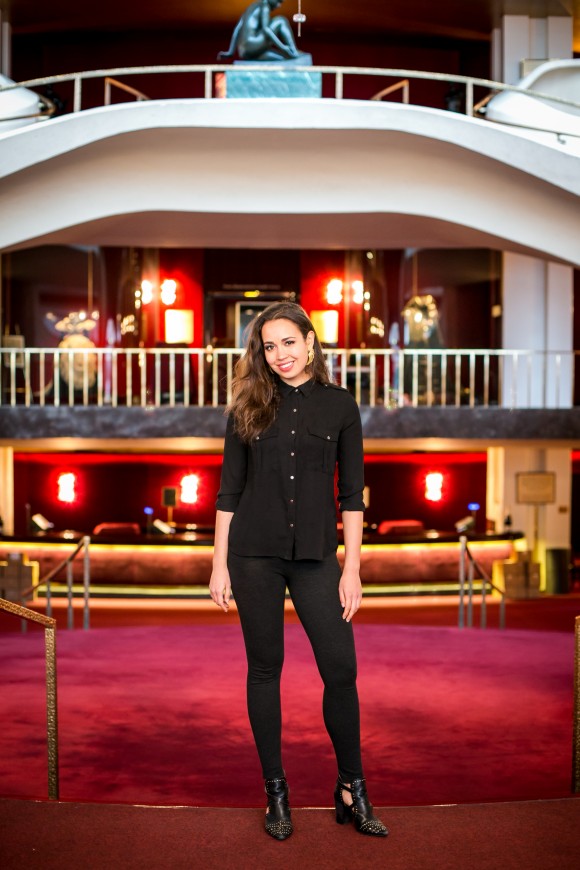 Early last year, she made her debut as Gilda in Verdi's "Rigoletto" at La Scala in Milan, where the famously critical audience cried out for an encore mid-act following her duet with baritone Leo Nucci. Sierra had her national debut at 15 and made a splash on National Public Radio's classical music series "From the Top." In 2007, she became the youngest person ever to win the Marilyn Horne Foundation Award, and in 2009, she won the Metropolitan Opera National Council Auditions.
This week, she has just stepped into the role of Ilia in Mozart's "Idomeneo," a Greek tragedy-based opera seria production, using the same costumes and sets that were used in the original Met production in 1982. It will also be conducted by Music Director Emeritus James Levine, who conducted the original production. The opera runs through Saturday, March 25, when it will also be shown in theaters around the world as a part of the Met's "Live in HD" series.
Today, our digital culture has made opera more accessible than ever, Sierra said. She dismisses the notion that the art is meant for a select few. The first opera event that really captivated her, sparking her drive to become an opera singer herself, was a filmed event. She'd seen the Met's "La Bohème" on VHS and knew that opera singing was what she needed to do with her life.
Opera in a Digital Age
Sierra remembers studying for her part in "Idomeneo" by watching the original Met production, in which the singers sang beautifully but stood still while doing so. 
"Now we're having to freshen it up by really committing to the characters and what they have to say," expressing both vocally and with the whole body, she said. "And I love that."
The singers fall into their roles so completely that they forget themselves, forget they are acting, and become the characters. "We actually do that—and it's so refreshing," she said. 
"Idomeneo" will be filmed to play in theaters and "when it's filmed, it's really filmed, like a movie." It changes the way you view an opera, Sierra said. In terms of acting, there are more subtleties, and the singers' facial expressions are more defined, rather than using over-the-top movements that can be seen from the top rung of the opera house.
As a young child, Sierra had seen many opera productions live, but it was seeing the "La Bohème" character Mimì's range of emotions expressed up close on VHS that ignited her obsession. 
Sierra's philosophy, filmed or not, is "staying completely true to what the character has to say at all times and making that understandable to the audience." 
One of her biggest frustrations is that people feel like they won't understand opera. Not everyone speaks the language an opera may appear in, and that is already a perceived barrier, but when you can sing with such clarity of emotion, it translates the story. That is what she strives for.
"I've always felt, even when I was a child, that watching opera is so much more special when you can automatically understand what the singer is trying to convey," she said. "To instinctively have that idea because of how they are expressing, not only in their movements, but how they are coloring certain words and phrases."
The way in which we view opera and produce it continues to change, but the core of opera hasn't, Sierra said. It is a timeless art form of the highest level, with beautiful music, a classic style of grandness, a connection to history, and a sense of the bizarre—"but I like that bizarreness; it's never boring," she said. 
'Idomeneo'
He was fond of "Don Giovanni" and "The Marriage of Figaro," but perhaps most of all "Idomeneo." He had wonderful memories of the time and circumstances of its composition.
"Idomeneo" was Mozart's first opera, written in 1781 when the composer was 24, and it is distinctly different from his other operas in which a sense of humor prevails. Here, he creates a story of fiction that picks up where Greek myth leaves off. It is centered around Idomeneo, the king of the island of Crete, after his return from the Trojan War. It also differs from Mozart's later works in that he personally made many changes to the story, shortening scenes to drive the work along, and changes to the text, swapping out words that tripped up the singers.
The story begins shortly after the Trojan War ends. After a storm and shipwreck, Idomeneo washes ashore, saved by Neptune, who demands that he sacrifice the first living creature he sees. To his dismay, it is his son Idamante.
Idamante has similarly just rescued the Trojan princess Ilia from the storm, and she is now captive in the home of her enemies.
"She is a character that I feel the entire audience wants to root for," Sierra said. "Her father was killed, her people were enslaved, she's taken away from her homeland to be among a family who she's heard of all her life as the enemy—and she falls in love with the enemy's son."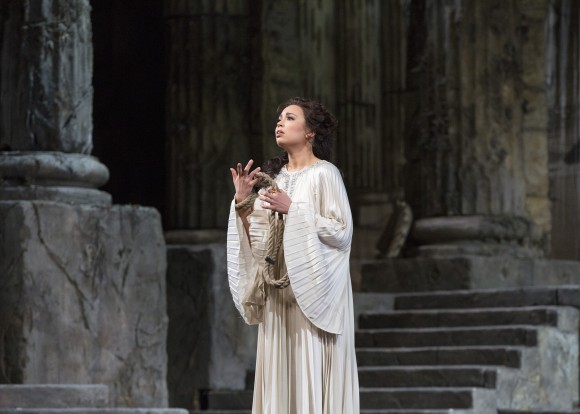 She feels this consuming guilt because of it, Sierra said, and expresses regret throughout the opera, but Ilia is completely emotionally honest.
It soon becomes a love triangle, as the Greek princess Elettra schemes to marry Idamante for power. "Ilia doesn't want any of that; it's about finding home again, creating [from] a horrendous situation something positive. … That's what makes me want to root for her," she said.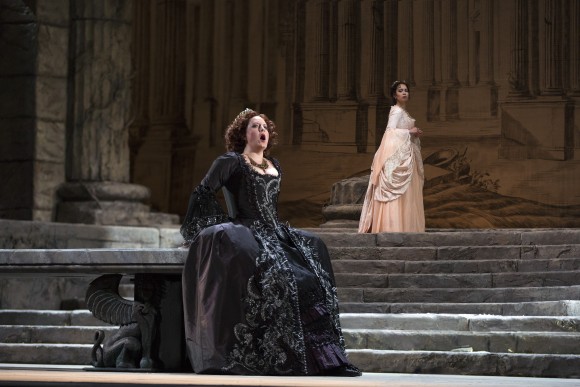 Sierra began preparing for the role about a year ago with her vocal coach Kamal Khan, but when rehearsals began, she had to learn a completely different set of things on top of it. Now she was learning it from the perspective of Levine, who conducted the original Met production 35 years ago and worked with many great stars in these roles.
"And 'Idomeneo' is his favorite Mozart opera. So, no pressure, right?" Sierra said. Plus, she is at least a decade younger than the rest of her cast mates and felt there was a lot of history to live up to.
At the beginning, she felt it was a challenge to not lose herself and her sense of artistry in the process. She had approached Ilia as a meek character; Levine told her to do the opposite, saying, "I want you to use all of your colors, all the colors of your voice, your full sound. Don't be afraid to let the drama out."


Sierra took in as much of the history as she could, and eventually became comfortable enough with it that she felt she had her confidence back, that she had transformed and could "reach my max dramatically."
"My opinion of the role throughout this whole process has greatly changed," she said. "I have so much respect for the role, and I love it so much more now."