Sociology Professor: Shen Yun Important Contribution to Chinese Heritage
April 6, 2009 6:55 am Last Updated: October 1, 2015 9:57 pm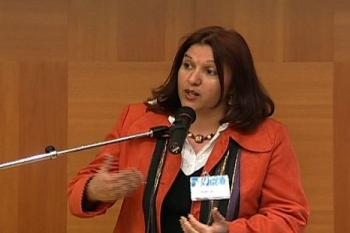 VANCOUVER, British Columbia—Shen Yun Performing Arts earned accolades from one of Vancouver's most prominent South Asian community activists.
Ms. Prahst, a sociology professor at a Vancouver college, has spent the last few years organizing forums, writing columns, and participating in a number of associations and organizations in efforts to combat racism and tackle difficult issues such as gang violence and domestic abuse.
She has also worked to address media bias in the coverage of the South Asian community. These passions and her expertise on family and ethnic relations give her a unique perspective on Shen Yun's efforts to revive the essence of traditional Chinese performing arts.
"I'm an educator, and I feel that this particular performance succeeded in making people think about holding onto traditions. I think in modern society today we lose our heritage, and I think the fine performing arts really is able to remind people of where their roots are," she said during the intermission.
The mission of Shen Yun is to renew Chinese cultural traditions through music and dance, preserving a culture that was essentially destroyed during China's Cultural Revolution and the ensuing decades of communist rule. Ms. Prahst commented on the epidemic of lost culture, and how Shen Yun has contributed to reversing this trend.
"If you don't know your history, if you don't know your culture that's been eradicated, how do you know who you are? And I think here in Vancouver we have such a large Chinese community, many don't even know their culture, and I think this is a really important contribution to their heritage. Not only for Chinese, but I'm South Asian, and I think there's some common elements where people are losing their culture, and I wish in our culture we had someone that researched the history and the intricate design. [The show] was so well thought through."
Ms. Prahst described the show as "excellent" and said Shen Yun succeded in protraying the essence of China's traditional culture.
"It's really difficult to capture history and culture, and I think the show really succeeded in being able to try to provide a sense of history and culture in a very genuine way. … I also think it's important that people understand a little bit of history, and I think through cultural art it's a way to create awareness for youth."
At a VIP reception following the show, which was attended by some of the performers, Ms. Prahst complimented the dance company.
"I first of all want to clearly commend you for an exquisite performance and what resonates in my mind is that one wants to be loved, and we felt it, and that shows your culture matters."
Speaking from a sociological perspective, Ms. Prahst discussed the loss of culture in a world of cultural diffusion and where some governments don't let their people express parts of their culture. Shen Yun, she said, helps reverse those trends.
"This is resurgence, and I think it is very important, and I hope to see this more expressed on an educational level.
"But hope only comes from truth. And when we have truth, then we can have compassion. And really think about why our culture was taken away from us, and why we need to bring it back. So thank you for all the organizers and I hope to bring my students here next year."
Shen Yun will play seven shows at Vancouver's Queen Elizabeth Theatre from April 3–8.
The Epoch Times is a proud sponsor of the Shen Yun Performing Arts 2009 World Tour. For more information please visit ShenYunPerformingArts.org