NEW YORK—Three years ago, Erin Dinan realized even one sandwich could make a difference in someone's life.
Dinan had moved to New York City after traveling and working in Europe and Africa, and wanted to be in the kind of city that seemed to encompass the whole world. 
But almost immediately she was distraught by the prevalence of homelessness. Over 65,000 people go to sleep hungry every night, she quickly learned. And these people are often judged and ignored. Their fellow New Yorkers were numb to their existence.
As an artist, Dinan started out with the idea of using photography to create change. With permission, she took pictures and collected stories.
One of the first people she spoke to was a man in his 40s at Union Square.
"He was sifting through the garbage," Dinan said. "He was a single father with two daughters, and had just lost his job. They were in the shelter system and he was just trying to do everything that he could to get out of that position."
"Sometimes we just get down on our luck," she said.

One Sandwich
Then one day, Dinan ran into a homeless man asking for money to buy food, as she was about to board a train. She had just bought a sandwich, and immediately handed him half her meal. 
On the train, Dinan couldn't get the interaction out of her mind. The sense of hunger she felt just from having not eaten since breakfast, and how grateful and shocked the man was stuck with her—all because of one sandwich.
So Dinan started making sandwiches to hand out to the homeless people she met. Then friends started getting involved. Then volunteers. 
Dinan organized the grass-roots effort into the nonprofit organization One Sandwich At A Time (OSAAT). To date, hundreds have volunteered and thousands have been fed. Recently on World Food Day, Oct. 16, OSAAT volunteers made over 10,000 sandwiches that were then distributed to local shelters.
"I want to change the way we view homelessness and hunger," Dinan said. "We can end this."
10,000 individuals fed with our amazing community for #WorldFoodDay #WFD2014 #powerofcommunity #gratitude #OSAAT pic.twitter.com/zs1jBVDEMr — Onesandwichatatime (@OneSandwichataT) October 20, 2014
Social Nonprofits
Dinan still thinks of herself as primarily an artist. Her goal is to get rid of the stigma associated with homelessness, to change the way people view other people. To start a movement. 
But in a recent conversation with a friend, she noted she was having a hard time explaining to people what she did.
"He said, 'Erin, you're a social entrepreneur.'" And he was completely right, she said. 
The nonprofit is successful in that the idea is so simple, it is easy to get traction, Dinan explained. But it does not bring in revenue. Dinan and the other six board members all have day jobs. None of their income comes from the nonprofit. 
For Dinan, she prefers it this way. It's a mission driven venture and she does not want any of the donations going to anything but directly feeding those who need the food. She does not think it is necessary for her to work on it full time, because it is at its heart a grass-roots movement. 
Join us tomorrow to toast to 3 years of helping those in need, welcoming 3 more years! #thankyou #NYC #ifedsomeone http://t.co/bkg7iMz2nC — Onesandwichatatime (@OneSandwichataT) October 21, 2014
The nonprofit sector really lends itself to mission-driven social enterprises. As the theory goes, for-profit companies, no matter how mission-driven they were at inception, will always have tension between making money for stakeholders and sticking to working for the social good. 
New York City has about 35,000 nonprofits that employ nearly half a million people. It is a dense city, and with the critical mass of social problems comes the need for more organizations to address them. 
It is a highly professionalized industry. Those who think nonprofits are donation-driven forget that many of the major hospitals and universities in the country are nonprofit organizations that make most of their income from commercial transactions like a for-profit organization would. 
But it is a misconception that the drive to do social good is enough to create a nonprofit, or that a nonprofit is even the right structure for the venture. And because nonprofits cannot be forced into bankruptcy the same way businesses can, there is no telling how many registered nonprofits are actually active.
There are entrepreneurs in the city tackling the homelessness problem, reducing hundreds of tons of waste, and creating jobs for formerly incarcerated youth. The issues are ones the city is highly interested in, but many struggle to receive any city help. And unlike small businesses, the nonprofits cannot get loans from banks.

Film Waste
Down the street from a pickled food store in Gowanus is a warehouse with a bright and welcoming orange sign on its gate. Inside is a maze full of enough eclectic props and fine furniture to make any room in your apartment look like a period piece.
At nonprofit Film Biz Recycling's (FBR) warehouse, film productions are constantly dropping off sets throughout the day. One day the entrance is a makeshift jungle, and the next there's a vintage sewing room by the register. From day to day, the shop can look entirely different.
Everything that isn't given to charity or another production is sold for a deep discount, or scrapped and recycled. Since 2008, it has diverted over 450 tons of waste in NYC, said FBR's founder Eva Radke.
"We get about 10 tons a month … and it distills down to about a quarter of one black trash bag every week, so maybe one black trash bag every month," Radke said.
Film production is notoriously wasteful. One big movie can generate 225 tons of scrap metal, 50 tons of set debris, and 72 tons of food waste.
In recent years, there have been greener sets trying things like banning bottled water, but environmental efforts have been slow to catch on industrywide. And unless it comes from the top down, it does not happen, Radke said. 
She knows this firsthand, having spent 15 years in the business working in the art department. She would create amazing ideas and sets from nothing for corporate commercials—anything from Palmolive to AT&T and in between—only to have to toss set after set in the dumpster at the end of the day.
"It was awful," Radke said. "I worked extra hours and I worked really hard just to make sure we didn't throw that much away."
Radke didn't have many recycling options, and the few donation centers she did work with were often unable to accommodate her needs. In the film industry, everything is immediate. If a center can't take the set right away, it goes in the dumpster. 
"It can't be next Tuesday, it can't be in an hour, and a truck has to take everything," Radke said. 
Years went by without a solution in sight, so Radke decided she would have to create a solution herself. 
"I just wanted to create a place where it could all go, last minute, and we'll take care of it. One stop drop and you're done," Radke said. "And that's what we've done here."
Everything you could want in-a-box! @ Film Biz Recycling http://t.co/BOFC7BW45E — Paul Hoppe (@paulalanhoppe) June 17, 2014
The $100,000 Gap
Radke is the perfect mix of business-savvy and creatively idealistic that advocates say a nonprofit leader needs in order to succeed. Off the top of her head, she can come up with countless possible partnerships with organizations or city agencies to provide training for underprivileged youth, creative programs for students, and so on. At the same time, she runs a tight ship and is smart about the business side of things.
But she still has a $100,000 gap she can't close. 
FBR's annual operating expenses total $500,000, and the company makes $400,000 a year. She's crunched the numbers. She's had a retail consultant—a friend of a friend—crunch the numbers. 
The $100,000 gap matches up exactly with the cost of the goods they give away instead of selling.
Radke said she would rather go under than stop giving away goods to those in need. In fact, she wishes the industry could give much more to those in need. 
A phone call with the director of a women's shelter years ago stuck with her. The America's Next Top Model production had just dropped off nine bunk beds, and Radke did not have the space to store them. She made the executive decision to take them to the local women's shelter while they still had a truck rental, and hoped the shelter had the space to take the beds in.
Later, she called up the shelter's director, apologetic for the short notice delivery. 
"She said, 'Eva, eighteen more kids can sleep here,'" Radke said. "I just forgot about that part."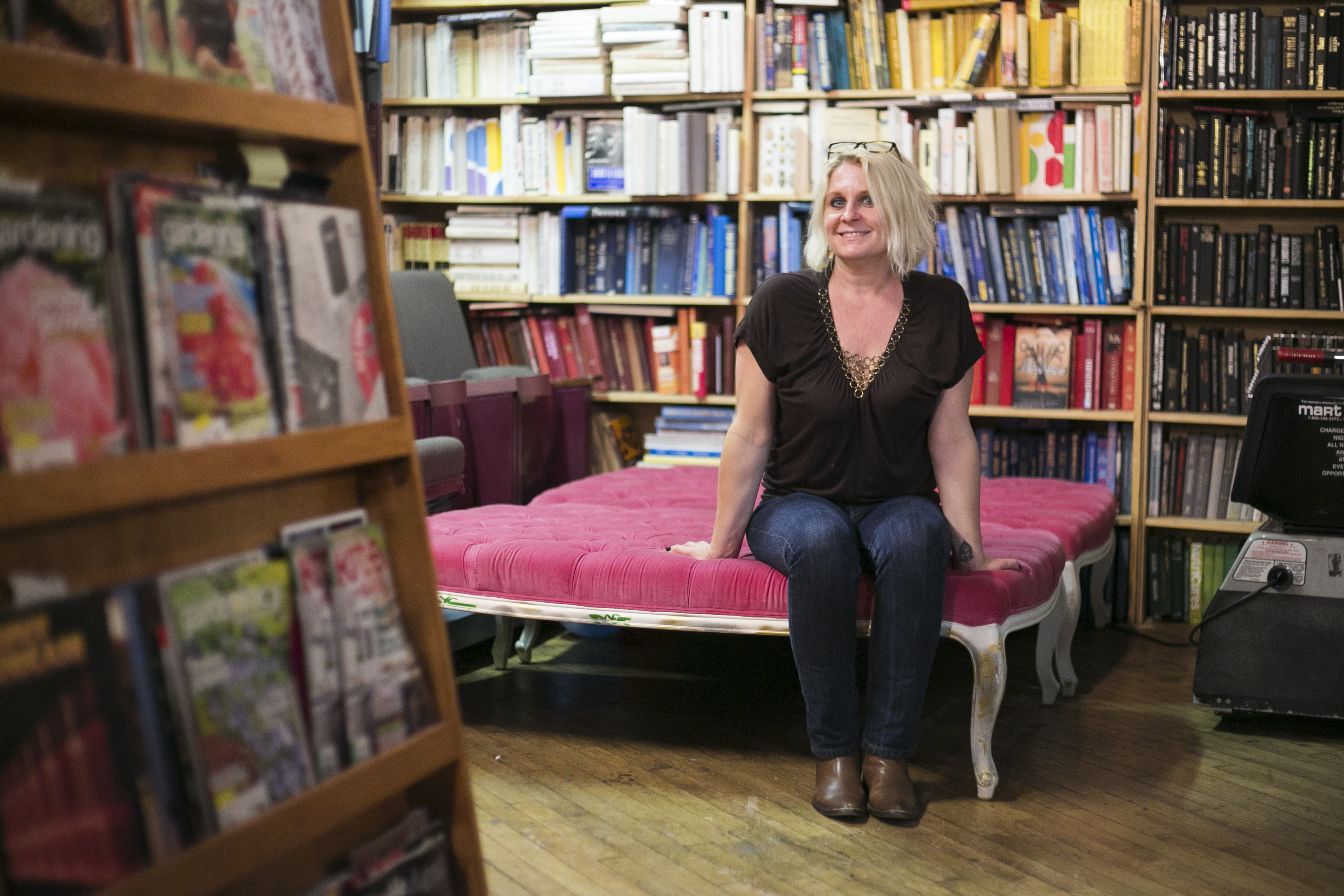 But the cost of funding operations has Radke dreaming up coupons to drive retail sales, rather than finding and providing solutions for the industry as a whole. A truck would also allow her to make many more drop offs and pickups than what FBR does now, but it is a $30,000 expense she cannot afford.
"My head is down and I can't get up," Radke said. 
The list of grants she's written is endlessly long, and the only one she has ever gotten is the one that helped the nonprofit get its 11,000-square-foot space in the beginning. She's called every city agency and is disgusted with the number of times she's heard, "Oh, why don't you call Leonardo DiCaprio?" 
Because FBR addresses several issues—social, environmental, the arts—it actually qualifies for fewer grants instead of more. And for some grants it fits, FBR's revenue is too high.
She would borrow the money if she could, but nonprofits can't get bank loans like businesses can. 
Radke's heard from many that had her idea been a startup for an app facilitating the same mission, she might have easily gotten city help and funding, investors, and more attention.
It's not something Radke hasn't thought about. In 2007, she started ArtCube, a Craigslist-esque Google group for prop swaps, job postings, and the like. It's spread to several cities nationwide and might just be the only digital platform for film and television productions. 
That's Plan B, Radke said. If she goes under, she will pursue expanding ArtCube, building it into its own app and platform. 
She said this with reservation, because the result of a digital platform without a physical drop-off space will be more waste. If a production can't take set materials from another one right away, it's into the dumpster again. 
"I'm not even angry about the grants," Radke said. "This is the film industry's mess."
"I think we'll eventually be at the place where one person could write us a check and we'll be done," Radke said. "This is a rich, entitled industry. It's out there."
It's just frustrating how much time she wastes with minutiae rather than building the relationships to get FBR to that point, Radke said. 
Nonprofit or For-Profit?
It is usually not a good idea to start a social nonprofit, said Thad Calabrese, assistant professor of public and nonprofit financial management at NYU Wagner. "I usually try to talk people out of it."
Billed as the guy who knows all about managing the finances of a nonprofit, 9 out of 10 questions Calabrese gets at events are questions on how to get startup capital. 
It is not that social enterprises can't work as nonprofits, Calabrese said, just that it is very hard to run one well. Problems like Radke's are common. Entrepreneurs driven by a goal of social change get caught up in running the business of the nonprofit, and later wonder whether nonprofit is the right structure to begin with. 
Nonprofits do not have access to the equity market, Calabrese explains. They can't court investors, can't sell shares, can't borrow money. And until an organization gets the 501(c)(3) designation that will make donations tax deductible, no one will give it money. But the entrepreneur needs money in order to start the organization and get a 501(c)(3) designation. 
"It's really hard," Calabrese said. "It's an imperfect capital issue."
Despite that, there has been a rise in social entrepreneurship. In the last decade, for-profit companies have increasingly integrated social missions. Young entrepreneurs haven't shied away from nonprofits either. 
Doug White, director of the Master of Science in Fundraising Management program at Columbia University, said about 10 percent of the students coming in are either starting social nonprofits, or have already started them. That's a high percentage.
White acknowledges the startup capital conundrum. Usually, he said, these nonprofit founders have the money to create the organization themselves, or know someone who has money. 
But it is common enough. There are many young entrepreneurs making good money, he said, and they in turn use that money to tackle society's problems.
"This era, quite frankly, is wonderful," White said. 
Drive Change
Three years ago, Jordyn Lexton was teaching English on Rikers Island. She saw first hand the effects of incarceration on 16-year-olds—treating and sentencing teenagers like adults. 
New York and North Carolina are the only states that prosecute people as young as 16 years old as adults. 
It restricted the youth in terms of development, education, and employment opportunities after getting out of jail or prison, Lexton said. 
It spurred Lexton to create a vehicle for youth to get training and become gainfully employed.
She does it through food trucks and a hybrid for-profit/nonprofit structure. Drive Change is the nonprofit umbrella organization, and the food trucks under it are all for-profit businesses.
This lets Drive Change fundraise for the cause while still allowing for people to invest in the food trucks. It would also allow Lexton to franchise a successful food truck or close down an unsuccessful one quickly without impacting the mission-driven organization.
"We see the value of not just nonprofit but the full functioning business," Lexton said.
It is a new organization with just one truck at the moment—the French Canadian cuisine serving Snowday.
Excited to have the opportunity to eat lunch from @SnowdayTruck Great food, great social mission! @DUMBOFoodTrucks pic.twitter.com/LkMUdOIKqu — olivia (@oliviakoski) October 29, 2014
There are still difficulties in keeping up with operations of the nonprofit. It's all in the details, Lexton explains, like discerning which expenses are for the nonprofit and which are for the food trucks. And she's also faced the catch-22 of needing money to start the nonprofit but not having the 501(c) (3) designation that incentivizes donations.
"It's totally hard," Lexton said. "It's a balancing challenge."
For fundraising, she's decided not to go the traditional route of galas and courting a few high-net-worth-individuals. Drive Change tends to partner with local organizations already, and Lexton wants to come up with more creative ways to fundraise that bring the community in. After all, the startup funds were crowdfunded. 
Hybrid Structures
Nonprofit-for profit structures like Drive Change's are the future, according to White. He's in discussions to create a course on that very topic at Columbia, and said it is where the industry is going.
"It's the future of philanthropy," White said. "Nonprofit and for-profits, those organizations need to work more collaboratively."
Based on what White has seen from entrepreneurs venturing into nonprofits, the beginnings of this are in place. "Five to 10 years down the road, there will be far more collaboration," White said. 
Neither sector can really solve society's problems alone, but for collaboration to happen nonprofits will need to take the lead, he said. According to White, the role government should play is to incentivize or facilitate this collaboration. 
"[These problems] are bigger than all three sectors," White said. "I think nonprofits can play a leading role. I think they should play a leading role."