There are few better ways to spark conversation before a meal than with a French apéro. L'apéro, short for "l'apéritif," is a popular pre-dinner ritual in France that gathers friends and family around drinks and finger foods—think happy hour, but more food-focused. And of all the small bites the French like to enjoy, one wins us over perhaps above all others: tapenade.
This classic Provençal spread of black olives, capers, and anchovies is a culinary icon in the region, and the perfect companion for drinks. A big bowl is often brought to the table for guests to spread on toasted baguette slices or various types of crackers. Since it's packed with salty, briny flavors, it makes a great companion to a crisp, refreshing lager or a glass of rosé or dry white wine.
Tapenade is ubiquitous not only in Provence but all throughout France—you can find it in most markets across the country. I'm certain I've never visited a farmers market in France where I couldn't find a stall with giant vats of tapenade on display. People like to buy little containers of it to bring home to have on hand for snacking, as well as cooking.
While tapenade is first and foremost enjoyed as a spread, it can also be used as an ingredient to bring big flavors to cooked dishes. For instance, try spreading a thin layer of it between the skin and flesh of a chicken before roasting it, using it in sandwiches instead of mayonnaise, folding it into an omelet with cheese, or tossing it with pasta as an instant sauce. As it's so powerful in flavor, a little goes a long way!
Now you can find many tapenade variations, made with green olives, hot peppers, tuna, dried fruits, nuts, different herbs, and so on. Black olive tapenade, however, is the most traditional and beloved of them all.
Choosing Olives
The name "tapenade" comes from the Provençal word for capers, "tapenas." But although capers are part of the mix, the olives are really the star of the show.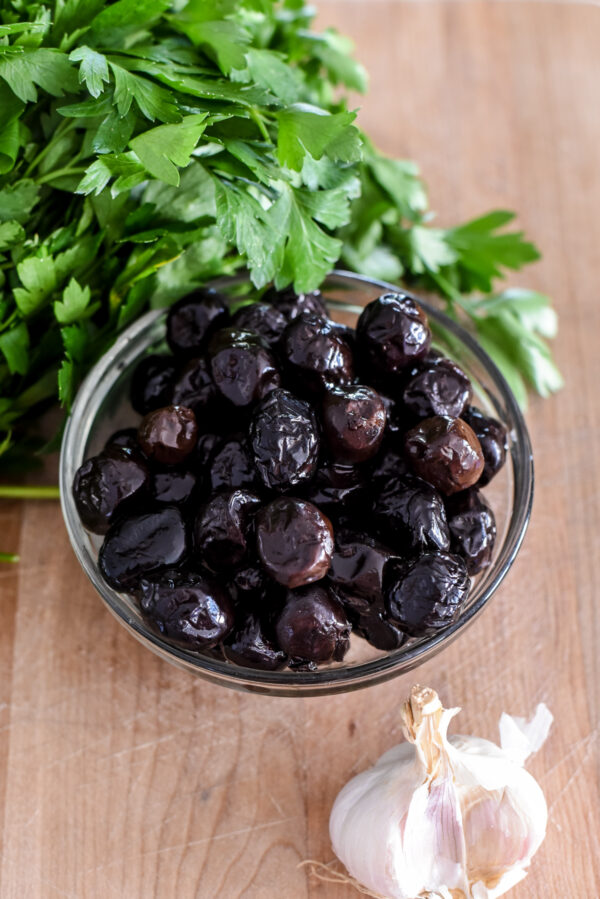 To make a classic tapenade at home, try to find Niçoise olives. Hailing from Provence, these small, almost purplish olives have a complex savory flavor and very juicy flesh, which will give your tapenade a great texture. Niçoise olives can often be found at the deli counter of your grocery store or in jars in the international aisles, alongside pickles and capers. As a substitute, you can also use Kalamata or other brine-cured black olives.
Mortar and Pestle Versus Food Processor
According to French tradition, a tapenade should be made by hand in a mortar and pestle. This traditional technique is supposed to be the best way to control the pounding and mashing of the ingredients, to obtain the exact consistency you need: spreadable, yet slightly gritty, with tiny chunks of olives and capers still visible.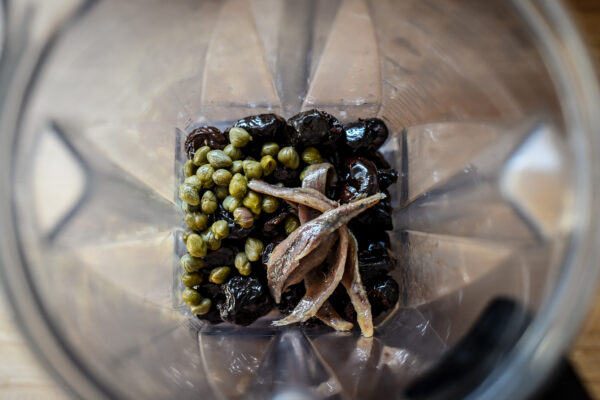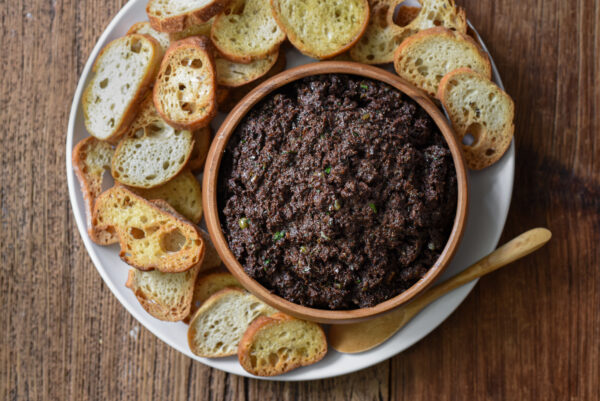 Nowadays, however, most home cooks will rely on a food processor or blender to make their tapenade at home. The key to still getting the right texture is to only use the "pulse" button, to make sure not to over-blend the mixture.
Black Olive Tapenade
Tapenade is a great make-ahead spread: It's even better the next day, after the flavors have had more time to meld and further develop.
Makes about 1 cup
2 cups (12 1/2 ounces) Niçoise olives, or other brine-cured black olives
1 tablespoon capers, drained
4 to 5 anchovy fillets packed in olive oil, drained
1 teaspoon freshly ground black pepper
1 garlic clove, peeled and minced
A handful of flat parsley leaves (7 to 8 sprigs)
Juice of 1 lemon
Extra virgin olive oil, to taste, as needed
Stem and pit the black olives. Wash them thoroughly under cold water.
If using a food processor: Place the olives, capers, anchovies, black pepper, garlic, and parsley in your food processor. On medium speed (speed 4 to 5), pulse in 1-second bursts until all ingredients are finely chopped. Add in the lemon juice, and pulse again until you get a coarse paste.
If using a mortar and pestle: Start by pounding the olives into small pieces. Add the capers, anchovies, black pepper, garlic, and parsley, and pound to a chunky texture. Add in the lemon and pound again to a coarse paste.
If the tapenade is too thick for your liking, you can add a few splashes of olive oil and pulse/pound again.
Pack the tapenade into an airtight container and store it in the fridge. Before serving or using, pop it out of the fridge at least 30 minutes in advance to allow it to warm up to room temperature, to allow the oil to turn liquidy again. This tapenade will keep in an airtight container in the fridge for up to 1 week.