Sky-Gazing in the Basement: Sky Studies at the Morgan Library
May 19, 2014 7:23 am Last Updated: May 19, 2014 7:23 am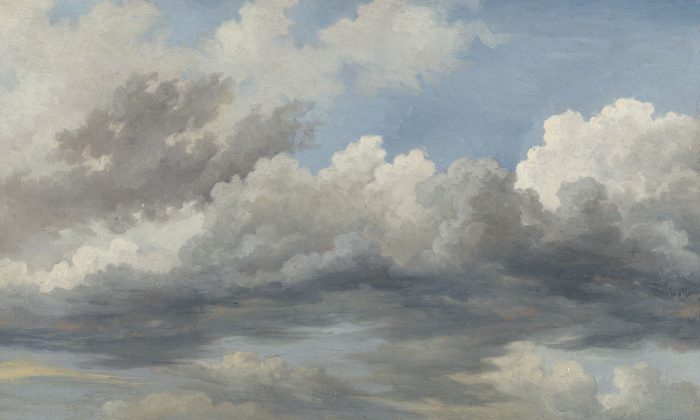 NEW YORK—Next time you visit the Morgan Library, make sure to duck into the lower level to check out Sky Studies, a small display of 14 oil sketches by French, German, and Scandinavian artists of the 19th century. It's easy to miss but so rewarding to see.
The group comes from the collection of Morgan benefactor Eugene Thaw and is on display through Dec. 28.
Much in the way that weather affects our states of mind, the sky determines the colors, composition, and mood of a painting. 
For this reason Pierre-Henri de Valenciennes, a French painter who worked during the second half of 18th century, advocated starting landscapes with a sky study. Serious painters took to the open air with portable oils and small sheets of paper to race the setting sun or impending storms. 
Some of these look like they were a delight to paint—warm weather, a light breeze—and others make you wonder how they are even possible. Belgian Johan Christian Dahl's "Moonlit View of Dresden," for instance, is almost completely dark. If it was done on location, Dahl must have had a lantern with him. 
What's striking about all of them is the artists' ability to suggest so much atmosphere in an area of less than a square foot. In most cases, the studies are no larger than a standard sheet of printer paper. 
A view of the Notre Dame, Versailles, attributed to Francois-Marius Granet serves as a prime example. The spire of the cathedral pierces into a mass of clouds whose faintly lit scalloped edges frame the skyline of a still-slumbering town. One can almost hear church bells reverberating through the haze of a humid summer's morning.
A few pieces were done to record observations for larger final works though the majority can be seen as complete paintings. Probably the most finished of the group is Jean Charles Joseph Rémond's "View of Ischia From the Sea." In it, a steamboat approaches the Italian island on turquoise waters and under a ruddy sky. 
Sunsets in French and German
The dramatic sunsets of Normandy captured French painters Eugène Isabey and Eugène Louis Boudin. Both painted the view looking west with the rocky coastline at left, as the sun tips over the edge of the world. 
Two compositions by the Eugènes are placed side by side.
Isabey, for whom tumultuous skies was a favorite subject, sketched menacing billows in bruise-like blues and umbers. Boudin captured a similarly ominous mood in his "Sunset at Étretat" with a blazing horizon line.
A couple of German sunsets give a far more tranquil air. Half-timbered houses of a village are still barely visible in the waning light bends into a flash of orange in Carl Gustav Carus's "Landscape at Sunset." Translucent dashes of violet create rhythm and perspective.
Hummel's sunset is positively revelatory. Two parted clouds edged in light yawn like a great celestial jaw. All brushwork in the sky and trees are done in radiating strokes to mimic the rays of the sun.
Even sketches that contain nothing but clouds show attention to line and composition. A careful inspection of Belgian artist Jean Michel Cels's cauliflower jigsaw of a cloud study reveals a calculated use of diagonal lines to create movement. 
Sky studies can be nothing short of miraculous—skilled artists can tease God's designs out of the clear blue.


Sky Studies: Oil Sketches from the Thaw Collection
Through Dec. 28
The Morgan Library & Museum
225 Madison Ave.
212-685-0008
www.themorgan.org