NEW YORK—Artists have been capturing their first thoughts in sketchbooks ever since paper was invented. As a visual diary or as a way of developing bigger projects, sketchbooks usually are not meant to be seen by the public. They are intimate records of an artist's otherwise fleeting, creative process—of beginnings, wishes, plans, and visions.
This behind-the-scenes aspect of artists' lives was put on display in "Sketchbook Vol. 1." The exhibition included sketchbooks by the artists Dina Brodsky, David Morales Hernandez, Diana Corvelle, Dilleen Marsh, Evan Kitson, Guno Park, Joshua Henderson, Luis Colan, Marshall Jones, Nicolas V. Sanchez, Paul Heaston, Sarah Sager, Ted Schmidt, and Vi Luong.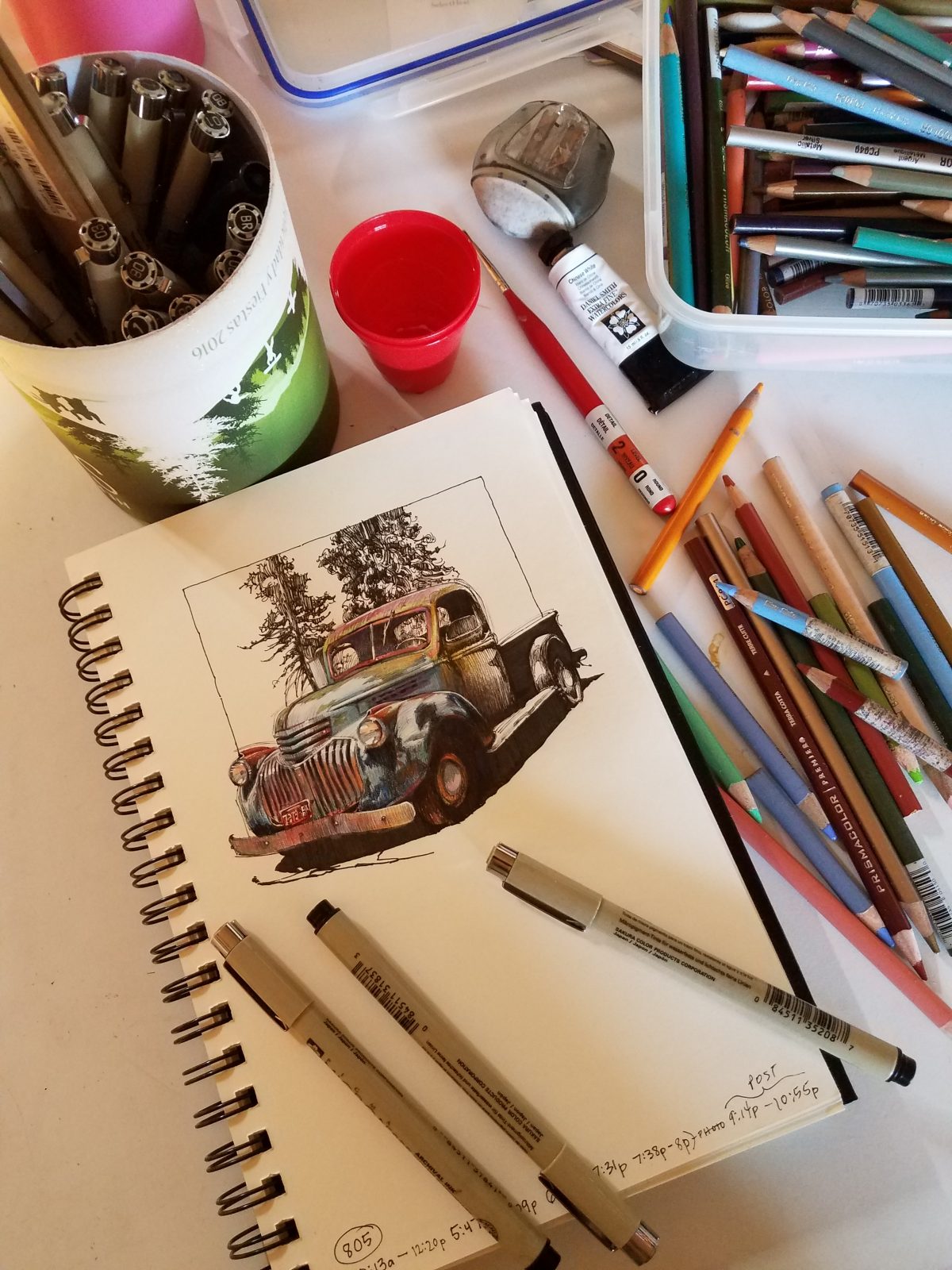 "Sketchbook Vol. 1," on view until Feb. 9 (by appointment), is the first exhibition held in the new project space and gallery of Sugarlift, an art consultancy company in Long Island City, which uses innovative ways of connecting emerging collectors with the artist community. For "Sketchbook Vol. 1," Sugarlift invited one of the nearly 200 artists it represents to curate the show: Dina Brodsky, a miniaturist, curator, and mother. She invited artists she has admired for many years. Some of them get together frequently to talk shop and brainstorm ideas. Some have been interviewed for the Art Grind Podcast, which Brodsky produces with Tun Myaing and Marshall Jones; the latter's work is included in the show.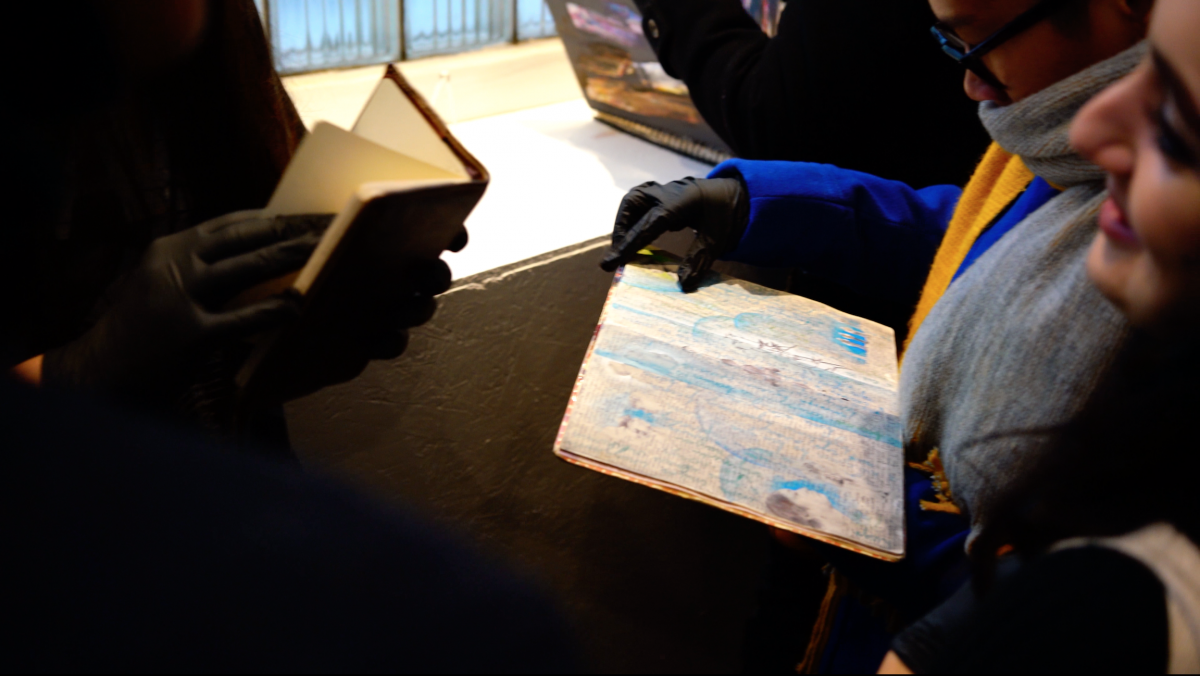 The opening on Jan. 19 at Sugarlift drew a crowd of about 300 people. They waited in a casual line to enter a room that was only about 300 square feet, to leaf through the 14 sketchbooks. The content of the exhibition was beautifully hefty. Considering that the average number of pages in a sketchbook is about 100 (totaling about 1,400 pages of artwork to see), visitors lingered from the afternoon into the evening, fully engaged. 
These sketchbooks do not just contain mere scribbles, but also masterful representations and illustrations of candid moments. Some seem to have been created deliberately as finished pieces, while others are very unreserved, with quick sketches and notes to self, such as "recipes for my paintings," and "visions of red," in Sarah Sager's sketchbook, for example.
Given the personal nature of sketchbooks, some of the pages were clipped or covered to honor an artist's privacy. "I started keeping a sketchbook many years ago, and it wasn't anything that was meant to be seen or even treated as an object of art," Luis Colan said at the opening.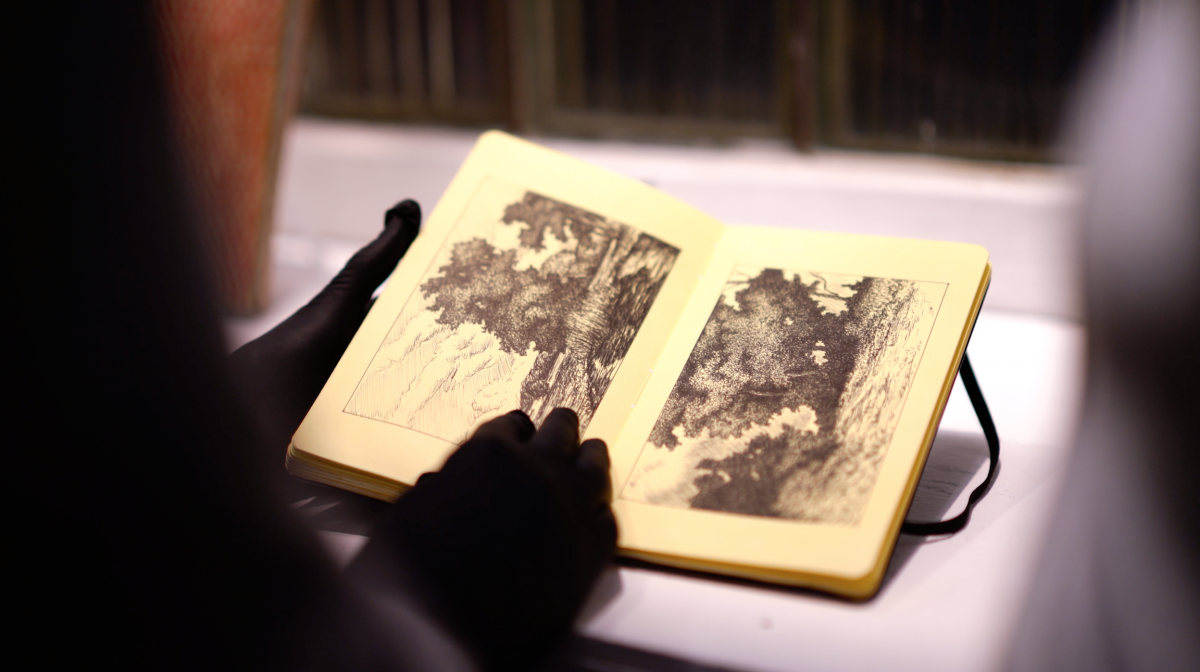 Colan drew thumbnail sketches of landscapes, which served as ideas for making monotypes at the monthly monotype printing parties at the Salmagundi Art Club on Fifth Avenue. "I could go into the Monotype Party and be able to work on them quickly because it was the only time that I had to use the press. Those three hours go by so fast," he said. 
When Joshua Henderson was invited to include one of his sketchbooks in the exhibition, he had completed only five silverpoint drawings, which he eventually included in a sketchbook that he bound himself.
"I just made the sketchbook the size of those drawings and then made more drawings," Henderson said at the opening. Unlike most of the artists in the show, Henderson created his sketchbook knowing that it would be exhibited. "There are some images that tell the story of the sketchbook," he added.
The sketchbook by David Morales Hernandez was dedicated exclusively to detailed pen-and-ink drawings of his travels in Japan. The sketchbook included tickets for public transportation and other kinds of receipts and brochures.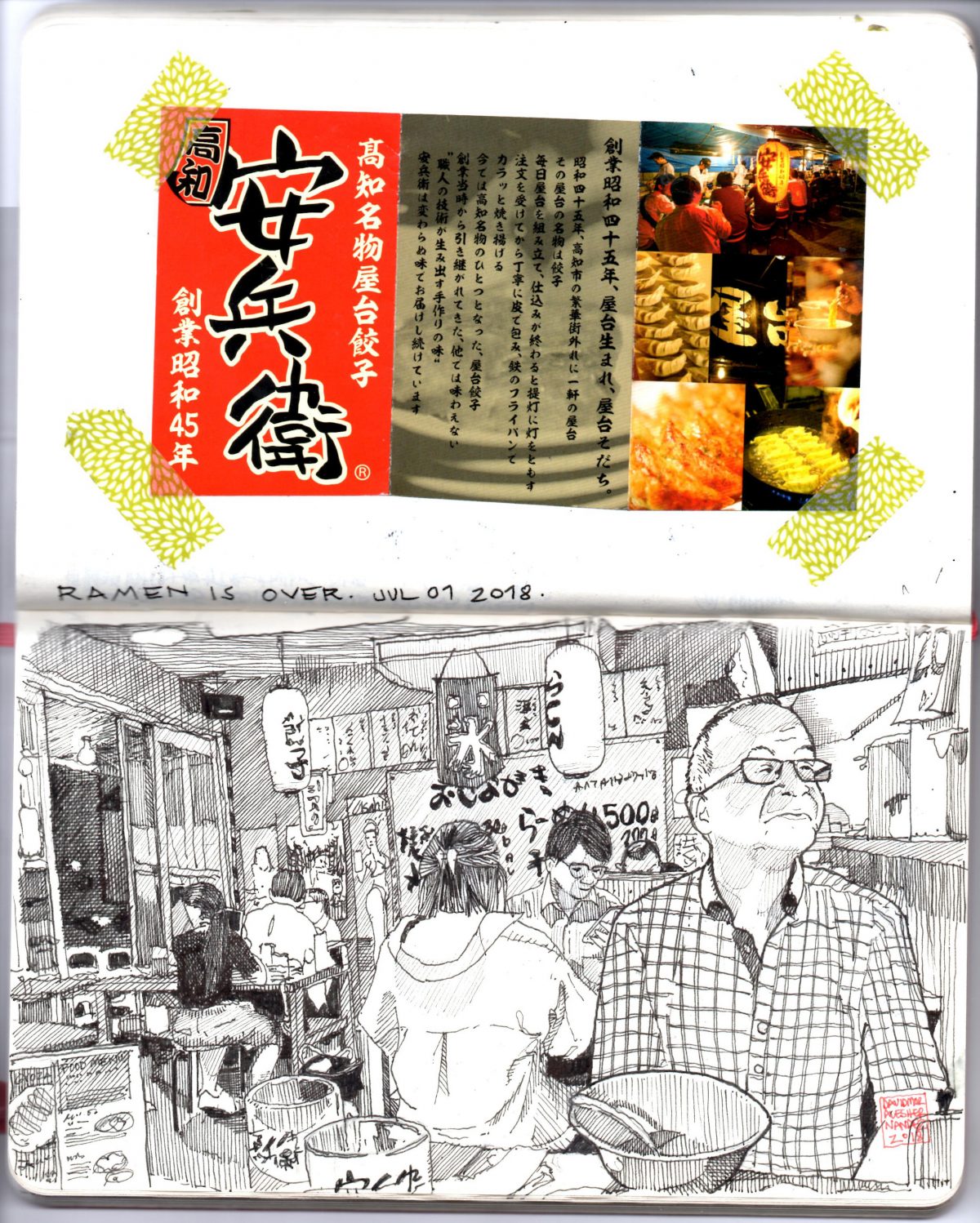 Evan Kitson's sketchbook included a series of anatomical studies in graphite and red pencil, notes about his preparatory studies, and notes to himself, such as "I must draw for my life." He works on any one of his 20 sketchbooks every day. "It's this open space to play with different ideas or different passes of perception on setups I might want to take further," Kitson said. "My sketchbooks are the most honest thing I do, and to be able to show them like that [at Sugarlift] is really wonderful."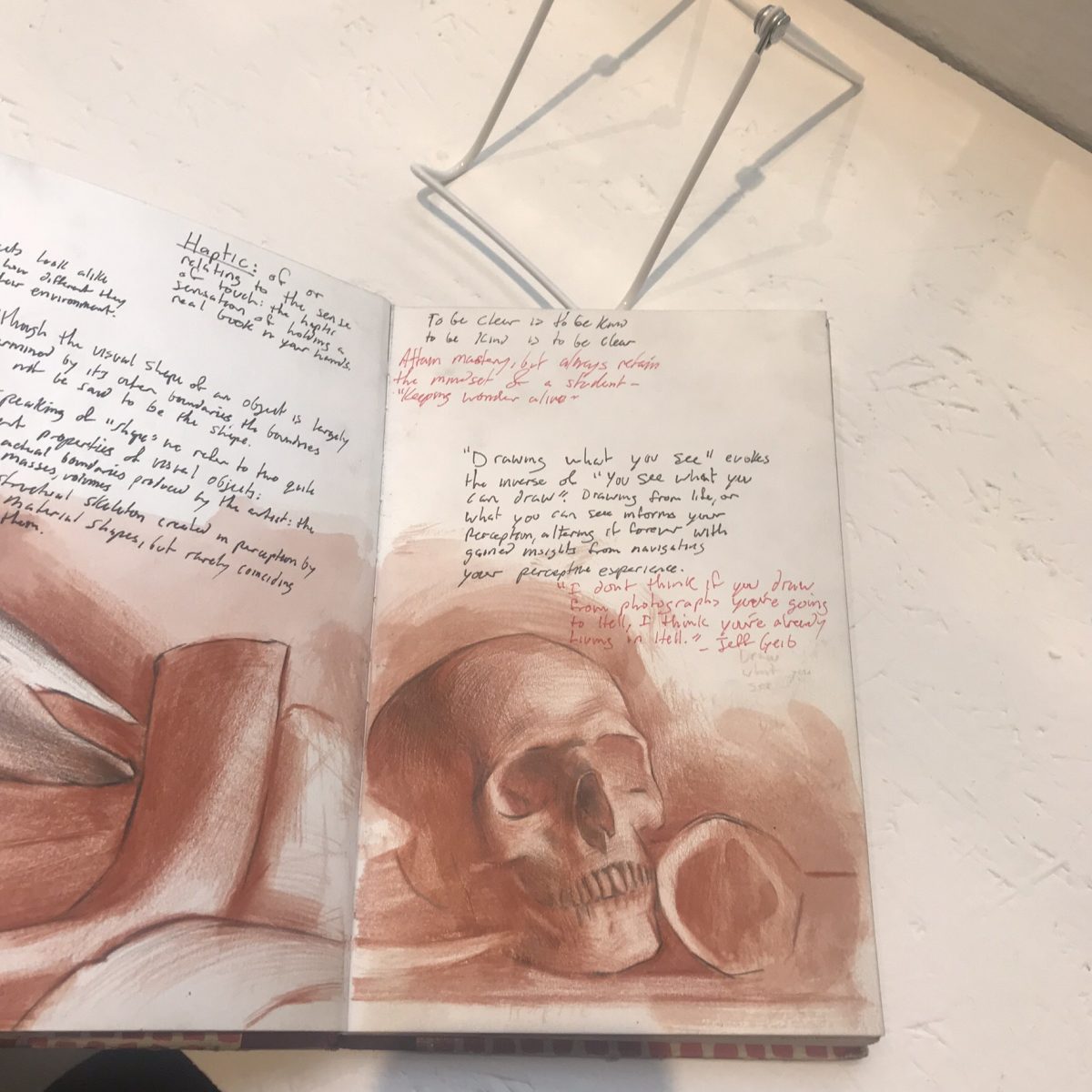 Vi Luong's sketchbook showed fine and straight lines in his incredibly detailed, 1,011 pen-and-ink architectural drawings. Videos on Instagram (#1011Drawings #misterv @mister_vi) reveal that he does not use a ruler to depict the buildings he loves to look at in New York, in Italy, and elsewhere.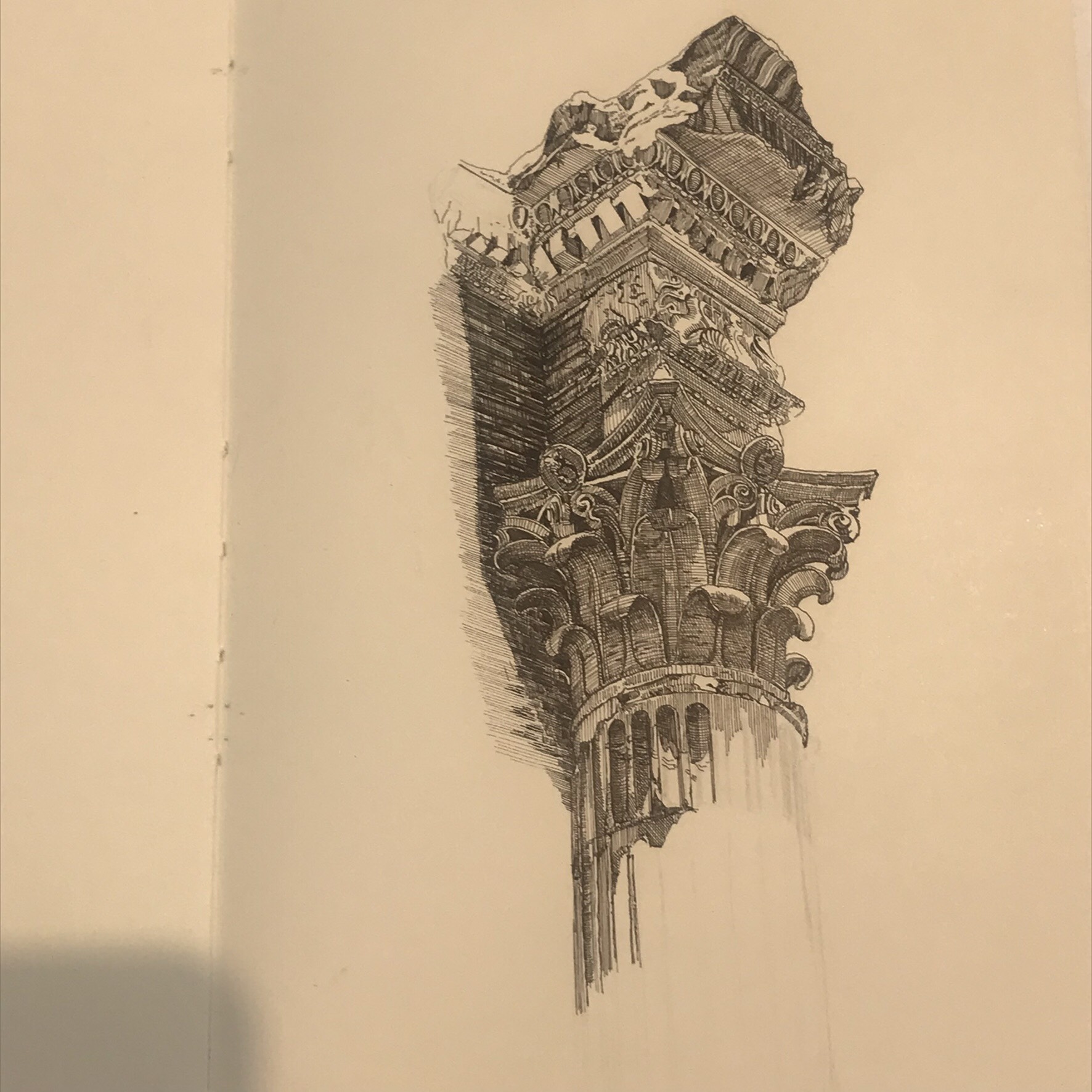 "Sketchbook Vol. 1" is fascinating in how it draws you into long-contemplated experiences, which have been represented in a tactile object. And most of the artists in the show, all but one, have become immensely popular by sharing photos and time-lapse videos of their sketchbooks on Instagram, garnering 25,000 up to 350,000 followers.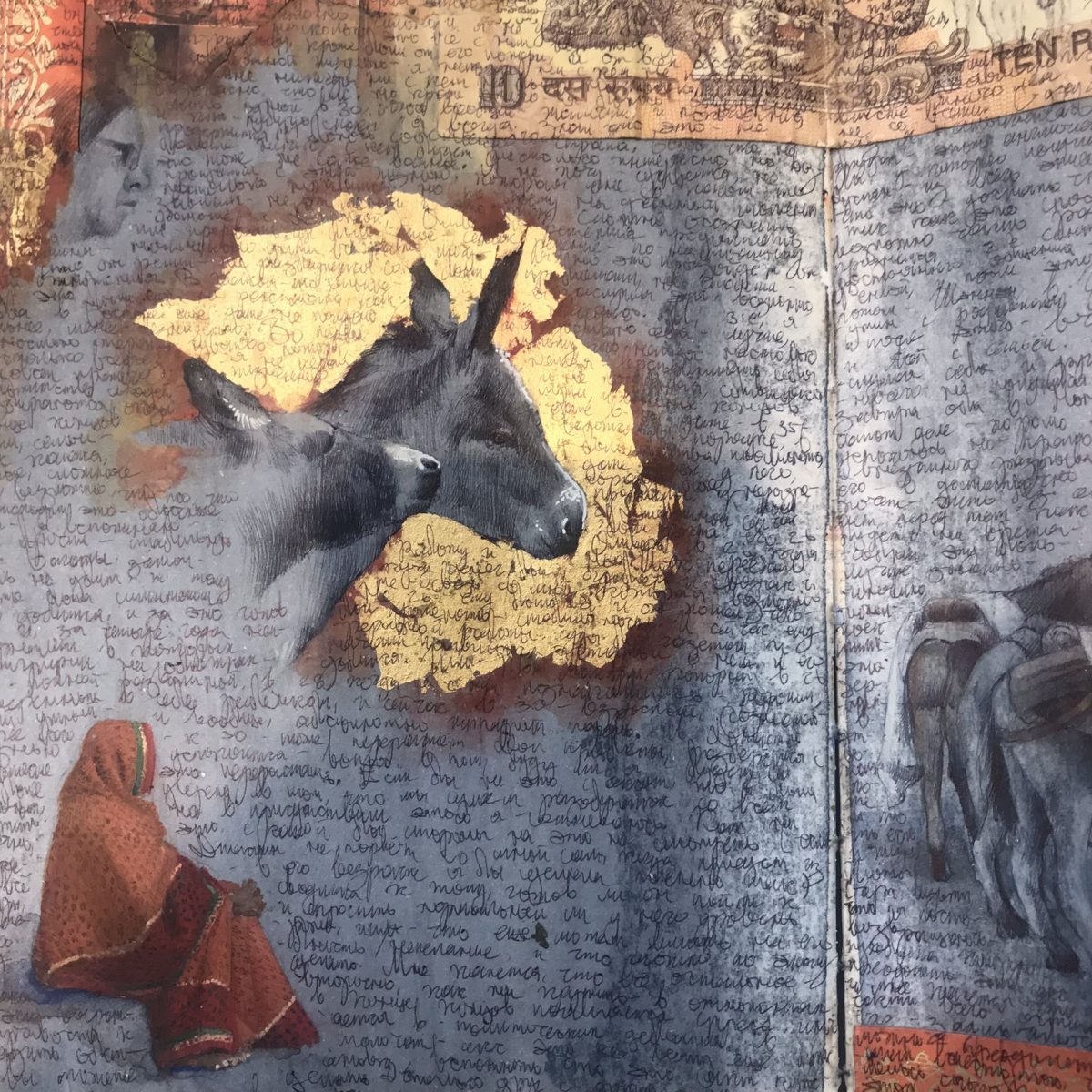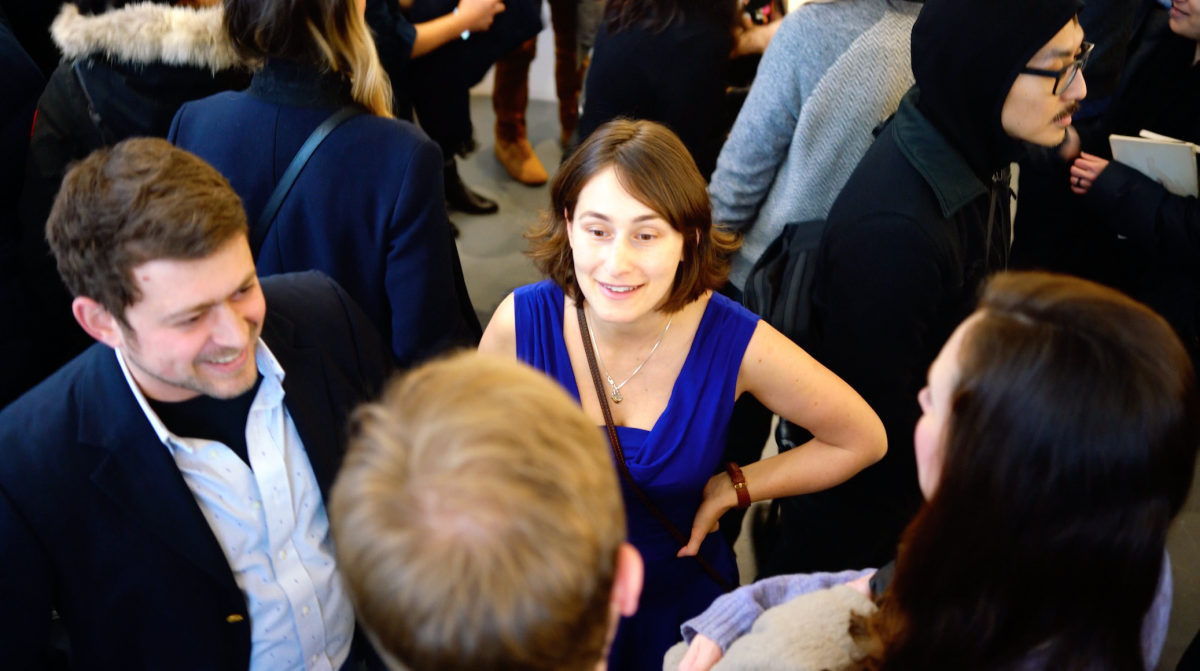 While social media has increased the visibility of these artists' work to a wider audience, fundamentally the appeal of such sketchbooks is their calling to engage your own perception directly with reality. And taking up a consistent drawing practice is one of the most simple and ready means of perceiving reality, as opposed to, for example, scrolling through Instagram.
As an offshoot of the exhibition, Sugarlift worked in conjunction with Sotheby's during the auction house's Old Master Drawings sale. Four of the artists in "Sketchbook Vol. 1"—Dina Brodsky, Guno Park, Joshua Henderson, and Nicolas Sanchez—gave drawing lessons to visitors and potential buyers at Sotheby's on Jan. 27. And almost all of the artists shared how they were inspired by particular old master drawings, which would soon go to auction, in a slide show on the Sotheby's website.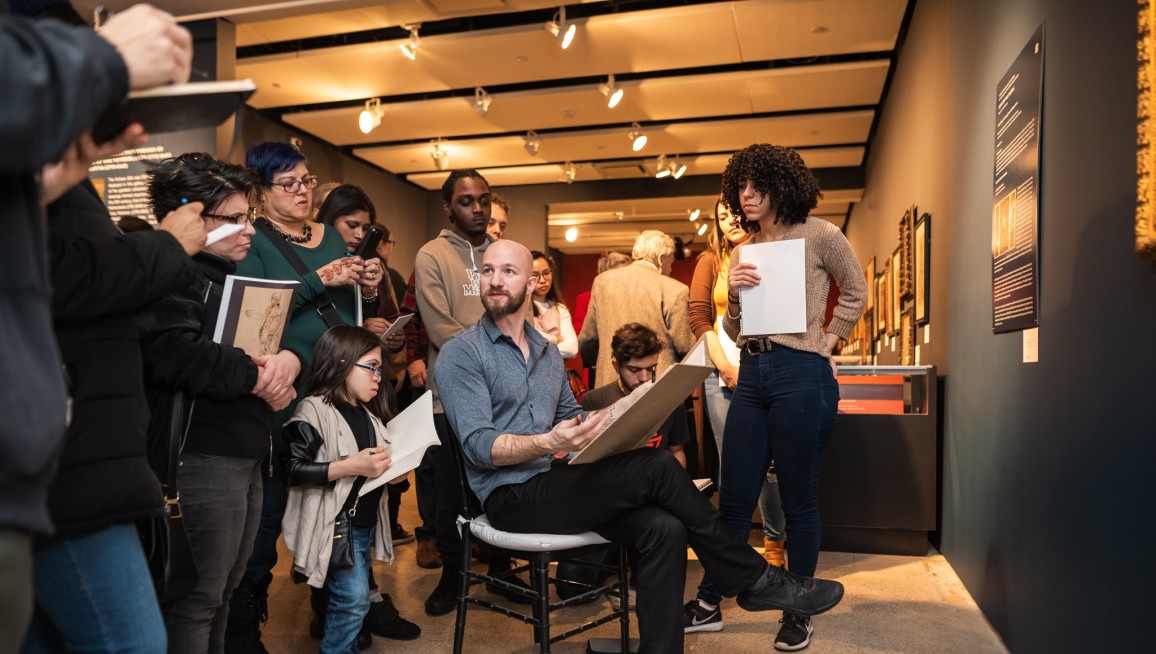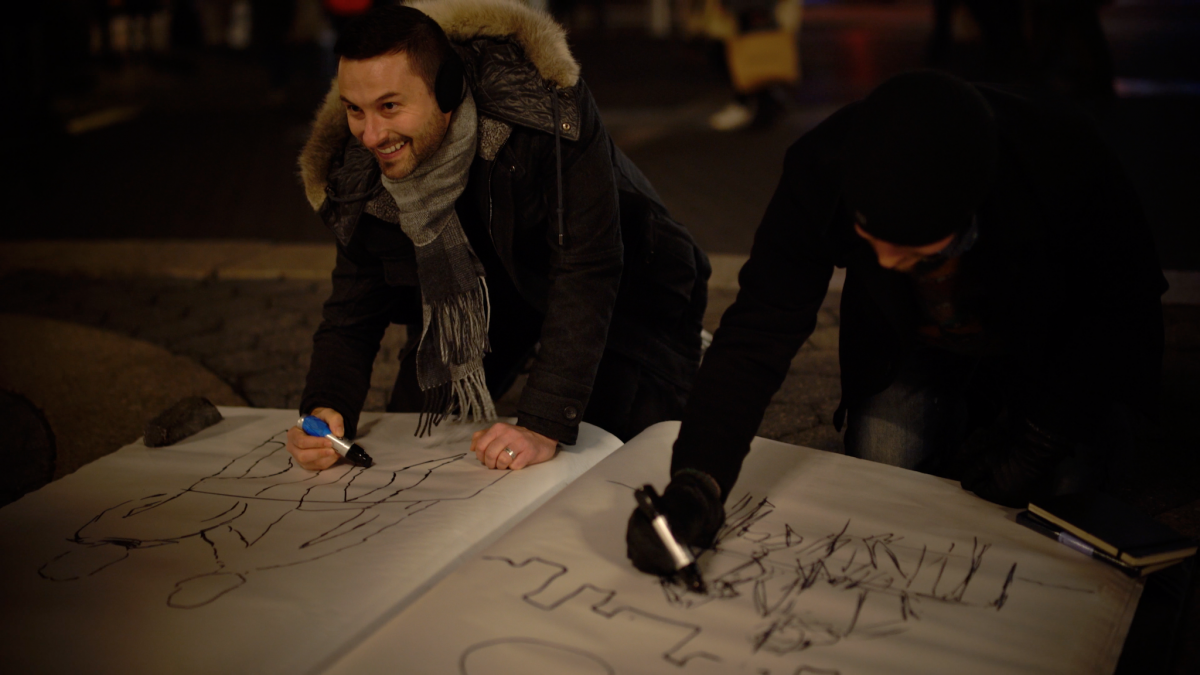 Before the opening of "Sketchbook Vol. 1," Sugarlift also created a giant sketchbook that it took to Union Square in New York and invited people to participate in a sketching competition with some of the artists in the show.
These are just a couple of examples of how Sugarlift is increasing its visibility, connecting emerging collectors with artists, nourishing a community of artists, and connecting this community with the general public.
None of the sketchbooks in the exhibition were for sale, but Sugarlift also displayed 14 framed and finished works, one by each of the artists, that were on sale.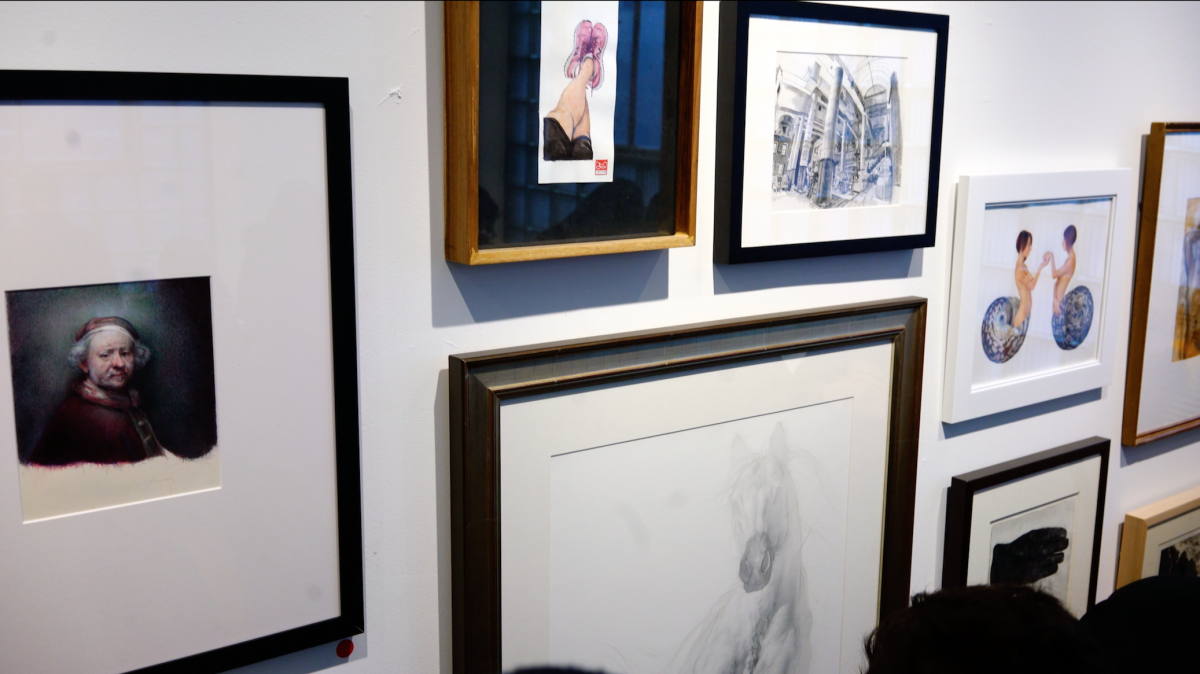 Milene Fernandez is on Instagram @milenejf