Of all the fond memories I have of Romania, Sinaia is the most cherished one. In my 20s, I used to spend every second weekend of the month hiking the Royal Path up to the Franz Joseph Cliffs to take in the breathtaking views of the Prahova Valley stretching in verdant beauty at the foothills of the Bucegi Mountains.
Although I followed a routine, hiking the same path over and over, the experience was different every time. Sinaia has magical echoes—a spellbinding atmosphere that is reminiscent of a storybook with a Prince Charming on a white horse on the front cover, tales of enchanted castles, and even the Big Bad Wolf lurking behind a moss-covered pine tree in the depths of the forest.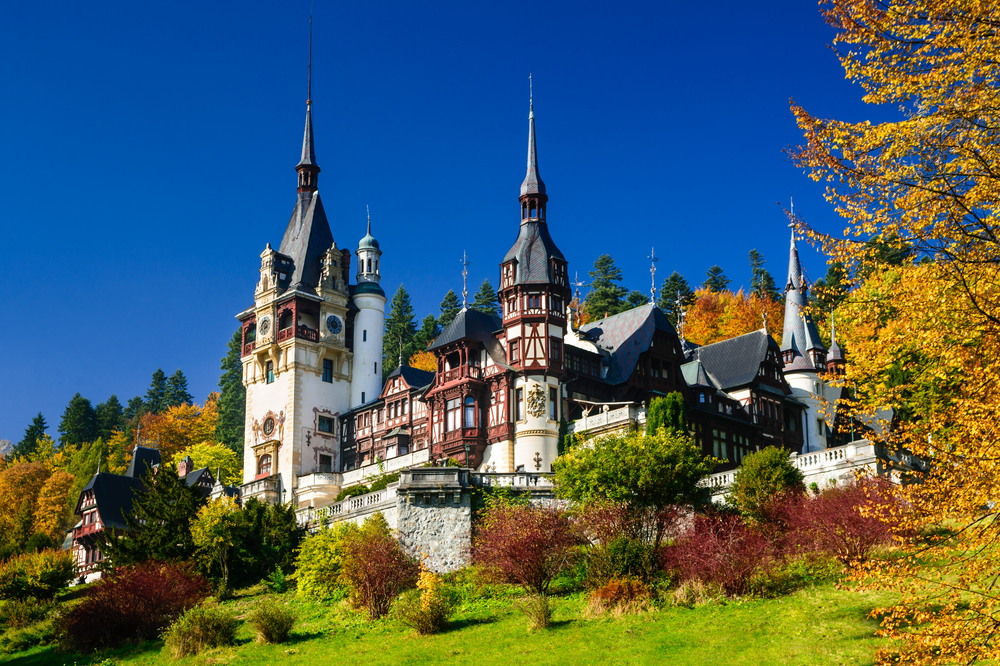 A Walk in the Woods
I remember once, in November 2006, the woods were swathed in a veil of thin fog, which made the landscape mysterious and eerie. As the dark descended upon the city, distant animal calls startled my best friend, Liliana.
"Are those wolves?" she asked.
I knew they were, but I replied: "No, just dogs. Don't worry."
The wolves howled somewhere in the distance, far from people, and we were safe in Sinaia. We had a hike planned for the next day—granted, a short one, on a well-known path—but it was my best friend's first one, and she was worried. The woods reminded her of Perrault's fairy tale in which Little Red Riding Hood stood no chance and ended up in the belly of the beast.
"Wolves don't come so close to the city," I told her. "Nor were they ever spotted on the Royal Path. Bears, on the other hand …"
Her eyes widened with newfound terror.
"No reason to panic about them, though," I said." They are rarely aggressive. I will know what to do if we spot one. Besides, we will not be alone, and bears are intimidated by groups."
What few tourists know is that bears descend downtown to rummage through waste containers in search of food. In Sinaia, you are more likely to meet a bear in Dimitrie Ghica Park than in the forest. Locals know it and are aware of the beasts. They used to coexist. Today, the presence of bears may cause panic or problems with tourists and residents alike. Most of the bear sightings happen in spring, but seeing them in fall and winter is not unheard of either.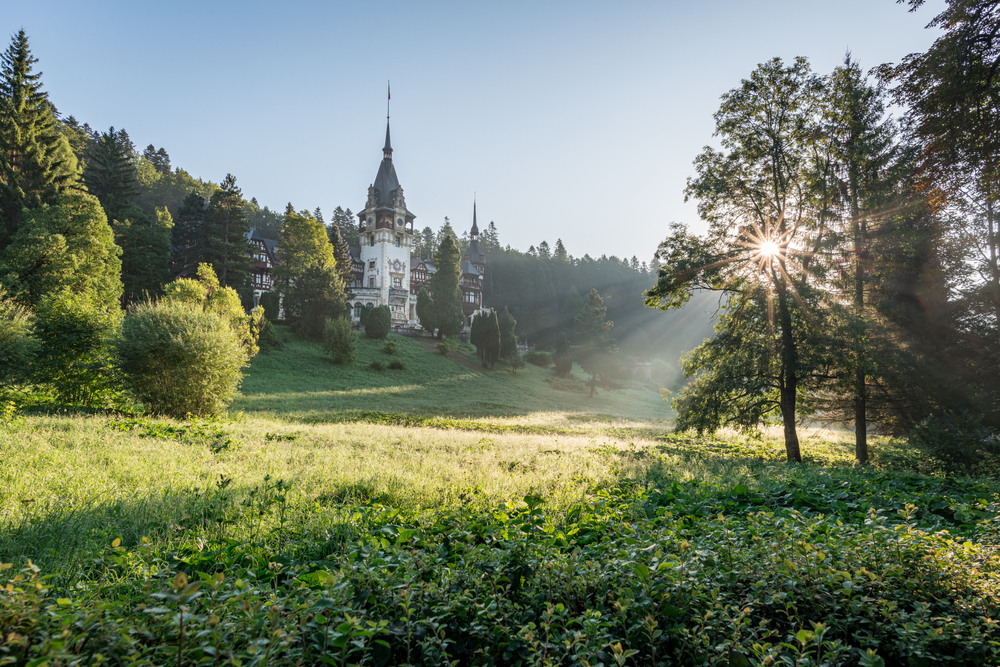 Much of the natural area surrounding Sinaia is part of Bucegi Natural Park, a protected nature reserve rich in fauna, including predators such as bears, wolves, and lynxes. Hiking any of the trails in this area may bring you face to face with the rightful inhabitants of the park. But, I assure you, mindfulness and respect for wildlife will keep you out of trouble.  
In 2006, there were no brochures to teach tourists what to do in case of bear encounters. I doubt things have changed. So I had to search online for advice to give my best friend some peace of mind. That evening we spent hours talking about wolves, bears, and the most frightening fairy tales and legends featuring the beasts. But before we went to sleep, I reminded her: "Brother Bear. When you are afraid, think Brother Bear."
We woke up early the next morning—we only had a weekend, and I wanted to show my friend everything I loved about Sinaia. We started the day downtown with breakfast: a hot cup of tea and traditional cheese pie at a local cafeteria, which was replaced by a restaurant a few years ago. There are still places that serve the cheese pie, though. It's a must-try.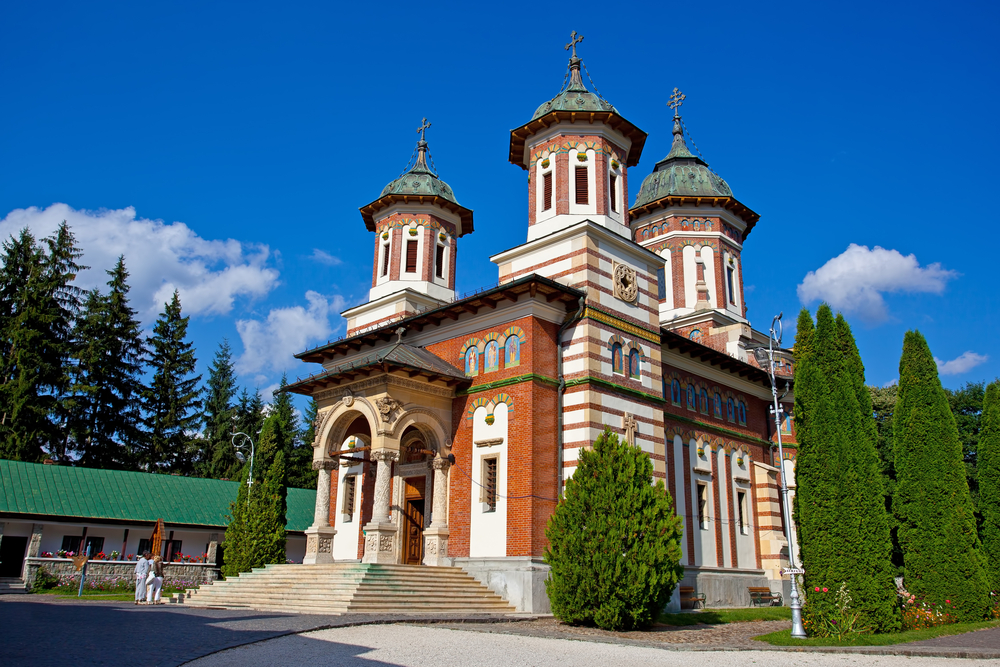 On the Way to the Royal Path
Then, we strolled to Dimitrie Ghica Park, named after the Romanian prime minister from 1869 to 1870. Carol I of Romania built the park in 1881 on a domain that belonged to Dimitrie Ghica. A Swiss landscape architect, only known as Eder, was commissioned for the work. At the heart of the park, there's a cast-iron fountain made by the Val d'Osne Foundry in France. The fountain is surrounded by benches where you can relax before continuing on—and there's a lot to see around the park.
Caraiman Hotel is the neoclassical Romanian-style building facing the park. It was erected in 1881 and counts as a monument of the National Patrimony of Romania.
Another must-see architectural landmark is the Sinaia Casino, erected in 1911–1912 by Baron Edgar de Marçay. It was inaugurated in 1913 with a piano recital by George Enescu, to date still considered the greatest Romanian musician of all time. Once a gambling and entertainment venue, the casino changed focus and is now an international conference center, boasting a theater, which still houses the original piano used by Enescu at the inauguration of the building, as well as an art gallery, splendid halls, and a café.  
Dimitrie Ghica Park also hosts the Bucegi Natural Reservation Museum, in a new building with no aesthetic value. They have enough information about the local fauna if you want to find out more before you venture into the woods, so it's worth visiting.
Leave the park and head to Sinaia Monastery—a peaceful sanctuary from 1695, named for sacred Mount Sinai. You'll need about 30 minutes to visit the complex, which has two churches and a museum of religious objects—the first of its kind in Romania.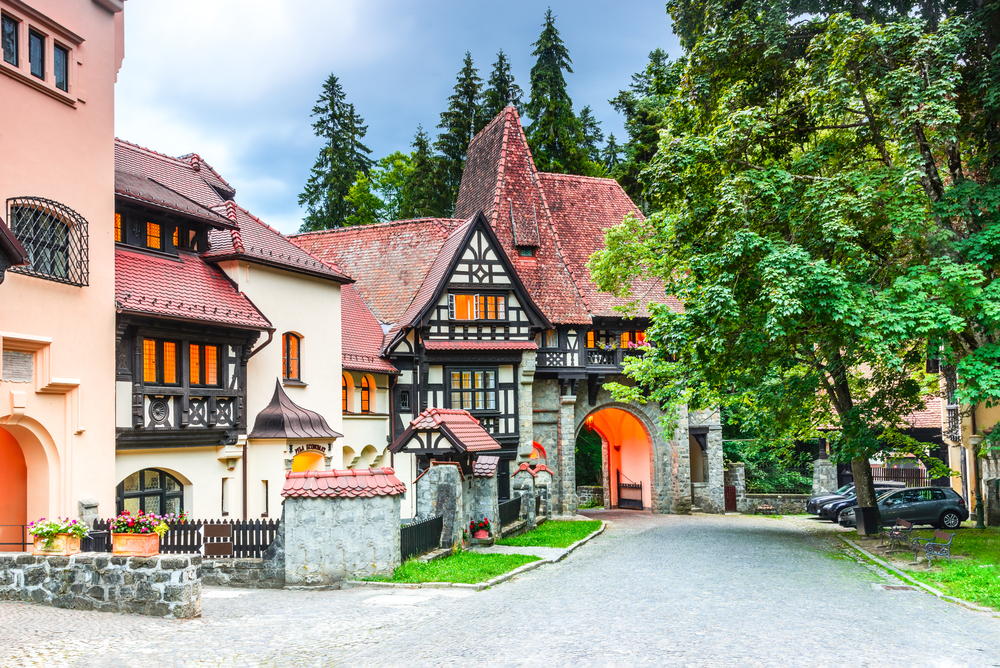 Highlight: Peles Castle
Leaving Sinaia Monastery, the most important landmark of the town is Peles Castle. Legend says that King Carol I of Romania loved the forests and wilderness of these lands. He spent his summers at the monastery, seeking peace and solitude. When he finally decided to pick a site for his royal palace, the beauty of the area made his choice difficult. He rode in his carriage, and one of the wheels broke. It is said that this is where Peles stands today.
Peles is a neo-Renaissance castle built between 1873 and 1914. It was the favorite summer residence of the king and Queen Elisabeth of the Romanians. You'll see the castle in all its glory in the Netflix fantasy trilogy "A Christmas Prince." While Aldovia is a make-belief kingdom, the castle is real and is located in the Romanian historic region of Greater Wallachia. When it reopens, it's worth seeing, and it offers guided tours in several languages, including English. 
A stone's throw away from Peles Castle, part of the same complex and constructed in the same architectural style, you will see a smaller edifice called Pelisor Castle. Carol I built this in 1899–1902 for his heir, King Ferdinand I, and his wife Queen Marie of Romania.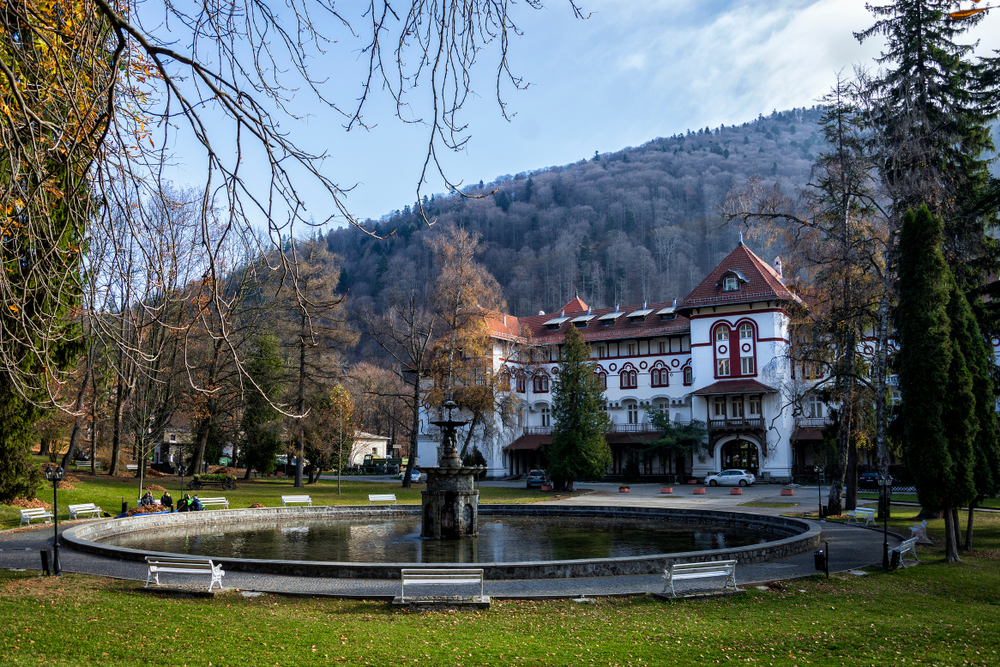 On the Royal Path to Sheepfold's Glade
Leave Pelisor Castle behind and follow the signs that lead you to the Royal Path. You'll have to walk some on Strada Furnica until you reach the Furnica parking lot; then take Strada Cota 1400, which winds on until it meets the Royal Path at the beginning of the forest. A landmark on Strada Cota 1400 is Cabana Schiori—a guesthouse with an excellent restaurant where you can dine on your hike back to Sinaia.
The Royal Path is paved and takes you through the woods past a man-made waterfall on the course of Peles River. Blue band markings on trees along the path show the way to Sheepfold's Glade (Poiana Stanii). The views change with the season, with delicate flowers like crocuses and snowdrops in the spring, verdant green in summer, colorful foliage every autumn, and white magic in the winter. Spotting wildlife on this route is harder, as tourists walk it often.
It takes about two hours to reach Sheepfold's Glade. You'll find yourself in a bright clearing with views of the Prahovan slopes of the Bucegi Mountains with their most famous peaks, including Furnica, Piatra Arsa, Jepii Mari, and Caraiman.
About 10 minutes' walk from Sheepfold's Glade, you reach the Franz Joseph Cliffs (Stancile Franz Josef), a protected geomorphological site and monument. Climb the steps to the top to take in the view of Sinaia stretching all across Prahova Valley below. Rest and take the shortcut downtown from here, or go back following the same path to dine at Cabana Schiori.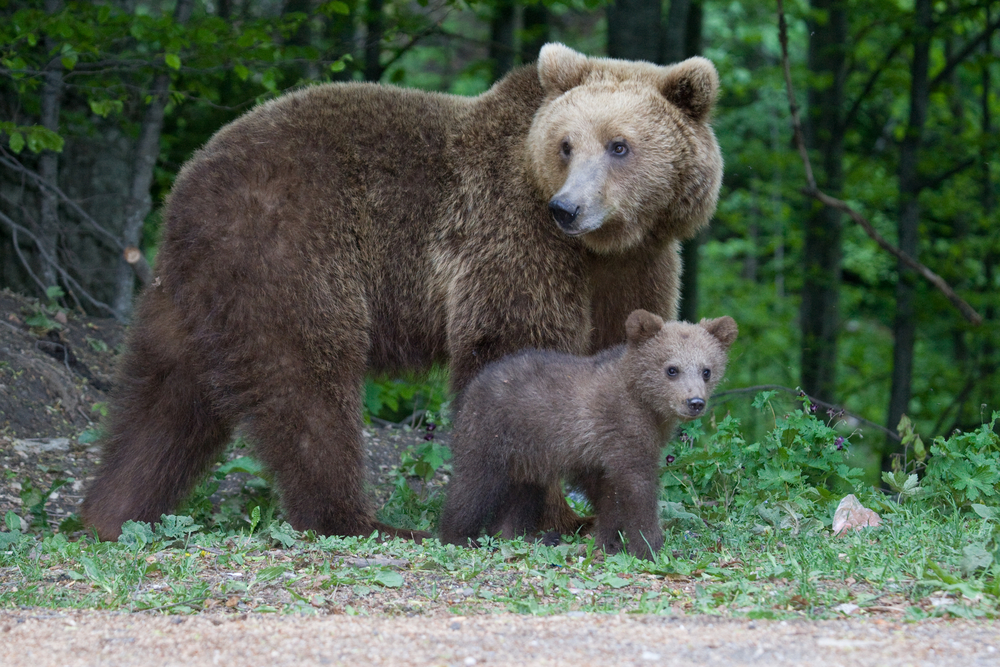 The Bear Finale
Back in Sinaia, after a rewarding day of sightseeing, hiking, and dining, we made our way to the hotel where we stayed at the time. It was not dark, but the twilight crept about the town casting strange shadows around every corner. We passed close to a villa, which had a big waste container in the backyard, and in the corner of my eye I saw a dark shadow moving about. I froze and grabbed Liliana's hand.
"Be quiet," I said. "Look there!"
A small porch lamp cast just enough light for us to make out the identity of the shadow. An ordinary brown bear. She squeezed my hand so hard I almost screamed in pain.
"Leave it alone," I said. "It's busy foraging for food. It will not disturb us."
We arrived back at the hotel, safe and sound. To this day, we still tell the story: "Do you remember Brother Bear in Sinaia?"
(Note: This bear sighting occurred in 2006. Due to a hunting ban from 2016, current populations of bears in Romania cause damage and panic among residents and tourists in several urban areas. Authorities have been struggling to find solutions.) 
A former military journalist, Mihaela Lica-Butler is a senior partner at Argophilia Travel News. Besides her work as a PR pro and travel journalist, she spends her time writing children's fairy tales and cookbooks.