Shen Yun's Use of Backdrops 'Nothing short of amazing,' Says CEO
April 1, 2014 1:48 am Last Updated: April 3, 2014 2:01 am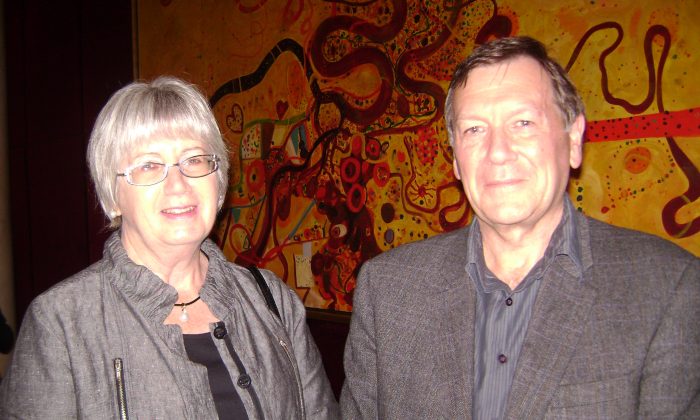 MELBOURNE, Australia—"It was simply amazing. The spectacle was just fantastic," said Ken Gunn, Chairman and CEO of The CEO Institute, when he experienced the wonder of Shen Yun Performing Arts at Melbourne's Arts Centre Theatre, on March 28.
He attended the Shen Yun performance with his wife Annette and two of their granddaughters.
This was the first time Mr. Gunn had seen Shen Yun and he was "certainly delighted."
Shen Yun is based in New York and has a mission to revive China's divinely inspired culture. The company presents classical Chinese dance and music, and boasts many different features that make it unique.
One of the often-cited features are the state-of-the art digital backdrops, which according to the Shen Yun website "are magical windows to completely different realms. From vast open grasslands in one dance to the stately elegance of Tang Dynasty pavilions in another; from dusty yellow battlegrounds to tropical beaches to Himalayan peaks to picturesque scenery of the Yellow River Delta—the digital projection infinitely expands and transforms the stage."
Mr. Gunn found the backdrops breathtaking.
"I found that the backdrops were so impressive," he said, adding that the synchronization of the dancers with the images on the backdrops were mesmerizing.
"The way they combined the physical performance with the digital technology was nothing short of amazing."
Shen Yun 'Excellent all around'
According to the Shen Yun website, "Through the universal language of music and dance, Shen Yun weaves a wondrous tapestry of heavenly realms, ancient legends, and modern heroic tales, taking you on a journey through 5,000 years of Chinese culture. Its stunning beauty and tremendous energy leave audiences uplifted and inspired."
There were many aspects of the performance Mr. Gunn appreciated.
"I felt there was quite a good combination in the story telling and the spiritual side of what they were doing," he said.
"The spectacular performance of the people on the stage. … the singers and also the orchestra which I thought was excellent all around."
Mrs. Gunn added, "I thought the spiritual side of it was very enlightening and touching."
Referring to one of the dance pieces that shows the persecution of the Falun Dafa spiritual discipline in today's China, she said she finds it is appalling that people in today's China are unable to practice their beliefs.
"I just think it's inhumane that they're not allowed to have their spiritual practices, their meditation and whatever way they want to express their spirituality. I think it's a shame that they're not allowed to do it," she said.

Reporting by Jiang Wu and Leigh Smith
New York-based Shen Yun Performing Arts has four touring companies that perform simultaneously around the world. For more information, visit Shen Yun Performing Arts.
The Epoch Times considers Shen Yun Performing Arts the significant cultural event of our time. We have proudly covered audience reactions since Shen Yun's inception in 2006