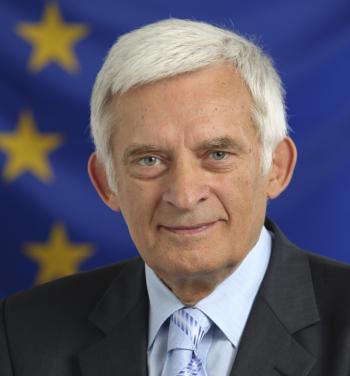 BRUSSELS—European Parliament Vice President Edward McMillan-Scott hosted a reception for the New York-based Shen Yun Performing Arts Touring Company on Feb. 24 at the European Parliament Headquarters in Brussels, Belgium. Approximately 80 distinguished guests, including members of the European Parliament, attended.
Shen Yun Performing Arts Touring Company will perform in 13 European countries with 34 shows from March 5 to April 28. Shen Yun will open in Amsterdam, Holland, on March 5 and finish in Cardiff, U.K., on April 28. European Parliament President Jerzy Buzek sent his greetings to the event:
Jerzy Buzek, President of the European Parliament: As President of European Parliament, I wish Shen Yun Performing Arts the greatest success on your European tour. Over the years, Shen Yun Performing Arts has been performing worldwide to promote and revive authentic 5,000-year old Chinese artistic traditions.
This is the third year in a row that Shen Yun Performing Arts performs in fifteen European countries. I trust that Shen Yun Performing Arts will once again bring an enriching experience to their European audience and may you have a very fruitful tour of Europe this year.

Mr. McMillan-Scott spoke, expressing his appreciation that Shen Yun would be touring Europe again this year:
Mr. McMillan-Scott: I am delighted that Shen Yun Performing Arts, the New York-based dance and music company, is touring Europe again in 2010, the Year of the Tiger. My office had the pleasure of seeing the company during their European tour last year. … [We were] amazed by the skill exhibited by everyone involved. And [we] were touched by the moving scenes depicting the horrific persecution of Falun Gong practitioners.
However, it is important to remember that in China such an expression of artistic interpretation and individuality would not be allowed. The art world has long been suppressed by the oppressive communist Chinese regime.
Art is something inclusive, stimulating, and has the amazing ability of uniting people all across the globe. Art allows us to put aside our differences and appreciate the cultures of others. It is this that the Chinese regime fears.
One of the reasons Shen Yun Performing Arts is such a global sensation is the way in which the enormously talented dancers, musicians, choreographers, costume designers, and set designers manage to engage ancient Chinese legends of virtue with contemporary tales of courage, creating a modern-day epic that can be enjoyed by East and West alike.
Our two cultures are further brought together by the inclusion of classical Chinese instruments in a live Western orchestra, resulting in a unique sound that mirrors the unmistakable originality of the choreography.

All of these elements combined come together to produce a show that is at once entertaining and educational, enriching, and inspiring.
Shen Yun Performing Arts takes pride in including in its company artists who perform the meditative practice of Falun Gong. Since 1999, those who have taken part in this Buddha-school peaceful way of life have been terribly persecuted, imprisoned, and abused.
It is through expressions such as these made by the Shen Yun Performing Arts company and its world-class, classically trained crew that we can demonstrate to the world that we are united against totalitarianism and especially religious persecution, integrated by appreciation for each others' culture, and connected through a common love of expressive performing arts.
For Shen Yun Performing Arts to be touring this year is all the more symbolic as we have just entered the Year of the Tiger. This strong sign signifies bravery, something that I believe this brilliant dance and music company shows in huge quantities in the face of enormous and unjust persecution by the Chinese Communist Party.
Let us hope that Europe and the rest of the world can match the courageousness of Shen Yun Performing Arts and tell the Chinese regime once and for all that we will not accept their gross and repeated violations of human rights, indeed, genocide.
Director of Human Rights Without Frontiers Spoke at the Reception
Willy Fautre, Director of Human Rights Without Frontiers attended the European welcome reception at European Parliament, he remembered seeing Shen Yun last year in Belgium and was looking forward to seeing it again this year. He said, "I was absolutely impressed by the show that I saw last year at the theater in Antwerp, and by the huge attendance at that time."
"I am very pleased to see that every year there is an increasing number of European cities that invited that artistic group that gives another picture … not the official one come from the communist party in Beijing."
Member of the European Parliament for the United Kingdom
Gerard Batten, a Member of the European Parliament for the United Kingdom, saw Shen Yun last year in London. He felt Shen Yun "is a very good show." He said, "I took my wife. We enjoyed it very much … It teaches you something about traditional Chinese culture, thoroughly enjoyable. It is a lovely spectacle. I would recommend anybody to see it for an enjoyable night out."
Mr. Batten was upset to hear that the Chinese regime had put pressure on a Romanian Theater to cancel Shen Yun.
"I think it is outrageous. Romania is a country which is a part of the European Union … but it does talk about freedom, democracy and yet it can allow itself to be pressurised by a communist government in taking off a performance in a theater."
Vice Chair's Assistant Was Moved by Performers' Compassion
Helen Willetts, assistant to McMillan-Scott, remembered vividly seeing Shen Yun last year when it was in London. She thought, "it was amazing." She said, "I loved the combinations of the ascetics and the morals behind the stories, that makes it a lot more poignant than if you just go to other productions."
Ms. Willetts explained how she was deeply moved by one of the performances, "seeing the compassion that [Falun Dafa practitioners] have, instead of reacting violently or in a hostile way to the people who are persecuting them."
"Shen Yun it is really enlightening to see and I really hope a lot more of Europe get the opportunity to see it, because I'm sure they will love it like I do."
Romania Member of European Parliament Saddened by Chinese Pressure on Government
Csaba Sogor, Member of the European Parliament from Romania with the Christian Democrats parliamentary group and a representative of Romania's Hungarian minority, said he was sad to hear that the Chinese regime had appearantly pressured the Romanian government over the planned Shen Yun performances in Romania.
Although a contract had been signed with the venue, the Romanian Ministry of Education is now refusing to allow the venue to host the show. Organisors believe that this is due to pressure exerted by members of the Chinese embassy in Romania. A similair incident happend in 2009, when pressure from the Chinese embassy led to the theater refusing to host the Shen Yun shows.
"It is very sad because politics should never override human rights issues or cultural issues. I can say I am deeply sad because my government decided that. I can just say that I should send an invitation [for Shen Yun to] come to our Hungarian district … Music is without borders and politics," said Sogor.
Shen Yun will perform on the European leg of its 2010 world tour at the RAI Theater, Amsterdam on March 5–7 before going to Concertgebouw Brugge in Bruges, Belgium.
With reporting by Epoch Times Staff
For more information, please visit ShenYunPerformingArts.org