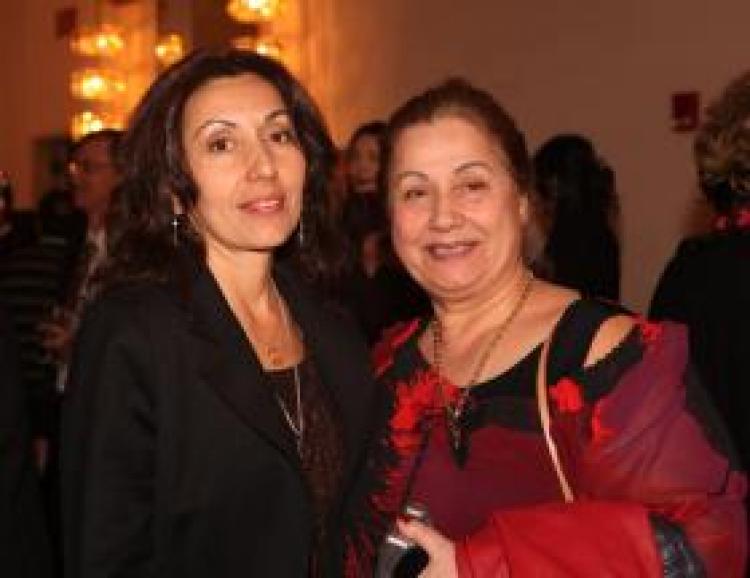 WASHINGTON—The Kennedy Center Opera House again resounded to overwhelming applause with another Shen Yun Performing Arts performance on Saturday evening January 23.
Azin Naimi, a graduate Sotheby's Institute of Art in London was among the audience. Ms.Naimi works as a fine arts restoration specialist and arts consultant.
"I just so much enjoyed this show [Shen Yun]", she said.
"The whole artistic concept which was combined with the spiritual … the divine spiritual ways that your dancers move, it was just unreal to me. It was just such a spiritual experience," Ms. Naimi said.
"To me it was something very unusual and I just think your culture is very creative and I saw the influence of the Ming Dynasty and the dynasties … it was just such a perfect circle of arts, color, performance, and just a great package …."
Ms. Naimi's mother bought her a ticket to see Shen Yun as a birthday present. Ms. Naimi felt she would appreciate and remember this gift forever because of the delight to the senses, particularly the visual senses.
"I have to give a lot of credit to your colorist. For me as an artist and for most people who are artistically inclined, it was just very heavenly; so it had a permanent effect on me
Ms. Naimi was also struck by the performance of the tenor. "The tenor was one to see … he sang so beautifully at times I didn't need to look at the translation … he speaks to your heart," continued Ms. Naimi.
"All of the instruments impressed me. The most unusual instrument … the two-stringed erhu—it was just interesting sound-wise and structure of the instrument itself."
Ms. Naimi heard that this New York Company was to perform in Hong Kong on January 27, to five sold-out shows; however, unexpectedly a number of the performers were denied visas and unfortunately the shows had to be canceled, denying many people an opportunity to see Shen Yun. She felt this was very sad and that the people responsible for that decision would pay for their actions.
"Anything that is applied in this world on an artistic level is divine and is from the upper God that created all of us; and I think that if a country or any individual tries to restrict anything that is spiritual, they are definitely going to not have a good karma. So I wish a lot of good luck for whoever puts a stop to [the harm of] anything that is divine and godly."
'The best I have seen'
Police Lt. Herringa from the Montgomery County Police Department was also among the audience for Shen Yun on Saturday night.
This was the first time the Lieutenant had seen Shen Yun. "This show was excellent. It was beautiful. Ooh!! The performers were just absolutely the best I have seen, enthused Lt. Herringa.
Lt. Herringa had compassion for the present day Chinese who live with persecution from the Communist Regime. He said, "The message was excellent. I enjoyed that, and I agree very, very wholeheartedly with the Chinese people's struggle."
Lt. Herringa is a Christian, a spiritual person, and he felt Shen Yun appealed to all people. He felt there is a commonality amongst us all and expressed this in his feeling about Shen Yun.
To his friends Lt. Herringa would say, "I would describe it as very colorful, very moving, and also the entertainment value is extremely good. Excellent."
With reporting by NTDTV.
For more information, please visit ShenYunPerformingArts.org