SYDNEY— Glass artist and Gallery owner, Kit Ferry, took a break from experimenting with colours on Valentine's day to attend the Capitol Theatre with her husband to see Shen Yun Performing Arts for the first time.
Little did the couple expect to fall in love with a two-stringed instrument— the erhu.
"It was beautiful, just beautiful. I could have listened to it forever," Ms. Ferry said.
Her husband, David Ferry, sings in the Ku-ring-gai Male Choir, one of the oldest performing male choirs in Australia. The erhu captured his heart in delicate, tender song.
"I've never heard an instrument that could give such beautiful tones and convey emotions the way that does," said Mr. Ferry, of the solo erhu performance in Shen Yun. "That sound is tremendous!"
The erhu is a 4000 year-old two-stringed instrument with incredible expressiveness and one of the most important ancient Chinese instruments. A permanent member of the Shen Yun orchestra, it graces the audience with distinct sounds, accompanying the dance.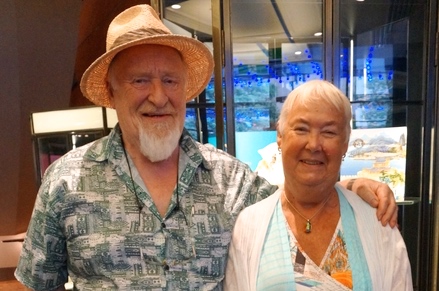 At the heart of every Shen Yun performance is classical Chinese dance, rounded out by Chinese ethnic and folk dances.
Ms. Ferry lived in India and various parts of Africa in the early parts of her life, her great love of colours inspired by the surrounding diverse local cultures. In Shen Yun, she found again the colours and diversity celebrated.
"The colour is gorgeous. I loved the costumes!" she said.
Radiating in each performance are the more than 400 handmade costumes that are all-original designs, with glorious colours and intricate detail.
Ms. Ferry praised Shen Yun for reviving Chinese culture. "Let tradition grow, don't let it go. It's nice to let it grow," she said. "It's very good, and I hope they succeed."
A Spiritual Way of Living Life
Maria Hurtado experienced Shen Yun on the same day, a chance long-awaited. She was attracted to a Shen Yun poster a year ago, and seized her chance to come this time with friend Patricia Wrighton.
Ms. Hurtado is a graphic designer and works as marketing manager at BOAB IT, a company in Sydney's CBD that provides IT support to law firms. With a keen and perceptive eye, she felt the exoticness of Chinese culture, and saw perfection in Shen Yun.
"It's just so perfect. They are aspiring for perfection in everything, super coordinated. Everything very well done, very well-finished," she said.
Her friend, Ms. Wrighton, agrees. "They are all in sync, there is no one out of rhythm. It's just beautiful… I admire these dancers. I value their training, for hours and hours to get that perfection. I take my heart out to them," she said.
She saw also a beauty that transcends appearances.
"[Chinese] culture comes from thousands of years. It's based in a very spiritually founded way of living life, more than being rich and looking nice, but coming from your heart," Ms. Wrighton said. "And they reflect that."
"The movements are very soft. The women are very pretty and delicate," she said. "It's a nice, different way of living life."
The Shen Yun program greets theatregoers: "Compassion and loyalty, kindness and bravery lie at the heart of Chinese culture. Prepare to enter a magical realm of beauty and purity, a place where goodness always prevails, and legends come to life…"
"That also shows war and fights, but always at the end there is something positive and also happy," Ms. Wrighton said.
Romantically Powerful
Julia Rozo wanted to see Shen Yun after seeing people handing out flyers in Sydney, and received tickets from her friend Sue as a Christmas present. Ms. Rozo is a recruitment consultant for Clarius Group, a specialist in the employment services market.
Beyond the relaxing music, beyond the beautiful dresses, she felt compassion.
"The dances can be very peaceful and soft, and very romantic, but they can also be very powerful. It's about what people have been through. And it connects us in a way that's, in the end, we are all humans."
Ms. Rozo was moved to see how compassion can melt away the most evil of situations in the dance The Power of Compassion.
"We're all in this together. So I show compassion to you and I stand for you to also be happy. Just come and be with us, and we can all be together," she said. "That's the message I got from that dance, it was quite beautiful."
"It's about believing in the power of togetherness. We can all just stand together and just get out of oppression," she added.
Ms. Rozo said she would recommend Shen Yun to everyone.
"Because this is very unique. It's very different to any type of dance," she added. "It's amazing."
Reporting by NTD Television, Rona Rui and Mimi Nguyen Ly
New York-based Shen Yun Performing Arts has four touring companies that perform around the world. For more information, visit ShenYunPerformingArts.org.
Epoch Times considers Shen Yun Performing Arts the significant cultural event of our time. We have proudly covered audience reaction since Shen Yun's inception in 2006