Shen Yun 'Very Rewarding to the Soul,' Says Distinguished Dancer
April 17, 2014 8:33 pm Last Updated: April 17, 2014 8:33 pm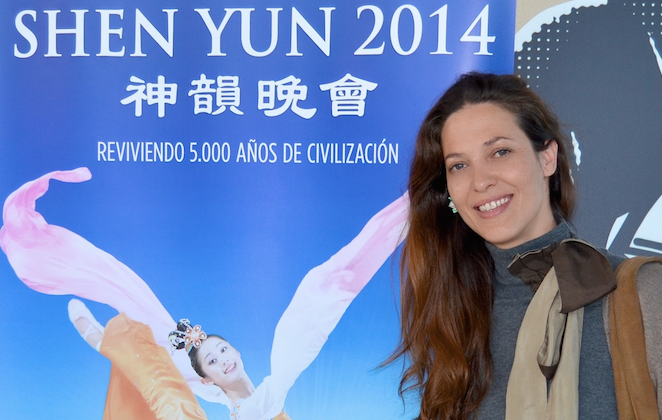 BARCELONA, Spain—María Nadal, a graduate of the Royal Conservatory of Dance in Madrid, has a long distinguished career in Spanish dance and ballet. She has been a leading solo performer for years. She is currently a solo performer with the prestigious Antonio Gades Company.
On Saturday, Ms. Nadal came to watch the renowned Shen Yun Performing Arts stage its final performance at the National Theatre of Catalonia.
"The show delighted me, it was grandiose," Ms. Nadal said after watching the performance. "The artists perform magic. One knows when somebody does things with the heart and is in love with or likes what one does—this comes out in the performance."
What stood out the most for Ms. Nadal was the discipline the Shen Yun dancers showed throughout their performance.
"If I had to distinguish something in the dancers, it would for sure be the discipline, and the respect and love with which they execute what they do. I believe that´s fundamental in any kind of art," she said.
Ms. Nadal commented, "With Shen Yun, one also has to note the hard work, one can see the effort of hours and hours, and that´s because they love what they do."
New York-based Shen Yun presents classical Chinese dance and music, using the performing arts to revive China's true, divinely-inspired culture.
"Chinese dance is at the heart of what Shen Yun does. Known for its incredible flips and spins, and its gentle elegance, it is one of the most rigorous and expressive art forms in the world," reads the Shen Yun website.
"What I like is the humorous tone," explained Ms. Nadal. "This type of humour that is suited for every kind of audience. On the one hand side it is a very simple kind of humour, but at the same time very romantic and innocent and it works. I liked the show a lot because of that as well. It was in some moments as if one went back to being a child—and I liked that a lot."
The performances of Shen Yun's award-winning vocalists, who sing Chinese lyrics using the Bel Canto style, were very endearing to Ms. Nadal as well.
"The tenor that sang, and the ovations he got, I believe that the applause came from what I said at the beginning: If one does things from the heart and you believe and have faith in what you do, that reaches to the one seated in row one as much as in row 20 and 38—it doesn't matter," she said.
"What I like most about the people I see here [in Shen Yun] is that they believe in what they do, and that they love what they do and respect fundamentally what they do. And then they also respect their culture—in the performance they show this culture and the love for this culture and one can see that. I believe that we as audience could perceive that."
The colors used throughout the performance, on the beautifully hand-made costumes of the dancers and on the breathtaking scenes on the backdrops, were "pure beauty," Ms. Nadal said. "I believe the animated backdrop is very good for all the audience."
"The fans, with these floating fabrics, and the colours… aesthetically they are all so beautiful, but I believe it really is a gift to the soul. If something is aesthetically so beautiful, it is as if going to a concert and you hear something so beautiful, that your soul leaves completely grateful," she said.
The performance was so inspiring for Ms. Nadal, in fact, that she will attempt to incorporate some of what she saw in her future performances.
"There even was inspiration for various dances coming to my mind with the topic of the colours and the suits they are using," she said.
"[Shen Yun] will motivate me and give me impulses when I go to South America in a week to dance. I believe that I will enter the stage in a different way; I am sure I will."
According to the Shen Yun website, "Sophisticated dance techniques, an orchestra joining instruments from both the East and West, beautiful costumes, and a stunning back drop—this is Shen Yun at first glance. But digging deeper, one discovers a sea of traditional Chinese culture."
Ms. Nadal said she could see China's spirituality through the performance, "a spiritual aspect related to being connected with what is up there and down here, that we need to be connected."
"Shen Yun is very rewarding to the soul," she said. "But what matters in my view is that people go out of the theater and have those three fundamental points in mind, like Truth, Compassion, and Tolerance."
Reporting by Florian Godovits
New York-based Shen Yun Performing Arts has four touring companies that perform simultaneously around the world. For more information, visit Shen Yun Performing Arts. 
The Epoch Times considers Shen Yun Performing Arts the significant cultural event of our time. We have proudly covered audience reactions since Shen Yun's inception in 2006.