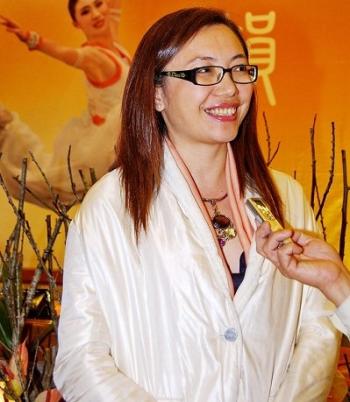 CHIAYI, Taiwan—Lin Yijie, the artistic director of International Youth Dance and judge of the Italian Children's Choir Competition, watched Shen Yun Performing Arts' premiere in Chiayi on March 10.
"The two-and-half-hour performance was very clear and straightforward. Not only did it display technical skills, but also meaning of life—it brought joy to the audience members."
Ms. Lin is born in a family of musicians. Her father, Lin Jinyou, is the music department head of Taichung University of Education. She is currently obtaining her doctorate in music at the National Taiwan Normal University.
Watching Shen Yun, she was especially touched by the vocalists. "Today's singers genuinely used their hearts to manifest techniques and timbres. I could tell that they were lively and shimmering vocalists. If a singer's personal life is very upright, his or her songs and voice will also be upright.
"The backdrops were used very intricately. I think the most successful achievement was that it created a sense of space, transcending the limits of the stage. In terms of the context, I was astounded by … the images of divine beings who descended from the heavens," said Ms. Lin.
The next day, when Shen Yun staged two full-house shows at the National Chung Hsing University, Chang Linhui, a music professor mainly teaching piano at University of the Arts, attended the show.
She and her husband, Chen Chemin, music professor at National Taiwan Normal University, were both born into families of musicians. She said that the advantage of that is that everyone can share experiences and form a concert just with the family members.
Chang said that the colors of the costumes of the program, The Mystical Phoenix, were very pretty. She said that she realized that Shen Yun staged many full-house shows around the world and found it amazing. Upon seeing a full house in Chiayi, she said, "I've always been exploring—why is Shen Yun so attractive?"

The Epoch Times is a proud sponsor of the Shen Yun Performing Arts 2009 World Tour. For more information please visit shenyunperformingarts.org