BUENOS AIRES, Argentina—Shen Yun Performing Arts's return to Argentina was warmly received on its opening night at the Teatro Ópera Allianz by a sold-out audience, who watched attentively and applauded the performers enthusiastically throughout the evening.
Shen Yun's performance, which runs from May 5 to May 8, drew many dignitaries who were attracted to the artistry in the performance as well as the timeless values and traditional virtues that are inherent in Shen Yun's story-based dances and musical performances.
Lidia de Pérez, a senator from the province of Tuchman, said Shen Yun presents values that are often pushed aside.
"The values are transcendent, and when we lose sight of them, all is really lost," she said.
Shen Yun is a New York-based classical Chinese dance and music company that aims to revive China's divinely inspired culture. The company's performances are rich with virtues from the traditional Chinese culture such as benevolence and justice, propriety and wisdom, and respect for the heavens.
From the performance, Ms. Pérez said, she found a message that "life doesn't end here, that there is something beyond, and that it's really worth living with this understanding."
She also commented on the part of the dance performances that show suppression under the current communist regime in China.
"It's showing us in a wonderful way that the ideologies of evil must be defeated with good," she said.
"I leave with my soul replenished and feeling like raising my voice and keep calling for freedom."
Reviving Traditional Virtues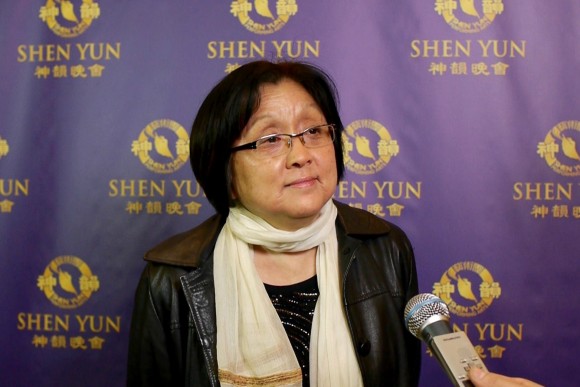 Argentine Congresswoman Alicia Terada at the Shen Yun performance at the eatro Ópera Allianz in Buenos Aires on May 5, 2016. (Courtesy of NTD Television)
Alicia Terada, a member of the Argentine congress, shared the thought that the values presented by Shen Yun should be revived in our society today.
"This show is uplifting for the eyes, the soul, and the heart. It truly revives the values that we must have as human beings," Ms. Terada said.
"I just saw a really admirable show which shows Chinese history and culture along with its philosophy and life, and showcases classical Chinese music and dancing."
"I think these values of truth, justice, ethics are important to everybody. I think they are fundamental to revive the true sense of things."
The congresswoman was impressed by how the show is well coordinated, with the live orchestra accompanying the dances and the animated backdrops interacting with the stage.
'Transporting to an Unknown Place'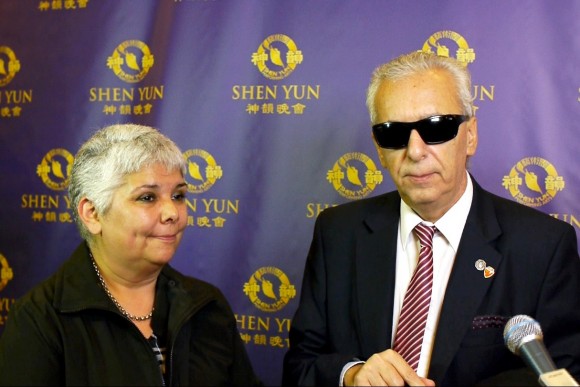 Eduardo Awad, a lawyer and journalist, is the president of the Public Association of Lawyers. Mr. Awad is blind, but he still attended Shen Yun and highly enjoyed the music performed by the Shen Yun Orchestra that accompanied the dance performances.
The Shen Yun Orchestra is unique in that it combines both traditional Chinese and classical Western instruments, creating a soothing sound.
"I loved it. They helped me have a really enjoyable time. The music is transporting me to an unknown place. The live orchestra is a truly wonderful thing and a display of talent and tremendous effort," said Mr. Awad.
With the help of his assistant who told him what was happening on the stage, he was even able to follow the story-lines.
"The music was also conveying that, and this coming from a blind person, not a person that can see and tell … The music was going along with the things you see on stage. It's wonderful," he said.
In his view, the performance leaves audience members with serenity, a feeling of well-being, and goodness.
"I'm left with teachings of goodness. I think goodness is all that this type of work can teach."
Shen Yun is a performance that should not be missed, Mr. Awad thinks.
"I strongly recommend this show because I think is unique in this world."
Reporting by Ileana Alescio, Miguel Díaz, and Omid Ghoreishi
New York-based Shen Yun Performing Arts has four touring companies that perform simultaneously around the world. For more information, visit Shen Yun Performing Arts.
Epoch Times considers Shen Yun Performing Arts the significant cultural event of our time. We have proudly covered audience reactions since Shen Yun's inception in 2006.