GUMI, South Korea—Several artists said Shen Yun Performing Arts is the best in the world after attending the a performance at the Gumi Arts Center–Grand Hall in South Korea on Feb. 8.
"The performance is majestic! It ultimately presented China's history, culture, and arts. It was done excellently. It felt like a fantasy," said Mr. Kim Seong-hun, the chairman of the Gimhae Branch of the Korean Federation of Arts and Culture Organizations.
Mr. Kim said he couldn't find another show as good as Shen Yun in South Korea and he was very touched by it.
I can feel the profound and deep culture, and meaning of the show. The show has a broad capacity. It's very moving.
"The performance is perfect without any blemish," he said. "I can feel the profound and deep culture, and meaning of the show. The show has a broad capacity. It's very moving. This is not a show a normal person can make."
Mr. Kim has worked in the arts and culture business for decades. He said he was in awe and amazement at the stage when the curtain first opened. Then, he enjoyed every moment.
"The stage is brilliant. The costumes are delicate. The backdrop perfectly coordinates with the dancers on the stage. It's really outstanding," he said. "The accuracy of the cooperation between the live orchestra, the stage, and the backdrop is formidable. All these factors make this a fabulous performance."
Mr. Kim said he couldn't believe there is a real performance as perfect as Shen Yun before he saw it for himself.
"I believe Shen Yun's artistic director is a very capable person. I admire him a lot," he said.
Mr. Kim lives in Gimhae city, which is about one and half hours' drive from Gumi.
"We have a good theatre in Gimhae, but Shen Yun hasn't performed in Gimhae," Mr. Kim explained. "Our team will discuss this with our mayor. We want to invite Shen Yun [to perform in Gimhae]."
New York-based Shen Yun is the world's top classical Chinese dance company, and has a mission to show the beauty and goodness of "China before communism." For 5,000 years China's civilization was built on values and virtues from the spiritual teachings of Buddhism, Taoism, and Confucianism.
'Transcended Time and Space'
Mr. Lee Seok-hae is the chairman of the Daekyung Sotdae Writers Association, a photographer, a sotdae artist, and a PhD of Science. A sotdae is a tall wooden pole with a carved bird on its top, which Korean people use it to ward off evil spirits and pray for their well-being.
Mr. Lee was impressed that Shen Yun uses the most advanced technology to present the most traditional culture.
"The performance is magnificent!" he said. "It uses the most advanced animated backdrop, which is grand! … We immediately saw China's history before communism, which combines the ethnic culture and folk culture."
He was amazed by Shen Yun's backdrop, which interacts with dancers on stage.
"The moment when the real thing [dancers on stage] jumped into the backdrop is amazing. The connection is incredible! Very vivid and real," he said. "It's really a magnificent performance!"
Mr. Lee said Shen Yun artists' expressiveness was extraordinary. He understood every dancer's movement easily.
"The story-based dances transcended time and space," he said. "Dancers used their bodies and costumes to tell the stories. I can tell you every part of Shen Yun is very well-crafted."
As an artist, Mr. Lee is sensitive to colors.
"Shen Yun uses many colors we haven't seen in our lives. I believe it revives the colors in ancient China," he said.
Mr. Lee hoped Korean people could learn from Shen Yun to design a Korean show with Korean culture and tradition.
Each Shen Yun performance consists of nearly 20 vignettes, presented through highly-expressive art forms such as classical Chinese dance, original orchestral music performed live, soloists who sing in the bel canto tradition, animated digital backdrops, and more.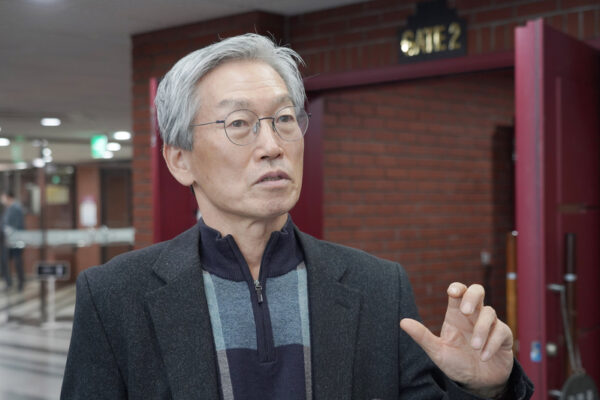 'Everything of Shen Yun Is Invigorating'
"Shen Yun is very, very, very, very good!" said Ms. Jung Hae-jin, the CEO of Korea Red Ginseng Theme Park. "The music is entertaining and touching. The colors are enchanting. Everything of Shen Yun is invigorating."
Ms. Jung said there's nothing that can be as perfect and beautiful as Shen Yun, and the company's artistic level is the highest in the world.
"No words can describe how wonderful Shen Yun is," she said. "I'm very moved. The show is astounding!"
Reporting by Epoch Times Staff in Gumi, South Korea.
The Epoch Times is a proud sponsor of Shen Yun Performing Arts. We have covered audience reactions since Shen Yun's inception in 2006.