Shen Yun Charms Oslo Audience
April 10, 2010 3:52 pm Last Updated: October 1, 2015 8:24 pm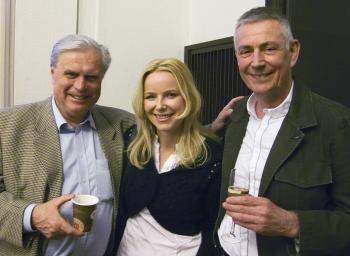 OSLO—The audience gave a long standing ovation and kept waving to thank the performers long after the show ended. It was as though the people at Folketeateret on Saturday April 9 did not want Shen Yun to end.
This was Shen Yun Performing Arts Touring Company's opening show at the Folketeateret.
Located in the center of the city, Folketeateret is Oslo's largest stage for live theater and has recently undergone renovation. The 70 year old building is the former home of the Norwegian Opera & Ballet.
The audience applauded the performers throughout the show as well.
Ms. Lannaas, project manager with a local company, said she was amazed by how the dancers seemed as though they "floated" across the stage.
"I noticed that the way they moved, it seemed they did not move at all," she said.
"It was great. I thought 'oh my god they are amazing, they are really good'."
The costumes were beautiful, and the dancers were greatly skilled, she said.
She learned about the show through some friends and decided to come to learn more about Chinese culture. She also bought her father, Mr. Lannaas, tickets to the show as his birthday gift.
Mr. Lannaas said he also enjoyed the show.
"Very skillful dancers, very new to me, so colorful, wonderful backdrops," Mr. Lannaas, who is a researcher, said.
Shen Yun Performing Arts Touring Company will be holding one more show in Oslo on Sunday, April 11.
With reporting by Pirjo Svensson
The Epoch Times is a proud sponsor of Shen Yun. For more information, visit www.ShenYunPerformingArts.org .