'We are very impressed,' Say Engaged Couple
April 5, 2009 3:17 am Last Updated: October 1, 2015 9:58 pm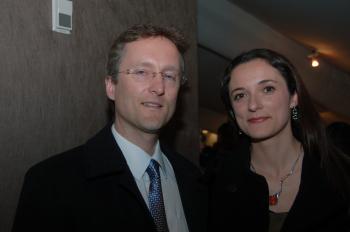 VANCOUVER, British Columbia—Two engaged hydro-geologists, whose work with an international hydrology company has taken them from South America to Vancouver, were among those dazzled by Shen Yun Performing Arts 2009 World Tour at the Queen Elizabeth Theater on Saturday.
Bryan said he was dazzled by the skill and technique the dancers showed, set off by the elaborate costuming. "We are very impressed. It's very good. It's been extremely colorful, and the dancers have been extremely well schooled. Very good [presentation] so far."
Sarah was also affected by the impressive costumes, "I love the costumes, I think they're absolutely … so very elegant. The whole show is very well set up."
Sarah also commented on her favorite scene in the show, Drummers of the Tang Court. "The thing that struck me in particular were the drummers. Really impressed by the drummers." In this dance, male performers exude the powerful energy of drummers ready to engage in battle. In Chinese history, the drum was an integral part of war, as the sound of the drum would boost morale in the soldiers and also relay commands.
Shen Yun Performing Arts stages productions primarily of voice, music, and dance. The company gains its creative inspiration from traditional Chinese culture, and seeks to further this heritage through the artistic forms of classical and ethnic Chinese dance.
Company manager Vina Lee explains, "In presenting an experience that's altogether pure and beautiful, we aim to capture the substance and spirit of premodern China's classical culture. We would like to think that the show will provide you with not only an artistic feast, but also a greater sense of meaning in life."
After completing its seven-show run in Vancouver from April 3 to April 8, Shen Yun Performing Arts will perform in Calgary, Edmonton, and Regina.
For more information, please visit ShenYunPerformingArts.org