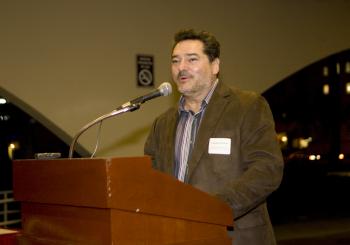 HONOLULU—Hawaii's Blaisdell Concert Hall stage was graced with a presentation containing 5,000 years of Chinese culture through Chinese classical dance.
Mr. Paxton, the Music Department chair at University of Hawaii at Manoa, spoke after the University chancellor about the Shen Yun performance.
"I know that we are going through very stressful times in the world, and we are going through stressful times here. But I strongly feel that art, and of course my representation of music, but all art—dance, music, performing arts, and theater. These are the tools that get us through these hard times," he said.
"And thank you for giving me three hours of forgetting about budgets, forgetting about the legislature, forgetting about the council (more laughter), and for having three hours of just losing myself into what my chancellor said as, 'refreshing the soul.'
"Art is the most important thing we have. It does cross the barriers that culture divides. I am proud to be an artist, and I was proud to be here. And I will send all my students tomorrow. Thank you so much."
Another VIP Expresses Her Appreciation

Nancy D. Lewis, director of Research Program at the East-West Center gave multi-cultural greetings as she said, "Thank you Hong, Nihao! Aloha!
"It's a great pleasure to be here tonight and a really spectacular performance. I am not a performer and you would not want to hear me sing.
"But I can bring greetings from the East-West Center, it's a companion institution to the University of Hawaii. We were founded almost 50 years ago by an act of the U.S. Congress to improve relationships between Asia and the United States. We will be celebrating our 50 anniversary next year in 2010.
"So, it's a real pleasure to be here tonight and thank you so much to the performers! You were spectacular. The choreography, the songs, the costumes were just unbelievable … Mahalo!"
For more information, please visit ShenYunPerformingArts.org