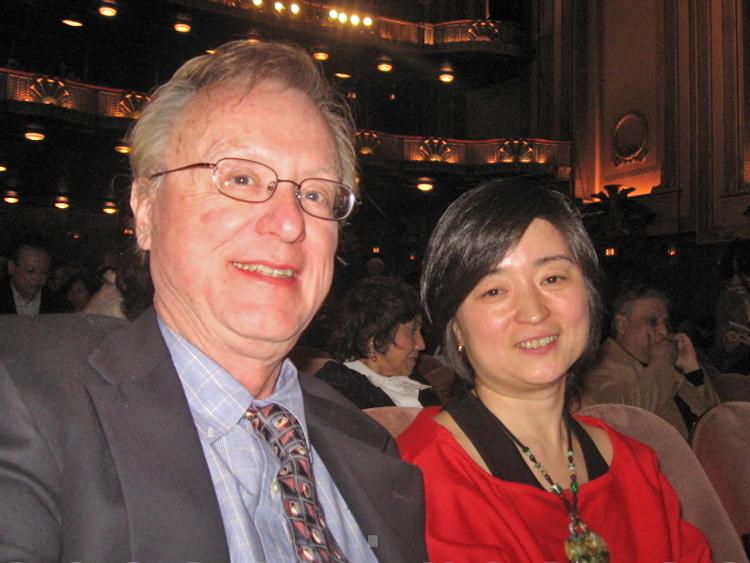 CHICAGO-Mr. and Mrs. David Carpenter found Shen Yun Performing Arts New York Company at Chicago's Civic Opera House, April 24, the last day of its Midwest tour. The couple found the performance very interesting particularly the history and dance.
'It's very nice," Mr. Carpenter, an anti-trust and regulatory lawyer said. "I really enjoyed it."
Shen Yun brings to life the divinely inspired history of ancient China to today through classical Chinese, folk and ethnic dance, original orchestra music, bright and colorful costumes, and interactive high technology backdrops.
They learned about the performance from the Tribune. Mr. Carpenter described the dancing as very impressive, very graceful and very beautiful. "The costumes, the movements of the dancers, and the music is interesting."
Mrs. Carpenter described Shen Yun as very pretty. "Very nice to look at."
Mr. Carpenter found the modern historical element interesting as well. "The dramatization of Falun Dafa is interesting." In Our Story a school teacher and her beloved students are victims of the persecution, as are hundreds of thousands in China today.
Falun Dafa practitioners live by the tenets of truthfulness, compassion and tolerance and have undergone a massive campaign against them from the Chinese regime since 1999.
He concluded with the thought: "People who like ballet in the U.S. or any kind of dance will find [Shen Yun] interesting."
Also among the matinee audience was Mike Rayburn, who described seeing Shen Yun Performing Arts New York Company for the first time as "very nice, very beautiful."
Mr. Rayburn, a retired business professor at the University of Tennessee, found the costumes fabulous, the dances very good, and the stage layout very good.
Shen Yun is dedicated to revitalizing traditional Chinese culture through story telling via classical Chinese, ethnic and folk dance.
Mr. Rayburn related the dances reflecting on various times, places, and aspects of the culture. "Different parts of China have different types of culture and it's very easy to see the different types of dances from the different time periods."
He was also impressed with the emcees, one in English and one in Chinese, that came onto the stage to talk before each of the acts so that the audience had an understanding of what is transpiring.
Reporting by Stacey Tang, Sherry Dong and Cat Rooney.
Shen Yun Performing Arts New York Company will continue with shows in Los Angeles at the Pasadena Civic Auditorium, April 28-30. For more information, visit ShenYunPerformingArts.org