Shen Yun Gets Better Every Year, Says Investor
April 11, 2014 12:14 am Last Updated: April 11, 2014 10:24 pm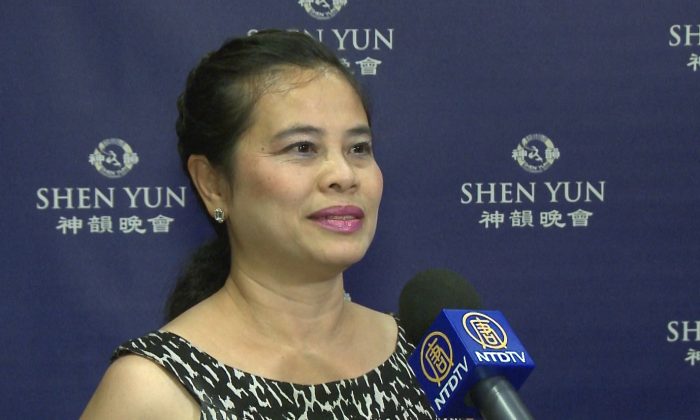 AUCKLAND, New Zealand—Shen Yun Performing Arts opened at the Aotea Centre on Friday night, April 11, with the first of three performances in the City of Sails.
For many in the audience, it was the first time they had seen classical Chinese dance. Others were coming back to see it again.
Ms. Manee Lawes is a share market investor, and wife of former city councillor Martin Lawes. She has seen Shen Yun before, and is impressed each time.
"Very amazing! Every year–it gets better and better every year," she said. "Very beautiful dance."
Shen Yun is the world's premier classical Chinese dance company, with a mission to portray 5000 years of China's civilisation through music and dance on stage.
"Chinese dance is number one!" Ms Lawes said.
The company boasts a unique orchestra that combines both Eastern and Western instruments. The Shen Yun website explains how the effect is achieved: "A Western philharmonic orchestra plays the foundation, while traditional Chinese instruments lead the melodies. The sound produced is uniquely pleasing to the ear."
The music was particularly touching for Ms. Lawes, and evoked a range of emotions.
"I love Chinese music very much. Every time I listen I feel very … sad, happy, everything!" she said.
Ms. Lawes said she would recommend the performance to her family and friends.
Shen Yun will play two more performances in Auckland on Saturday April 12.
Reporting by NTD Television and Rebecca Hunisett
New York-based Shen Yun Performing Arts has four touring companies that perform simultaneously around the world. For more information, visit Shen Yun Performing Arts.
The Epoch Times considers Shen Yun Performing Arts the significant cultural event of our time. We have proudly covered audience reactions since Shen Yun's inception in 2006.