Shen Yun for Mental Well-Being, Says Professor
'Makes me relaxed, mellow, reflect, think and enjoy'
April 8, 2014 12:10 am Last Updated: April 8, 2014 3:32 am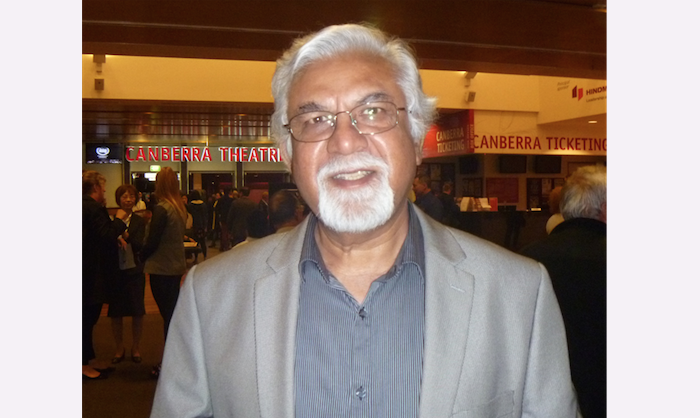 CANBERRA, Australia—Professor Basseer Jeeawody, who specialises in mental health, finds therapeutic value in classical Chinese dance and music presented by Shen Yun Performing Arts International Company at Canberra Theatre, April 5.
"Of course it is helping my mental health, that's why I came here today, makes me relaxed, mellow. Makes me reflect, think and enjoy. My mind was very at ease. I was very emotional as well. It captured my attention. So this is all mental health, really," the doctor said.
"Very well-choreographed and the music is very soothing. The art is first class, the synchronization is first class."
Mr. Jeeawody came with his family last year and he was keenly feeling their absence. "Today I'm alone so I am missing them. I actually enjoyed it last year and this year as well. It really makes you think."
Reiterating, Mr. Jeeawody said he felt "very good inside."
"You feel calm and you feel very relaxed. Makes you reflect and it makes you think through. It makes me think of the world [when it existed] a long, long time ago.
"When I look at the world now it's all … disrupted, whereas [in the] early days, it appears to be very peaceful to me."
"Sophisticated dance techniques, an orchestra joining instruments from both the East and West, beautiful costumes, and a stunning back drop—this is Shen Yun at first glance.
"But digging deeper, one discovers a sea of traditional Chinese culture," states the Shen Yun website. "Mortals and divine beings merge on stage as one. Principles such as benevolence and justice, propriety and wisdom, respect for the heavens, and divine retribution, all come to life, washing over the audience.
"Originating from Confucianism, Buddhism, and Taoism, these ideals are the essence of traditional Chinese culture."
Mr. Jeawoody appreciated the traditional values portrayed through the Shen Yun presentation.
"The values are strong," he said.
"The people are very philosophical, very community oriented, very together. It didn't come across as this person was by himself, or herself, individually. But whatever they did was very together, which is a lesson to learn."
He said today's world is very different from yesteryear.
"We don't have time nowadays. We're always rushing here and there. Whereas what came forth in the show is people are relaxed. They're doing things through meditation or through dances, or doing things together. But here we tend to be all over the place, rush, rush, rush. That's the impression I get."
Far from retiring, Mr. Jeeawody, 66, is now working as a principal consultant for executive managers.
"I do a lot of work like executive coaching. I also do a lot of group work like self-awareness, self-management," he said.
He said he would advise his clientele, especially the executives, to take time out for Shen Yun.
"They're always working from 7 o'clock in the morning till night, [and then] work at home. And what's important, especially when you're working at that level, pressure-pressure-pressure, it's good to have time-out.
"It's good to get away from your work and it's good to get away from your pressure, and relax."
Mr. Jeawoody liked every aspect of Shen Yun.
"I like the fun, the comedy. When the bees came up that was very, very, funny. I also like the dance. I was watching the steps. They're so … so together. Not even one fault. I wish I could be like them jumping about."
Mr. Jeawoody again reflected on his family not being at the performance.
"We've also got a little daughter and she's a dancer and she'd enjoy it. She's 9 years old … I was sitting there and I was missing her. She would have really enjoyed it. They couldn't make it this time. She's away from Canberra. Today was practice day so she couldn't come."
Reporting by Steve Xu and Raiatea Tahana-Reese
New York-based Shen Yun Performing Arts has four touring companies that perform simultaneously around the world. For more information, visit Shen Yun Performing Arts.
The Epoch Times considers Shen Yun Performing Arts the significant cultural event of our time. We have proudly covered audience reactions since Shen Yun's inception in 2006.