WICHITA, Kan.—It's the first time Shen Yun Performing Arts has visited Wichita, and it begins with two evening performances at the Century II Performing Arts & Convention Center Concert Hall, May 3-4. Friends meet at the Concert Hall to see Shen Yun bring to the stage 5,000 years of divinely inspired traditional Chinese culture.
Through storytelling classical Chinese dance and a live orchestra combining Eastern and Western traditional instruments, the company depicts myths, legends, beloved characters, as well as modern day heroes who came alive for the audience for two hours.
Katherine Broekhuysen from Oklahoma met with her sorority sister from way back, Jeanie Willis, in Ms. Willis's hometown of Wichita to see the May 3 performance. Both women found Shen Yun to be very beautiful and deeply spiritual.
"I think it's just beautiful—very, very graceful," said Ms. Broekhuysen, a retired OCCHD Child Guidance Specialist. "The dancing is really superb."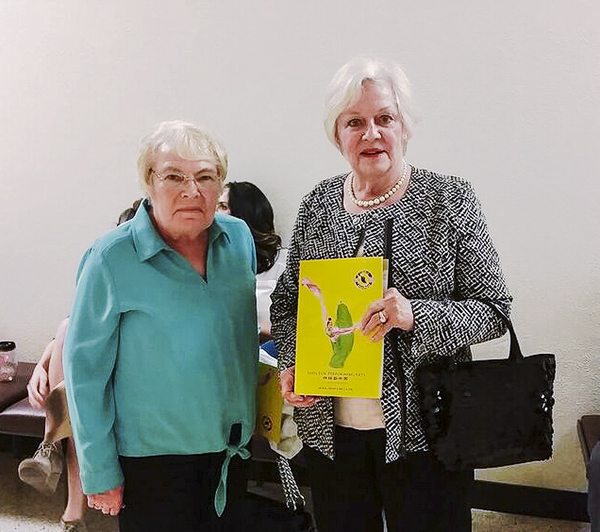 Few in the West knew about classical Chinese dance until Shen Yun formed in 2006. Known for its incredible beauty and athleticism, classical Chinese dance is a distinct dance form with its  fundamentals and training. It's been refined for thousands of years and began as entertainment at the royal courts.
Another distinctive feature of a Shen Yun performance is the resounding voices of the bel canto soloists. "Each program is heightened by several moving selections from the singers. Their impassioned songs give voice to hopes that have shaped Chinese culture for centuries," states the Shen Yun website.
Ms. Broekhuysen particularly enjoyed the poem sung by baritone Qu Yue titled, "What You Are Here For."
"Very beautiful, very spiritual. I love it. I am going to copy it off [from the program book] and frame it," Ms. Broekhuysen said.
The lyrics were projected onto the stage backdrop in both English and Chinese. The opening lines of the song reflect probing questions:
Why must life be so tiring?
For who are we really here?
Our enmity and affection are but fleeting clouds
The human drama, I now realize, is a tale of pain
Her friend, Ms. Jeanie Willis, was touched by the same song. Ms. Willis, a retired special education teacher, said that the whole performance was just wonderful.
"It makes me want to go to China," said Ms. Willis. "If China is as pretty as this scenery, it would be worth the trip over there."
Impressed With Dance Techniques
Another set of friends came together at the May 3 performance.
Ten-year old, Dana Boynton loved all aspects of the performance she had seen by intermission. "I thought it was really cool with all the colors and costumes," she said.
Her mother, Sheri Boynton-Love, a Wichita dentist, marveled over the synchronicity of the dancers.
"I'm impressed with how perfect their techniques are, and they're literally the same person in unison with every single move. I don't know how they do it," Ms. Boynton-Love said.
Her friend, Laurie Pryor, was also impressed with the dancers' abilities to perform elegantly while in the shoes of the Manchurian court which were elevated with a four-inch platform heel in the dance "Manchurian Maidens."
Another unique aspect of classical Chinese dance is the use of extra long flowing sleeves in several of the dances. One such Tibetan folk dance, "Celebrating the Divine" caught Ms. Pryor's attention due to the ability of the dancers with the long white sleeves and the inner meaning of the dance. She described the dancing as "amazing, the timing is perfect. It's just beautiful, very artistic."
Shen Yun has two bilingual hosts, speaking Chinese and English, who introduce each of the performances, which span the entire region of China.
"I liked the fact that it wasn't just from one part of the country, they were bringing in different parts of China…," said Ms. Pryor. "I also liked the fact that … they're explaining this to us—making things clear, the story line, their beliefs and everything."
New York-based Shen Yun Performing Arts has four touring companies that perform simultaneously around the world. For more information, visit Shen Yun Performing Arts.
Epoch Times considers Shen Yun Performing Arts the significant cultural event of our time. We have proudly covered audience reactions since Shen Yun's inception in 2006.