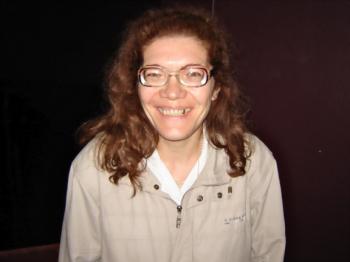 AUCKLAND, New Zealand—Nina Rykova, born in Russia, is a pharmacist and Red Cross volunteer who has assisted in geriatric care for 15 years. She was in the audience at the ASB Theatre at the Aotea Centre to see Shen Yun Performing Arts New York Company on Saturday afternoon, May 1.
Ms. Rykova said of the show, "I think it's really beautiful, and it is so colorful, and … for me it's very exciting because I never saw before anything like that."
Ms. Rykova loved the New York-based Shen Yun's depiction of 5,000 years of traditional Chinese culture. She said, "I want to bring my girls, because I have three daughters." However, she despaired that it would be impossible for her daughters to leave their children who are in school and they would thus miss this rare opportunity.
She continued, "I really want to come again and again and look and look and look, … and a present of [a] bouquet of 1,000 roses for these people. … I am really happy to stay here and to see this place. Thank you very much."
Ms. Rykova felt that the Shen Yun performance was very profound and she shared a wish she has for her home country of Russia and also for all the people of the world. "I want these people [Shen Yun]to come to Russia, in Moscow, because I am from Moscow, and actually all people must imagine and understand and enjoy this. I am really happy to see that."
She explained that she was bubbling with emotion from what she had experienced, saying, "I am flying, I am flying, I am boiling like a jug with boiling water.
"I see this message, because people need to care about the world, about peace in the world."
Nurse: 'It was amazing'

Susan Andrews, a nurse, was also in the audience on Saturday afternoon. She said Shen Yun was "lovely, it was really really lovely. It was very colorful, and the dancing was beautiful, and the color and the movement. … I really enjoyed it."
There were many aspects of the performance that appealed to Ms. Andrews.
She said, "The choreography was really lovely, and the throwing of the handkerchiefs, that was amazing. They did a somersault and caught that, … that was great. It was really amazing."
Ms. Andrews felt that Shen Yun was more that entertainment. She enjoyed the traditional dance, and also the spiritual component of the ancient Chinese culture.
The Shen Yun Orchestra which combines Chinese and Western instruments in a masterful fusion, something Ms. Andrews really enjoyed. "It was really good. And the singers they were great to."
She also enjoyed the erhu, a traditional two-stringed instrument with very rich sounds, played by solo artist Xiaochum Qi. "That was lovely, it really was. It was very nice," she said.
With reporting by Matthew Ytsma.
Shen Yun will play at the ASB Theatre until Sunday, 2 May, before travelling to Adelaide, Australia, on May 6.
For more information, please visit ShenYunPerformingArts.org