Shen Yun Artists 'Deeply Satisfying' in Philly
April 28, 2014 9:53 pm Last Updated: April 28, 2014 9:53 pm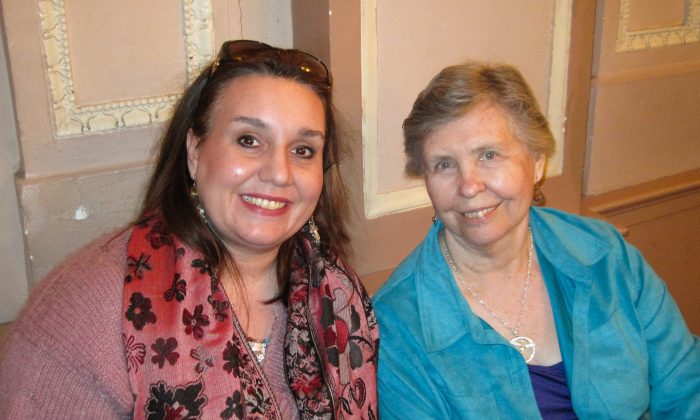 PHILADELPHIA—As a birthday gift, Margaret Badger brought her mother, Barbara Hebner, to see Shen Yun Performing Arts at the Merriam Theater on April 27. Both enjoyed the cultural experience greatly.
"I loved it," said Barbara Hebner, a retired Unitarian minister. "It was absolutely lovely."
"It was so professional and so accomplished that you could just relax and know that everything was going to be sheer professional," she said.
Ms. Hebner thought another daughter would have really enjoyed the performance too, since that daughter has an affinity for Chinese culture. She has gone to China three times and her college major relates to China.
Shen Yun's mission is to restore 5,000 years of traditional and divinely inspired Chinese civilization through the performing arts. It does so with storytelling through classical and ethnic dance, original orchestral music, dazzling costumes, and animated backdrops.
There is a lot to describe, Ms. Hebner said. "It is so much. Let me just say, the fantasy of the [i]Lotus Fairies[/i] was absolutely charming … I love the [i]Mongolian Chopsticks[/i], so those two appealed to me in particular. But the entire pageantry of it was deeply satisfying. I liked it all."
She was fascinated by how the artists integrated the dancing with the background. "It worked beautifully," said Ms. Hebner.
"With state-of-the-art graphics technology, Shen Yun's digital-backdrop team creates vividly animated settings, extending the stage and transporting the audience to a world where heaven and earth are one," states the Shen Yun website.
Both mother and daughter enjoyed the Shen Yun Orchestra.
According to the Shen Yun website, "The Shen Yun Orchestra combines the spirit, beauty, and distinctiveness of Chinese music with the precision, power, and grandeur of the Western symphony orchestra. The result—two great traditions producing one refreshing sound."
One of her students recommended Shen Yun to Ms. Badger, a member of the music faculty at the Cab Calloway School of the Arts.
She was glad she came. "I very much enjoyed it," she said.
Ms. Badger said, "Fortunately, I'm familiar with the sounds of Chinese culture and music, so I enjoyed it very much. … It's a wonderful way to share the heritage."
She and her mother are culturally sophisticated. "We've both had the good fortune to become acquainted with many different cultures in our lives. I think it's a wonderful representation of Chinese culture."
"Beautiful, absolutely wonderful, and, the colors were absolutely exquisite" is how Ms. Badger described her experience.
Her mother said she would definitely recommend Shen Yun to friends.
Ms. Badger said she would describe Shen Yun as "Colorful, elegant, diverse and a broad range, representing 5,000 years of Chinese culture and civilization."
[i]Reporting by Tong Dang and Cat Rooney
New York-based Shen Yun Performing Arts has four touring companies that perform simultaneously around the world. For more information, visit Shen Yun Performing Arts.
The Epoch Times considers Shen Yun Performing Arts the significant cultural event of our time. We have proudly covered audience reactions since Shen Yun's inception in 2006.[i]