Shen Yun Premiers in Argentina
June 28, 2009 8:49 am Last Updated: October 1, 2015 9:41 pm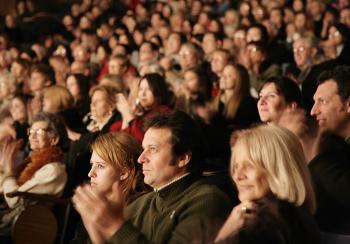 BUENOS AIRES, Argentina—An expectant crowd of over 1000 shuffled through the sleek marble foyer of Auditorio Belgrano, Buenos Aires, on June 27. They had gathered at the wealthy suburb's premiere performance centre with the promise of an unforgettable night of classical Chinese song and dance. Shen Yun Performing Arts had come to South America for the first time.
Tickets started selling as soon as promotion began a mere month ago, and continued until the doors opened at 9pm Saturday night. By the time the show started, none were left.
It was the first of an eleven show set in the capital of Argentina, before the Company moves on to Chile, and then back to the Argentine province of Cordoba.
Auditorio Belgrano was constructed in the 1960s, under direction from several of the lead nuns of the Catholic school it's attached to, the Colegio Nuestra Señora de la Misericordia. The auditorium commonly hosts symphonies and operas, but the director and nuns were delighted with the prospect of hosting Shen Yun.
They weren't the only ones, either. The Government of Buenos Aires also considered themselves a kind of host of Shen Yun, and declared the performing arts company "Of Interest," on May 8. It means that Shen Yun's performance is in the interest of the local government. "It contributes, through art, to fortifying a space for finding friendship and its reciprocal bonds, as a fundamental pillar of the integration of the people of the world," reads part of the notice.
Shen Yun received two other congratulatory notices of the same kind, from the Municipality of Cordoba and the Cordoba Government, as well.
The response of individual attendees of the first performance in Buenos Aires offers a glimpse into the impact Shen Yun has had among the people of the country. Mr. Garcia, a businessman from the same city, was gushing in his praise; he said the word "very" at least a dozen times in an interview with The Epoch Times.
"Really spectacular. I cannot pick one fault… the costumes, the choreography, the synchronicity, it's really excellent. I don't go to shows often, but I'm just dazzled."
"This is what I've been waiting my whole life to see," said one holistic therapist after seeing the show, "it's the divine manifesting on earth."
For more information please visit ShenYunPerformingArts.org