Shen Yun a Novel Experience for Designers
April 12, 2014 1:22 pm Last Updated: April 12, 2014 4:29 pm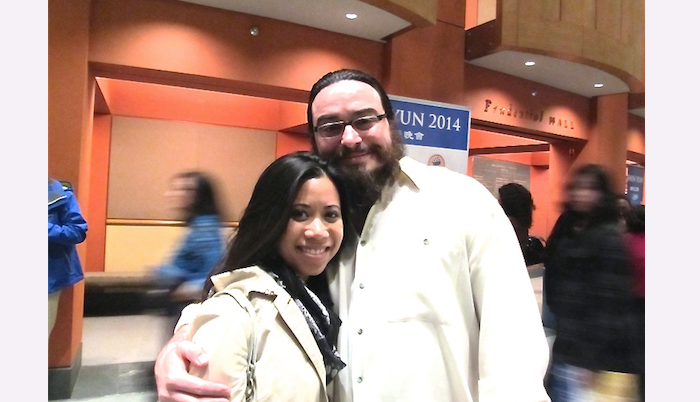 NEWARK, N.J.—It was a performance she would like to see again, Michelle Torrecampo said after seeing Shen Yun Performing Arts at the New Jersey Performing Arts Center, April 11.
"It's amazing. It was very beautiful to watch. The dancing is great, the costumes are great. I'm would definitely watch it again," said Ms. Torrecampo, who designs E-books for Random House.
"The music is outstanding. It definitely set the mood and set the culture and the atmosphere. It was great," she said.
The New York-based Shen Yun uses the form of classical Chinese dance to tell stories of heroism, bravery, and compassion from Chinese history, and ethnic folk dances to keep unique expressions of Chinese culture alive.
Ms. Torrecampo said she was not familiar with Chinese mythology, but learned a lot about it at the performance.
Chef Jose Gonzalez, who attended with Ms. Torrecampo, particularly liked the dance Lotus Fairies.
"I was very, very impressed with that," he said. "It was very, very well choreographed."
In order to bloom, the lotus flower must push its way up through the mud. Thus in Chinese culture the lotus blossom is a symbol of purity developed amidst hardship.
Filipino-Chinese Robert So, who owns an interior design company, Robert So Design, said this was the first time he had seen a performance like this and was impressed with the costume design and choreography.
"I love the precision. They do the same gesture all at the same time," he said.
The impact of Shen Yun's choreography is magnified by hundreds of vibrantly colored, handmade costumes that evoke the styles of different eras and regions of China, as well as an animated digital backdrop that depicts scenery and historical architecture.
Mr. So commented on how the backdrop and animations were used to good effect, and how he enjoyed experiencing the different provinces, costumes, and dances from different regions.
Ms. Torrecampo agreed that "the special effects were really cool."
She added that she would definitely recommend Shen Yun to her friends, and would advise them "to sit in the front row."
Reporting by June Fakkert, Wei Yong, and Gloria Gao
New York-based Shen Yun Performing Arts has four touring companies that perform simultaneously around the world. For more information, visit Shen Yun Performing Arts.
The Epoch Times considers Shen Yun Performing Arts the significant cultural event of our time. We have proudly covered audience reactions since Shen Yun's inception in 2006.