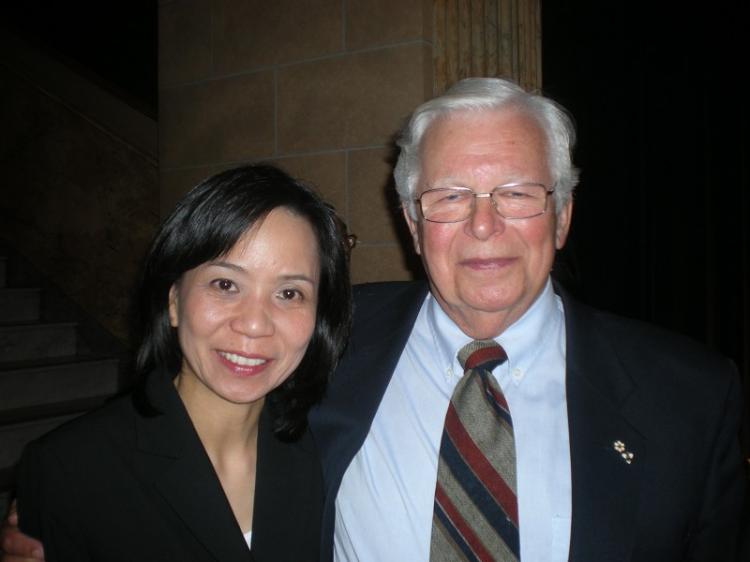 TORONTO—The Canon Theatre came alive with music and dance Friday night as Shen Yun Performing Arts staged the first of four shows depicting the essence of China's traditional culture.
Victor Feldbrill, former resident conductor of the Toronto Symphony, was impressed with the high calibre of the performers.
"I felt it was highly professional, very well prepared. Everything blended, everything worked very well—it was sort of a perfect ensemble. It was really very fine, very well done," he said.
He added that the show was "a great spectacle, extremely well done. There was nothing left to chance, it was very good."
The Shen Yun orchestra, conducted by Chia-Chi Lin, combines Chinese and western instruments. Mr. Feldbrill praised Ms. Lin's expertise.
"She had a lot to do with the energy that was coming offstage, because she had the orchestra playing very well and with lots of energy, and the dancers can respond to that," he said.
"If the orchestra is playing in a lazy way then it's difficult for the dancers. The spirit of the music came from the orchestra pit and onto the stage. It was very, very obvious it was very good."
According to the Shen Yun website, the company seeks to present "the true, five-millennia-old artistic tradition of China" and "breathe new life into traditional Chinese culture while providing audiences everywhere with an experience of sublime beauty."
"That is what this group stands for, to go back to a tradition," said Mr. Feldbrill. "And it was extremely well presented that way, really very well done."
"I think that everyone can benefit from not forgetting the past," he added. "I come from a nationality that has over 5,000 years of tradition too, so I am quite aware of the need for it."
New York-based Shen Yun will perform three more shows at the Canon Theatre: two on Saturday at 2 p.m. and 7:30 p.m., and a matinee on Sunday at 2 p.m. For more information, please visit www.ShenYunPerformingArts.org.