Sheila's Arroz con Pollo (Panamanian Chicken and Rice)
Sheila calls this her go-to dish. Her trick for cutting down on time is to make the rice in a rice cooker while cooking the chicken in the oven. According to Sheila, nothing is worse than overcooked rice, so she loves how the rice cooker gives her perfect rice every time. She sets it and forgets it as she works on her savory, flavor-packed sofrito.
Serves 4 to 5
Prep Time: 20 minutes
Total Time: 1 hour 25 minutes
3 pounds skin-on, bone-in chicken thighs, trimmed of excess fat and halved
1/2 teaspoon kosher salt
1/2 teaspoon freshly ground black pepper
1 tablespoon garlic powder
1 tablespoon onion powder
1 teaspoon paprika
1 teaspoon adobo seasoning
1 teaspoon crushed red pepper flakes, plus more to taste
3 tablespoons extra-virgin olive oil
1 cup jasmine rice, rinsed
1/4 teaspoon Bijol seasoning
2 garlic cloves, minced
1/2 medium yellow onion, chopped fine
1/2 packet sazon con culantro y achiote (Sheila prefers Goya)
1/2 cup alcaparrado manzanilla olives (Sheila prefers Goya)
Preheat the oven to 350 degrees F.
Combine the chicken thighs with the salt, pepper, garlic powder, onion powder, paprika, adobo, and red pepper flakes in a large bowl.
Heat 2 tablespoons of the extra-virgin olive oil in a large Dutch oven over medium heat. Add the chicken thighs.
Cover, place in the oven, and cook until the chicken is cooked through and the juices run clear, 45 minutes to 1 hour.
While the chicken cooks, make the rice. Place the rice along with the amount of water called for in the package directions in a pot or rice cooker. Add the Bijol seasoning and stir gently to incorporate. Cook according to package directions, then set aside.
Make the sofrito. Heat the remaining 1 tablespoon extra-virgin olive oil in a medium sauté pan over medium heat, then add the garlic and onion, and cook until the onion is semi-translucent and the garlic is lightly toasted, about 5 minutes. Add the sazon and stir to combine.
Add the olives with half of the juice from the jar and stir again. Remove from heat.
Remove the chicken from the oven and set aside.
Add the rice and sofrito to the Dutch oven and stir to combine. Add the chicken back into the pot and stir to combine again. Serve immediately.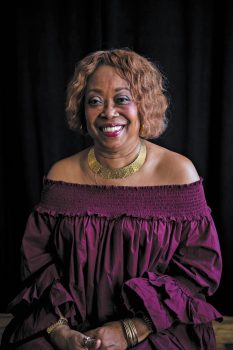 Reprinted with permission from "Heirloom Kitchen: Heritage Recipes and Family Stories From the Tables of Immigrant Women" by Anna Francese Gass. Published by Harper Design.