WASHINGTON—On the same day John O'Brien was appointed as the next senior adviser to the Health and Human Services (HHS) secretary for drug pricing reform, he published a blog post targeting conservative groups opposed to the administration's attempts to rein in high drug prices by pegging them to other countries.
On Dec. 6, the American Conservative Union (ACU) took out a full-page ad in The Washington Times saying HHS's plan to peg drug prices for seniors to prices in over a dozen countries will force Americans "to accept government price controls for live saving drugs based on deeply manipulated prices from Greece, Finland, France, and other socialist nations."
"[This] is directly out of the Bernie Sanders and Hillary Clinton playbook," the ACU said in the ad. "Adopting price controls from European countries that restrict access to care is not a market-based solution."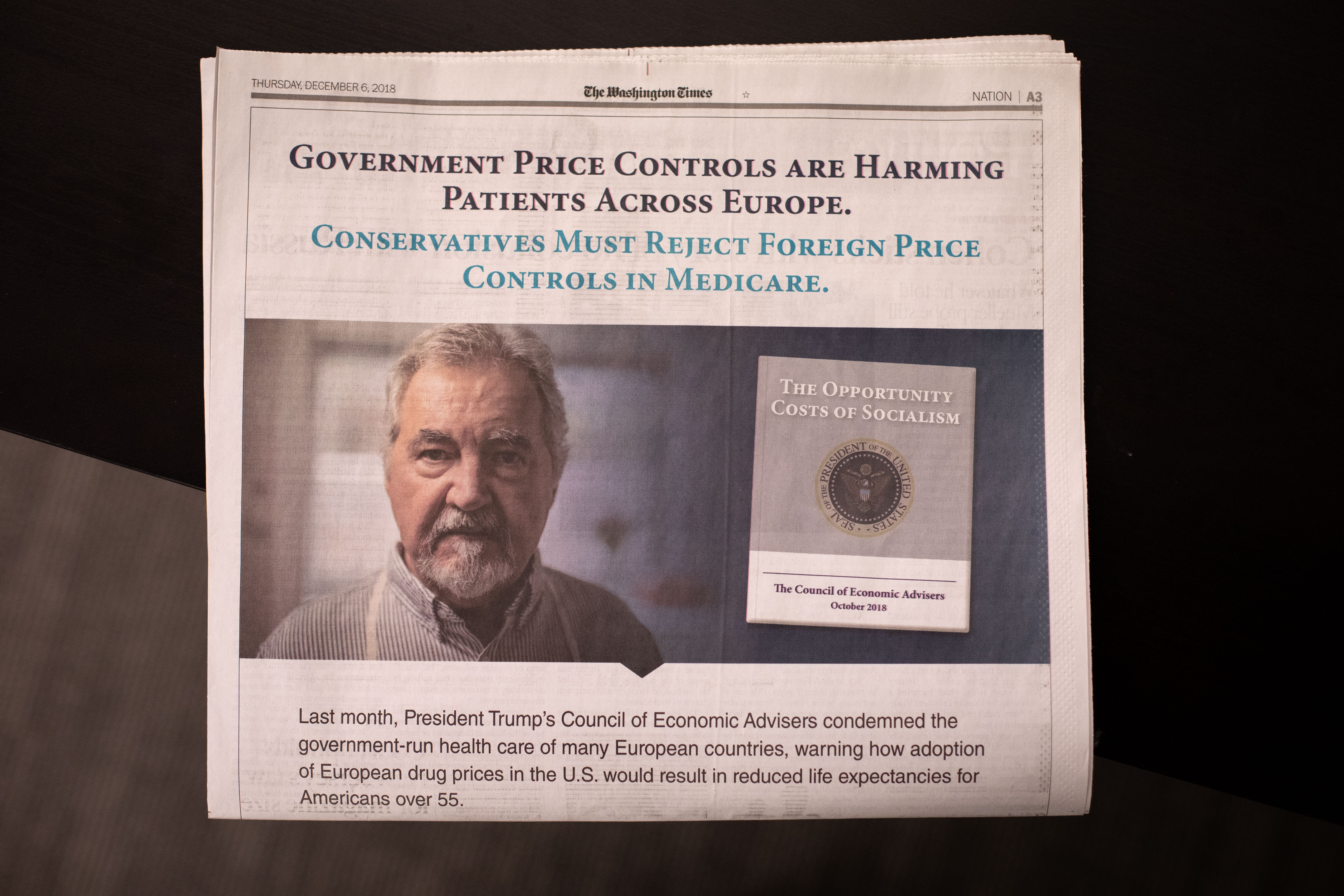 The ad was targeting the department's proposed International Pricing Index that would peg what the Medicare Part B program pays for drugs to prices in 16 other countries: Austria, Belgium, Canada, Czech Republic, Finland, France, Germany, Greece, Ireland, Italy, Japan, Portugal, Slovakia, Spain, Sweden, and the UK.
The United States pays 80 percent more than other countries for a standard basket of 27 drugs, the Centers for Medicare & Medicaid Services said in a recent report. At the end of the proposal's five-year test phase, HHS predicts drug prices for Medicare Part B will decrease by 26 percent.
O'Brien says that Medicare Part B, which mainly covers drugs administered in a physician's office, currently accepts the drug industry's pricing based on an average sales price of what other Americans pay, which "enables and subsidizes socialist governments and their artificially low price fixing regimes."
Instead of letting drug companies raise prices on Americans, drug companies should negotiate better prices in other countries or walk away if they don't get the deal they want, he says.
"Or, they could continue giving cheaper prices to countries overseas and take a cut in their drugs' reimbursement from Medicare," he said.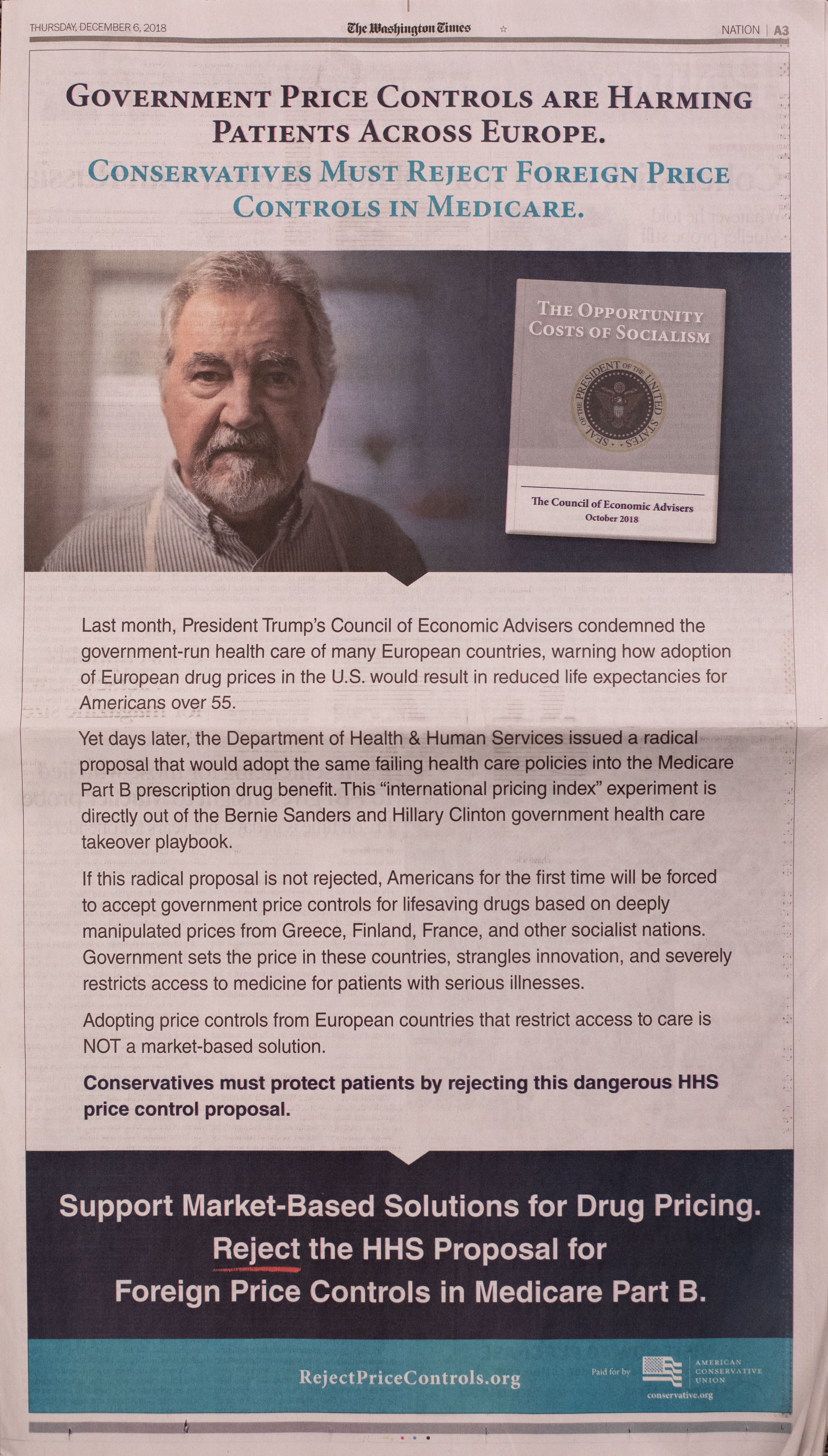 Because Medicare makes up such a large part of the U.S. market, he believes drug companies will opt to play by Medicare's new rules.
The International Price Index is still in the proposal stage, and HHS will seek comment until Dec. 31, but the administration is already putting its full weight behind it.
HHS Secretary Alex Azar said in an October speech at the Brookings Institution that this was the best way to bring down prices while respecting free market prices that companies have set.
O'Brien also referred to a Sept. 26 op-ed in The Washington Times by the director and president of Americans for Tax Reform that encouraged the administration to "ensure that other countries remove their innovation-destroying policies" when negotiating free trade agreements.
Another op-ed by Americans for Tax Reform, published by The Hill, that O'Brien seems to be pushing back against says the administration is "surrendering" to "socialist style price controls" that would "suppress the development of the next generation of cures."
"Let us remember that the best way to support future pharmaceutical innovation is to build a sustainable market-based system for pricing prescription drugs," O'Brien said. "The possible savings American patients would receive over five years represents less than 1 percent of pharmaceutical R&D spending during that time."
"The pharmaceutical industry has offered no evidence of that amount having a meaningful impact on innovation," he added.
O'Brien is filling the spot left by Azar's former senior advisor for drug pricing reform, Dan Best, who was found unresponsive outside a house in Washington on Nov. 1. His death was later ruled a suicide.
O'Brien previously served as a regular adviser to the secretary for health reform and drug pricing, as well as the deputy assistant to the secretary for health policy in the Office of the Assistant Secretary for Planning and Evaluation.
"John O'Brien has already been an integral leader in HHS's efforts to bring down the high price of prescription drugs," said Azar in a statement. "As a senior advisor, he will carry forward the legacy of our departed colleague Dan Best and build on the substantial progress that has already been made."