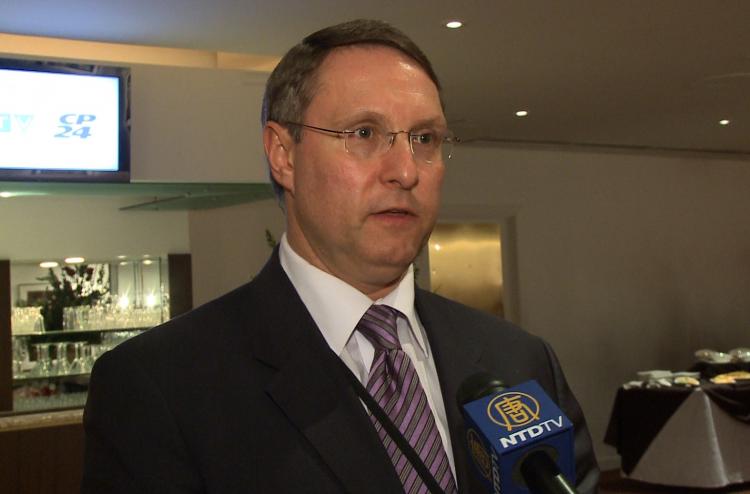 TORONTO—After seeing Shen Yun Performing Arts Thursday night at Sony Centre, Ted Opitz, senior advisor to the federal minister of citizenship, immigration, and multiculturalism, was delighted by both the artistic and cultural aspects of the classical Chinese dance and music production.
"The show was beautiful. The choreography is just spectacular, the costumes, the designs, the colours . . . the athleticism of the dancers is amazing," Mr. Opitz said.
New York-based Shen Yun was founded in 2006 with the mission to revive the true traditional culture of China.
The company tours the globe each year with an all-new program that gives artistic expression to China's cultural diversity and great legends and tales, while reflecting the essence of the five-millennia-old cultural heritage imbued with grace, wisdom, virtues, and the concept that humanity and the divine are intertwined.
Mr. Opitz enjoyed the collection of short pieces showcasing classical Chinese dance, story-based dances, ethnic and folk dance styles, and songs and musical scores.

"With 5,000 years of culture, . . . the cultural traditions of the dance, the stories, the way they melded in, and be able to tell that story in anywhere between a five-to eight-minute segment, with the type of coordination that they have, is just spectacular," said Mr. Opitz.
"The progression of Chinese culture through the millennia is very significant because I think it presents that collective memory, it presents that collective ability to storytell," he said.
"I am delighted that this is being shared with people because the more we know about each other, the better we all get along."
Mr. Opitz said Shen Yun's presentation gave him a new perspective of Chinese culture.
"[With] what I do in my daytime job, and I have so many Chinese friends who give me their perspectives and we chat about it often, and so you get the modern-day version, but it is also nice to get the historical version. I thought that it was quite brilliantly presented tonight."
He also noted that the show gave him a good feeling, even including some of the pieces with a more serious theme such as the story of the Falun Dafa spiritual practice and its adherents' peaceful resistance to persecution in communist China.
"A lot of it is joyous. A lot of it is hopeful and positive. Even the stories that have a more negative context, more dire circumstances within the storyline, always end up with a very positive ending and something that's hopeful, optimistic, and looks to the future," Mr. Opitz said.
"I thought that was very, very helpful. I enjoyed that part. Everybody wants to end on a high note and I think this particular production made you feel pretty good when you left the theatre. It was refreshing to me and I felt uplifted and I truly enjoyed being here tonight."
Mr. Opitz would tell others that Shen Yun is well worth seeing to learn more about traditional Chinese culture through visuals and music.
"This is a very creative and artistic way of presenting that," he said. "There's dancing, there's music, there's acting. It's through those devices on the stage that help you to be able to visually accept that, and visually begin to understand the various traditions of China through the millennia."
The dance titled "Recalling the Great Qin," which features the terracotta army statues constructed over 2,000 years ago during the Qin dynasty in 211-206 B.C., made a special impression on Mr. Opitz.
"The warrior culture was very interesting to me because, as we saw in the production, the history of the terracotta army is just spectacular. . . . The inventiveness of the [Chinese] people was incredible. The sophistication and the cohesion of the civilization were leaps and bounds ahead of all other countries on the planet at that time," he said.
"That's very, very interesting when you look back and see what was accomplished and achieved then, because everything is a building block in life, and I think the Chinese . . . have a collective memory that this is remembered, that this is revered, that this is something of [their] history that is honoured, and that's very heartening to see."
Noting the themes conveyed in the show that reflect the moral ideals at the heart of traditional Chinese culture, Mr. Opitz said "the traditions of compassion and kindness and love of fellow men, bravery, those are great traditions to see."
"My wife and I truly, truly enjoyed it, and were very entertained," he said, adding that it gave him "more of an insight into Chinese culture and tradition."
"I leave tonight a little better educated," Mr. Opitz said. "So, in all, I think it was a tremendous production. I was delighted to be here this evening, and I hope to do it again."
With reporting by Cindy Chan and Alex Popsor.
Shen Yun will perform at the Sony Centre until Sunday, Jan. 16. For more information, visit ShenYunPerformingArts.org .