NEW YORK—Charlie Mostow likes to keep things simple—from the singular to the universal. Everything he does, everything he observes and experiences, relates to art. He focuses on creating sculptures that conceivably emit a higher ideal and hopefully will appeal to people over the centuries.
"There's nothing that I do that feels superfluous to this whole, singular life that I have. It is all interconnected," he said in Grand Central Atelier (GCA), where he sculpts and teaches. Those thoughts echoed the balanced proportions of the ancient Greek statues from which he draws inspiration. 
Contemplating past and future, the 28-year-old classically trained sculptor finds himself at a transition in his early career. Mostow, who grew up in Seattle, was repeatedly drawn to art from a young age and throughout his undergraduate studies in literature in San Francisco. Later, he studied with graduates of the Aristides Atelier in Seattle before moving to New York to study at GCA. While working as an artist in residence this past year, he has been completing a steady stream of commissions. In early September, he will be moving to Paris for at least a year, maybe longer. 
"I feel so lucky," he said. It will be his first time in the city of light, where he plans to explore the Louvre and other museums. "For the most part, I'll keep it simple." He plans to draw and sculpt alongside other artists, including his girlfriend Jessica Artman, who will be teaching at the recently founded Paris Academy of Art.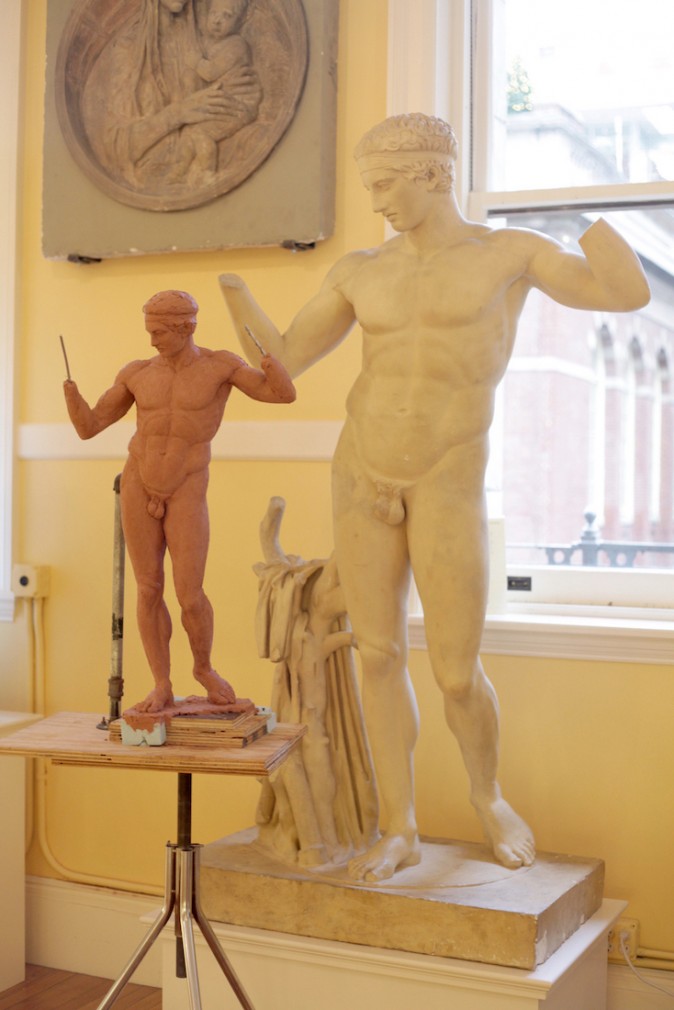 In the long term, Mostow envisions working with a team of people, including architects and landscape designers, to create his sculptures in the context of a classically designed space. Paris inspires without end in this regard—it is the perfect place for gathering knowledge and generating ideas before realizing monumental projects.
"These days, I don't particularly see a real solid unification of the fine arts," he said. "Even though the atelier scene is really pushing painting and sculpture forward, and there are organizations like the Institute of Classical Architecture & Art (ICAA) and architectural design studios like Atelier & Co. that are doing well.
"We have yet to see us all coming together and really flourishing together. I would love to see that—brand new buildings being built with murals painted in them and sculptures designed for them."
In the meantime, it's not unusual for Mostow to work long days in the studio, some from 9 a.m. to 9 p.m., divided between a couple of hours on the business aspect of his artwork as a fellow of the Clark Hulings Fund (an organization dedicated to giving business support to visual artists), about five hours sculpting a model, and then three hours teaching.
Mostow follows his own singular path and doesn't worry much about the art market. The collectors who buy his sculptures respond to his work for a reason, and he enjoys developing relationships with them. "I am true to my artistic development. There is some truth in that for me and that comes through in my work," he said.
He works in a very thoughtful, direct, and intentional way. He finds it important to clear away false myths about "the starving artist" or the "enfant terrible" who is lauded for being irresponsible. Overall representational artists are hardworking and responsible, and some are very successful, as in any other profession.
Beauty Is Truth
Artist and founder of GCA Jacob Collins and sculptor Jiwoong Cheh have been two of Mostow's most influential teachers. But, ultimately, he said: "My best teachers are the ancient Greeks. … There's just something about Greek sculpture that is so full, so vibrant. It's exciting." He looks to Michelangelo, but Michelangelo also looked to the Greeks, so Mostow prefers going to the source.
In the studio, Mostow is surrounded by his works in progress. His own sculptures emit an ethereal quality, yet also have a down-to-earth presence about them. Some of the portrait busts have smooth eyes, without any indication of the irises or pupils, giving them a more ethereal quality.
"It's a funny issue that we have to deal with as sculptors because … the iris and pupil are an illusion on the form," he explained. Some Greek portrait sculptures cast in bronze have inlaid ivory or stone eyeballs, even with little eyelashes inserted from the back and set into the eye. Some would be painted. There are many ways of indicating the irises and pupils, and it's mainly a matter of convention.
Mostow sometimes prefers leaving the surface smooth. "I think this keeps it a little bit more universal," he said. "The minute you scrape the eyes to indicate the iris, all of a sudden the sculpture becomes the representation of a particular person. … I like the idea that if you don't do it, it might keep the universal quality of the object."
Mostow wants his sculptures to appeal to people over time. To do that, he has to connect with universal principles. 
"I just keep looking for a certain truth. Truth is beauty. Truth is universal. So beauty is universal, but it doesn't have to look the same. It's not like my sculpture looks the same as an African sculpture, but I still see [beauty] when I look at an African sculpture. … It may not be purely visual," he said. Then he paused. "The other question is, can true beauty actually exist? I think Plato would say that it is something in an ideal world, but in our world there isn't anything that can quite touch the ideal of beauty. So is there anything here that can even approximate it?"
Obviously Mostow finds certain things more appealing than others. Although it's not possible to see ideal beauty, "the concept of beauty is possible," he said. "I like to think of it that way. So maybe beauty points to the ideal."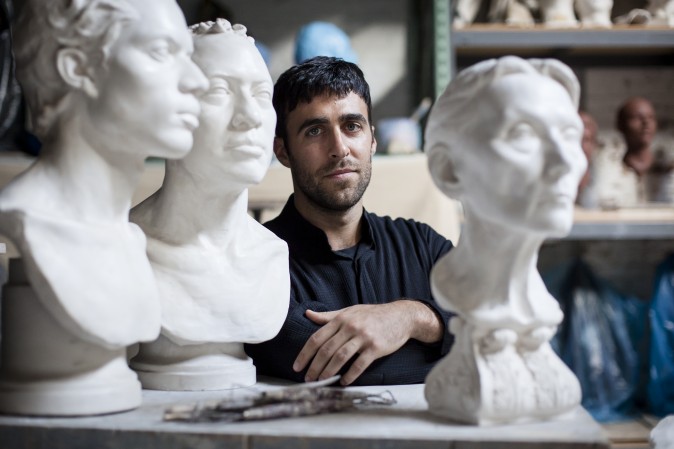 Follow @milenefernandez on Twitter or @milenejf on Instagram