SCOTTSDALE, Ariz.—You're over your overcoat, the snow has lost its pristine sheen, and you're positive Punxsutawney Phil is punking you yet again with his prediction of an early spring. You've got to get away for a weekend, somewhere warm and sunny. Vegas? Too chaotic. Florida? Too Florida. Palm Springs? Too overrun by hipsters.
Yes, in case you missed it, retiree paradise Palm Springs has become such a hotbed of cool kids in the past few years that it's essentially a year-round Coachella encampment. Assuming a trip to a Kardashian compound sounds even less pleasant than six more weeks of winter, the question is: What's the next Palm Springs?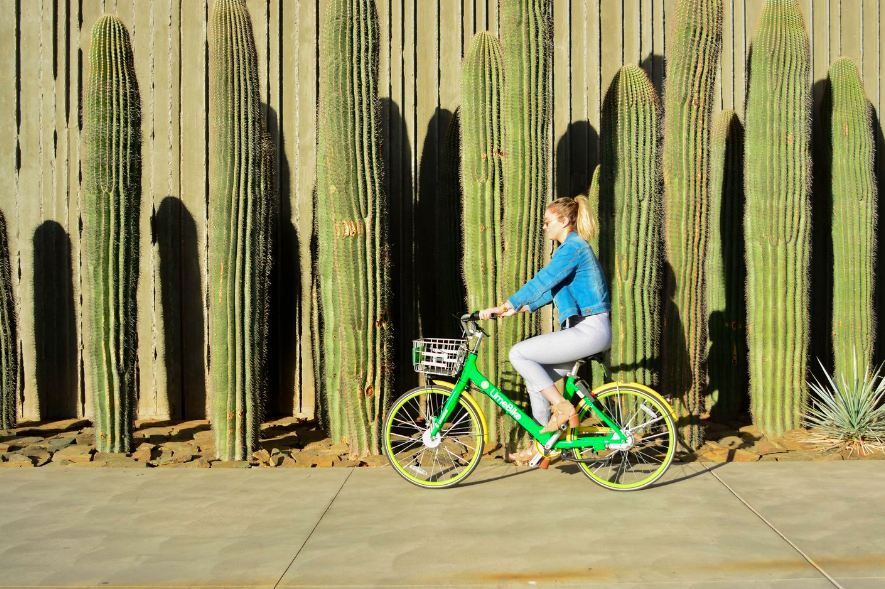 As I discovered on a December visit, the answer could be Scottsdale. It, too, has been undergoing a transformation of late, its attractions expanding from golf courses, day spas, and kitschy Western-themed emporiums to quirky boutiques, chic galleries, and a craft-driven dining and drinking scene. And while there's been a recent influx of younger people to the Phoenix area, Scottsdale's far from its saturation point—so you can say you went there before it was cool. Here's a highlight reel.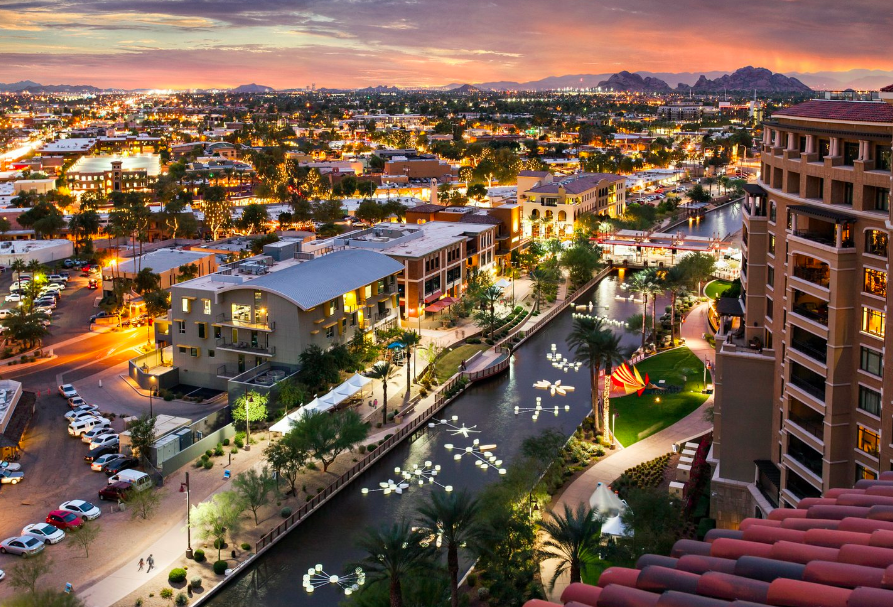 The Lay of the Land
In contrast to the manicured greens that dominate the urban landscape, "everything in this desert pricks you, pokes you, scratches you, or bites you." So my Arizona Outback Adventures guide, Phil, warned me cheerfully as we set off on a 2.5-mile sunrise hike through the McDowell Sonoran Preserve. Ultimate case in point: the jumping cholla, a cactus whose spines attach themselves so easily and firmly to anything that brushes against them—like, say, Phil's bare arm in a heroic demonstration—that some of its victims swear the pads actually leapt through the air to ensnare them.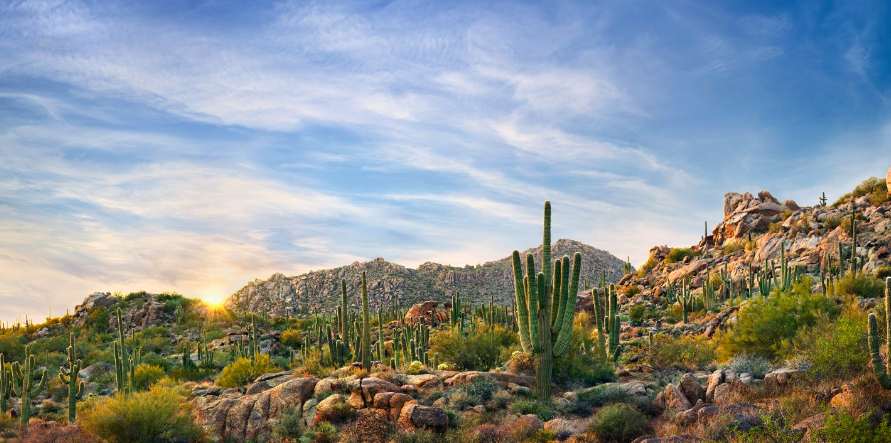 That's fake news, but I nevertheless steered clear of the deceptively plush-looking plant as Phil led me around a gently hilly loop trail surrounded by the Sonoran's unique vegetation, the most awe-inspiring of which has got to be the omnipresent saguaro—hundreds of them evoking slender candelabras that morning as the sun's rays lit their tips dozens of feet high. But the palo verde tree comes a close second, its startlingly green trunk sharing photosynthesis duties with its thumbnail-sized leaves.
Creosote, ironwood, ocotillo: These and other common area plants were no less distinctive when viewed from above—way above, in a hot-air balloon that ultimately reached an altitude of about 5,000 feet. In the sheer light of another sunrise, our Hot Air Expeditions pilot, Mike, pointed them out along with other features of the landscape glimmering around us—Camelback Mountain, Thompson Peak—on the hour-long ride. As he was clearly an old hand, I asked him how long he'd been a pilot. "Since last night," he deadpanned. "I was watching TV, but I fell asleep before I got to the lesson on landing." So he was an old ham as well, but given that our descent was as smooth as our takeoff—which I didn't even notice until we were already a foot or so up—acrophobics can rest assured the experience is about as peaceful as any massage they could have in Scottsdale's ubiquitous resort spas, complete with glasses of bubbly and a recitation of the Balloonist's Prayer before an al fresco breakfast.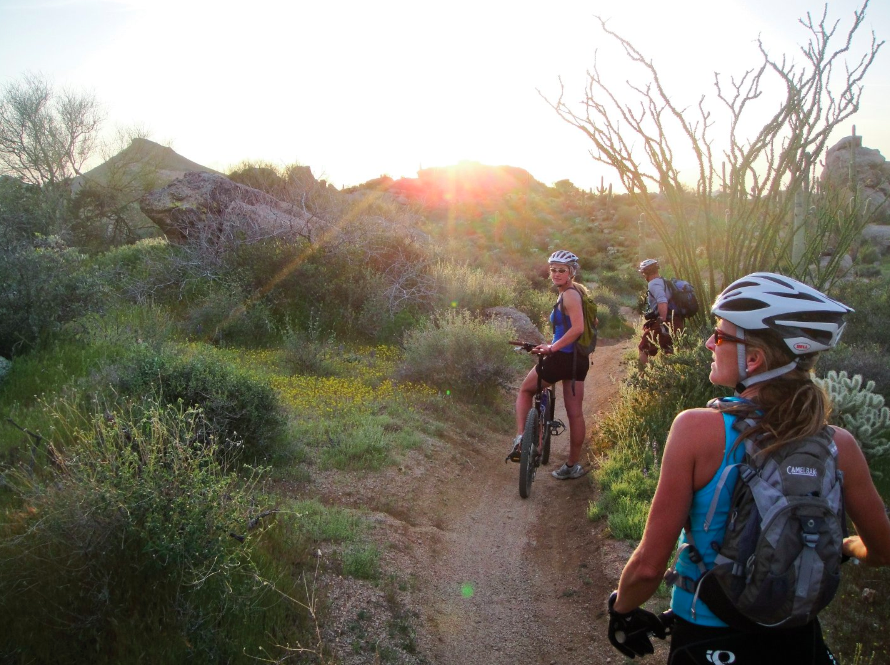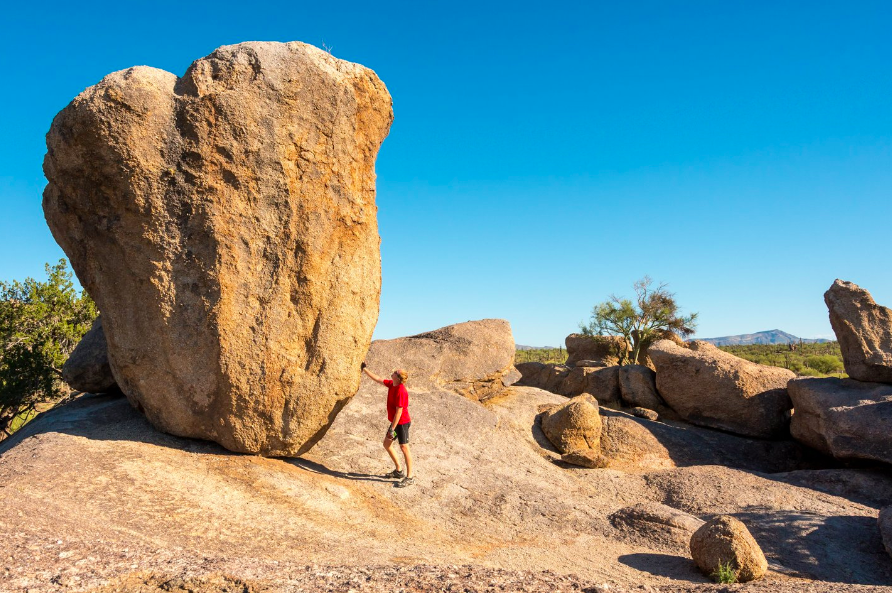 Nature Meets Culture
The landscape even shapes Scottsdale's most notable cultural landmarks. Take Taliesin West. Built in 1937 and encompassing nearly 600 acres, Frank Lloyd Wright's winter home revealed at every turn what my tour guide Peter called the legendary architect's "fascination with the geography of nature." Hexagonal and triangular structures of native quartzite, tent canvas, and red-painted steel seemed "to rise naturally up from the desert floor," just as Peter described it, accented by the Hohokam petroglyphs that dotted the property's walkways and Wright's own angular designs—including those famous origami chairs.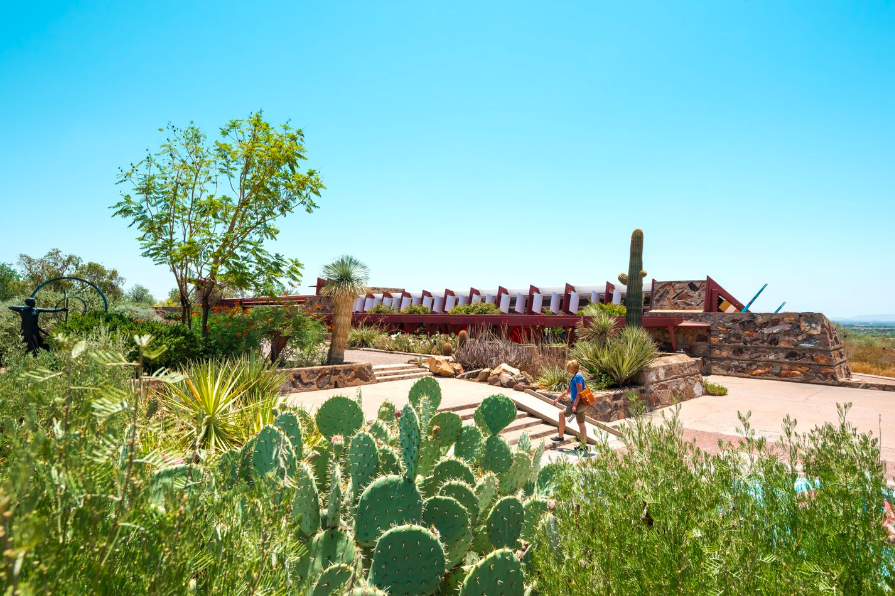 Also founded in the 1930s, the Desert Botanical Garden displays more than 4,000 species of desert fauna on 55 acres while hosting regular exhibits that incorporate them. I considered myself especially lucky to catch Electric Desert, a nighttime light-and-sound show that runs through May 12, at Christmastime; Klip Collective's once festive, now eerie, always hypnotic installations were only enhanced by the staggering 8,000 luminarias that lined every roof and pathway.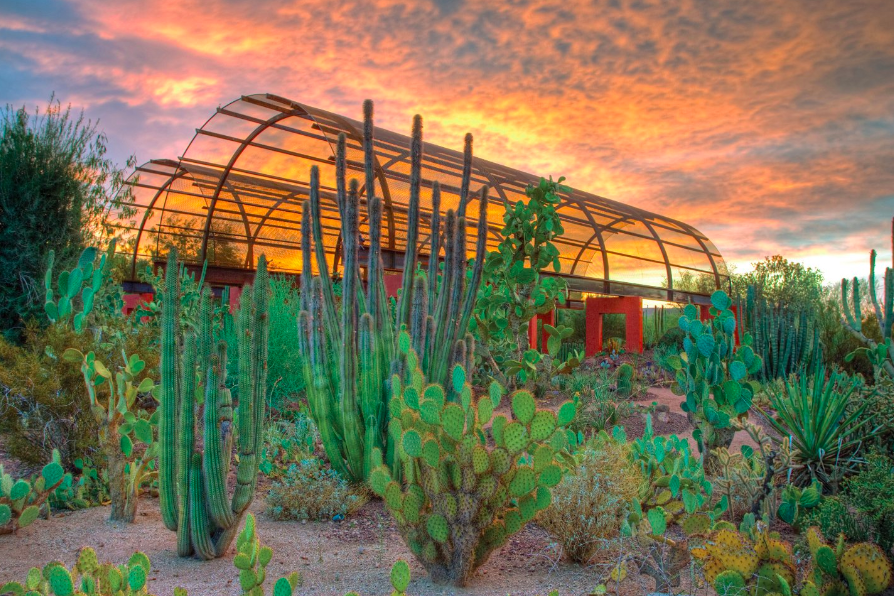 Back in Old Town, the streets are lined with dozens upon dozens of galleries to keep an aesthete occupied for hours on end. Whether or not you're into traditional Southwestern merchandise, popping into Gilbert Ortega is a kick, filled to the rafters as it is with taxidermy specimens and totem poles, life-size kachina dolls and massive geodes. If, in fact, you're a collector of the genre, King Galleries has earned renown for its devotion to the potters of the Pueblos and their rich decorative traditions. For antiques and artifacts, Bishop Gallery is a charmingly cluttered little refuge of ancient relics and indigenous ceramics as well as art (keep your eyes peeled for strikingly odd woodcuts of Leonard Baskin). And for devotees of the art of fashion, there's Vintage by Misty: lamé gowns and sequined caftans, motorcycle jackets, color-block boots, and all, owner Misty Guerriero's collection is a veritable museum of Pucci, Fendi, Hermès, Chanel, and other couture legends as well as of vintage Israeli designers.
Dining and Drinking
"I think what pleasantly surprises visitors who think of Arizona as just desert is its abundance of agricultural riches," says well-known area food writer Christina Barrueta. "Mild winters mean we can harvest produce in January, and we're surrounded by dairies, farms, ranches, and artisanal producers" to form the foundation on which a once-staid, steakhouse-dense dining scene is rebuilding, with "chefs taking more risks and diners becoming more adventurous."
Cases in point: Over-the-top nachos piled high with Brussels sprouts, corn queso, a fried egg, and a neon-pink drizzle of beet crema at funky modern Mexican hot spot Diego Pops. Wildly innovative, multicourse tasting menus at Sel and Atlas Bistro. Chocolate-chip cookies redolent of smoky mesquite flour at Super Chunk Sweets & Treats, which also turns out a spectacular, three-layer brown butter–pecan cake decorated to evoke the Arizona sunset. Zippy chorizo scones for breakfast at Weft & Warp Art Bar, the sleek, contemporary lobby eatery overlooking the pool at the Andaz, and suave, tropically toned cocktails at The Canal Club, the snazzy, Cuban-themed lobby eatery overlooking the pool at The Scott (see Where to Stay). The monthly changing Showstopper Shake at ZuZu in the fabulously mid-mod Hotel Valley Ho, which is pretty much a whole dessert case in a mug.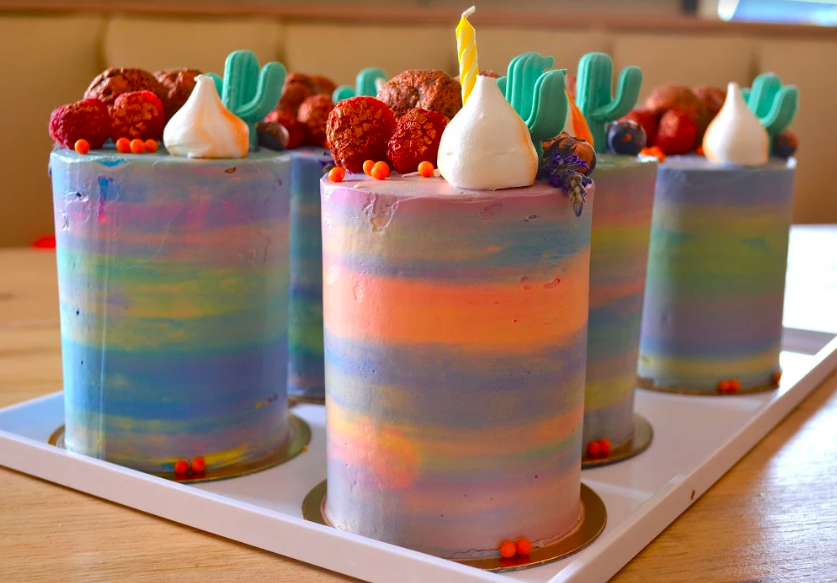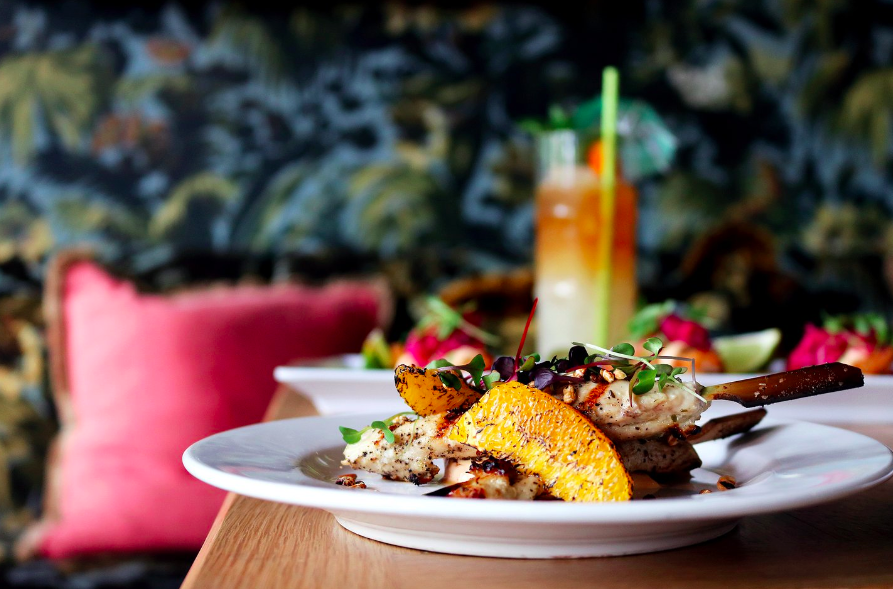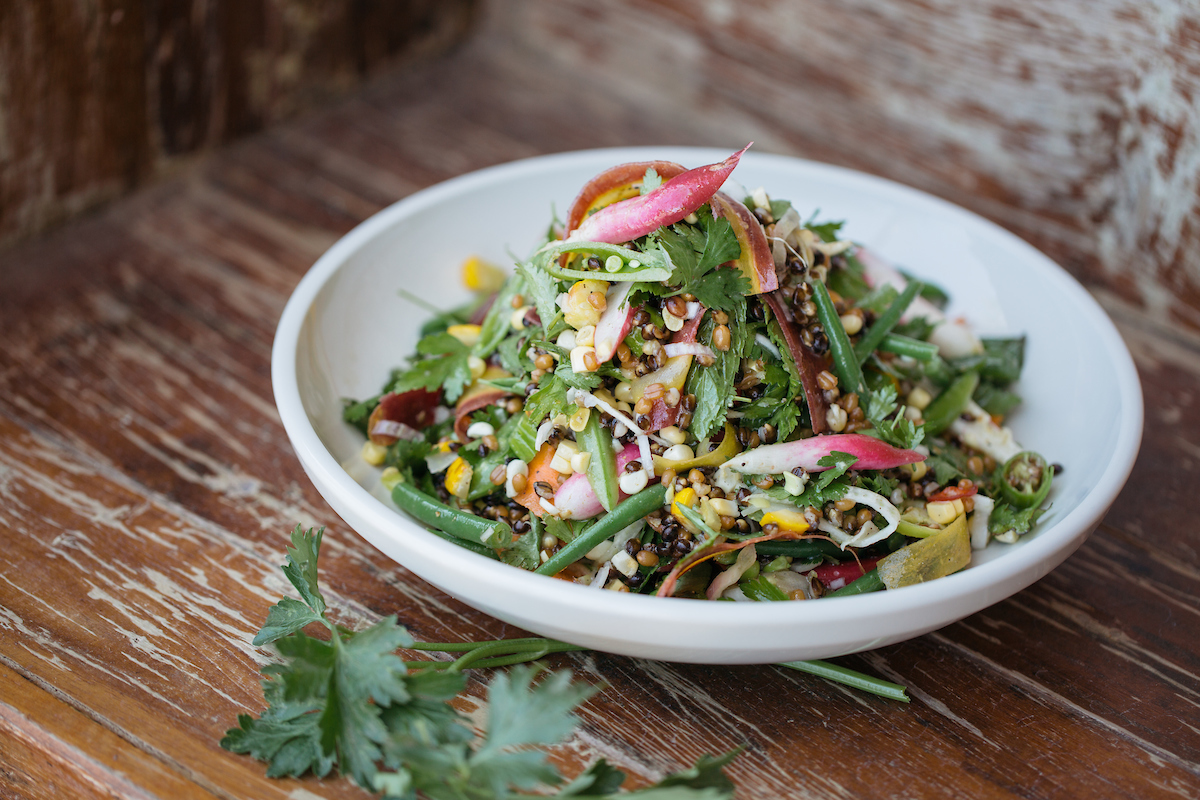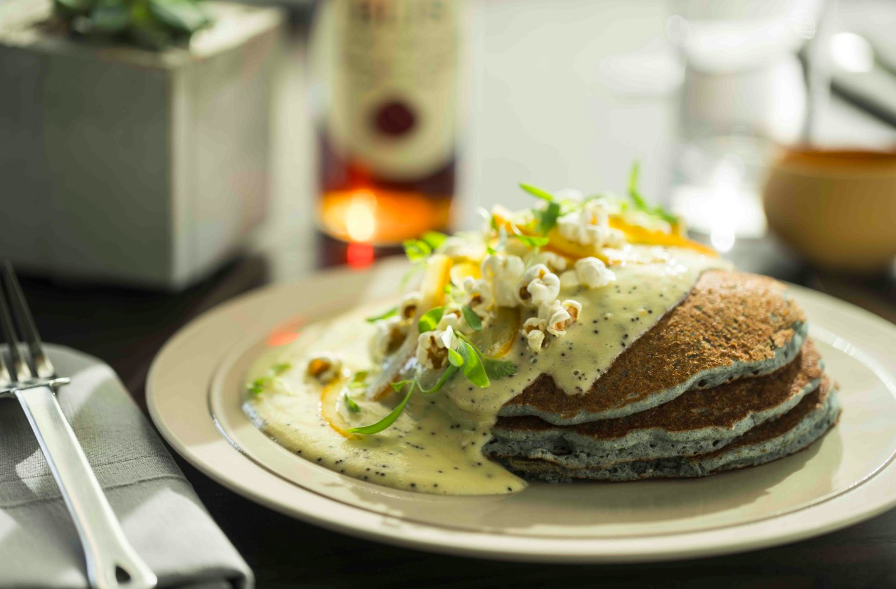 Speaking of dessert cases, don't miss sweetDee's bakeshop. The new bakery is too cute for words (but just right for Instagram pics)—from its frosting-pink walls to its squee-inducing shelves filled to the brim by 23-year-old self-taught talent-to-watch Danielle O'Day, who runs it with her mother Lynda. Paintbox-bright macarons, gravity-defying cruffins, glossy tarts, cakes whose icing unfurls like rose petals: It's all as delectable as it looks, including the cloud-light, lusciously filled signature crème brûlée doughnut and coffee drinks with housemade syrups like the adorable holiday-themed gingerbread latte, garnished with a miniature gingerbread house. But here's the ace in the hole: next-level theme days that sometimes "draw lines out the door," according to O'Day—take the Wes Anderson Day featuring bone-shaped "Isle of Dogs" macarons with ube-sweet potato cheeesecake filling, "Darjeeling Limited" tea lattes, and more; in 2019, she's weighing a Spongebob Squarepants Day complete with her take on Krabby Patties.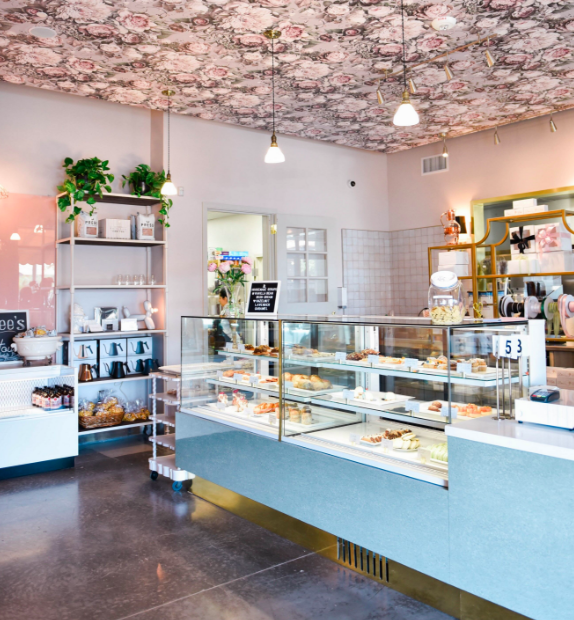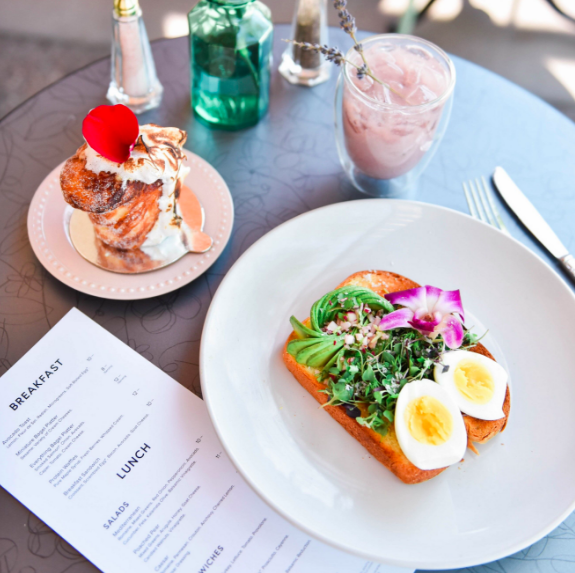 To kick off a day of indulgence in equally Instagramable but much-boozier fashion, Hash Kitchen awaits. It starts with the 40-plus-item Bloody Mary bar, lined with every garnish from pickled eggs to chunks of spicy salami—but there isn't a libation that isn't eye-popping, be it the flights of spiked cereal shooters and rainbow-hued mimosas or the coffee drinks poured over ice-cream cones tableside. And the food follows suit: While skillet hashes are the kitchen's claim to fame, the dish to beat is the towering brioche French toast with bananas, berries, mascarpone, and salted caramel, plus yet another cone filled with whipped cream for good measure.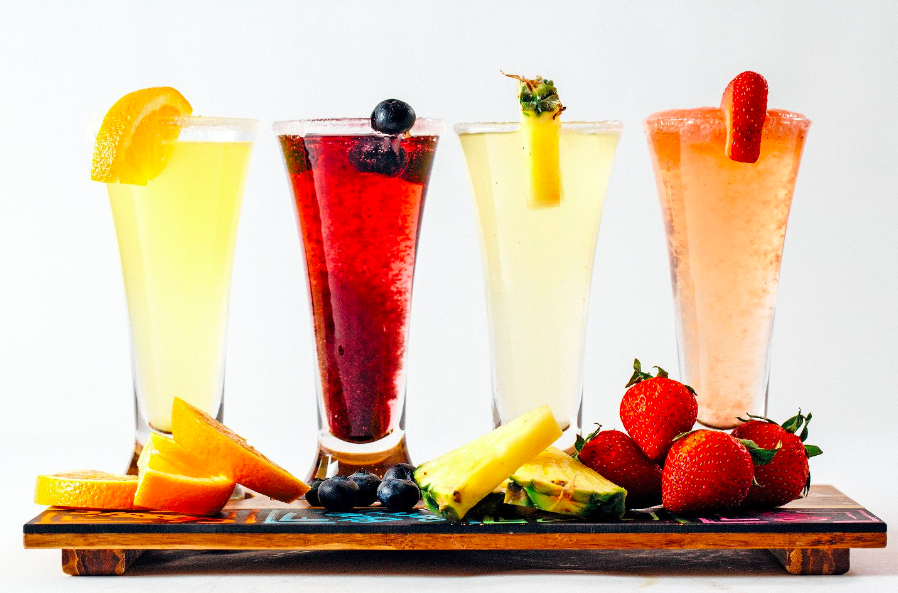 Meanwhile, if the mark of a modern food town is a beloved tavern slinging wood-fired pies and local craft brews, Craft64 hits it. Black-bubbled crusts and housemade mozzarella serve as the foundation for pizzas both traditional and creative, including featured specials like the Pot of Gold with Manchego, bacon, sliced potato, Brussels sprouts, garlic, and thyme—which I washed down with a house-brewed Blackberry Wheat, among dozens of ever-rotating beers on tap and in bottle.
A modern food town's also bound to have its star chefs; one name to know here is Matt Carter. His modern Latin restaurant The Mission was the highlight of an Old Town tasting tour I took with Arizona Food Tours. In a glamorously dark space famed for its wall of Himalayan pink salt blocks—which some guests actually lick while doing tequila shots—the kitchen specializes in chops grilled over mesquite and pecan wood and mariscos a la plancha; they're supplemented by an abundance of small plates and tacos on hand-pressed tortillas, including one topped with 12-hour pork shoulder in pineapple-habañero glaze, excellent alongside a velvety avocado margarita. But I was equally impressed by Carter's chic Italian hot spot Fat Ox, where I sampled a dreamy red wine-infused pasta flavored with duck sausage, mushrooms, and huckleberries beneath a dollop of dandelion-green gremolata.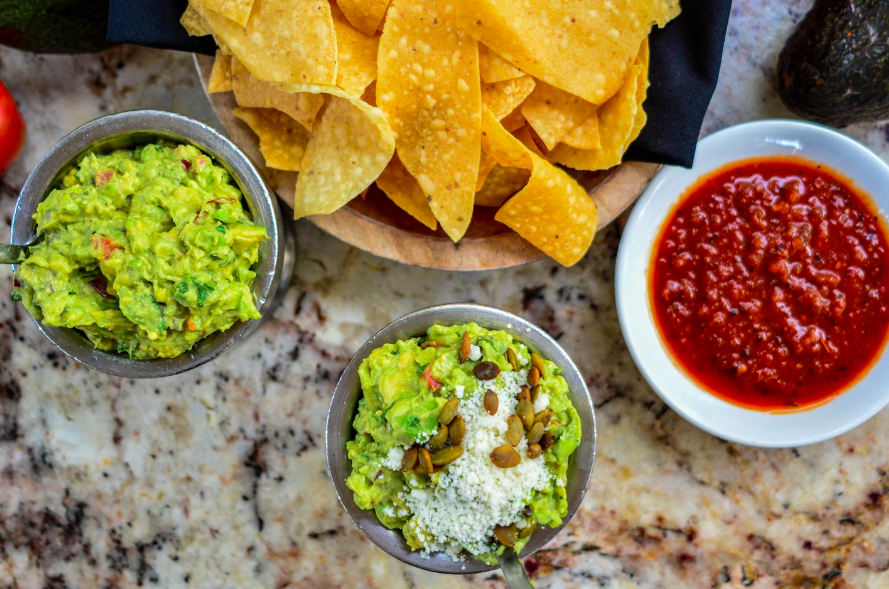 At the farm-to-table forefront, meanwhile, is FnB, where the elegantly quirky decor reflects the freewheeling style of chef and five-time James Beard Award nominee Charleen Badman. On her seasonal menu, local ingredients and far-flung influences join forces to yield the likes of earthy, robustly spiced kale falafel so plush you could eat it with a spoon; Azerbaijani-inspired goat dumplings, unexpectedly delicate in an herb broth beneath a sprinkling of sumac; and Hungarian lángos, a fried, puffed flatbread topped with a fennel-radish salad, cured egg yolk, and Meyer lemon aioli.
Arizona Wines
I sat at the bar, where the genial bartender ably walked me through the wine list, a further testament to the restaurant's uncompromising eclecticism. From white Beaujolais to Austrian St. Laurent, co-owner Pavle Milic includes ample rare finds amid the world-class showstoppers, including a few-dozen Arizona wines to showcase the best of a state whose industry is on the rise. (Milic will be opening his own winery later this year.)
It should be noted that viticulture in Arizona is nothing new, drying up only with the onset of Prohibition; its revival should come as no surprise to enophiles who know that developing wine grapes benefit from a climate that's hot and sunny by day and markedly cooler at night. Rhône Valley varieties fare especially well here, as do some other French, Italian, and Spanish grapes—most grown in the AVAs (American Viticultural Areas) of Sonoita and Willcox, home to the majority of the state's 100-plus wineries, a few of which conveniently run tasting rooms right in Old Town.
I especially liked that of Carlson Creek Vineyard, a 280-acre Willcox estate founded in 2008; the dim-lit, rustic storefront would be great for a tête-à-tête with a date over a glass (or bottle) of its Rule of Three—a Rhône-style blend of Grenache, Syrah, and Mourvèdre with plum and blueberry accented by faintly herbal, mossy notes. I also recommend LDV, which farms 40 acres 5,000 feet up in the Chiricahua Mountains; its cheerful, patio-blessed tasting room lends itself to leisurely afternoons among friends, starting with a glass of the Sky Island Viognier, softly floral and bright with pink grapefruit and lychee.
If your tastes run a little divier, though, rest assured that Scottsdale's got its share of lowbrow nooks and crannies. At 60 years and counting, the Rusty Spur Saloon is its oldest watering hole, complete with swinging doors, memorabilia-plastered walls, and live country music at all hours. And then there's the equally rickety Coach House, a holiday-time must-stop for its top-to-bottom, back-to-front explosion of Christmas decorations—though it's open every day of the year, starting at 6 a.m. Hey, Scottsdale may be swanky, but it's still—to use the official slogan—"the West's most Western town."
Where to Stay
Though Scottsdale's home to any number of landmark golf resorts, including the world-class Phoenician, more recent developments cater to a hipper clientele. Here are two worth checking out (and into).
Andaz Scottsdale Resort & Bungalows: Opened in 2017, this Hyatt property is the post-postmodern answer to Taliesin West—all geometric lines and clean, creamy white tones splashed with vivid color, from the high-tech check-in desk to the glittering pool complete with cabanas and a full-service bar. Clustered on the sprawling lawn amid the palms and cacti, the adobe-inspired bungalows sport chic decor, enormous showers, and, in some cases, private patios.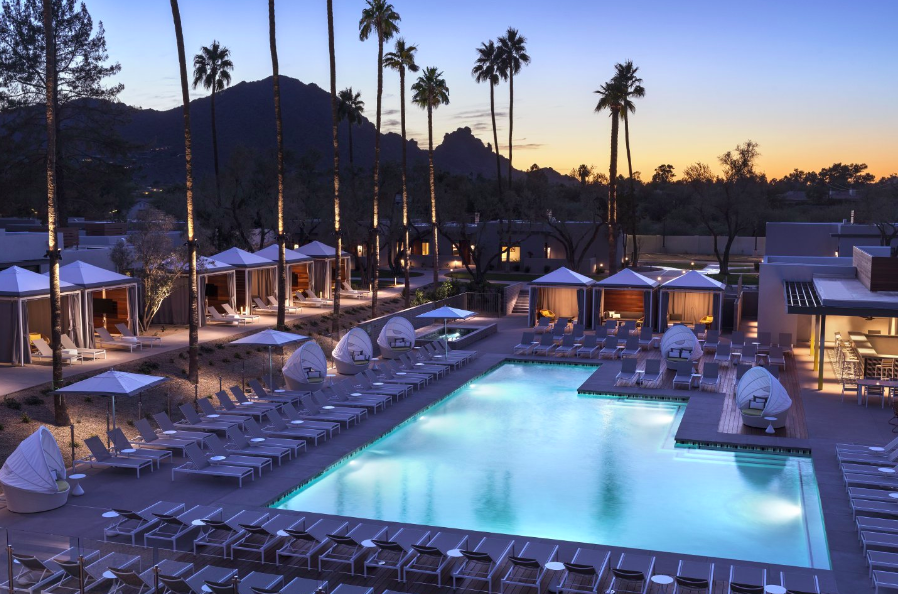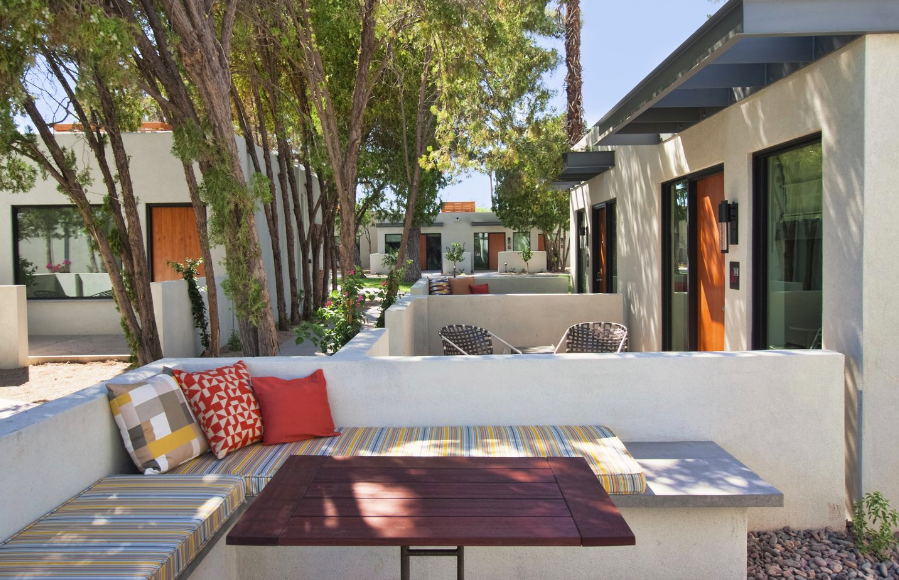 The Scott Resort & Spa: Evocative of a Havana hacienda, this stately charmer completed a multimillion renovation in 2018. The light-filled lobby—breezy amid wicker lounge furnishings and potted palms—leads to a lagoon pool lush with rainforest-esque vegetation, dotted with fire features, and serviced by The Canal Club's indoor-outdoor bar; rock-lined walkways lead to spacious, gracious rooms in desert hues.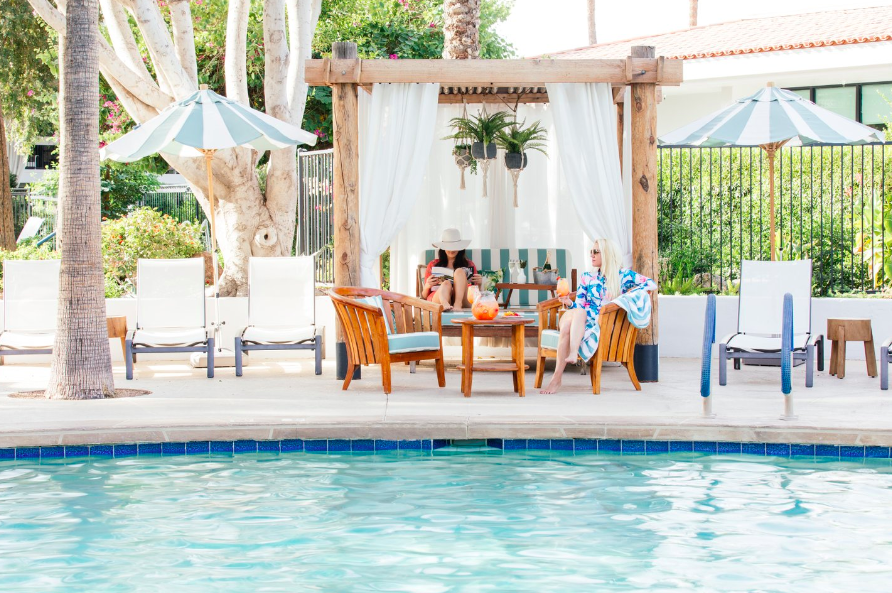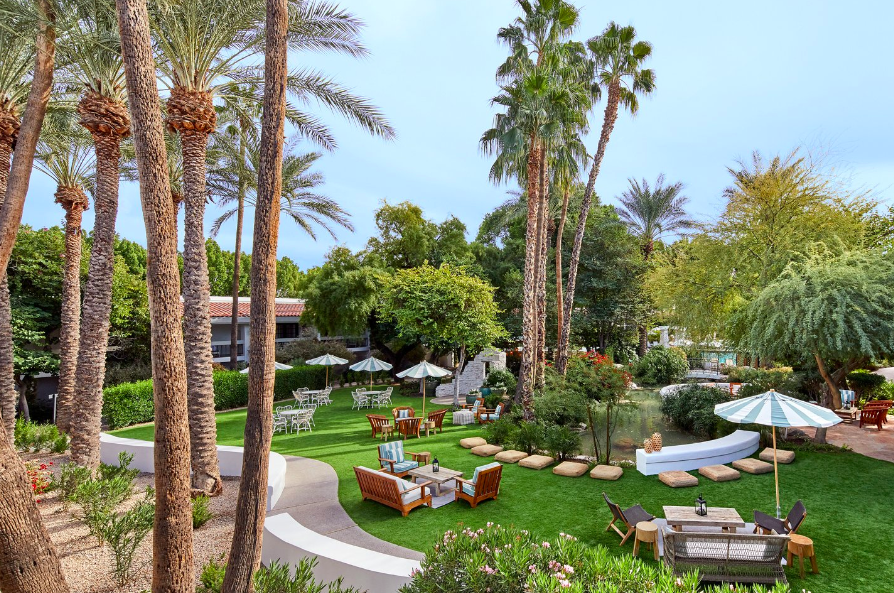 Ruth Tobias is a longtime food and beverage writer based in Denver, Colorado. To learn more about her and her work, visit RuthTobias.com or follow her @denveater on Twitter and Instagram
She was a guest of Experience Scottsdale.